Mohandas Karamchand Gandhi is not just the most important personality in the history of modern India, he is also among those most contested and challenged by posterity. Nowhere have the contestations and challenges to Gandhi been more prominent than in Kolkata, a city that Gandhi visited numerous times, most memorably at the stroke of India's independence.
As India celebrates the 152nd birth anniversary of Gandhi, My Kolkata spoke to one of the country's foremost historians, Rudrangshu Mukherjee, on Gandhi's relationship with Kolkata — its people, its places, and its proclivities.
Mukherjee, the chancellor of Ashoka University, where he also teaches history, has authored a range of books on some of the most pivotal movements and leaders of Indian history — Awadh in Revolt, 1857-58: A Study of Popular Resistance (1984), Mangal Pandey: Brave Martyr or Accidental Hero? (2005), Revolt Against the Raj (2008), Nehru & Bose: Parallel Lives (2011), A Begum and a Rani: Hazrat Mahal and Lakshmibai in the 1857 Uprising (2021), Tagore & Gandhi: Walking Alone, Walking Together (2021), among others.
Excerpts from the My Kolkata chat in the books-and-anecdotes-filled Ekdalia living room of Mukherjee in the run-up to Gandhi Jayanti.
My Kolkata: When and why did Gandhi first come to Kolkata?
Rudrangshu Mukherjee: I think he first came to Kolkata early in the 20th century, when he was still working in South Africa. He had come to meet some important political personalities. 
Is this the same trip when he met the editors of some of the leading newspapers in the city to talk about the treatment of Indians in South Africa?
Yes, this was the same trip. Gandhi was carrying a book he had written himself, called The Green Pamphlet, on racial discrimination in South Africa. He was taking this book around and giving it to various newspaper offices so that the condition of Indians in South Africa got public exposure. 
Is it true that the newspaper editors in Kolkata then gave Gandhi the cold shoulder?
I don't know if all the editors gave him the cold shoulder, but The Statesman certainly did. Because The Statesman was a white-owned paper and was pro-British. So it couldn't welcome Gandhi or his tract exposing racial discriminiation by the British in South Africa…. But Amrita Bazar Patrika didn't give Gandhi the cold shoulder as it was a nationalist paper.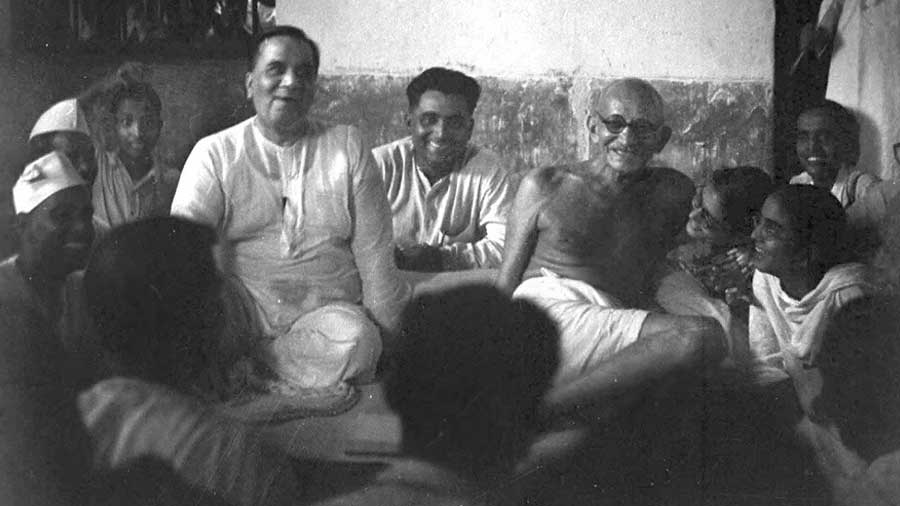 Mahatma Gandhi in Kolkata in August 1947
File picture
On August 15, 1947, Gandhi was in Beleghata in an attempt to quell the riots in Kolkata. How crucial was Gandhi's presence here during that period?
More than his presence in Kolkata, what is significant was his absence from Delhi. He chose not to be a part of the celebrations of Indian independence. The principal reason being the Partition of India, to which he had been completely opposed.
Gandhi had come to Kolkata in August 1947 not just to quell Hindu-Muslim riots but to instill abhay or fearlessness, which was integral to his beliefs. Before that he had gone to Noakhali. The two were interconnected processes. What he was trying to do in Noakhali, he was also trying to do in Kolkata.
The early Marxists in Kolkata were quite hostile to Gandhi. MN Roy called Gandhi a "bourgeois, backward-looking reactionary" while RP Dutt said that "Gandhi has failed the revolution at every step". Was this down to Gandhi's insistence on non-violence or was there something deeper at play?
RP Dutt had called Gandhi something even worse — "a lackey of the Indian bourgeoisie".
There were two reasons for the Communist hostility. The first is Gandhi's commitment to ahimsa or non-violence. This obviously went against the Communist doctrine prevalent in the 1920s and '30s.
But there's a second, deeper reason. Gandhi was against industrialisation and modernisation whereas the Communists favoured both.
Having said that, it should also be noted that towards the end of 1946, and again when Gandhi was in Kolkata in August 1947, many Communists went to see Gandhi to seek his advice, including the remarkable general secretary of the Communist Party of India at the time, PC Joshi.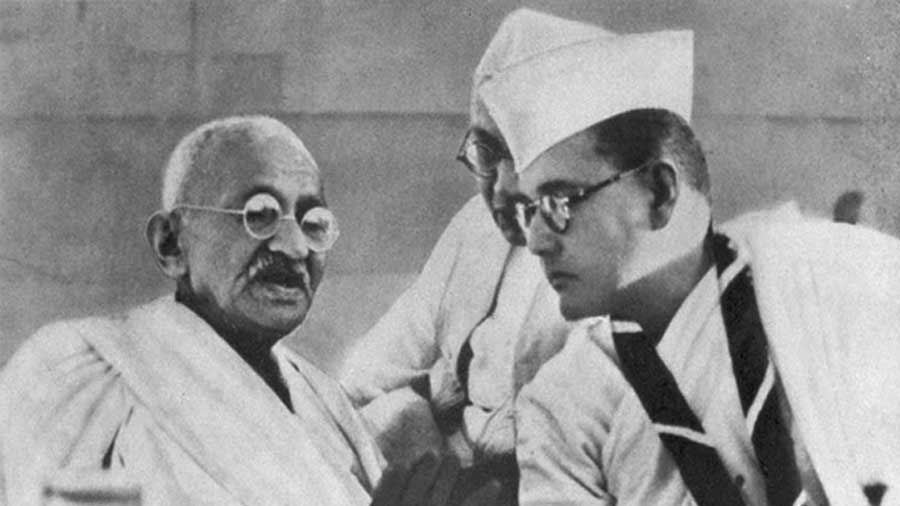 Gandhi with Netaji Subhas Chandra Bose in 1938
There has always been an impression that Kolkata values Netaji Subhas Chandra Bose far more than Gandhi. To what extent is this true and have the people of Kolkata misunderstood the equation between Gandhi and Bose at some level?
In a sense it is a correct impression, but it is largely based on a misunderstanding of the Gandhi-Bose relationship and Gandhi's role in the partition of India. The idea that Gandhi is responsible for partition is a piece of pure nonsense. If any one person in India was opposed to partition, it was Gandhi.
When Bose first arrived in India from England in 1921, he got off the ship and even without taking his luggage, the first person he went to meet was Gandhi. It was Gandhi who actually asked Bose to go back to Kolkata and work with Chittaranjan Das, who would eventually become Bose's great mentor.
Throughout Bose's association with the Indian National Congress, Bose and Gandhi had differences. But that didn't lead to any acrimony. The rancour began with Gandhi's refusal to support Bose's second term as Congress president. Even after that, once Bose had left India, Gandhi had called Bose his "prodigal son". It was Bose who first called Gandhi "the Father of the Nation" from Singapore.
Bose had gone on to say: "We are coming to India [with the Indian National Army] and when we come to India, we will come to you (Gandhi). And if you instruct us to put down our arms, we will put down our arms and we will fight together under your leadership. Because you are the undisputed leader of the Indian people."
Will it be fair to say that Kolkata, in comparison with other Indian cities and with the possible exception of Maharashtra, is most willing to contest Gandhi's legacy instead of deifying him?
Gandhi didn't want to be deified. He would appreciate the fact that Kolkata has always questioned him in the past and continues to question him. My point is that it is important to question Gandhi, but it is equally important not to misrepresent him. Most people who question Gandhi haven't read Gandhi properly.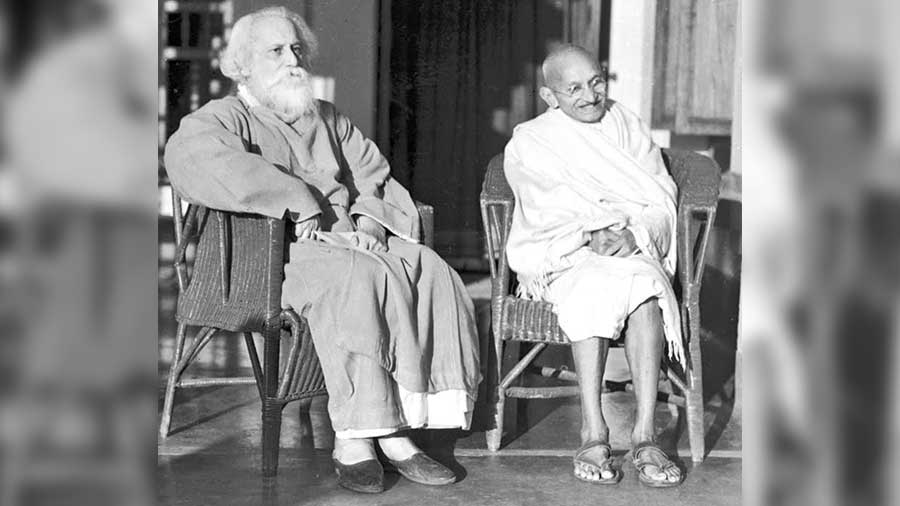 Rabindranath Tagore with Gandhi
TT archive
You have written a fascinating book on Gandhi and Rabindranath Tagore that analyses the bond shared by two of modern India's greatest minds. Given the mutual reverence and their frequent conversations on metaphysical ideas, would it be fair to call their friendship a spiritual one?
In 1925, Gandhi wrote: "The Poet (Tagore) is an inventor. He creates, destroys, and recreates. I'm an explorer, and having discovered a thing, I must cling to it."
Four years later, Tagore responded in his inimitable way: "Mahatma ji is the prophet of tapasya, and I'm the poet of anand."
Their spiritual side is summed up by these two statements.
The fundamental thing that Gandhi and Tagore agreed upon was their idea of swaraj. Swaraj didn't just mean political independence, but something more profound, which would liberate the lives of every single individual by making them independent of institutions.
Historian Rudrangshu Mukherjee reflects on the relationship between Gandhi and Tagore
Is there any documented commentary on Kolkata written by Gandhi? Can we find out what he felt about the city on his many visits here?
I don't think Gandhi articulated his views about the city.
But Gandhi definitely saw Kolkata as a very important centre of his work. Moreover, in the Noakhali-Kolkata phase of 1947, Gandhi had begun to learn Bengali. One of the things Gandhi kept on writing in Bengali was "ekla cholo re". It was his song. He had made it his song.
Could you suggest a brief reading list for young minds trying to understand the Gandhian legacy?
The best place to start is Gandhi's Hind Swaraj (1909). Then one can go on to read his autobiography, The Story of My Experiments with Truth (1925). I would also recommend Rajmohan Gandhi's biography, Mohandas (2006), and Ramachandra Guha's two volumes on Gandhi.
Lastly, how should the youth of Kolkata remember Gandhi and pay tribute to his contributions?
By paying attention to Gandhi's five pillars of sustenance.
One is simplicity. Live a simple life and reduce your wants. If you reduce your wants, you don't have to fear anybody, because you have nothing to lose. This is connected to abhay or fearlessness. If you aren't frightened of anybody, you don't hate anybody, which is ahimsa. Once you follow simplicity, abhay, and ahimsa, you lead a life of satya, the fourth pillar. The fifth pillar was Hindu-Muslim unity.
Satya, or the commitment to truth, is of vital significance in today's era of misinformation across ideological boundaries.
Finally, Gandhi's message of simplicity should also resonate with climate change. If we have to reduce human exploitation of nature, we have to reduce our wants. This is also where Gandhi is extremely relevant for today's youth.