Dancer Mallika Sarabhai needs no introduction.  
A dancer, actor and now a writer, Mallika Sarabhai has penned her personal journey with health in her book, In Free Fall (Speaking Tiger). In Kolkata to attend the Apeejay Kolkata Literary Festival, the daughter of scientist Vikram Sarabhai and dancer Mrinalini Sarabhai was in her element as she spoke to My Kolkata about her book, dance, movies and changing patterns of the society. 
Excerpts from the conversation… 
My Kolkata: 'In Free Fall' is an honest confession about health, body and mind. How did the thought of penning your story come about?
Mallika Sarabhai: I have been asked for years "Mallika, how do you look the same?", "Mallika, how do you have so much energy?", "Mallika, how do you stay slim when everybody else has expanding waistlines?" and so on and so forth. So when COVID came, it was the first real break I had in my career. I mean I have been performing and touring since 1977. This is the first time I was stuck and I thought this is a good time to write it [book] because everybody's falling sick anyway. So, it started off as a health book and then so many of my health crises have been related to what has been happening in my life that it expanded to what it is. 
Having tried different diets, would you say the process helps the body attain the desired shape?
Dieting, not as a fad diet but dieting as in being in control of what you eat, most certainly.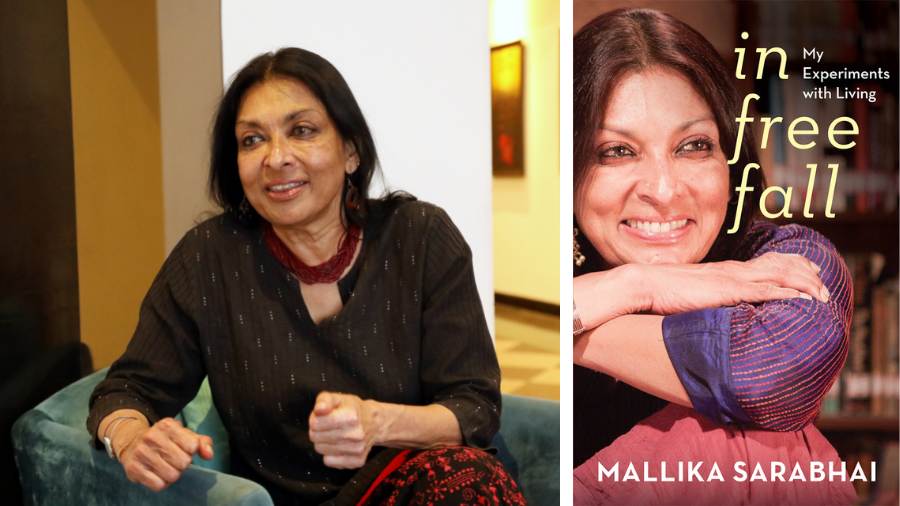 Sarabhai was in Kolkata for the Apeejay Kolkata Literary Festival to talk about her biography 'In Free Fall'
Arijit Sen and courtesy Speaking Tiger Books (book cover)
'Body positivity' and 'body shaming' have become two parts of the same coin today. What would be your thoughts on it?
You know, yesterday I did a promo for a group of young contemporary dancers coming from Pune who are performing for us on January 20. It's a show called '60 inches of Beauty'. It's about the kind of impossible demands of perfection that are made on girls. If you look at the promo, it's somebody measuring me, somebody trying to colour my skin and I'm saying "too dark", "too fair", "too slim", "too fat", "hair too crinkly, not crinkly enough", etc.
I think we give the power to society to make those judgements about us. As I say all through the book, you need to feel good within yourself. You need to be at peace with your body and your mind. You need to do everything to achieve that. What is 'too' anything as long as it's not impacting your health. If my weight is so high that I'm getting an over-pumping heart or my liver can't keep up, that's an issue. But I think health is so much more important than measurements.
You took to yoga and later introduced it in Darpana. How would you say yoga has benefitted you and your students?
Oh, tremendously! I think if there's nothing else you can do, if you can't go for a walk, if you can't do this, you can't do that but you just have that six feet by two feet space, then yoga is something that will keep you agile and stretched.
Over the years, dance has emerged as a healing therapy. What is your take on that?
You know the body was made to move. The first thing that a child does is it waves its legs and hands. Every child, you switch on music, the child by the time she can stand is doing this [moving]. Yet we curtail it because of societal norms. We know now from brain science that movement causes release of oxytocin, serotonin and things that calm the body. That is when you get the joy of movement.
How would you say dance has developed into a career for youngsters over the years?
More accepted certainly. Amma's [Mrinalini Sarabhai] mother was warned that she was going into becoming a devdasi; to where we are today, of course it's much more acceptable. It's still mostly doctors, engineers and lawyers but I think lots of other fields are slowly opening up at least for a slice of the middle and upper classes.
One life lesson that dance has taught you?
Dance.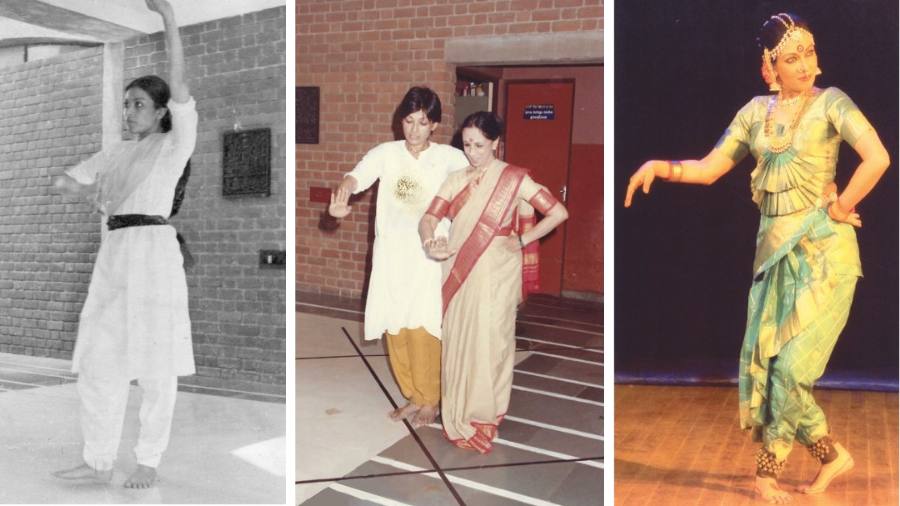 L-R: Practicing to participate in a college youth festival,1973; With her mother Mrinalini Sarabhai in rehearsal, 1990; Performing the Bhamakalapam in Kuchipudi
Courtesy Mallika Sarabhai, from her book
You recently took charge as chancellor of Kerala Kalamandalam. How does it feel?
It feels wonderful. To have such a challenge at this stage of my career is very exciting. I have just spent two days, not at Kalamandalam, but meeting the people, vice-chancellor and registrar, the minister and chief minister. I am just very excited about the possibilities of making it into a world-class institution and university that it used to be.
Talking about the actor Mallika Sarabhai, how have films influenced you?
Films have not influenced me very much. I think working with Peter Brooke influenced me tremendously and I think that influences my dance and my dance influenced that. I don't see them as two separate activities. In most of my one-woman shows I'm doing both of those and more.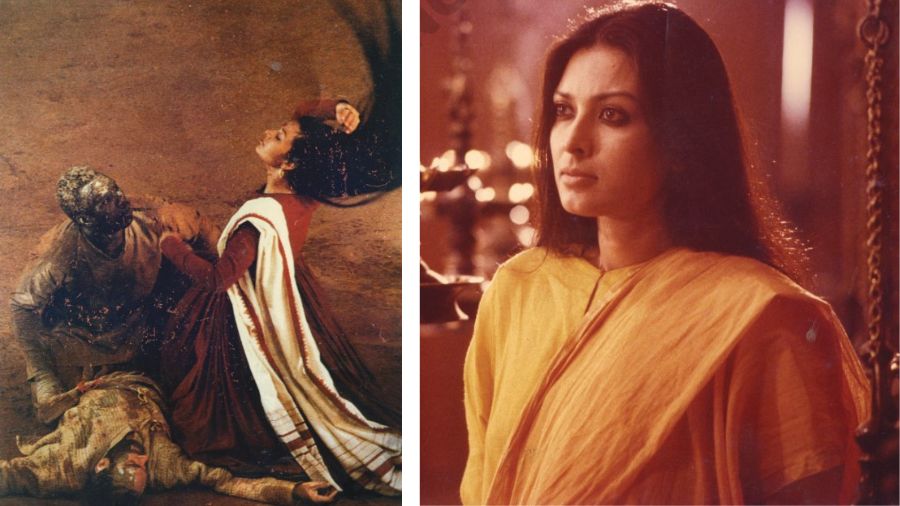 'Role of a lifetime,' says Sarabhai about portraying Draupadi in Peter Brook's 'The Mahabharata'
Photos by Gilles Abegg from Sarabhai's book
With a boom in OTT platforms do you think regional content has finally gained its much-deserved spotlight?
Yes, certainly. I think people are now much more open to looking at Korean, Tamil or Bengali things subtitled or dubbed. I think it's a change in mind space, which is very interesting.
If your book is made into a film/ OTT series, will we see you returning as an actor?
I would love to be there. You know I would love to act again in films. If somebody were to give me a really challenging role, I would love to. But over the years, the kind of roles that have come to me have been few and far between and mostly not very interesting. But I would love to act in films and OTT again, Bangla included.