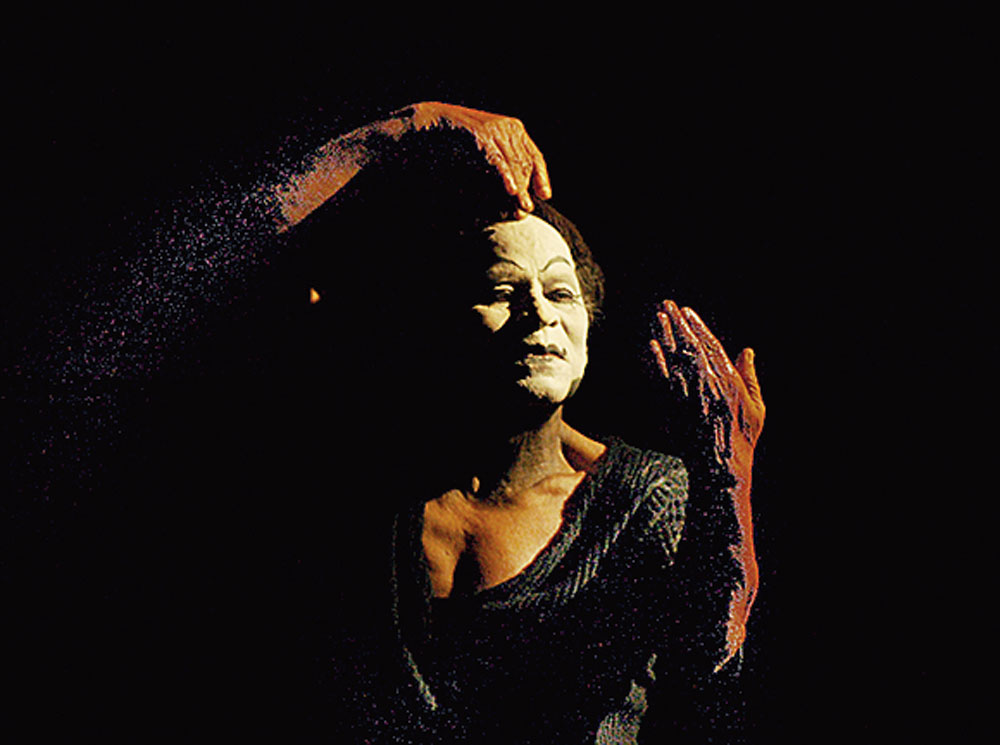 Dutta enacting a woman dressing up
Picture by Suman Ballav
He started to mime even before he knew it was what it was. According to the 84-year-old Jogesh Dutta, he stumbled into the art form by the south Calcutta lakes. "That was 1956. Those days, I used to do byango kautuk (satirical acts)," says Dutta. He continues, "I didn't have many friends. I was sitting at the Lakes when I noticed men and women in pairs, young and old. I realised that I could not hear what they were saying but I could infer — from their body language, their demeanour."
That evening, Dutta went to a friend's place and asked his wife, Keyadi, if he could use her dressing table. After some time, he was ready with a new act. He enacted through gestures alone, a woman dressing up while looking into the mirror. And going by Keyadi's reaction, it was accurate enough and amusing, says Dutta, the olden memory making him smile.
I am in Dutta's south Calcutta home. The man I am sitting across from does not quite match the one in the photographs from performances staring down at us from the walls. He is frail, recovering from a hip surgery, his tone is authoritarian but his voice is a near whisper. In the photographs, he is dressed in black, now he is dressed in trousers and a T-shirt and a black Gandhi cap that is his trademark offstage.
The tradition of mime in India is over 3,000 years old. Its description can be found in the ancient text, Natyashastra. Over the centuries, however, the art form all but disappeared. But Dutta was unaware of all this when he started to polish his newest act and set it to music.
His first public mime act was at a festival in Belur, on the bank of the Hooghly river, in Howrah district. Dutta asked the organisers if he could do a new act before his regular show. That day, another young performer was there to play a curious instrument, "a harmonium strapped to his chest". Dutta requested the accordionist, who later went on to become V. Balsara, to provide the background score.
The act evolved bit by bit, suggestion by suggestion. It seems film director Satyajit Ray's make-up man, Ananta Das, told Dutta he should colour his face white while highlighting the lips, eyes and brows in black. "In theatre, vision usually does not go beyond 75 feet. To make the facial muscle movements and expressions visible to the last row, the lips, eyes and eyebrows have to be highlighted," adds the artiste who has trained in Kathakali and also spent a brief while in a circus. Theatre personality Khaled Choudhury suggested the body-hugging black costume. The rationale: since the art is all about body language, the limbs and muscles should be defined.
In the 1960s, people such as Irshad Panjatan in Hyderabad and Paintal and Sadanand Joshi in Bombay were also popularising mime. But it is Dutta who is credited with the creation of a mime grammar in India, quite different from its western avatar in that it was imbued with influences of our traditional dance forms. "The mirror was my guru," says the Sangeet Natak Akademi awardee, pointing out that all his rooms have mirrors.
Around this time, Arun Basak, arrived in Calcutta from London to join HMV. Says Dutta, "He saw my act and told me it was known as mime in the West." The same year, he got his first review in a newspaper. Dutta bought the news-bearer a "full cup of tea" and a "whole omelette" — a treat for the good news. The octogenarian says, "And I took the newspaper to the Lakes and read it over and over again."
In 1959, when French actor and mime artiste Marcel Marceau came to Calcutta, Dutta could not afford himself a 50-rupee-ticket to his show, though he managed to meet the master at his hotel. But success came gradually.
The next few years saw Dutta travelling across the country and the world. This delegation, that troupe, workshops, awards, the mere recounting lights up his face.
Dutta ensured he gave back to the art form that came to define him. He founded a centre for research on mime, known today as the Jogesh Mime Academy. One of Dutta's students from the early days, Niranjan Goswami, set up the Indian Mime Theatre in 1976, branches and new shoots followed, the roots of mime grew deeper. A national mime festival is held every year.
But feed the word "mime" into any search engine and the first prompt is "dying art". Goswami counters vehemently, cites numbers of graduating students, blames a mime-agnostic media. Dutta too disagrees. Hobbling on his walking stick, he walks me to the door — in silence, golden silence.