At the age of eight, when most kids her age are dabbling with multiple extra-curricular options, Janhvi Choudhary began working towards her career as a swimmer. Now at the age of 16, Janhvi has achieved more than she could imagine. She started her journey by winning intra-club and inter-club competitions and then went on to win gold at district swimming meets and then state championships.
This year she broke the state record in both 50m and 100m freestyle and after years of hard work she has become the national champion by winning gold medals in 50m and 100m freestyle. She is now the fastest swimmer in the junior category in the country. Janhvi was also a part of the Indian team at the 10th Asian Age Group Championship held in Bengaluru in 2019. This year in the 47th Junior National Aquatic Meet 2021, she won two gold medals in the 50m and 100m freestyle events and two bronze medals in the 100m and 50m medley relay.
Internationally, she has represented India in the Youth Pacific Games held in Russia in 2019 and aspires to win medals for the country at the Olympics.
A chat with child prodigy who is currently being coached in a SGTIDM program at a full-time boarding in Delhi.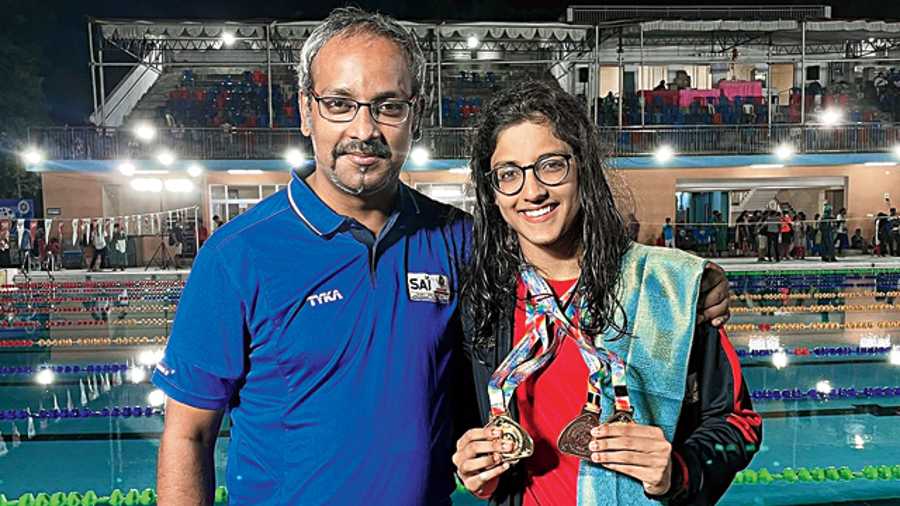 Janhvi with her coach, Partha Pratim Majumder
Sourced by the correspondent
Let's start this from the beginning. You started swimming at the age of eight. How did you know it was your calling?
So, there was actually nothing and everything was undecided. But after participating in my first competition, when I used to live in Kolkata... I had to take a call and had to choose whether I wanted to sacrifice everything for this sport. So I decided to give it a try and came to Delhi, stay in a hostel and make swimming my priority. So that worked out well and it has been five years since I've been in Delhi.
Were you a part of some of the inter-club competitions in the city?
Yes, but only till I was in Kolkata.
Was it challenging to sacrifice everything just to concentrate on swimming?
Yes, after I shifted, it was very hard. It took me like five or six months to get used to the rigorous training here because in Kolkata the training was much easier. But here it was mostly 60 per cent swimming and 40 per cent studying and everything else. So it was very hard and it took me some time to get used to it but eventually I did.
This year you broke the state record in both the 50m and 100m freestyle. How does it feel to wear such a crown?
It felt great although I missed the 200m freestyle record by I think 10 or 20 fractions of a second. This is actually the second time that I have broken the state record. Two years ago, the last state meet that we had, then also in the junior group I had two state records, so yes, it feels awesome.
If someone were to start swimming, what would their first move be?
I will be honest, swimming is something everybody starts thinking of as something you can do to be fit, right? I would say that in Kolkata all these inter-club meets are the beginning of someone who wants to swim. You can take swimming as a career. Involving yourself in swimming via these competitions will really help.
What would you tell them if they ever got stuck?
The hardest part comes when you swim and study till seventh or eighth grade. But after that study pressure also hits and most of the people leave the sport. They mostly choose studies over swimming , so that's when you have to prioritise. My parents were very strict about studies and I obviously had to study but they couldn't let me leave it. After I shifted, at least 70 per cent of my day was swimming and studies was something I couldn't give up. Studying is important but you have to choose. You have to strike a balance.
What are some of the things you do to keep fit?
Well swimming itself is such a sport where if you keep swimming it's not possible for you not to be fit. But apart from that we have gym training and we have to be careful of what we eat.
Have you ever had the chance to take a step back to see how far you've come?
I do sometimes, especially after I won these Nationals. My coach, Partha Pratim Majumder, has been training me for six years. When I started training in Bengal Rowing Club, he was there and taught me. And then in 2016 he came to Delhi and I was also there. He also told me that he saw a spark in me. He's always been like a father to me and has always guided me. He's also taught me to be mentally strong and as a person he's taught me discipline and taught me to be humble.
Fast four
Favourite swimmer: Michael Phelps
Most challenging race you have done: 200m freestyle
Somewhere you want to compete: At the Asian Games 2022
Someone you aspire to compete with: Rujuta Khade