A Kolkata institution co-founded nearly a century ago by the city's first mayor, Deshbandhu Chittaranjan Das, continues to be a beacon of hope for underprivileged boys. 
Deshbandhu, whose 152nd birth anniversary is on November 5 this year, along with Netaji Subhas Chandra Bose had started the Dakshin Kalikata Sevasram (DKS) as a home for destitute boys on March 11, 1924. Netaji was DKS's founding secretary and Nirmal Chandra Chunder its founder treasurer.
It took the DKS 10 years to become fully operational, which happened after the institute was allotted an 11-cottah plot by the then mayor, Subhas Chandra Bose. The institute continues to function from that location: 93 & 97 Sarat Bose Road. In addition to being a home for destitute boys, DKS also runs a free primary school and provides vocational training on tailoring, electrical wiring, computers and motor winding. It also has a library.
The DKS has weathered many storms over the decades, the latest being the COVID lockdowns. Despite the odds, DKS has not wavered from nurturing and honing the skills of thousands of youngsters so that they can take on the challenges of life.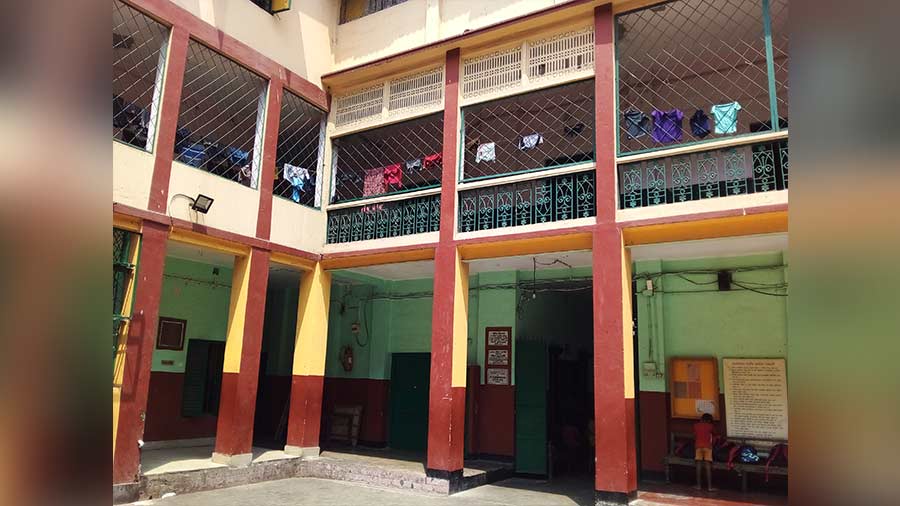 A view of Dakshin Kalikata Sevasran
Post-COVID, DKS had opened its doors to the public on January 23, 2021 to celebrate Netaji's 125th birth anniversary. Several published and unpublished letters and documents of Netaji were on display.
Samaresh Mondal, DKS superintendent, said, "The day at the home begins at 6am with the daily prayer. Guided by tutors, the boys attend classes at three schools: Mitra Institution, South Suburban and South Calcutta National School. Apart from vocational training, there are karate and singing classes for the students."
DKS secretary Subhendra Maulik, who has been associated with the institution for more than 50 years, said: "The essence of the institution has been best explained in a letter written by Netaji. 'DKS was not formed out of a whim,' Netaji had scripted. He had written that he was ready to quit the Congress (if he had to) but could not leave DKS as this was the only place where one could meaningfully serve the 'Daridra Narayan'. He clearly realised that a deprived, underprivileged young India would mean nothing to a free nation and would instead be a hindrance to its prosperity. Thus, he had laid stress on creating a stronger and more deserving India and Indians. We are doing our best to carry forward the ideals of these legends. When we meet a former student of the DKS who has done well for himself and the country, we realise that the vision of these stalwarts has not gone in vain."
Echoing his sentiments, retired chartered accountant Arghya Mitra, who is the current treasurer of DKS, said he had received the mantle from his father, late Murali Mitra, who served both as the secretary and president of the DKS.
The DKS, he says, has been a part of his family, especially with his grandfather, late Dr Gobindo Prasad Mitra, serving the institute as its secretary during the tumultuous 1940s. "I joined the DKS following my father's demise, but have been involved with the institute since my childhood. I remember how my father used to organise my birthday dinners with the ashram residents. I request people living in the vicinity to engage themselves with the DKS and spend quality time with these deprived boys. Under the guidance of our president, former Chief Justice Chittatosh Mukhopadhay, and other dignitaries, our work has been highly lauded."