A tiny village named Kheyapaar. A cluster of huts is visible by a sprawling mango tree. A small boy, about eight or nine, can be seen playing with two black stray pups and a football. The pale early morning sunlight struggles through erratic clouds, touching thatched roofs with delicate fingers. Soon we see a flurry of movement in front of one of the huts, voices calling out, the boy running in, a thin man walking out in his dhoti and short kurta, with a bowl in his hand and a glass of tea. His wife spreads out a mat on the raised ledge, for him to sit on.
Inside the hut, the little boy can be seen buttoning his pale blue shirt, as his mother feeds him a rolled-up roti. We see him snatching his schoolbag before rushing out to his father waiting with a cycle, to take his son to school, where he is a teacher of geography and history. 
The boy named Poltu stops by the door and on the roughly painted green wall we see a tattered picture of the Goddess Lakshmi, beside which stuck on the wall is an image of a Brazilian football great. Poltu looks at the faded photograph, then joining his hands together in prayer he mutters, "In today's football match, help us win... Pele.''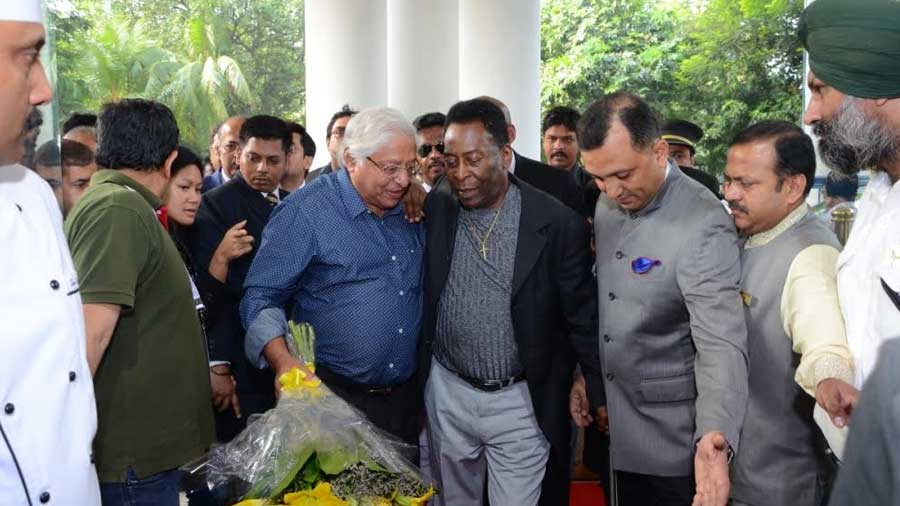 Pele, accompanied by Chuni Goswami, enters Taj Bengal
Courtesy: Taj Bengal
Larger than life
In a narrow smoky lane in north Calcutta, the para club is in full swing, everyone yelling simultaneously, discussing the match between Brazil and Argentina. The walls of the large room are hardly visible, filled from top to bottom with framed pictures of football greats from across the world, including some from the Maidan. At the far end hangs a larger-than-life portrait of Pele, beaming down upon the crowd of football fanatics, waving their hands frantically, the air thick with cigarette smoke. Nothing but noise is audible.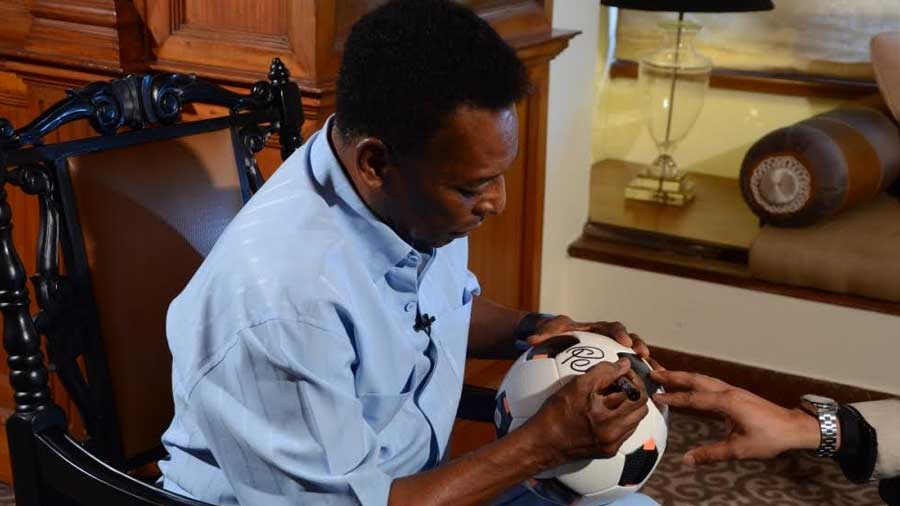 The legend autographs a football
Courtesy: Taj Bengal
Edson Arantes do Nascimento was…
Ballygunge. In the library of a three-storey house of a famous doctor, two teenagers, one boy and one girl, sit on two heavy leather sofas. Opposite them, reclining in an old armchair is their white-haired grandfather, a book in hand. He is telling them the story of a football legend from Brazil, referring to the book in his hand from time to time. My Life and the Beautiful Game by Robert L. Fish.
"Edson Arantes do Nascimento was given the nickname Pele…'' his voice can be heard over the gentle buzz of the air-conditioning. Several other books on Pele are piled up on the large marble-topped table in the centre of the room. The grandfather had, of course, watched Pele play in 1977 at the Eden Gardens in an exhibition match against Mohun Bagan.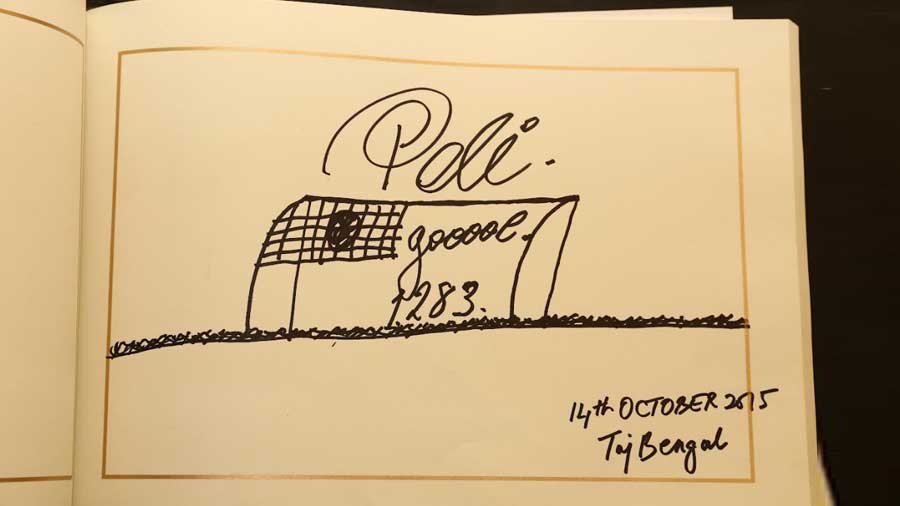 Pele's autograph
Courtesy: Taj Bengal
A charming, smiling man full of anecdotes
Taj Bengal in Alipore is buzzing with expectation. It is 2015 and Pele is returning to Calcutta after 38 years. The security measures are tight, the newspapers are full of Pele, television crew throng the airport, people huddle outside the hotel, fans line the streets. Kolkata is in anticipation. Humans from every conceivable demographic are on a high that entire week. Everyone is united by one game, one man.
There is lunch with Pele, dinner with Pele, tea with Pele. There are autograph sessions, photograph sessions, interviews, conversations, meetings, greetings, visits. And there are the fans. They come in groups, singles, doubles, hundreds.
I have never seen in my entire life a sensation this intense, an event this colossal, where the entire population of a city is celebrating. There are visitors from other states too. Class, caste, age, profession, political ideologies, personalities... all merged indiscriminately into one.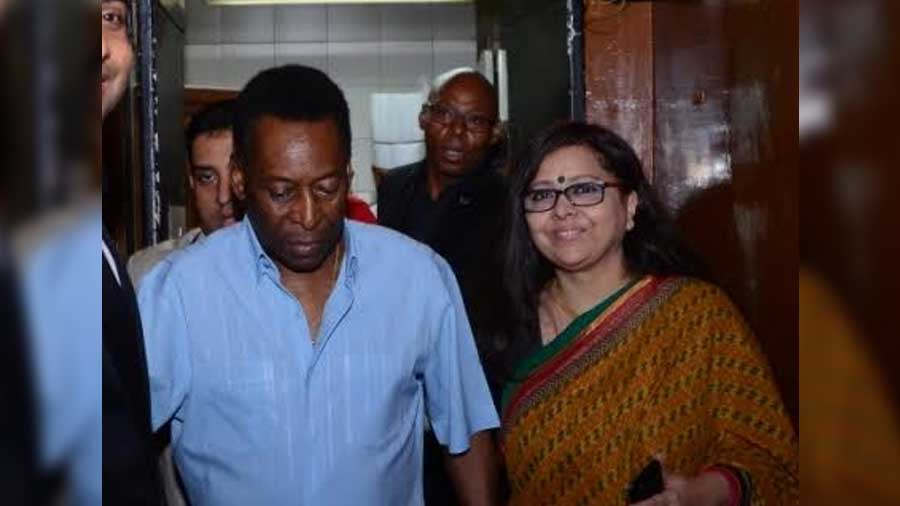 The author with Pele
Courtesy: Taj Bengal
I was one of the lucky lot who spent several hours every day with him, but for even those who did not meet him, the euphoria of his presence in Kolkata felt as much like a dream as it was a reality.
So what was he like? The Living Legend, Pele?
A charming, smiling man, full of fun, anecdotes and willing to answer questions, posing naturally for all his fans, from a 10-year-old to an 80-year-old!
A true STAR!