Ritabhari Chakraborty is running a hectic schedule when we catch up with her for our annual calendar chat. With sister Chitrangada Satarupa and mother Satarupa Sanyal down with Covid, among her near and dear ones, the pretty actress is juggling a lot of responsibilities. There's no missing the spirit though. The Brahma Janen Gopon Kommoti actress tells The Telegraph what's in store in 2022 and how she wants to live "a lot more" now.
What is the theme of this year's calendar? It looks so glamorous...
That's the bottom line of every year's calendar that it's going to be glamorous! (Laughs) I was hugely inspired by Last Night in Soho where the '60s meet the present day. The '60s fashion was so bold yet so feminine and yet made its own statement... that with the carefree hair and make-up of the present times. I like that a lot. So, we have kept the hair and make-up contemporary, but have kept the outfits as grand as possible. You take Rita Hayworth or Marilyn Monroe or Sophia Loren, they were all sexy yet all the outfits were feminine, very red-carpet and made a statement.
You love all things retro... 
I love! I like retro make-up too. Or, maybe I don't love all the things about the earlier eras, like how women were subjected to appear beautiful, no matter what. By beautiful, I mean the conventional definition of beauty. There were certain beauty standards that everyone had to meet.
I like the drama. Like if you see Marilyn Monroe in Diamonds Are A Girl's Best Friend or Rita Hayworth in Gilda. That is my wallpaper. She looks amazing! The goddess. The hair, make-up and the drama. The personality and charisma is beautiful.
Do you have a favourite era?
I love the Sixties the most. My favourite show is the The Marvelous Mrs. Maisel (set in the late 1950s). I like how the outfits and the sets look and how Midge's character (Rachel Brosnahan) turns out to be such a feminist in such a patriarchal era. I like the '70s, '80s and '90s too.
Nineties were the worst!
(Laughs) It was neither here nor there, but because I am a '90s kid, there are bits and pieces that I enjoy like the Bollywood music of the '90s. In the '70s, the bands came and pop culture became stronger in the '80s. Every era had something new to offer, but my favourite would be the '60s. Doris Day is my favourite. I love her grace, beauty and her ability to be funny. She was an icon. At every age, she has done something phenomenal. Such a bright and positive woman. My favourite song is Tea For Two by Doris Day. I like all songs by her. They would sing their own songs. Audrey Hepburn is also such an icon and she is someone I admire for her acting. Breakfast at Tiffany's is such a classic. Then Roman Holiday, My Fair Lady....
2022 has started on a rather gloomy note. What are you expecting?
I was unwell for almost the whole of 2021. I have been getting better in the last few months and feeling better, both physically and mentally. When you are healthy, you can look at the future, but when you are not, then everything seems dull and hazy and you can't focus through the fog. I was taking one day at a time.
I know the times are messy and not the best time to make specific plans, but then again, I would like to get back and rebuild on things that I had planned for. I would like to venture into directing if time supports me this year. There is content that I want to be part of and different languages that I want to explore and work in.
This year, even if I get to do 40 per cent of the things I had planned for, I'd consider myself lucky. As WHO (World Health Organization) has said this (Covid) is not going before 2024, so there's no point battling with it constantly, every day, because we are living with it now. Just for my sake and ambition, I cannot put hundreds at risk.
And personally, it has started on a hectic note for you...
Madhuja (Bhowmick, manager) handles my work and my house help handles the house and none of them are here because both are Covid positive. I think I did all this when I couldn't afford to have a manager and didn't want a house help at that time because I thought it would rob me of my independence. I was in my 20s and that meant everything to me. Then it got too exhausting and I realised that if I didn't delegate work, it would be too tough on me. There is no harm in accepting that life is a lot easier when you have a team rather than being a one-man army.
What is the one tip you have for yourself?
Don't overthink. I have been telling myself this forever. If I don't stop now, it'll be a lot harder to look ahead. No one wants to go around in the same loop and we scare ourselves with our own thoughts. We are scared of rejection. The moment you overthink... there will be more cons than pros. I want to live a lot more. (Laughs)
Ritabhari's dozen: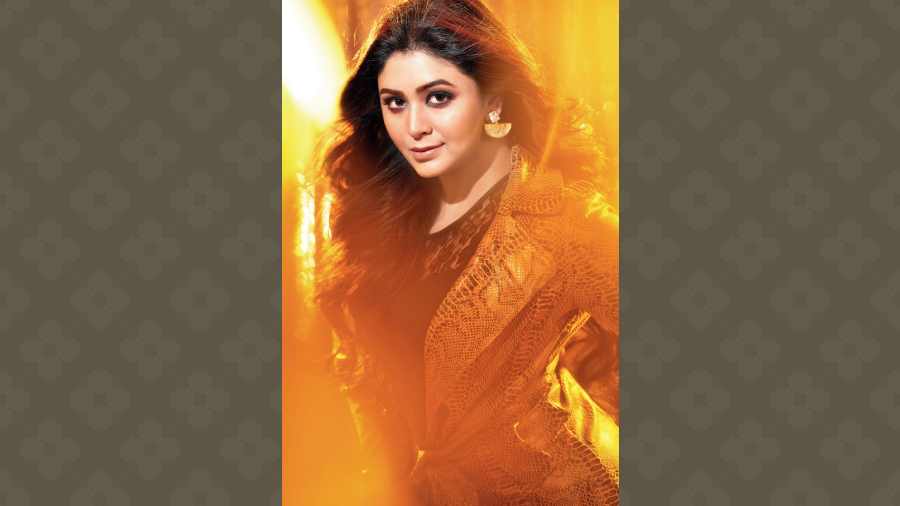 January: Hope
February: Love
March: The women's month
April: Friendship because of birthdays of best friends
May: Hot. It is the hottest month of the year and I hate it!
June: My birthday month! My favourite month!
July: Anxiety! Half the year is gone and you have so much left to do.
August: With so much catching up to do, it's work, work, work.
September: Puja preparation.
October: Pujo.
November: Time to attend weddings!
December: Christmas. I love celebrating it with my children (from the Ideal School for the Deaf) and family.