Designer Rahul Dasgupta's Winter Festive '21 collection 'The Frozen Bloom', designed with a colour palette ranging from deep blue to the berry-earth shades, takes inspiration from Oscar Wilde's The Selfish Giant. Its design detailing based on the trending tie-dye pattern, is explored with hand-dyed dabka and embroidery work on contemporary-styled silhouettes, designed with an ethnic touch. The brand's signature cord surface detailing finds place in the collection too, enhanced with the tie-dye effect. A t2 winter occasionwear lookbook:
1 A dapper winter look on Iqbal, the navy blue swan-neck achkan with tie-dye patterned dabka peeta work is worn over an organza shirt and a pair of trousers with intricate quilting detailing.
2 On Tarique, a navy blue pintuck detailed overcoat and ankle-length trousers complementing a tie-dye silk organza kurta. Perfect for a formal winter occasion.
3 This kurta and trouser in a serene colour palette is ideal for the morning functions of a winter wedding. On Tarique, a layered asymmetric overlay powder blue kurta textured with tie-dyed cotton cord and French wire, teamed with a pair of warm grey ankle-length trousers.
4 Tarique channels an Indo-western look in a stylised beige Jodhpuri jacket with asymmetric texture details of tie-dye cord and French wire, complemented with a mauve scarf with similar detailing and a pair of up-turned trousers.
On Iqbal, a simple berry-earth shaded open-neck kurta teamed with a gorgeous sadri jacket with ombre peeta work, worn with a cream pre-stitched stylised wrap. A comfortable and suave morning festive or wedding day look for the groom.
5 Vibrant with a contemporary appeal, Iqbal sports a stylised wine Jodhpuri jacket with tie-dye detailing, teamed with a linen tissue kurta with hand-dyed dabka work and a pair of up-turned trousers.
DESIGNER SPEAK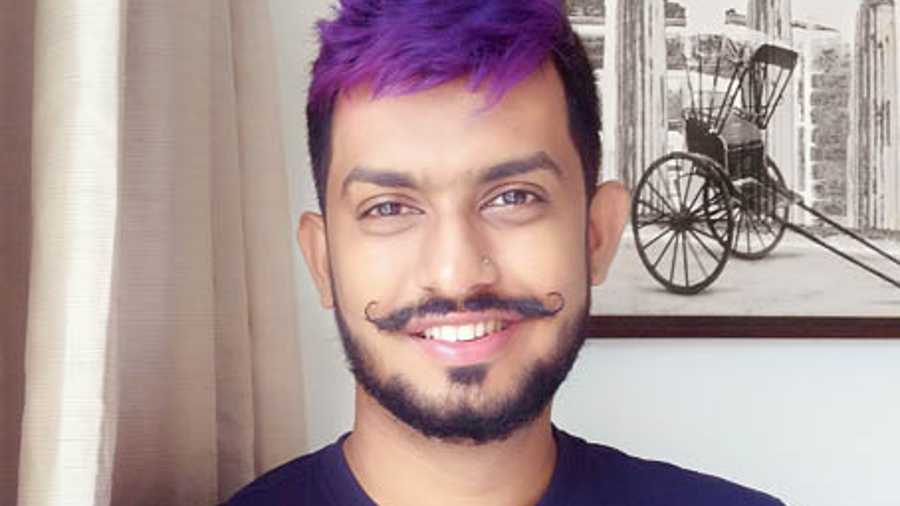 Designer Rahul Dasgupta
"In this collection, I tried to reinvent tie-dye using hand-dyed dabka in tie-dye pattern and then hammered it to create the tie-dye effect with embroidery. The colour story starts with the navy blues and progresses into the powder blue, beiges, berry earth and ends with the saturated wine shade. My inspiration was the line from the story of The Selfish Giant — 'He did not hate the Winter now, for he knew that it was merely the Spring asleep, and that the flowers were resting.' Inspired by this story, this winter festive collection tries to unveil the possibility of the forthcoming spring frozen in winter. Just like different seasons, life has different phases and embracing every experience knowing the better would come is what inspired this collection. The collection starts with deep blue signifying cold winter, slowly moves into the lighter shades and then merges into wine, mauve and berry-earth colours with surfaces inspired by the form of flowers signifying spring. The collection celebrates the season itself with a hint of the happy spring blooms that we all wait for," said Rahul Dasgupta.
Pictures courtesy: Rahul Dasgupta
Models: Mohammed Iqbal and Tarique Ahmed