Sanjoy Basu is a doctor by profession and an artist by passion and he divides his time between the two seamlessly. Basu, who takes a keen interest in world affairs, especially the USA, expresses his opinions with cartoons and is exhibiting his work at Tribe Cafe, Salt Lake this month.
"I have been drawing political cartoons for a while, it's just that I draw them with more seriousness now. I generally display my works on a social media platform like Instagram and I have considerable followers from across the world," said the gastroenterologist who uses acrylic on canvas for expressing his opinions and channels the artist in him from 11 to 12 at night and six to seven in the morning.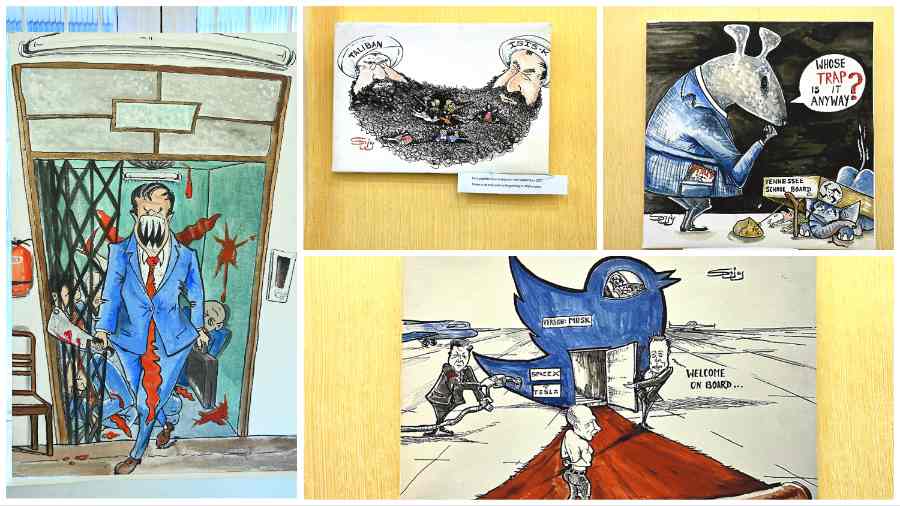 Some of the artworks on display at the cafe.
The 30-odd artwork on canvas is a digital version of his original works and they range from hot topics like human rights violations in Qatar, abortion laws in the US, Novak Djokovic flouting Covid restrictions, Elon Musk taking over Twitter and others. What about voicing his opinion on India and Indian politics? He definitely has a lot of ideas brimming but he doesn't want to rush into things.   
Apart from making a commentary on world politics, Basu also works on the theme of surrealism. He has also done some impressive commissioned work for Alliance Francaise du Bengale that is thought-provoking too.