When we caught up with Dona Ganguly, the Odissi pro was busy prepping for Mayar Khela by Rabindranath Tagore, to be staged soon. A joint venture between Dakshinayan UK and her dance troupe Dikshamanjari, Mayar Khela will see Dona play Promoda. Dona tells The Telegraph why this production has been a challenge and how much she is enjoying her time in London, where she has been staying with daughter Sana from September 22, who is studying there and is currently on a Christmas break, in Calcutta.

Since when have you been planning this?
Ananda Gupta (of Dakshinayan UK) gave me the proposal after Pujas. He is based out of the UK and is organising everything. This is a new production. In the past, we have done Shapmochan and Chitrangada, among others. This is our first time with Mayar Khela. The songs are beautiful. We will try to stage Mayar Khela with our USP. We were working with half the team that was initially working, (due to the massive Covid surge). In fact, we've hardly been able to rehearse with the entire team. I had told my students with even the mildest of symptoms to stay away, but have put it on hold for the time being. We'll see how it goes. We have tried our best and put in our best. These are difficult times.

What was strength you were working with?
We were working with 85-90 people and at least half have been affected. We rehearse very well and that's what we haven't been able to do. If I was teaching a girl the particular steps, she was calling in sick the next week. It was like passing the parcel and was very difficult. I don't know how much we'll be able to achieve at the end of it all. Muri murkir moto people are getting affected. Hopefully we'll come good with a positive attitude.

Stage is your life. As a performer, what has been the biggest setback for you in the last couple of years...
Last February-March was my last proper performance. Costumes, light, drama... This is what gives you extra energy. Again the hall capacity is less. We are used to performing in packed auditoriums. And we get inspired by that. There is no question of that happening now as it entails a huge risk. For Mayar Khela, we've had to improvise a little, given the current situation. I am playing Promoda and Raghu (Raghunath Das) is playing Amar.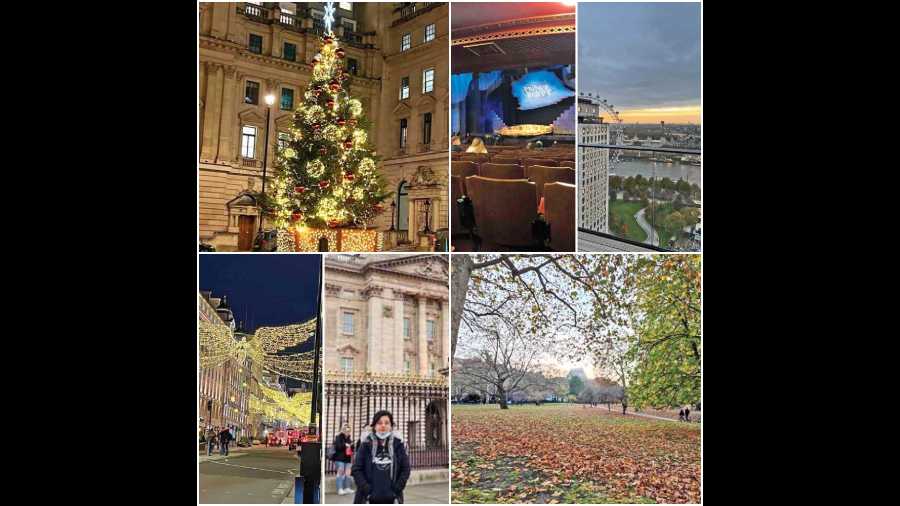 Dona's London Diary.
Tell us about your London life...
We are used to staying in London because we've been there many times and have a house too. It feels good. Staying with Sana alone is a big experience. Online classes take up a lot of my time. I take classes from noon to 4.30pm-5pm, every day. I walk around a lot because we are in central London. I was there in November-December. Regent Street, Oxford Street, Piccadilly, Leicester Square are decked up so well. The Christmas fairs are beautiful. It's wonderful. Thanks to my online classes, I have made a lot of new friends too, students and even their moms. I was having a ball. I saw a couple of plays and musicals, like The Prince of Egypt. I go out for meals with Sana's friends. It's me time. After so many years, you've got a breather! Yes, absolutely, onek bochhor bade. In Calcutta, I live in a joint family and I am in the thick of things. There, it's not that Sana is always with me. So, loads of free time. Besh bhaloi lagchhe, but I do tend to worry too, though knowing fully well that everybody will take care here.

Sourav Ganguly's reaction to your me time in London posts are hilarious!
He commented on a Facebook post of mine that some people enjoy life and some do all the hard work! (Laughs) I was having fun. I haven't been able to meet half the people since I was so busy enjoying my time in central London.

Mayar Khela is all about love. What is love for you right now?
Love grows on you slowly. It is about responsibilities, care and sacrifice. True love is something that lasts longer. No matter what happens, you still love your parents or your first friend in kindergarten. It doesn't always have to be between two lovers. It is also something for which you take risks. Like dancing. Eto risk niyeo, we are trying to stage this because we are so passionate about the craft.

BLURB
Love grows on you slowly. It is about responsibilities, care and sacrifice. True love is something that lasts longer. No matter what happens, you still love your parents or your first friend in kindergarten. It doesn't always have to be between two lovers. It is also something for which you take risks. Like dancing. Eto risk niyeo, we are trying to stage this because we are so passionate about the craft — Dona Ganguly