Kolkata-based drape artiste Dolly Jain, a record holder in draping in the Guinness World Records, was one of the key people behind the scenes of the much-talked about wedding of Bolly couple Katrina Kaif and Vicky Kaushal. After her return to the city, t2 caught up with Dolly for the deets. From fashion to emotions, Dolly talks to The Telegraph about the grand ceremony:
When and by whom were you first approached for this grand wedding?
I was approached by their wedding planner. When they approached me, I had no clue that I was doing Katrina's wedding. In fact, 10 days before the wedding also, I did not know. There were a lot of rumours going around that a big wedding would happen and I was also booked for a Jaipur wedding. They just said it is a high-profile wedding. It was a similar process when I did Deepika's wedding. 
What were your initial feelings when you finally got to know you will be doing Katrina's wedding ?
Obviously, I was very happy. I was excited but nervous at the same time because this was the first time I was going to work with Katrina. I got a couple of calls from her manager regarding draping her saris earlier also but that somehow did not work out. So, I was very nervous and excited at the same time.
What was your experience of draping for bride Katrina?
I think she has been one of the sweetest brides that I have dressed. I am not saying this because she is a celebrity but being one of the top celebrities from our country, she didn't have that air at all. She gave us enough space and time to deck her up. She was very patient. And the feeling of seeing both of them (Vicky Kaushal and Katrina) getting married was very beautiful... it was so serene and pure. She was very calm, very patient and a very excited bride.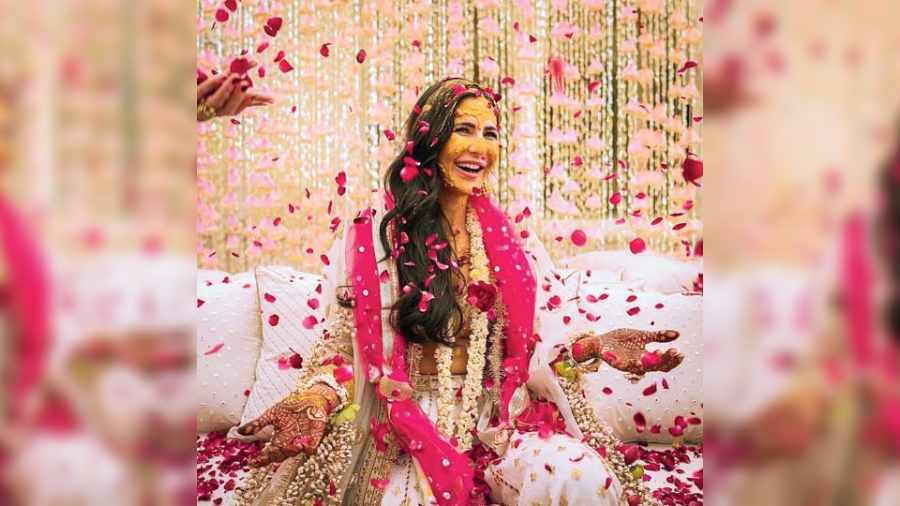 "For the haldi, the beautiful ivory lehnga was draped in a cape style. It was a haldi ceremony and there was a lot of fun. It covers the right amount of the body and hides the right amount of the body as the lehnga was beautiful," said Dolly.
How did you prepare for the event and did your ideas match your first impression of seeing her in person?
I never do any preparation. Whether it is Katrina or Deepika. I treated her like a bride, not like a celebrity bride.To me every bride is a celebrity on her wedding day. My idea is to make them feel as comfortable as possible. All brides need to look great on their special day. I have a set of things I carry, I carried that there also. But when I met Katrina for the first time, I was definitely a little nervous. She is very particular about draping. But she was quite confident about my work and I was very happy that every time I dressed her up, she was happy with the style I chose  for her. It was a mutual decision.
What kind of brief did you receive?
Her team used to come up and ask about the look that I decided for her. But eventually, I needed to change here and there. For the mehndi look we knew that the mehndi would be applied till the arm, so we cannot let the fabric trail down. I have been in this industry for 17 years, and exactly know when you need to let your drape down and which looks need to be completed pinned up. I am glad Katrina agreed to everything.
What kind of a bride was Katrina?
Katrina must have become a bride for so many movies and advertisements, but this time she knew that it was for real. We could see her crying, her emotions were exactly the emotions a normal bride would have. It was only a close gathering but in front of them she did not have to pretend. She was a daughter of someone, a sister to someone. That was the whole vibe of the wedding.  We could see all her emotions. Just how I do a next-door bride, we could see those emotions in her.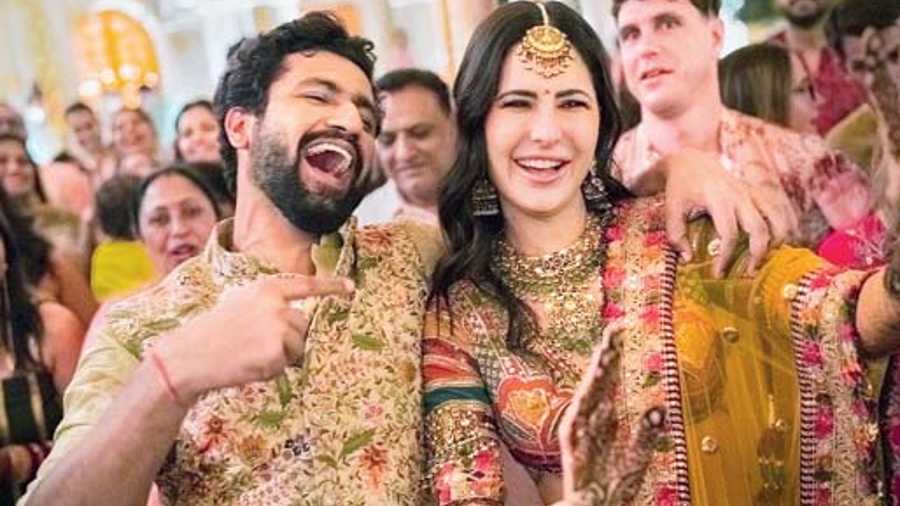 "For the mehndi, the dupatta was pretty long like a normal dupatta. The way I pleated it, I shortened the length of the dupatta while keeping the border on her elbow and that was like a trick to do. It was a new drape I did, it could be called a K-drape or Katrina drape (laughs). It was done for her wedding and people would recall it immediately," said Dolly.
What is the first thing you check when you are approached for a wedding ?
I see the designer, and how heavy her outfit will be. I have a clear image of the bride in my mind like that. I think you need to do justice to three things — make the bride feel comfortable as if she is wearing a pant and T-shirt, the garment because the designer has put so much effort on it, and to the designer. I definitely like to see the garments in advance but when we do an outstation wedding it is not possible for me to go and do a trial of the garments. We ask them to send pictures, if anything needs to be added we guide the bride's family.
When we look at a Sabyasachi bride we immediately know it is a Sabya bride. How did you keep the signature touch incorporating your style ?
I had to keep all the things in mind. Sabya was right there beside the bride when I was doing the drape and it was a very nice feeling. We do trials but on the D-day when we do the actual garments obviously the designer is also very excited. Sabya was right there and he knew exactly how we decided the drape and I had to make sure everything was crisp and clear. When we do movies, we can do retake and touch-up. But here once the bride walks out, she is in front of thousands of cameras and we cannot do any touch-up. You have to keep this in mind when you are dressing any celebrity. For other brides, you can stop the camera for a minute and correct it but when you are doing a celebrity you have to know it will not be just the front they will be capturing. Right, left, centre, back... every angle will be captured and you cannot go wrong with any angle. This is a little stressful when it comes to a celebrity bride. It is my job to do it and I love doing it.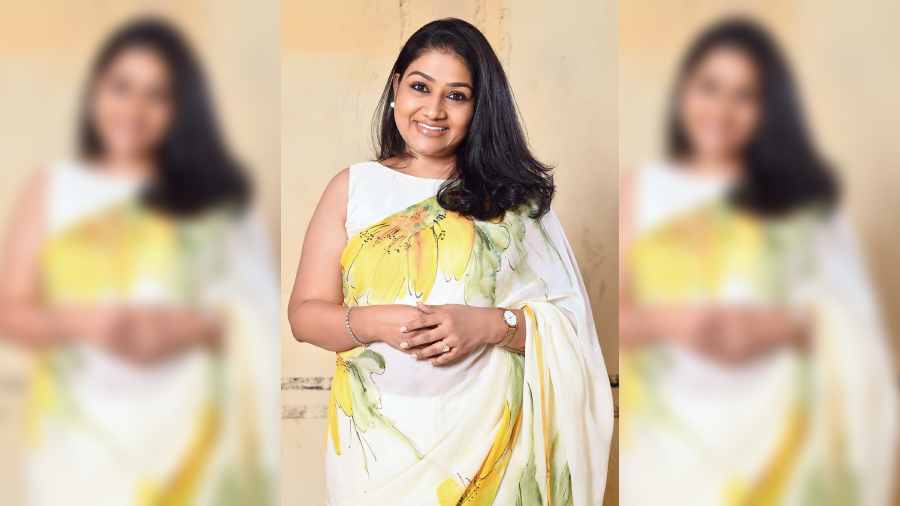 Dolly Jain
Did Sabyasachi have anything to say on the draping styles?
I think his one remark I will not forget my entire life. Sabya said, 'When it is my garments, it has to be Dolly. The moment I see her, that's the reason I breathe.
She makes my garments look the best.' That is something I will cherish all my life. Though we have worked a lot together and every time he says something I keep it in my heart. Every time it is a new experience to work with him.
What are some of the things you kept in mind for draping the different looks of Katrina ?
The most important thing I kept in mind was not to use too many pins, which I naturally don't do. I hate the bend of the pin and rather stitch the garment with the blouse on the waist and lehnga. I do the stitching part more than the pinning part. That is my forte. This was the most important thing I kept in my mind. I kept in mind that it was her day and she needs to enjoy every second and not be bothered about the garment at all. To make her feel as comfortable as possible.
What is your emotion like after dressing up a bride?
My daughter is 24 years old. Every time I dress up a bride, I see my daughter sitting there and apart from draping, I do everything that is required to make a bride feel comfortable, whether it's cracking a joke because she is a little anxious, or guiding her regarding a few things about visiting the in-laws' place for the first time. For me, it is the mother-daughter feeling because I immediately see my daughter in her. For me draping wouldn't take more than five-10 minutes but the bond I build lasts forever.
You are a pioneer in making draping a significant artistic expression that should be taken seriously, keeping in mind the technicalities. When you started out did you imagine that your approach would be taken so seriously and how does it feel now to see this art get recognition?
Not at all. I had never in my life thought that it would be a platform and I would be able to make it such a platform. I have had my extended family or relatives say that Dolly has lost her mind, what profession she chose. There were times I used to feel low and come home crying upset with people's attitude. Why are people like this? Why can't people respect a drape artiste. But there is something in me that doesn't let me sleep and keeps pushing me to do better. The inner feeling was so strong that I couldn't stop it as a career. I think society has made it very difficult  for me, they didn't understand the language of my profession because it is not CA, doctor or engineer. And married to a Marwari family and making a new path and walking on it was in itself a big challenge, but my in-laws always supported me. No work is small or big. It is about how you do it and feel about it.
What did Katrina tell you after the wedding?
I had to say bye to Katrina as I had to travel to Udaipur for another wedding and I left her at 11.30pm. I went to meet her for the last bye and hug to wish her a happy married life. She held my hand and said, she will miss me and I made her feel very comfortable and confident with the drape. 'Now whenever I wear saris it has to be you', she said.
Pictures: Instagram and Dolly Jain