"My father (Jatin Das) is a lot like Manto, and the similarities were kind of uncanny. Both mavericks, misunderstood, misfits, very impractical, righteous — all of those thing I could relate to, and I felt that having grown up with my father, I would know Manto a little better than only what's written," Nandita Das said at a session of Ek Mulakat held at ITC Royal Bengal, organised by Prabha Khaitan Foundation in association with Shree Cement. The actor-filmmaker was in conversation with writer and art curator Ina Puri.
Disappointed with the poor distribution of her 2008 directorial debut, Firaaq, Das said, "I swore I would not make another film." However, in 2012, when a lot was being written about Saadat Hasan Manto on his centenary, she felt a deep connection with the author, which led her to make a film on the writer.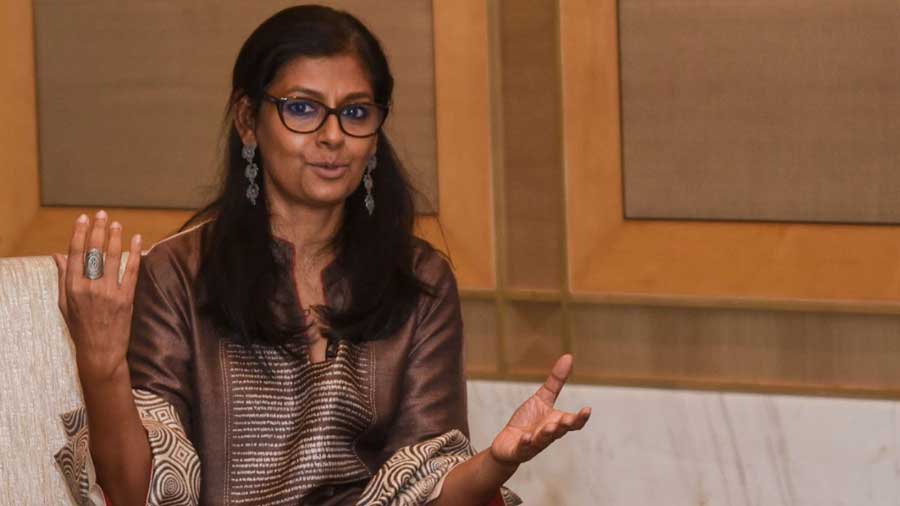 Nandita Das
Amit Datta
For anyone who has watched Manto, apart from Nawazuddin Siddiqui's memorable performance as the eponymous protagonist, another role stands out, that of his wife Safia, played by Rasika Dugal. However, while a lot had been written about Manto, fleshing out Safia's character was not an easy task, Das said. 
Even though her three daughters remembered her more than their father, (Manto died when they were still very young), they too did not have much to say about her apart from the fact that she was very supportive and soft-spoken. To delve deeper, Das visited Safia's sister in Lahore – the only person who had memories of Manto and Safia together. 
She told Das about how Safia had developed a skin disease about four-five months before Manto died that just would not subside. After he died, however, the rash vanished in a month, which was proof of how the emotional stress that Safia was under had found a physical manifestation. "And that kind of triggered [me]..," said Das. "I decided that everything she felt, I am going to give voice to… I gave her a little more agency." 
Das also spoke about her acting roles, having starred in several films by renowned Bengali directors as well, like Mrinal Sen (Amar Bhuvan), Rituparno Ghosh (Shubho Mahurat) and Suman Ghosh (Podokkhep). Speaking of Deepa Mehta's 1996 film Fire, where she starred with Shabana Azmi, both Ina Puri and Nandita Das recalled the stir it had created when it was released. "I feel that Fire triggered a conversation and if 20 years later, the Act was repealed, then Fire had a role to play in bringing it to the public domain", said Das, referring to the infamous IPC Section 377, which criminalised all sexual acts "against the order of nature", and was declared unconstitutional by the Supreme Court of India in 2018.
Asked how she spent her time during the lockdown, Das said that it was both creative and difficult. In 2020, she wrote, directed, produced and acted in a seven-minute film titled Listen to Her, which addresses domestic violence. "Suddenly, that whole period was very, very disturbing… and then these stories about increasing domestic violence started coming up, and not just from India, but all over the world — America, UK, France — and in that whole chaos, I just got up one morning and wrote a seven-page script."
Das also spoke about her involvement in the 'Dark is Beautiful' campaign, recalling how she was initially unsure about whether the issue deserved standalone attention, but realised its impact when young people started asking her questions about it. In 2019, in order to mark 10 years of the campaign, she made a music video called India's got Colour starring well-known actors like Radhika Apte, Vikrant Massey and Swara Bhaskar.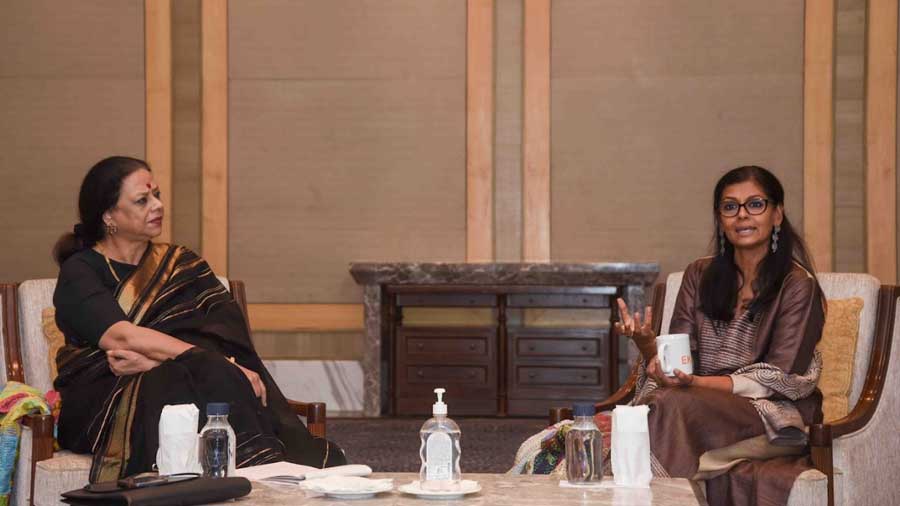 Nandita Das in conversation with Ina Puri at ITC Royal Bengal
Amit Datta