I still remember the day... our first day of shooting the adventure sports segment somewhere around November 15, on the banks of Teesta River with cameras set up on all sides. Starting from drone cameras to cameras attached to the raft, all were ready to take some marvellous shots of an epic moment in Bengali cinema history. Among all this excitement, Paranda (Bandopadhyay) comes and says, "You must be kidding me. I am not going on that raft at any cost." We kept trying to convince him but I could understand his concern 'cause the current of the Teesta is nothing less than a rollercoaster ride. I believe in every situation of your life, someone or the other comes like a tonic. In this situation it was none other than the superstar Dev himself. He suddenly joined our conversation and in his own simple way started convincing Paranda that this whole river rafting is very simple indeed.
I keep wondering what he said and how we managed to get Paranda on that raft by telling him it would be a matter of three-four minutes.
Of course, we maintained all types of safety guidelines. But the thing that really caught my eye was the way Paranda, in that cold water of the river, amongst the high tide and current, managed to give the perfect shot and he enjoyed it a lot. I still remember the glow in his eyes, the excitement in his body language when he was done with the whole process. It was like he was on the top on the world. And this excitement can be seen on the big screen as well. So that is where we completed our river rafting, on the banks of Teesta in Kalimpong. An amazing experience and a 'tonic' I can treasure my whole life!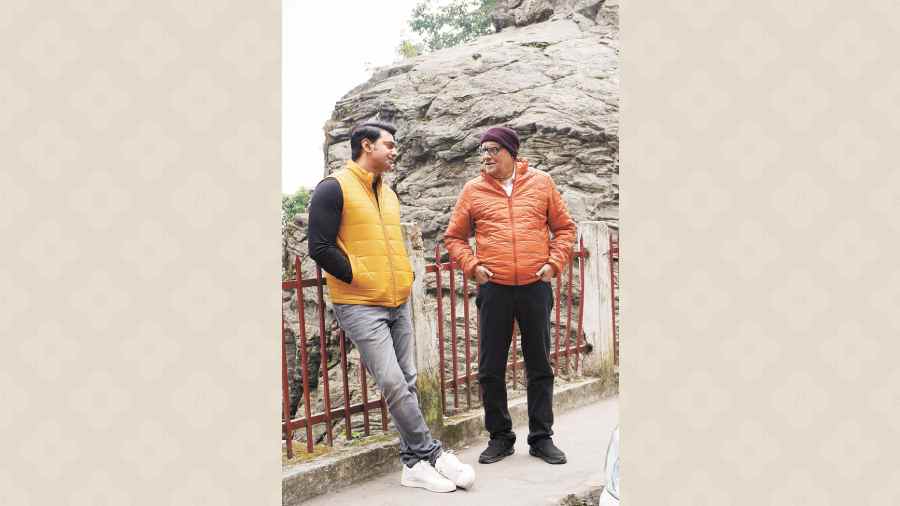 Shooting in North Bengal is one of the best experiences one can have. At any point, at any place if you place the camera, you will get a magical frame. I had anticipated this, but while shooting there were days where we faced a lot of trouble. The skies were filled with clouds. There was huge fog density. Shooting conditions were not on our side. Our next agenda after river rafting was paragliding. It was a sequence where Paranda and Dev would do the sport together. Very few people know that in Bengal there is an amazing place to do paragliding and if one can maintain all safety and precautions, this is one of the best experiences. This can be done from Delo in Kalimpong. So, with all our crew and cast we planned to shoot this sequence there itself. But as per the norms of paragliding one must climb up to a peak to set off for the flight so as to land at a plain area. This climbing process was very steep and pretty much difficult for Paranda and Shakuntaladi.
We were always concerned about the safety of our artistes, so a new road was made by cutting through the mountain so that Paranda and Shakuntaladi could be taken safely to the tabletop from where they could set off.
So, on the day of the shoot, we took them both and set off for our journey to the top. Weather conditions were very harsh, and it was extremely difficult. Halfway through our journey Shakuntaladi refused to go any further as she was not being able to cope up with the conditions. We did not force her and planned our scene in a different way. But Paranda, at this age had such will power that because he liked the scene so much, he kept climbing and reached the hilltop. The tag line of the film is, 'Age is just a number' and there are these small moments when I really felt that artistes with the passion and calibre of Paranda keep proving it repeatedly.
But to our dismay, after all this effort, after bringing such a huge unit on top, such heavy equipment, weather was not on our side. The skies were filled with clouds and paragliding would not be safe in these conditions. Normal tourists who were there for the sport were also not allowed to glide because of the weather. We were heartbroken. I did not know what to do. I still remember Dev telling me that day, that it is very easy to write a scene sitting in your room among four walls but in reality, it is not that easy to execute it.
This was definitely a learning for me. However, we did not lose hope and decided to come back again on the next day to do the same scene at the same spot. Fingers were crossed as to whether the weather gods would be with us. Next day early morning God had answered our prayers. It was a bright sunny day. The skies were clear. Perfect conditions for paragliding. And just when I was thinking that nothing could go wrong, I got the news that Paranda had refused to go. Again, the whole process of convincing Paranda began. I didn't know what to do. Atanuda (Raychaudhuri) and Dev somehow managed to convince him to sit on a cot, which was carried to the hilltop. Sometimes when I look back I realise it was always Dev who took the first initiative to charge up the team whenever we lost morale while shooting these adventure sports sequences. He was the one who kept saying, "Yes, we can do it!" It gave a huge boost to not only me but every member of our crew. And, in fact, after reaching the hilltop, Dev was the first person to take the flight. I would be lying if I said I was not scared. My heart was in my mouth. After all, it was superstar Dev who was paragliding from over 1700m. Yes, we had done our research work, we had tested everything, tried it ourselves but in my subconscious mind, it was always playing that this is Dev, the superstar, Dev, the MP who was paragliding from such a high altitude. I remember asking all my cameramen, my crew if everything was going fine because after a point I could not see him since the landing zone was totally different from the take-off zone and a different set of cameras were placed there. Though everyone kept assuring me that it would be fine, I was super worried. After a while my phone rang and it was Dev. He had reached the base and was super excited about the whole thing. He informed me that he had landed safely and he was so excited that he wanted to do it again! It was a brilliant trip he said. I got equally excited hearing the fact that he would do it again, which would allow me to take much more variety of shots. So he climbed up the hilltop again but the sun was not on our side this time as the skies got covered with clouds. Paranda also shot the same soon after Dev. Both the pilots with Dev and Paranda were extremely well trained, and we maintained great safety while shooting these sequences.
In Tonic, we had planned a sequence of rock climbing. So our final task was to get that done in Tenzing Rock in Darjeeling. Tenzing Rock Climbing is the best spot for amateurs to try rock climbing and get a feel of how it is done. It has trainers and all the equipment required to do the sport. During this sequence as well, with all the set-up done, Paranda refused to perform it. The whole process of convincing Paranda began again. Finally he agreed on the rock climbing as well. And in each of these sports, after their completion he would be the most satisfied man on the planet. Every time the scene would be completed, he would express the happiness he felt while doing it.
Even in the film, I think the audience will get a reflection of how Paranda refuses and then overcomes this fear to do such amazing things at this age. This was a treat to watch for me and our whole crew and this energy of a
80-year-old man was caught on the camera as well. I think this has also gone very well with the whole concept of Tonic. There is a fear in each of us, yet we want to do things in life which give us happiness. This fear might be due to our health, it might be in our mind, it might be due to the society and to overcome this fear and live our life to the fullest is the main story of Tonic. A story to fulfil our wishes. And this satisfaction and sense of fulfilment has been caught very naturally in the expressions of Paranda. So, the story has blended very well with our shooting incidents.
When we were planning to go outdoor for the shoot, a lot of factors kept playing in my mind. With senior actors such as Paran Bandopadhyay and Shakuntala Barua, I knew it would not be such an easy task in this cold weather. Also, I was shooting with Dev, a superstar who has such a huge fan following. So, all these factors kept playing in my mind as to how to do the work giving them the space that I needed to. But while I worked on this project, I have always been supported by each one of them. For instance, if I talk of Dev, he helped me like my tonic. He was always a team man who led from the front and was always beside me.
I remember this instance of shooting a sequence in the highest railway station in India, Ghum, where there were a lot of tourists, and the scene demanded the toy train to arrive, and Dev would click a picture of Paranda and Shakuntaladi with the train. Suddenly, the whole place got covered in fog. We had only two cameras and I was shooting the sequence in one of them in a hurry so that I could move to the next scene immediately, which was a song sequence. I suddenly noticed that one of the cameras were missing. I told Paranda and Shakuntaladi to wait as I would get the next scene ready when all of a sudden, I heard Dev calling me.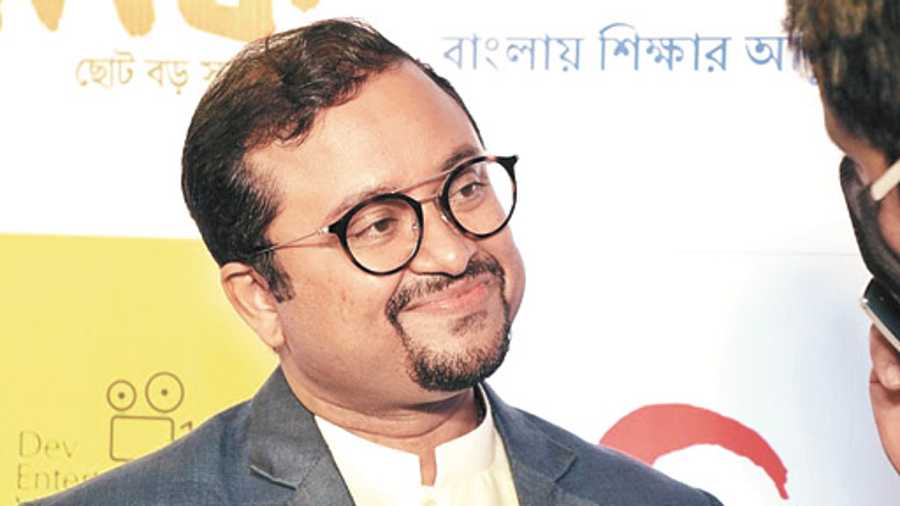 Avijit Sen
To my surprise he had already set up the camera to take a wonderful shot, where he, Paranda and Shakuntaladi would all be looking through binoculars to see the mountains. He was so quick and always had in mind that we had to finish before the fog returns. I understood what a team man he is and my task became much easier thereafter. This is just one instance but there were innumerable occasions where he was the tonic of the team, be it inquiring about everyone's food or helping in any way he could to move forward with the production. So, without the constant help of Dev and Atanu Raychaudhuri, Tonic could never have been possible.