The new consul general of France in Kolkata, Didier Talpain wears a diplomat's suit and wields a conductor's baton too. A chat with the Frenchman.
Welcome to the city. What were your earlier postings?
I spent a lot of time in central Balkanic Europe — Poland, Slovakia, Bulgaria and Greece, in addition to Paris. Three-and-a-half years ago, I moved to Karachi.
What made you choose Southeast Asia?
I was proposed these posts and I had no reason to refuse. About 15 years ago, I came on my first diplomatic mission to Delhi. We have a network of French schools helped by the French government in almost every country. There was a small school in Delhi. I spent two or three days there.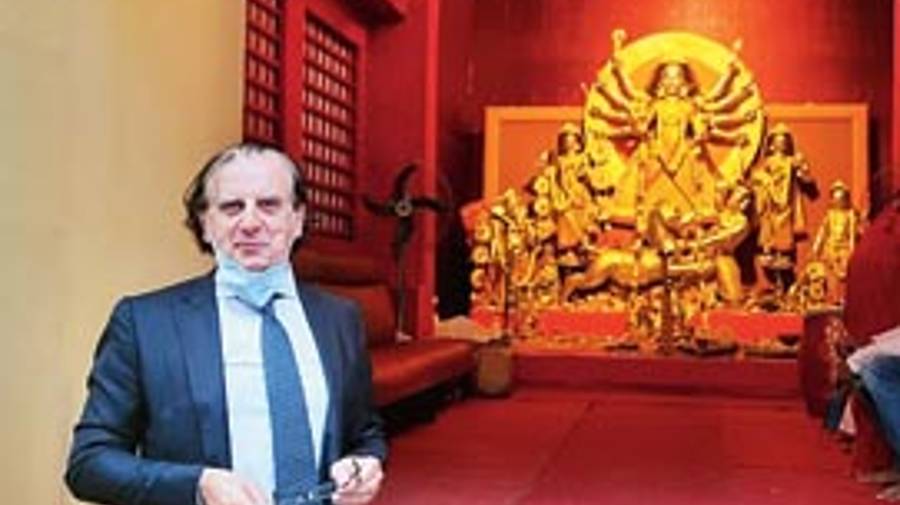 Consul general Talpain on his Durga Puja trip. Picture courtesy Sourav Bose
You landed in Kolkata in mid-October and managed to visit a few Durga Puja pandals, right?
Yes, I took a small tour to get an idea of this colourful feast. I went to four spots. Last week, I had a look at the city while visiting a couple of restaurants taking part in our French gastronomy event, Goût de France. It is a green city, even in comparison with some European cities. I was also not expecting so many heritage buildings. I have, what we call in French, l'amour des vieilles pierres (love of old architecture). That means structures dating before the 20th century. We have a lot of that back home.
What part of France are you from?
I am from the east, a region called the Franche Comte, the capital city of which is Besançon, about 200km north of Lyon.
You are a trained musician. Which instrument did you specialise in?
Before I turned to conducting, I took my degrees in flute. I also did some years of the bassoon, which played a big role in (Sergei) Prokofiev's (children's theatre composition) Peter and the Wolf.
One of the major gods in the Hindu pantheon is a flautist — Lord Krishna.
Yes. In the West, we know of the image with the flute. The flute has been popular from the antique and pre-antique times under different forms and shapes. In the Arab countries, they have the ney — not totally straight, not totally transverse. You find mention of flute even in Egyptian papyrus. In Europe, from the 18th century onwards you have compositions for the flute.
In India, the bamboo flute is more popular than the metal flutes of the West.
Flutes used in the orchestra are made of silver or gold or a mix of both. Till the mid-19th century, flutes were a piece of wood with three keys. Then the mechanism came to make metallic keys. Over the years, there were improvements to have better intonation. Even in early 20th century, there were wooden flutes in Western classical music. Now there is a strong movement in Europe to go back to playing period instruments when we play the repertoire from the 17th, 18th or first half of the 19th century. It is interesting to reinterpret the music of the past with instruments of the past. You can listen to a Mozart symphony the way it sounded when it was composed.
You conducted your first concert at the age of 18. Where was it?
It was in La Chaise-Dieu, a small village in Auvergne, in central France, where you find dead volcanoes. It is famous for an annual music festival started by a virtuoso French pianist of Hungarian origin, Georges Cziffra. My first concert was not in the main framework of the festival though later I have participated there too.
Do you remember what you conducted?
Yes. One was a symphony by one of the sons of (Johann Sebastian) Bach, Johann Christian Bach. Another was a trumpet piece written for Versailles at the time of King Louis XIV by (Jean-Baptiste) Lully. At the time, I was a student at the Nancy Business School and at The Nancy Conservatory of Music. Later I moved to Strasbourg where I studied at the Institute of Political Studies and then to Paris where I attended classes at both Ecole Normale de Musique and Conservatoire National Supérieur de Musique.
But you managed to balance your diplomatic career and your artistic pursuits.
I try to keep one foot in the artistic world. As a diplomat, you can choose the cultural sector, which I did in central Europe. Working as a cultural counsellor in the embassy meant dealing not only with the arts but also promotion of French language, organising film festivals, debates and so on. I undertook musical collaborations not just with countries in central Europe but also once in Jordan for an opera production. Musicians came from Jordan, Moldavia and France.
You must have plans for musical collaborations here too.
I will visit the Calcutta School of Music. It is famous. You could have music even without a common language. That is the magic of music. Of course, I do not know Indian classical music, which is another continent.
You got a prize from the Yehudi Menuhin Foundation.
Yes. I did a high-level training course in conducting with a senior conductor from Opera de Paris under the foundation's label and got the title of laureate of the foundation.
Did you hear of Pandit Ravi Shankar then?
Yes, Menuhin and he worked together to create crossover music. It was quite famous in the West. It's not every day that two musicians of that calibre collaborate. But it was a long time ago, the mid '60s. I did the course in the mid-'80s.
You prefer recording lesser-known pieces.
Nobody would ask me to record the 51st version of a composition! Also, it is more interesting to record things not recorded before. I recorded some rare operas. Johann Christian Bach was a teacher of Mozart. One of his last works was for the Paris Opera, Amadis de Gaule. It is a ballet opera. I recorded it in the French original with period instruments. An earlier recording existed but it was in German translation and with modern instruments.
Another recording of mine is linked to India, called Les Bayadères by (Charles-Simon) Catel. It's set in Western India and is a love story between a maharaja and a bayadère, who is supposed to be devoted to God. The theatre that was home to Paris Opera till 1873, was opened with this production in 1821.
Do you have an interest in sports?
I am not really into sports, with one exception. I like trekking, not up the Himalayas, but going for long distance walks, which I do a lot in France. Another sport I practised when I was younger was fencing. It is not a popular sport as it is difficult to showcase on TV. The goal is to touch the opponent. But it is very rapid and lasts only a couple of seconds. You cannot make anything out except by looking at whether the (scoring) light has gone green or red (to decide which player has scored the hit). So it is frustrating for the audience. It is not like football, which is played over a long distance and where you can see where the ball is all the time. I hear the international fencing federation is thinking of putting some lights under the blade, like lightsabers in Star Wars. Then you can see the movement.
What do you like to do in your spare time?
I listen to a lot of music, I read a lot. I am fond of history, especially of the 20th century. The last article I read was on the history of Sikkim.
You might want to watch a documentary on Sikkim by Satyajit Ray.
Yes, surely. There is another interesting link with Sikkim in Alexandra David-Neel. She was partly French, partly Belgian. There's a museum devoted to her in France. She lived till 101. She was an explorer, a feminist, a bit of an anarchist, an opera singer and was the first woman to enter the holy city of Lhasa, in 1924. She was in Kolkata as well and spent a long time in Sikkim. She had interest in Buddhism. She led an extraordinary life.
Do you plan to perform in Calcutta?
My job is to be the consul general. Our two big tasks are to provide the consular services and promote links between the two countries and promote French culture and make higher education in France attractive for Indian students. Of course, in this respect of building bridges between two countries, we can be active in cultural and artistic collaboration. But that is more the work of Alliance Française du Bengale. I don't know if I can be personally involved. Of course, I have some ideas and now I have to discover who are the Indian musicians to collaborate with.
Favourite composers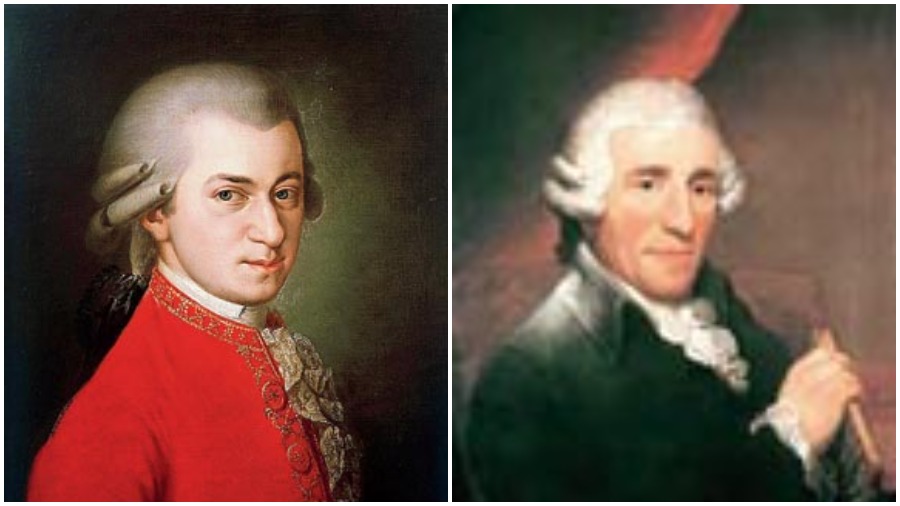 (L-R) W.A. Mozart, Joseph Haydn
•Gioachino Rossiny (as I am fond of opera)
• W.A. Mozart
• Joseph Haydn
• Antonio Vivaldi. I started my musical education with him
• The sons of J.S. Bach. I recorded some series of their music
• J.N. Hummel