It's 4:30am. The city is still engulfed in a warm slumber. The first pearls of light haven't even begun to shine, but it doesn't matter to Dipak Lal. For the 67-year-old, it is time to cycle. He heads out of his Bhowanipore home with his trusty bicycle on his daily 50km adventure, like he has every day for the last five years.
What sets Lal apart from traditional cyclists is his love for and commitment to cycle polo, a game deeply etched in the city's sporting ethos since the British era, but now on the brink of being forgotten. Along with other enthusiasts, he even established an academy for cycle polo in Habibpur, Ranaghat, which has consistently built teams that have gone on to represent Bengal in the National Cycle Polo Championship.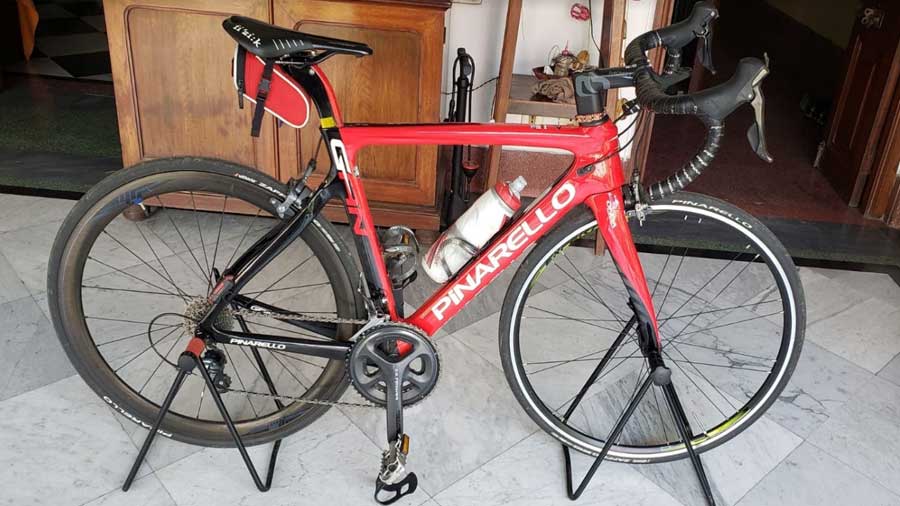 The 67-year-old cycles 50km every morning on his trusty Italian road cycle
Courtesy: Dipak Lal
Lal's love for cycling dates back to his childhood in the '60s as a student of Higgins School, followed by La Martiniere for Boys. He fondly recalls frequent trips to the Royal Calcutta Turf Club (RCTC), although watching horse polo was only one of the motivations behind his visits.
"In the 1960s, everyone from royals to top bureaucrats would fly down to Kolkata in winter for the horse polo season. We would sit in the pavilion to watch. According to the rules then, if the polo ball reached the stands, we were allowed to bring it home with us. Since the polo balls were crafted from coconuts, we got a novel idea," Lal recalls.
Humble beginning
His uncle, who owned a wood workshop, made mallets and with rogue balls acquired from RCTC's horse polo tourneys, a new journey in Lal's life commenced. "We lived on Raja Santosh Road at the time and three buildings including ours shared a long private lane. My brother, uncle and I started playing cycle polo there," he says.
Contrary to what one might think, the sport is extremely demanding on a physical level, and much harder than horse polo. Played on a ground larger than a conventional football field, each team has three players who cycle around, trying to score. The catch is, unlike horse polo that allows unlimited touches, cycle polo only permits three touches per player, making it mandatory for a player to pass the ball to a teammate on their final touch.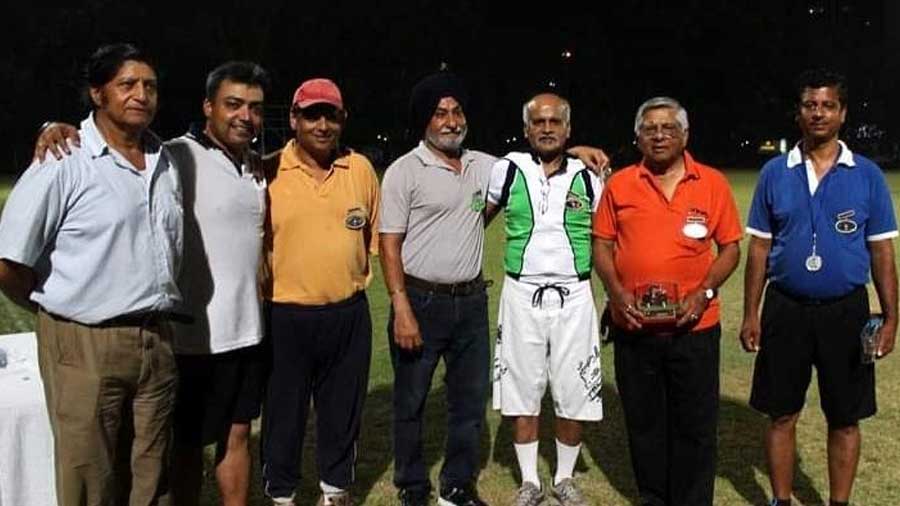 Lal, along with his friends and teammates, set up a cycle polo academy at Habibpur, Ranaghat to coach youngsters in the sport
Courtesy: Dipak Lal
Soon enough, Lal's carefree cycle polo days ended when he had to leave for Central Michigan University, but the love for cycling never left him. "I remember splurging 700 dollars on a Raleigh racing bike like the one they would use in the Tour de France, back in 1973," he chuckles.
After spending over four years in the USA, family ties brought him back to Kolkata and he joined his family business. Lal admits that adapting wasn't the easiest. "When I came back to Kolkata, I felt lost. The lifestyle I had in America was very different to what my friends from school were leading here, and there wasn't a lot of common ground to socialise. I got to know about Calcutta Cricket & Football Club (CCFC) being the only club in the city that accommodates cycle polo and promptly joined it." Lal rose among the ranks to become the captain of CCFC's cycle polo team, a position he holds to this day.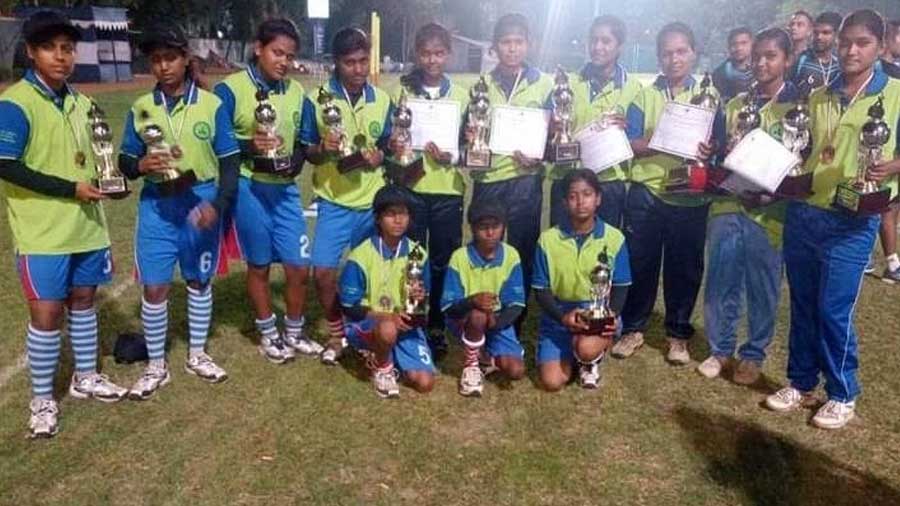 Players from the Habibpur academy triumphed against CCFC's team during their last face-off in 2019
Courtesy: Dipak Lal
Every year, from February to April, Lal's calendar is dedicated to this sport. His team even represented Bengal once in the nationals. "The sport has been extensively played in CCFC since the 1940s, especially by Maharajas to maintain their fitness during the off-season of horse polo. Unfortunately, only a few of us enthusiasts are left now. Though we were representing Bengal, the government didn't fund us. We manage the Cycle Polo Association of Bengal and funded the team ourselves," he sighs.
Quick success
However, this didn't perturb Lal. In 2004, he and his friends set up the academy in Habibpur, the very year after they participated in the Nationals.
"In this part of Bengal, cycling is integral to carrying out daily tasks and life without it is difficult. One of our friends (Suvendro Mullick, a descendant of Raja Rajendra Mullick) acquired the land, and we roped in interested boys and girls from a local school to teach them cycle polo. Within a year, they were playing way better than us. In 2016, the senior girls' team came third in the Nationals at Dundlod, Rajasthan, in their very first year competing. The fact that they achieved the result against much more experienced players, speaks volumes about the athleticism of Bengal's girls," gushes Lal.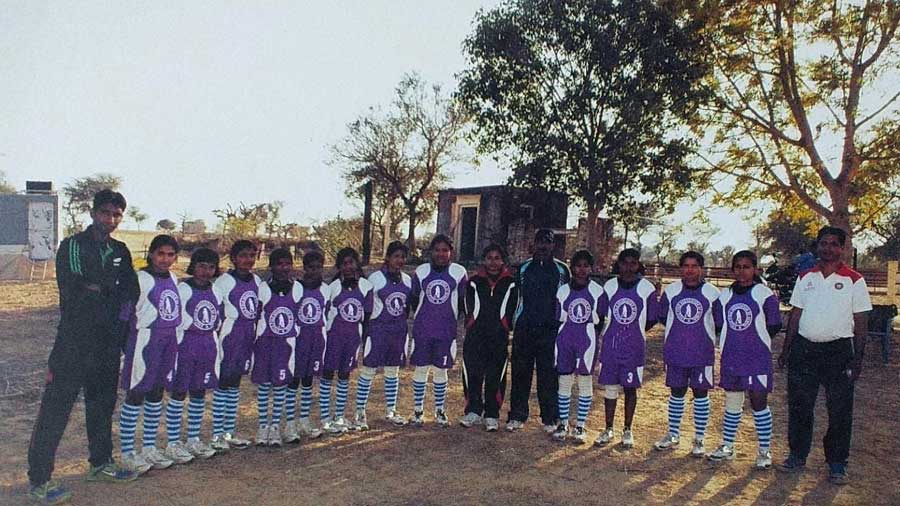 The senior girls' team from the academy that came third in the Nationals held in Rajasthan
Courtesy: Dipak Lal
As the academy grew, so did the prowess of its students. Every year, Lal and his troupe would bring the youngsters from Ranaghat to Kolkata for a week, where they would face off against the CCFC team, often emerging victorious. Their sub-juniors' team were also crowned the national champions. The academy kept the spark of the sport alive in the state, even honing the talent of Sonu Kairi, a young boy who went on to represent India in the 2019 World Cup Bicycle Polo Championship.
"Given the nature of the sport, we didn't receive help yet again and had to fund everything from his flight tickets to his kit," he says.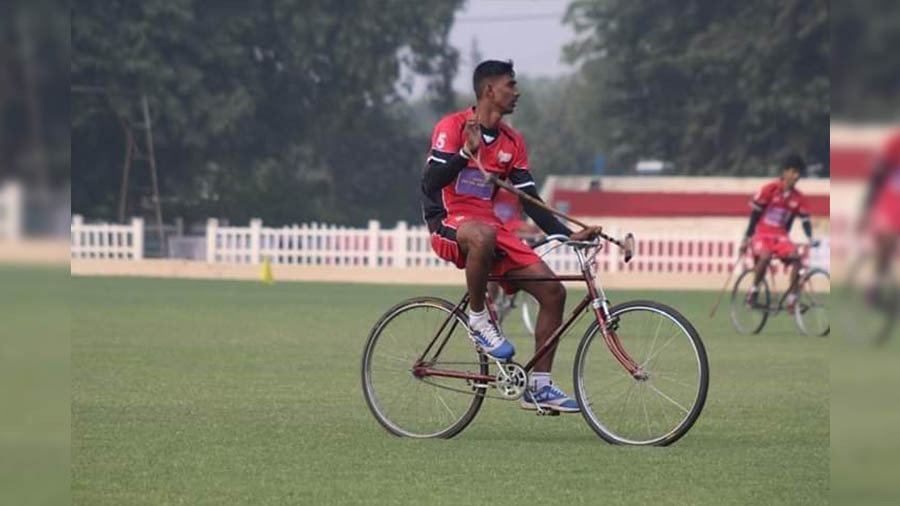 Sonu Kairi, a student from the academy's first batch of 2004, represented India in the 2019 World Cup Bicycle Polo Championship
Courtesy: Dipak Lal
When 2020 came, and with it the pandemic, it made it tougher for Lal and his friends to fight an already overwhelming battle.
"In a place like Habibpur, it is already very difficult to maintain a consistent team, as fathers marry off their daughters the moment they turn 18, and married girls rarely play. We've spent years running across government offices, trying to get cycle polo recognised at the school level, but even that hasn't happened yet. The cycle of losing and replacing players is quite difficult to navigate. Once the pandemic struck, the Nationals were called off. Not only did this reduce scope for our players, but the additional risk of infection meant that we couldn't even bring them for tournaments at CCFC and had to close our academy," sighs Lal.
For now, he draws solace from his morning rides to City Centre, New Town, and the airport, finding the same gusto and comfort behind the pedal that he did as a young boy playing makeshift cycle polo in his lane at Raja Santosh Road. "Till the time I can play, I'll keep playing," he signs off.