What's the code name Sabyasachi had for Deepika while working on her wedding wardrobe? Why did Deepika and Ranveer keep their wedding announcement last-minute? What are Sabya's three-stage global plans? Why is Deepika making a splash with her international appearances, from the Met Gala to the Cannes red carpets? The answers to these and many more interesting facts about the designer and the actress were part of a conversation steered by The Business of Fashion founder and CEO Imran Amed, at the Soho House in Mumbai on May 26. t2 sat through the interaction and here's bringing you edited excerpts…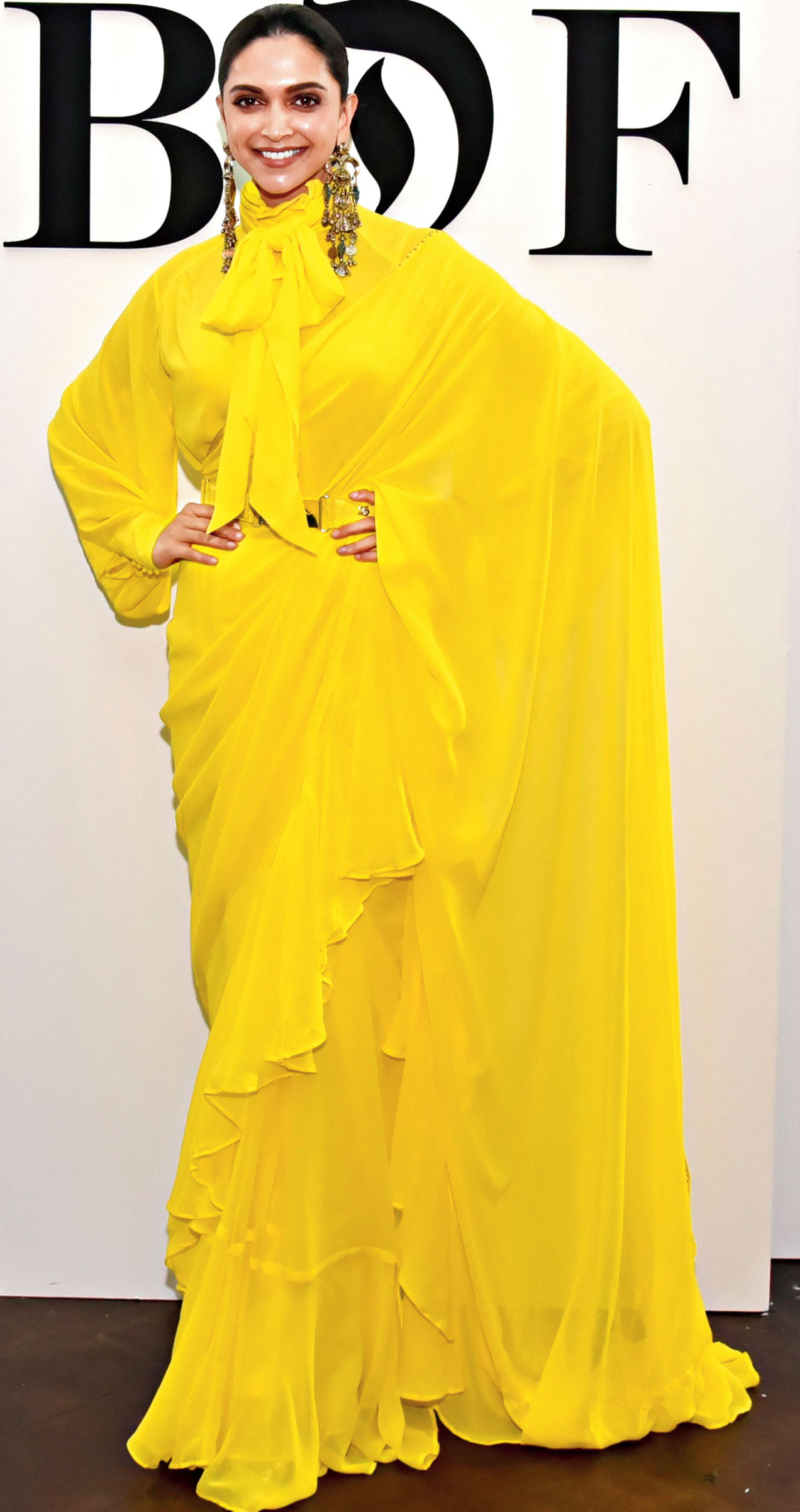 I think the last year was important for me to replenish emotionally and just do the things that I wanted to do, things that make me and my soul happy.... So I had taken that year off professionally.... Creatively nothing was exciting; it doesn't make sense to just be on a film set if I wasn't happy making the movies that I was being offered — Deepika
(The Business of Fashion)
Imran Amed: There's a lot of things I want to talk about today, but I would like to start with wedding. The idea of the Indian wedding kind of went global in the last few months with all these Indian actresses' weddings. Deepika, last year you got married to Ranveer Singh and as a recent bride, I was hoping you can explain what is the significance of the Indian wedding; why is it such a big deal?
Deepika Padukone: I think there are various reasons. From the bride's point of view, it's always that sort of moment in your life that you look forward to. I am not sure if it's a girl thing or it's an Indian thing. From my point of view, your wedding is that one big day that you look forward to in your life and you also want to look your best. It is important also because it sort of takes you into the next phase of your life. A sort of unknown territory. While you know the person, the coming together of two very distinct and different individuals and what that life is going to be together, that is exciting, it's intimidating; it's a new chapter in your life.
In Indian culture it's not just about the two people coming together but also the two families coming together. At least for me and Ranveer… how the two of us have been brought up… that for us was an equally important part. Because we both have been brought up in a way where family is extremely important, it's a part of our core, a part of who we are. So while on the outside we look like two completely different people, at the core of it we are exactly the same.
I moved out of home at a very young age, I played professional badminton all through my schooling years, until I was 16, then I moved to Mumbai to pursue my career in modelling and acting. So I have lived a large part of my life out of home. So I did want to be with somebody, to come home to somebody, to have a family.
Imran: Sabya, you have worked with thousands of brides… Deepika has very nicely articulated the importance of the wedding… but it is also a big business here. The wedding business in India is worth more than 40 billion dollars. When I explain that to people outside India, it boggles the mind. So can you explain what constitutes that huge sum of money?
Sabyasachi Mukherjee: We are a very emotional country and we like all sorts of celebrations. You know, when Mark Zuckerberg founded Facebook, I am sure there were many things on his mind, but one of them was exhibitionism. If I keep aside sentimentalism and value systems, I think what's happening with weddings in India is that it has become a premise for both voyeurism and exhibitionism. And I think also most weddings in India are to establish social hierarchy. And also at the same time, other countries have a lot of events where people can wear couture clothing, like the Met Gala and the opera; in India, unfortunately, most of the options where you can wear couture clothing are the five or six days of a wedding. I know many families who shop for their clothing first and then they realise that they are falling short of occasions and they create events to wear the clothes. (Laughs)
Imran: It's not only about the clothing, right? It's also about jewellery… Sabya, you developed your own line of jewellery… then the space… it's the whole celebrations. So what are the other elements that constitute the Indian wedding?
Deepika: That's Sabya being OCD (laughs)… he got into the jewellery business because I think he couldn't stand the fact that the bride was wearing his clothes with some random jewellery that did not match his sensibility, so he thought I might as well just give them the jewellery also. (Laughs)… that's the inside story.
Sabya: I remember, when I had the big debacle with Vidya Balan at Cannes, I went to a senior fashion editor and said that there is only that much that you can control, because of the facts that there are stylists and then shit happens. She was like, 'no, shit doesn't happen. When you are giving an outfit to somebody you are responsible for the whole image, you have to own up to that responsibility'. So then I decided that slowly slowly I will start controlling that entire image. So after jewellery we will get into beauty, then other things.
For instance, when we do clothing now, we design keeping Instagram in mind first. Girls when they come into our stores, they show us those pictures on their iPads, they try out the clothes and if it is a destination wedding then they go outside and see the clothes in sunlight and then click pictures… and for many of them the choice of clothing depends on how beautiful they are looking in the pictures.
So fashion has almost become like costume design. There's sudden increase in monotones, prints have become bolder, there's a big influence of the '80s… bright, bold and beautiful… it is from the idea that these will look beautiful in pictures. The entire notion of exhibitionism has become so strong that the entire world is now driven by voyeurism and exhibitionism, and I think the entire wedding principle is based on that.
Imran: So how did the two of you get together to plan this incredible series of looks for Deepika's wedding? Also, Deepika, how did you decide that Sabyasachi is going to be one of the chosen ones to do that?
Deepika: I always knew… even 10 years ago, when I was a model… this is even before people wanted to be the Sabyasachi bride. When I was a model, a large part of my exposure to his work was back then… that's when I had decided that whenever I get married he would be one of the designers I would work with. Of course it's a different thing that for almost every function of mine I wore his clothes.
Then comes actually picking up the phone and telling him… that I am getting married. It was my parents actually when we decided the date and then the first person I called and was ready to tell was him.
We were both very, very clear that I wanted it to be very traditional, and I think there's a certain look that people associate with him, but we kind of moved away from that. It was about bringing in his sensibilities but keeping in mind the part of the country I come from. We had the Anand Karaj ceremony to sort of welcome and embrace the culture Ranveer belongs to and I am a south Indian and I was very, very clear that I wanted to wear a kanjeevaram sari and that's how we worked on getting these two looks.
I was also very, very clear that I wanted the family of red on one of the days… we did sort of contemplate doing two different colours on both the days but as we got closer, I was very clear about wearing red for both the ceremonies.
Imran: And Sabya, when you got that call from Deepika, what was your reaction and how did you respond to working with a bride like this, who has very clear ideas of what she wants and at the same time you are thinking of that image…
Sabya: When Deepika called, I was like 'oh my god!' We had discussed the wedding before that. In India, doing the wedding of a movie star, the more time you have, it gets more difficult… when I was doing Anushka's (Sharma) wedding, we had a month and for Deepika's we had six…. She and Ranveer must have got married 50 times in the press before they actually got married. Every time there was a new date we heard about, I would text her and ask, 'is this true?' and I was like nothing is going out from my factory. She was like 'don't worry, it's just the press'.
So the first thing that I told myself was that I needed a code word. Because I had different teams involved… design, dyeing, pattern cutting, sourcing, jewellery… I was like no way could I keep this a secret, and I was like okay let's find a name for it. You know, I am quite a smart guy, but at that point of time I got really stupid and the first name that came out of my mouth was Naomi Campbell. I told everyone in my factory that Naomi is getting married. Because I thought when Deepika's measurements come, who else is going to be 5ft 11inches tall. And my assistants were like 'Really?!' A few people from my Bombay store knew, because that's where Deepika used to come for her measurements, but most people in our factory thought it was Naomi Campbell getting married to an Indian prince. (Laughs)
Imran: So Deepika, from your perspective, not wanting to share, keeping it a secret, maintaining privacy, how did you do these? Also, you had taken the year off from your career for the wedding…
Deepika: So the not wanting to share was not about not wanting to share but the need to sort of move around freely. Because there's so much to do… and I almost singlehandedly organised everything for the wedding. Ranveer was busy, he was doing three to four films back to back…. Yes I had the support of my father-in-law and my mother…. We were not planning to keep it a secret and suddenly put a picture out and say that we were married… we were very clear that we were going to make an announcement before the wedding happened but only when we had things under control. Otherwise it was like going to jewellers, picking up shoes… just basic stuff… there's so much to be done on the wedding front…. Once we felt like everything was under control and most of it was done, it's then that we put out an announcement.
I had anyway taken time off because I think the last year was important for me to replenish emotionally and just do the things that I wanted to do, things that make me and my soul happy and not just work according to a schedule and constantly be available for other people. So I had taken that year off professionally anyway and then we decided to also do the wedding… it's not like I took the time off to get married. And also creatively nothing was exciting; it doesn't make sense to just be on a film set if I wasn't happy making the movies that I was being offered. It kind of just fell into place.
Also, I am a perfectionist and I like to do things a certain way and that six or eight months allowed me to just get into every single detail.
Imran: I am glad you said it… at one point, Sabya, you said 'she scares me'… which means she is so organised, so meticulous… how was it on your side working and organising everything?
Sabya: Sometimes the most painful thing that can happen to a designer is a bride who doesn't know what she wants. Deepika knew everything… she knew why she was getting married... she knew the colours she wanted to wear, what jewellery she wanted to wear, she knew the flowers she wanted, she knew the idli and the south Indian coffee that would be served to guests…. The catering was from south India for the morning wedding... I have never had the kind of food that was served at Deepika's wedding. The food was just right, it wasn't too less, it wasn't too much.
It was such a big wedding in its stature, but if you look at the physical wedding, it was so small, intimate and very cultured. There were only people who mattered to them. And I think that's how weddings should be.
So when Deepika and I worked on the wedding together, I was very relieved that she wanted something very traditional and I knew the impact that this wedding would have socially. So what we did was we created looks that were very culturally and socially accessible. A lot of girls would be able to go to fabric stores and tailors across the country and get the outfits made. Also, the outfits were very handcrafted… I had told Deepika that what I am most excited about is that it is going to create so many jobs… I don't know how many we sold but I know there are thousands of girls who have gone to their tailors for those outfits… the fact that this wedding in a small way helped us get jobs back to our craftsmen was probably something me and Deepika were both happy about.
Imran: I know about the homosexuality ruling by the Supreme Court of India, but do you think there will be a time when gay couples would get married with the same kind of celebrations between the two families?
Sabya: I don't think we should be even waiting for that time… the time is now. I think the government should recognise that, because not letting people come together legally is a violation of human rights.
Deepika: Absolutely… it feels strange to be even asked that question and the fact that we even need to address it. We shouldn't even allow ourselves to be in this place where somebody else dictates how or who you want to spend the rest of your life with.
Imran: Sabya, you have been to New York trying to establish a fashion business there and Deepika we see you making a splash internationally… I am curious how you guys go about straddling these two parts of your career. You have this huge established presence here and you are dabbling in international careers as well…
Sabya: So I went to New York many years ago and I miserably failed. I had a business but it was not large enough to sustain or to keep up with the ambitions that I had. I just realised that I needed to come back to India and build a stronger voice and then take this there much later. So I established my business in India and I thought I will go back internationally when I have done enough for people there to take me seriously.
Imran: And now you have done that. So what are your international ambitions?
Sabya: Well, the first thing that I wanted to do was get into beauty and I have done that with L'Oreal Paris. Because you see, the tradition of beauty is very strong in India and I want to create a parallel beauty brand… I want to have Sabyasachi fragrances at every important counter. Stage Two would be to take the jewellery brand international. And Stage Three would be to listen to my heart… I am a gypsy at heart, so I would do a season-free clothing label... something like what you would get at flea markets across the world. I would also like to do vintage clothing with an Indian soul that would sell from some of the London stores that I think I should be selling at.
Imran: Deepika, you are being seen quite a bit abroad now… on the Vogue New York cover, at the Met Gala, at Cannes… what are you trying to do internationally?
Deepika: I think it's really about embracing who you are and where you come from and making that sort of visible globally, versus trying to set foot in a land and in a culture that you don't understand. And 10 years ago people would have maybe needed to move there with bags and baggage to another place, another territory, to become part of another industry... today you don't need to do that… the world has become smaller and also become bigger in so many ways. And it's really about embracing everything that I have done here, everything that I stand for… and hence the Vogue cover… about being a global influencer.
I have never been someone who can cut the cord and move… I have always been very clear that if I get married I would get married to somebody from India and I would never move out of where I come from and where I belong.
Imran: Do you feel there is a change in the perception of India internationally or is it still a mystical sort of place in people's minds?
Deepika: I can literally say that in the last three years how drastically it's changed and somewhere the Netflixes and Amazons of the world have been responsible for doing that. Three years ago when I went to a party abroad, someone actually said 'oh you speak English really well'. I have had people ask me this bizarre question 'where is India?'. Two months ago when I went, I met people who know where India is, they probably don't know the details, but they do know the movies we are making, they know that ours is one of the largest filmmaking industries in the world or the fact that India really matters, whether it's fashion, film, business or technology. I think the bottomline is that today whichever profession you are in or whichever part of the world you are in, India cannot be ignored.
Sabya: I am speaking from a fashion perspective. For the longest time India was considered the backyard of manufacturing. But the tables have turned and India now, after China, is the largest consumer market. And I think internationally big brands, financiers, investors… everybody is waking up to the new reality about how the country that was considered the backyard of manufacturing has become the front end of the consumer market. India has become finally mainstream. If we are talking about the wedding market, the wedding market in India right now is worth 40 billion dollars. Today India has become such a force to reckon with both in terms of consumption and manufacturing, it would be really stupid to ignore it.
Imran: So Deepika highlighted all the progress that we have seen in technology, in business… I wonder how you feel about the fact that while Prime Minister Narendra Modi has impacted the economic progress of India, I see a dichotomy here… the country is advancing from an economic standpoint, but on the other side I see glaring social conservatism. How do you reconcile those two things?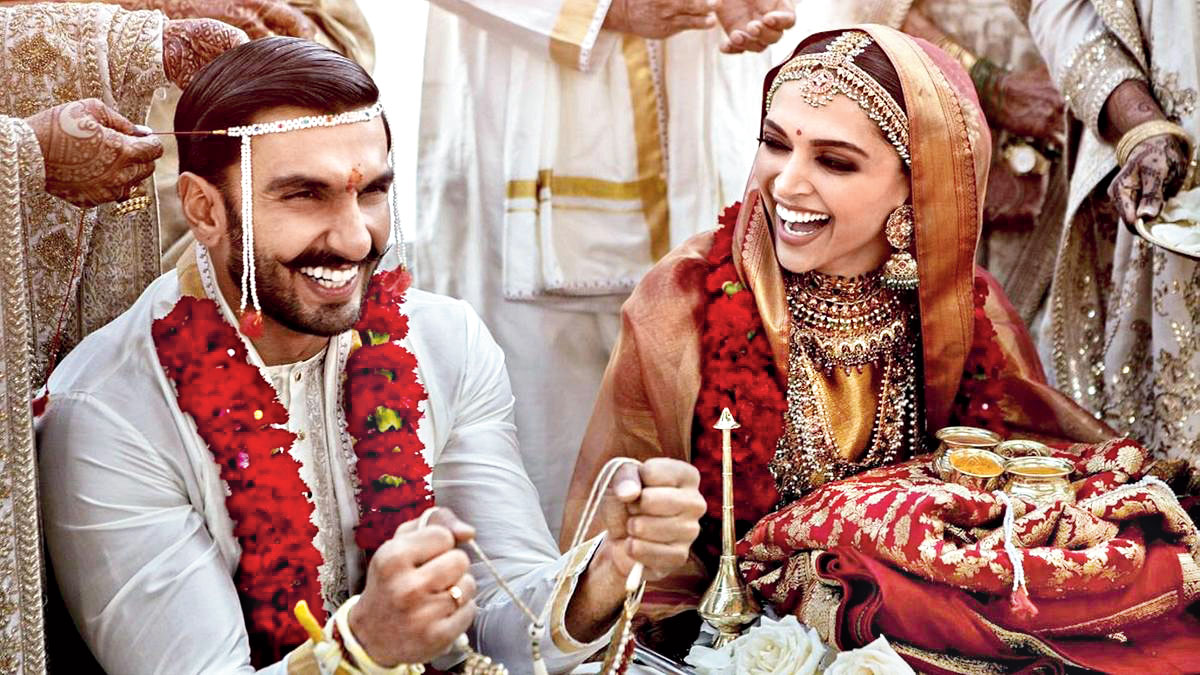 Sabyasachi and I were both very, very clear that I wanted it to be very traditional... it was about bringing in his sensibilities but keeping in mind the part of the country I come from. We had the Anand Karaj ceremony to sort of welcome and embrace the culture Ranveer belongs to and I am a south Indian and I was very, very clear that I wanted to wear a kanjeevaram sari and that's how we worked on getting these two looks.... I was also very, very clear about wearing red for both the ceremonies — Deepika
(The Business of Fashion)
Sabya: If I were to choose between the two, I would first choose economic growth. Because economic growth leads to empowerment at many levels and then people can start making social changes on their own. We cannot forget the fact that it is the largest democracy in the world and once people get more and more powerful, any sort of regression will be dealt with by people at large.
Deepika: I completely agree with your point, Imran. I guess the solution is this (what Sabya said). I think we have seen it for five years, let's see what the next five years have in store for all of us with the present government. I can only say that time will tell; I think it is too soon to sort of say where this is headed.
Imran: You both found huge success… but what a lot of people don't realise is that success doesn't come easy. So could you share what kind of struggles you had to go through?
Deepika: I think to begin with, at no point do I remember my parents imposing their dreams on us. I had done jazz, ballet, Bharatanatyam, just everything that was to be done outside the classroom, including sports. And my parents sort of exposed us to that and they allowed us to figure out our way and what we wanted to do with our lives on our own. Badminton was treated as another extra-curricular activity… you come back from school, Papa (Prakash Padukone) was on the court so why don't you go there and play around for a bit… and even before I realised I was playing professional badminton, but there was absolutely no pressure from anybody for me to do it.
We didn't grow up watching Hindi films, so literally very few movies we have watched… so I watched these heroines on screen and it always felt familiar and I knew I was going to be there, doing that one day. So it's weird, not that I did not work hard, but somewhere I feel that it was destined to happen. And I was always very clear as a child about what I wanted to do and who I wanted to be. It's a different thing that when I joined the industry I did lose my way for a bit. I didn't know enough, certainly made mistakes with my film choices. I think those mistakes led me to where I am today and they really taught me a lot.
Imran: How did you get through those tough moments?
Deepika: I think it's important to be extremely patient… I think the road to recovery is to accept it, patience, hope… and you have to have people around you whom you trust… who support you through this journey.
Having experienced depression, I can say that, and I am not trying to romanticise it, but you truly learn to value life. I was coming here and on the Sea Link I kept my phones away and I was just looking at the sea and the sun and it was beautiful. How often do we do that? How often do we look up? We have stopped looking up… we are always looking down. Just simple things like that you start valuing, which probably you just take for granted otherwise.
Sabya: We both have suffered serious depression. I have battled depression for seven-and-a-half years. When I was in school, I tried to commit suicide, my parents found me in the nick of time. I think it taught me many things….
You know, for creative people, the first thing you need to understand is the fine line between art and commerce. As you grow your brand, for everybody, we think commerce is a bad word, but I would say no, to be able to balance art and commerce is the way forward. Just by doing a pret line I might have been able to make profits, I would have done a collaboration with one of those big giants... I would have made a lot of money in the short term.... I have said no to disorganic growth.
I will tell you a small story. I had made some clothes for Nandana Sen and she gave me a 1920s edition of Vogue. There was one small little ad that said 'we are open for business and we are on Bond Street', and it was Tiffany... and apart from that every single advertiser in that issue I didn't know names of and I didn't know that those brands existed.... I told myself that this is not going to happen to my brand... my brand has to live far beyond my lifetime and I want to create a brand that India can be proud of.
One of my big icons is Ratan Tata and I want to create something like him. I want to chase value more than money. So for 20 years of my life I have put my head down and worked and today I can say that in these 20 years I have created the foundation for my dream and now it's started to take wings and rise.