From casual and festive to formal and semi-formal, in prints and solids... Sneha Arora's 'Better Together' celebrates coords. In this t2 shoot, Sneha (inset) shows how best to channel the trending style. The young designer chats with t2 on the looks and more.
'Better Together' looks lovely and romantic. What is the mood board?
We wanted to create a line of separates that look best when teamed up together. The mood board was romantic florals and geometrics in easy flowy silhouettes, perfect for a brunch or evening out.
Coords are such a cool concept. Why do you love them personally?
I've always been a minimalist in my design aesthetic, so when I thought of trying a print-on-print as a concept I wasn't too convinced till I made them and realised how well the pairing works. Personally, coords are an easy fashion choice. You don't have to think of what bottom to team up with your favourite top and which top to wear with your best fitted pants. It comes already paired for you and guess what, they look 'Better Together'. And, for pant-lovers like me, it's a perfect choice for a formal event.
What were the various styles showcased at the shoot?
We shot a few different coord options ranging from a coordinated denim pantsuit — a denim-on-denim look for formal gatherings, A-line print-on-print silk coordinated sets in romantic florals and jewel tones perfect for an evening out, to skirt sets in linen for the day and pleated silk for the evening, linen coords with flared culottes perfect for a family brunch, and cotton positive-negative print coord set for a casual outing. 
Are there rules to do coords?
There is one main rule in a coordinated set — the top and bottoms need to match and complement each other. You could do a print-on-print, a print-on-solid, or a solid-on-solid. Another rule is not to go too matchy on your accessories. Keep them minimal and basic. Let the set be the highlight.
Give us your fashion faves, apart from coords, which look 'better together'...
My other current love is trenches with slip dresses. They work really well paired together and are a current fall favourite. I also think camis and culottes are a great combination.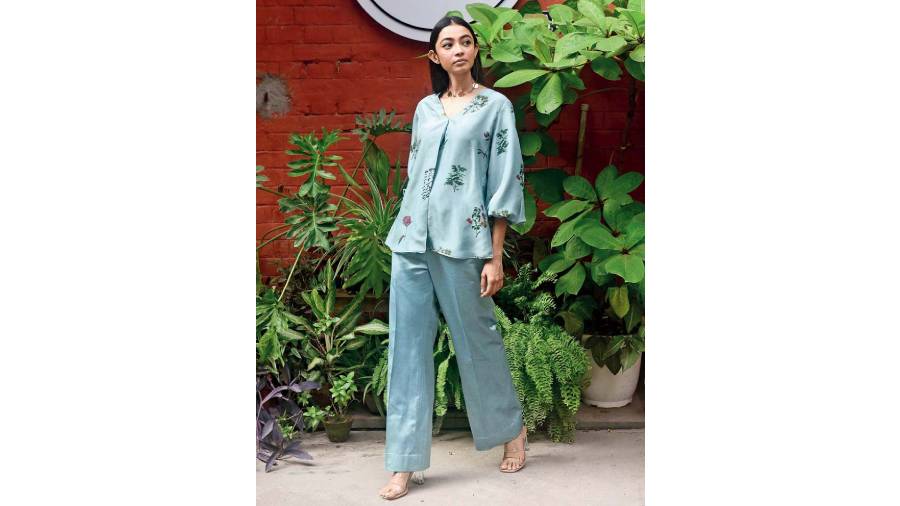 This one's a relaxed frame with Diti Saha sporting an A-line print-on-solid style.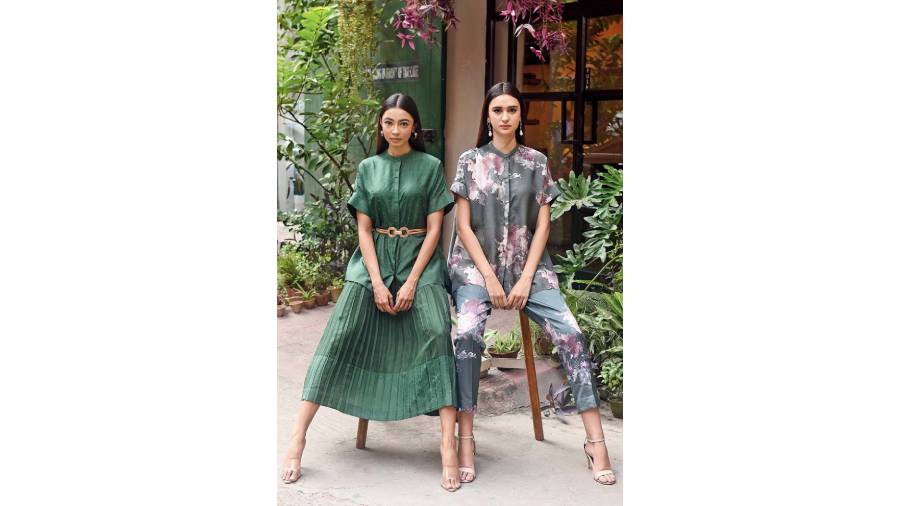 Diti and Jessica Aaron make for a beautiful frame in their coords. While Diti looks pretty in a pleated silk skirt set, apt for the evening, Jessica is lovely in her A-line print-on-print silk coords.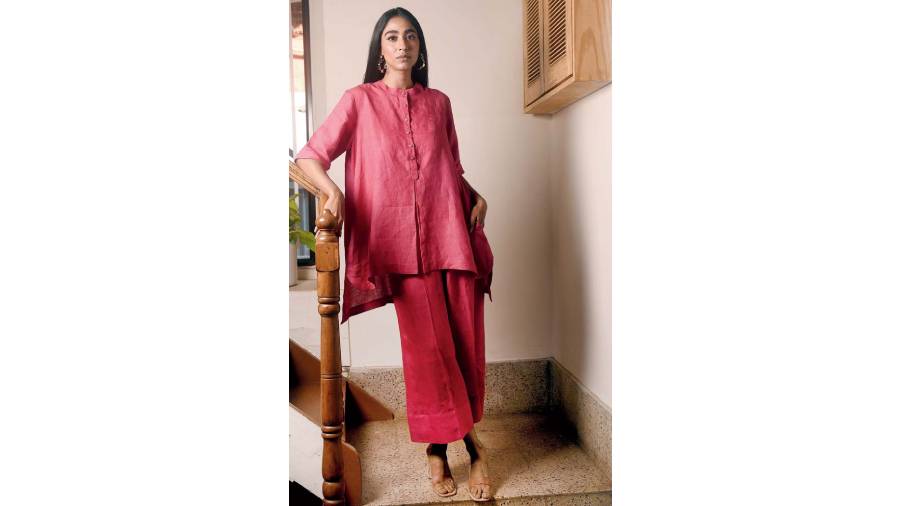 Priti Jana looks pristine festive in tone-on-tone hot pink linen coords.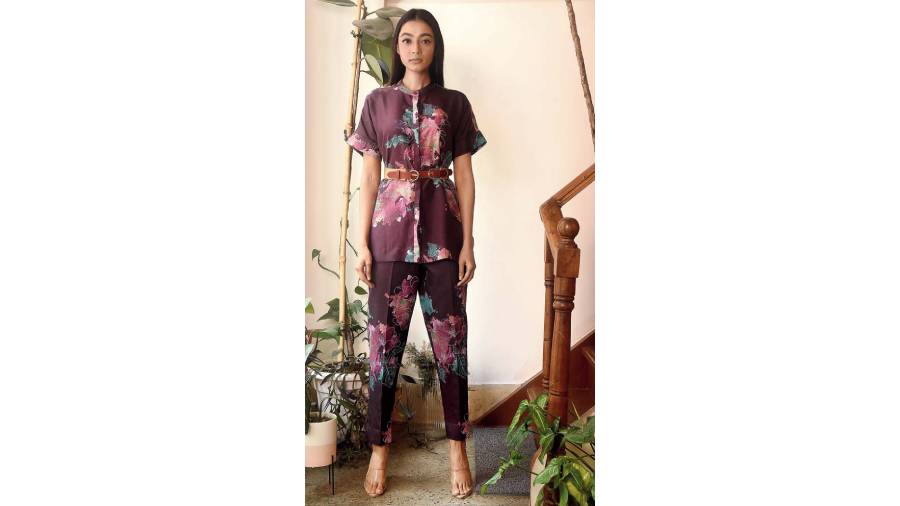 Diti is party-ready in an A-line print-on-print silk coordinated set.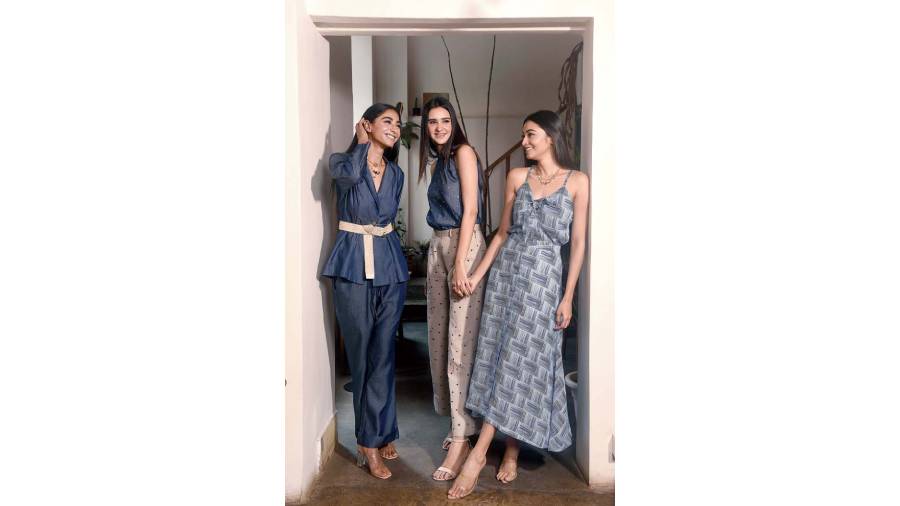 (L-R) Priti, Jessica and Diti make for a fresh frame in Sneha's 'Better Together'. While Priti sports a denim-on-denim pantsuit, Diti is in a linen skirt set, a great day look. Jessica looks cute in her cotton "positive-negative" print coords. Minimal make-up and a hint of accessories runs like a leitmotif in the looks.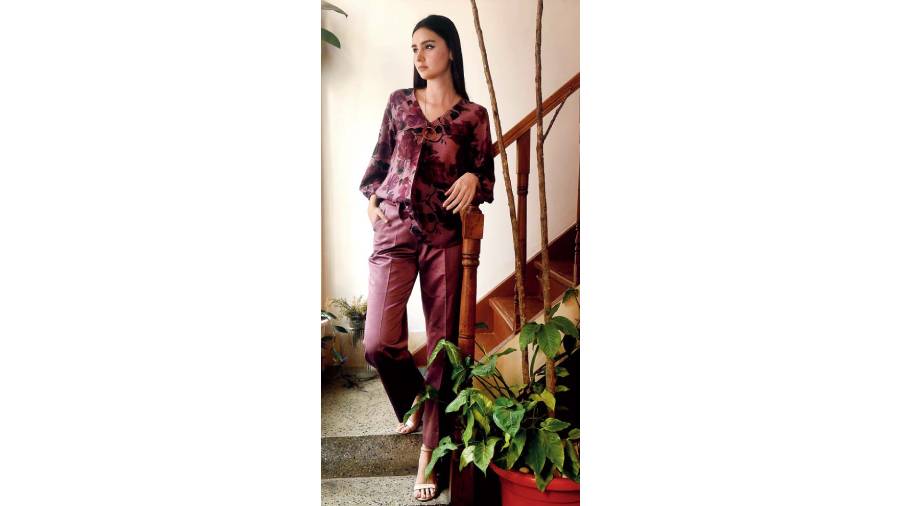 Jessica channels a casual vibe in an A-line print-on-solid look.
Pictures: Pabitra Das
Hair and make-up: Abhijit Paul
Jewellery: PRIX.TI by Prachi Banka
Location: Motherland Cafe