As the sun set on the picturesque horizon of Gangasagar, Shantanu Moitra held aloft his bicycle, his constant companion for the last two months during his fascinating journey from Gomukh to Gangasagar. The gesture was a confirmation that after many trials and tribulations, as well as a couple of last-minute obstacles, he had finally reached the promised land.
The expedition of riding along the trail of the Ganga may have started out as an adventure sport with a cause for the Bawra mann man, but by the time he reached Gangasagar, it had transformed into something far more profound — a quest to recognise the shared humanity of all those who had lost their loved ones as a result of the pandemic.
Moitra, who lost his father to Covid-19 in May, was able to use this "Anantha Yatra" to pay homage to all those who had succumbed to the virus on behalf of their loved ones who had been denied "closure". 
As he sealed the last leg of his Anantha Yatra, My Kolkata was there every step of the way, charting his every move. This is the story of those last few days and how they provided a fitting end to a remarkable undertaking by this "Music composer, Traveller, Author, WWF India Ambassador for Hope & Harmony" (as his Twitter bio defines him).
Day 1: November 28, 2021 (Sunday)
6am: Moitra begins his symbolic ride around Kolkata as a tribute to the lives lost to Covid-19. Alongside Moitra is Samrat Moulik, the 'River Cyclist', whose achievements have been documented in the India Book of Records.
Moitra and Moulik start cycling from Victoria Memorial and proceed to cross Prinsep Ghat, Babughat, the Eden Gardens, and Shahid Minar, before returning to the iconic Memorial. All this in under an hour, with both cyclists making an early morning ride seem effortless.
Moitra is pumped up as the first part of the last leg has gone according to plan. Moulik, habituated to riding on bumpy terrains instead of the smooth roads in this part of Kolkata, is also visibly delighted. "We had a great run. Even though our bikes are different — his more suited for flat lands, mine for mountainous ones — we kept up a great pace," observes Moulik, who will be riding with Moitra to Gangasagar, too.
Day 2: November 29, 2021 (Monday)
4.45am: Moitra is out before the sun, all set to pedal-off the long ride to Gangasagar, estimated to involve just under 100 kilometres of cycling. With his gear in place, Moitra dashes away on his bicycle from outside Hotel Kempton in New Market, with his team trailing him in three different cars.
8am: Moitra, who has been joined by Moulik en route, makes his first halt at Diamond Harbour. One of his team members reminds him that he is riding as fast as he has ever done, which brings a brief smile to Moitra's determined face.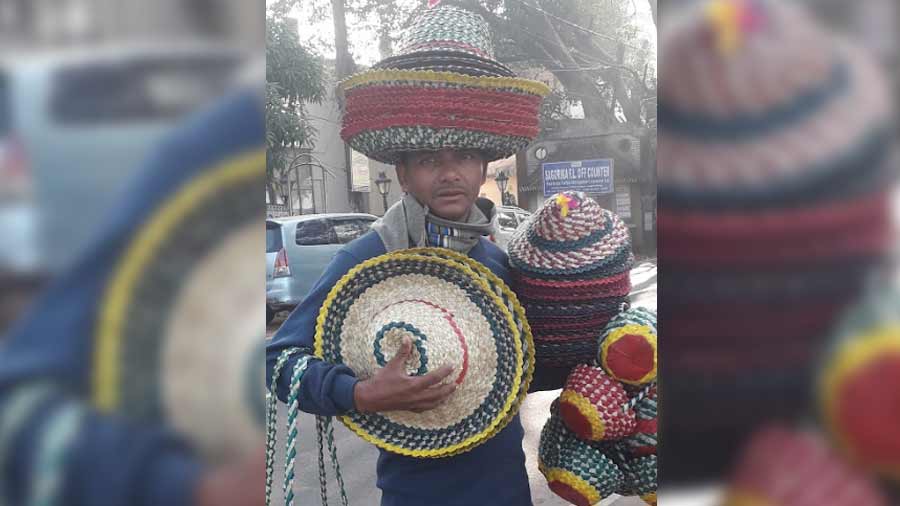 A hawker selling hats in Diamond Harbour, where Moitra paused for breakfast
Priyam Marik
Breakfast is served at Sagarika Tourist Lodge — toast with omelette, aloo-puri, and tea. Just as Moitra is about to leave, the much anticipated pictures, sent in by Moitra's followers on social media, are printed and ready. More on this later.
Meanwhile, the ride resumes.
10.30am: The cars in tow come to a screeching halt as Moitra is spotted on the side of the highway, writhing in pain. A road accident, the first on the entire Anantha Yatra journey.
As Moitra is cycling with his eyes very much on the road and his team is filming his ride from their vehicles behind, a stray cyclist cuts in. On suddenly spotting the other bicycle in his way, Moitra instinctively attempts to swerve out of danger, but cannot avoid making contact. As he falls, just a few metres away from a pile of concrete blocks, he hurts his right shoulder; the helmet protects his head.
The cyclist in question lingers for a while, before heading off, seemingly unhurt. Moitra, though, has sustained injuries.
Moitra's team instantly resorts to the first-aid kit as an inevitable commotion ensues. Pedestrians huddle for a while in a bid to comprehend what has happened. With substantial cuts on his right shoulder and a few bruises to his right elbow and knees, Moitra takes a much-needed time out.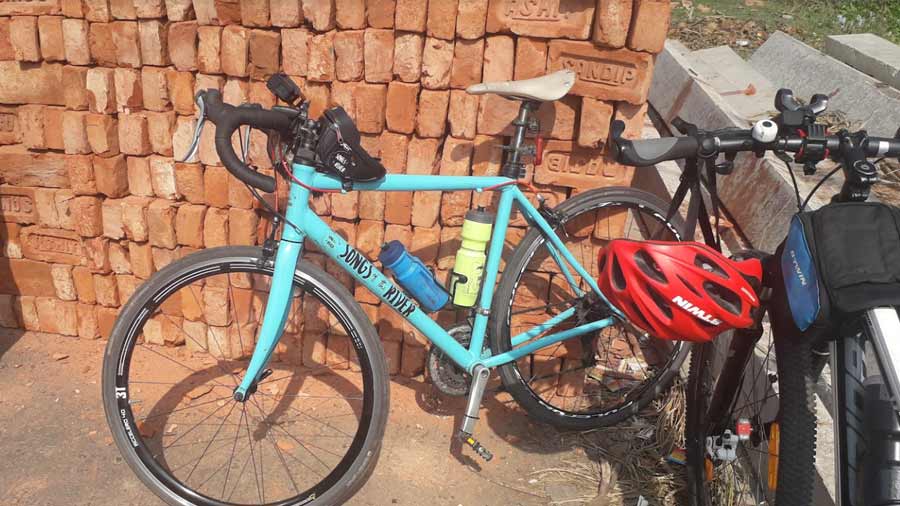 Fortunately for Moitra, his cycle emerged unscathed from the accident
Priyam Marik
There is, however, nothing major to worry about. No fracture is detected, and an imperturbable Moitra is ready to get going. "The guy has incredible tenacity. I don't think the thought of quitting ever came to his mind," reflects Abhra Bhattacharya, documentary filmmaker and producer, who is in charge of the nitty-gritty of documenting Moitra's expedition.
12.30pm: Injured but inspired, Moitra keeps up his phenomenal pace and is able to reach Harwood Point Lot Number 8, via Kakdwip town, in time. From here the bicycle will get a break as Moitra and his team step onboard the ferry that is to take them to Sagar Island.
2.40pm: After a bit of a wait in the sun, the ferry takes off, and in tune with the tide, reaches shore well ahead of time. Time for Moitra to get back on the saddle, as the final segment of his epic journey awaits. All roads lead to the Gangasagar beach.
4pm: Moitra has stopped abruptly for what initially looks like a snack break. But it is not. Instead, the team discovers that a bee has stung his eyes after somehow managing to sneak in between his helmet and riding goggles. The bee sting adds yet another twist to the tale, but Moitra is unfazed. His sight has not been compromised and nor has his will. He resumes the ride once more, with just a few kilometres left to knock off.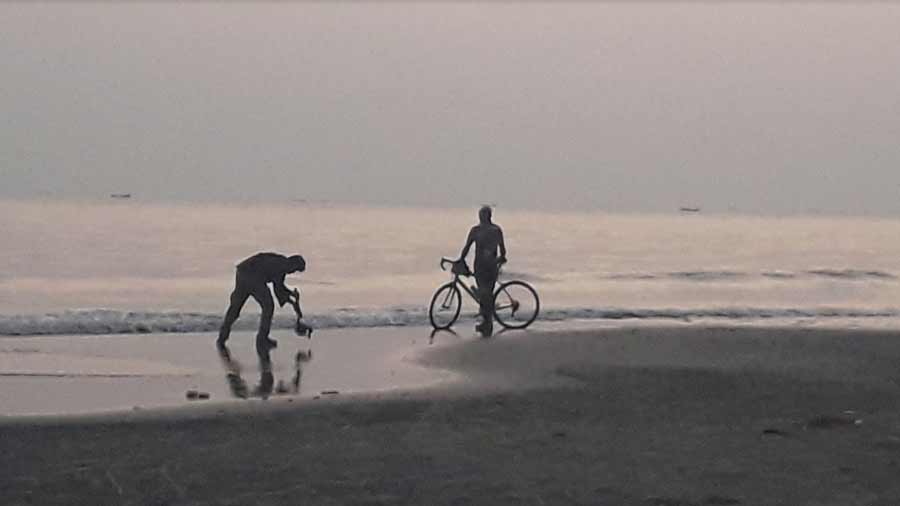 Moitra takes a moment to reflect on what he has just accomplished
Priyam Marik
5.30pm: After close to 60 days, the moment Moitra and everyone else on the Anantha Yatra has been waiting for, is here. At last. They have reached the finishing point, the Gangasagar beach, just in time for sunset. Even in the fading light, the relief is clear on Moitra's face as he hugs his mother Manju and wife Sarada.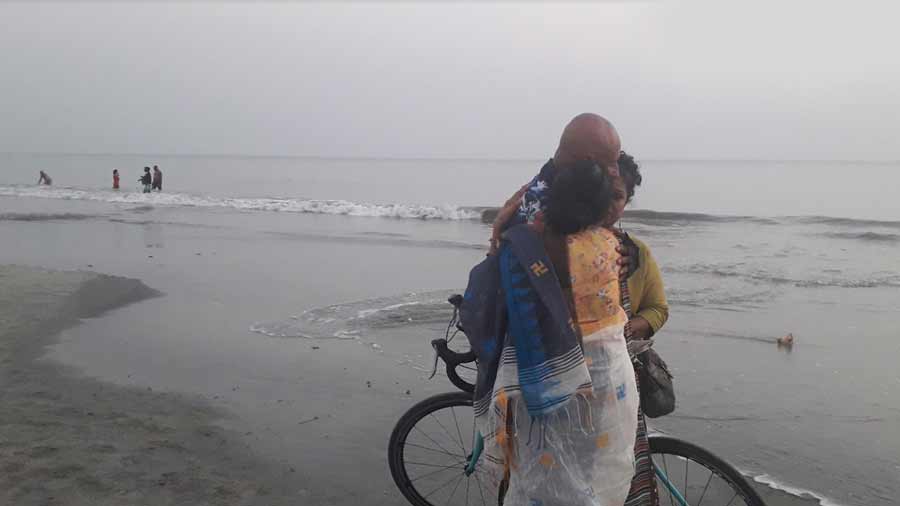 Moitra's wife and mother hug him following his completion of the expedition
Priyam Marik
"We did it" chants resonate across his team as Moitra takes a couple of minutes to let everything sink in. "It feels incredible. I knew I had to get it done today. Even after the accident and the bee sting, I knew I was in the flow. I have not been able to move my right shoulder, but I somehow managed to ride faster than I have ever done before. Such is the power of faith," describes Moitra.
Day 3: November 30, 2021 (Tuesday)
8am: Moitra, this time without his bicycle, heads down to the Gangasagar confluence, where the Ganga merges with the Bay of Bengal. He stoops to collect water from the confluence, adding to the bottle where he has carefully stored sacred water from different junctures of the Ganga during the Anantha Yatra.
10.30am: Moitra is at Shridham Gangasagar Swami Kapilananda Vidyabhaban to inaugurate a memorial for the victims of Covid-19. The pictures of individuals whose lives ended in dehumanising isolation during the pandemic number in excess of 700, sent in by Moitra's social media followers. They are placed one by one on the soil at the top of the memorial and planted!
Yes, you read that right. They are planted because each one of them is infused with Tulsi seeds, and will, in due course, germinate into plants, attended to by the students of Shridham Gangasagar every day.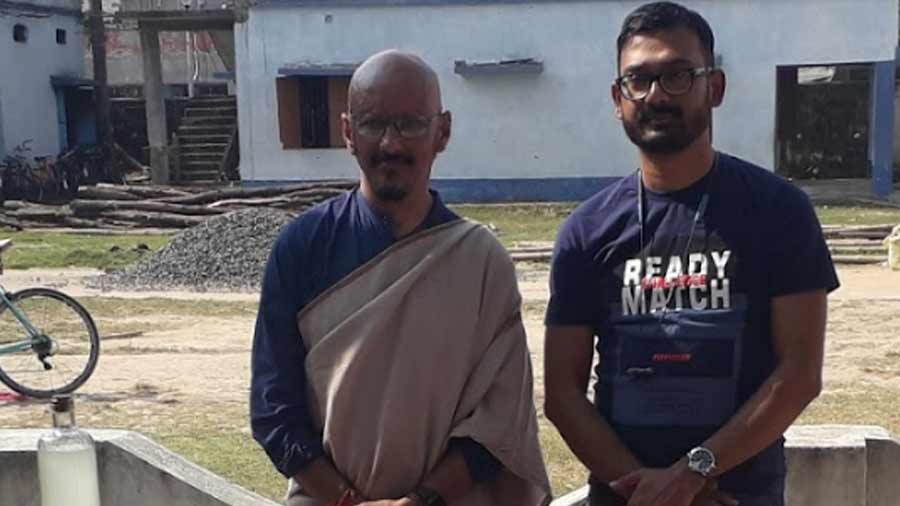 Moitra alongside fellow cyclist for the last leg of Anantha Yatra, Samrat Moulik, at Shridham Gangasagar Swami Kapilananda Vidyabhaban
Priyam Marik
"I don't think there could be a more appropriate way to sign off the Anantha Yatra. This is as real as regeneration can get," says Moitra, who has not only completed the most challenging expedition of his life but also the most meaningful of journeys.