All of us work hard every day to achieve the highest spot in our chosen fields. Athlete Priyanka Mohite has taken this aim in a very literal way. Priyanka has become the first Indian woman to climb five peaks above 8,000metres. With her list containing names like Mount Everest in 2013, Mount Lhotse in 2018, Mount Makalu in 2019 and Annapurna 1 in 2021, her most recent win was climbing Mount Kanchenjunga. She is also the the first Indian woman to climb Annapurna 1 and Makalu. A chat with the inspiring 30-year-old climber.
Where did the love for climbing mountains come to you?
I am from Maharashtra, from a place called Sataram. We have the Sahyadri Mountains range... it's part of the Western Ghats. I started trekking when I was very young, and then it turned into a passion. I started rock climbing and then, after my 12th, I started climbing in the Himalayas. It was like a big goal to trek in the Himalayas.
When you recently climbed Kanchenjunga, you became the first Indian woman to have climbed five peaks above 8,000metres. Tell us about the time and effort you put into earning this title.
Not that much on records, but when I climbed Mount Everest in 2013, I decided to try all 8,000meter mountains. I knew it would be difficult. Today, I've climbed five 8,000meter peaks. There are four more to climb, and I hope to do so within the next year or two. It's always exciting to tell people about mountains like Makalu and Annapurna. They're very different, it's an incredible feeling.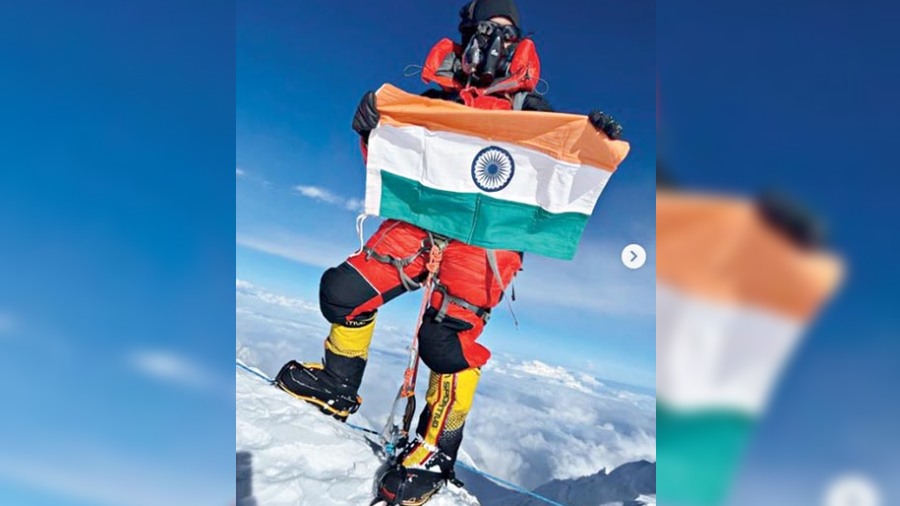 Priyanka Mohite with the Indian flag atop Mt. Kanchenjunga
This achievement of yours has been dedicated to the front line workers who devoted their time during the pandemic. In a time of such uncertainty, what kept you going?
Yes, of course, in 2019 I got the opportunity to climb Makalu and in 2020 I decided I would go for Kanchenjunga, but it all turned dark due to Covid-19. It was difficult to maintain physical activities, but in June or July, when things were a little calmer, I restarted my physical training. I was aiming for two mountains for 2021, but the Covid time was extremely difficult. There were home workouts, but climbing requires outdoor activities. I spent a full year preparing to climb two 8,000meter mountains in 2021.
High altitude, low oxygen levels, and freezing cold weather... how did you deal with the challenges of climbing?
Of course, when climbing above 8,000metres, the oxygen percentage is 35-40, and it's extremely cold. When we begin the summit push at night, the temperature falls down to -30 to -40 degrees Celsius. It is extremely difficult to climb because it is extremely cold. Kanchenjunga's journey had begun and we worked for 30 hours... we worked for 22 hours while repairing the rope. We had to wait for five-30 minutes depending on the technical route. It was bitterly cold. To avoid getting cold, you must constantly move your fingers while standing in one position.
Could you describe what you saw and how you felt when you reached the top of Mt. Everest?
When I was 20 years old, I used to imagine what I would do once I reached Mount Everest. I would think, 'I will just shout and tell the entire world that I am on top of the world', but when I arrived, it was 10.30am, I was like, 'let's do this', but then I realised I was above the clouds. That was my impression, I only had one oxygen cylinder, so I conserved my energy by not screaming. Everest literally bowed down to me. I felt happy.
Could you tell us about your first mountain climbing adventure and how much you've learned and grown since then?
In 2012, I climbed the first mountain in the Garhwal Himalayas, which was located in Bandarpunchin, Uttarakhand. It was incredible because it was only my second time on a mountain. I was almost at a height of 21,500feet. It was an incredible feeling for me. I learned a lot of new things. I learned a lot about myself, such as how I acclimatise above 21,000feet and how to prepare for climbs above 7,000 or 8,000metres. I was overjoyed when I reached the summit of my first mountain.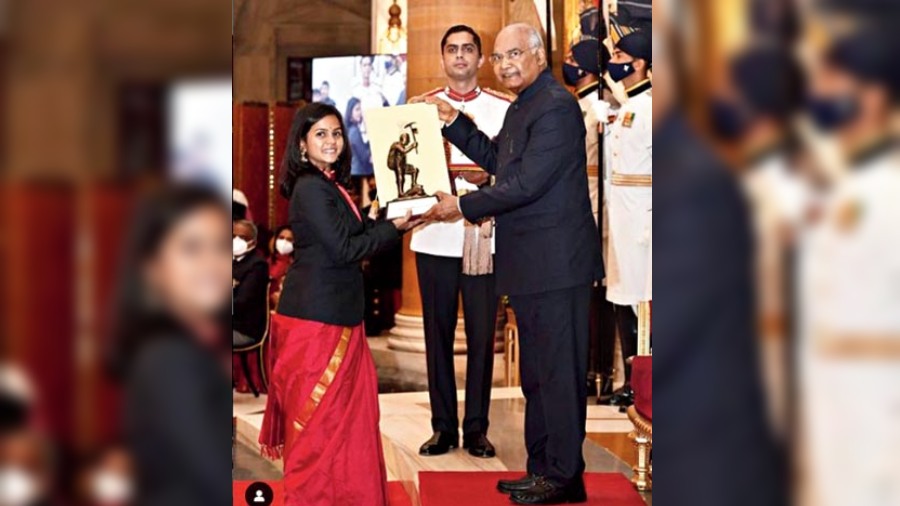 Priyanka Mohite receiving the Tenzing Norgey National Adventure Award from president Ram Nath Kovind at Rastrapathi Bhavan in 2021
How do you prepare yourself?
I work from 8am to 5 pm. I work out in the morning. On weekdays, I run for an hour and on weekends, I go for a long run of 10km, 15km, or 21km or treks. I work out in the gym and do high-intensity training. I don't lift much, but I do max repetitions and occasionally an uphill treadmill. I pay attention to my nutrition, such as protein content.
You apparently relied on Steadfast Nutrition and a few supplements for your climb. Which supplements were these and how did they help you?
Steadfast helped me with whey protein. I always focus on the protein content and the number of calories I need in a day. So my energy should be sustained by the time I hit the gym. I make sure I am active for 16-17 hours a day, because if you need energy, you need calories. So I have calculated according to all the factors of height, weight, and others. I love peanut butter with a good amount of protein and I always use it to take care of things. I usually avoid sweets. I don't eat much, so this is my lifestyle to eat healthy and exercise daily.
What do your future endeavours look like?
In the future, I want to go for all 8,000metre peaks, from which I have climbed five. As an Indian, I can only climb four more as they are in Pakistan, so I am going to finish other mountains, then I will come to our Indian Himalayas like Nanda Devi, Trisul, Thalay Sagar, and Shivling. I would like to go to the Technical Mountains. I'll continue in the climbing field.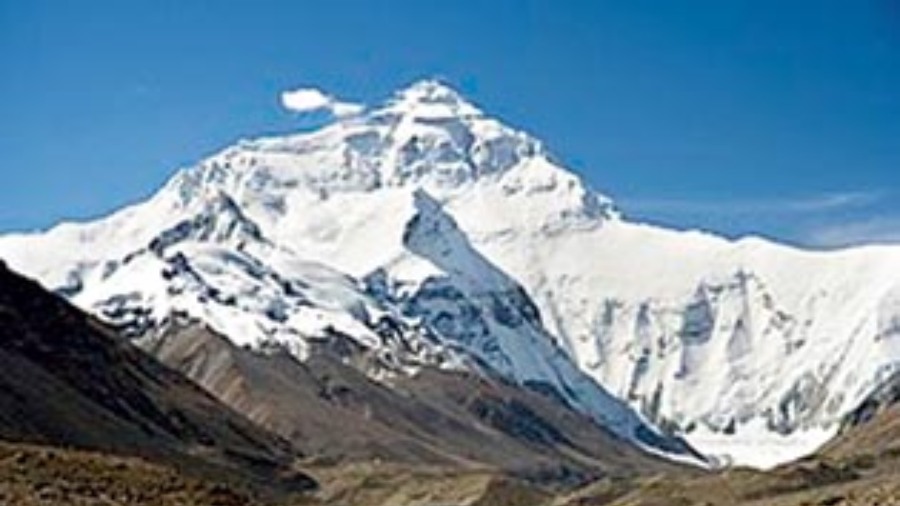 Mount Everest
The peak with the most beautiful view: Mount Everest, undoubtedly
An event that occurred during one of your journeys that you will always remember: There are many moments, but I will say the 2015 earthquake was really dangerous. I can actually say I am a survivor of it.
Nirmal Pujara
Someone you want to climb with: Nirmal Pujara. He climbed 14,500meters.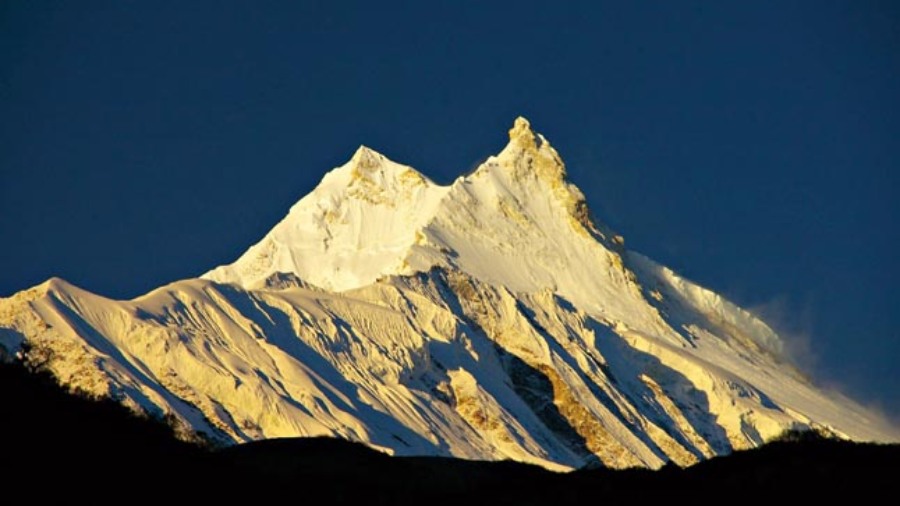 Manaslu
The next big dream to conquer: I wanted to finish all 14 8,000metre peaks; so maybe I'll go for Manaslu, Chou, or Dhaulagiri.
Something you have learnt from the mountains: Teamwork and loyalty to oneself are very important. So is respect for the mountains and everyone. Being humble, and so many other things I have learned from the mountains, and this time we lost one of the team members from the Kanchenjunga expedition team, so I sometimes feel taking one step back is not a failure. The mountains will always be there, but you have to be alive to climb that mountain, so it's better to take one step back. Your life is more important.