Fashion designer Rini Seal always had big plans for the big 4-0. By the time she was 40, she wanted to be in peak health, be it physically or mentally and have a number of projects on the horizon. But towards the end of 2021, (after a particularly unfortunate misdiagnosis, where the lump on her left breast was diagnosed as a fibroid), Seal learned that she had Stage 2 breast cancer.
"Taking it one day at a time is crucial, especially when you're recovering. I knew there were some pretty big changes coming my way and living with them every day was never going to be easy. But things got better, I got my mobility back, my weight came back to normal, and my doctors assure me I'll be cancer-free within a year," Seal tells us.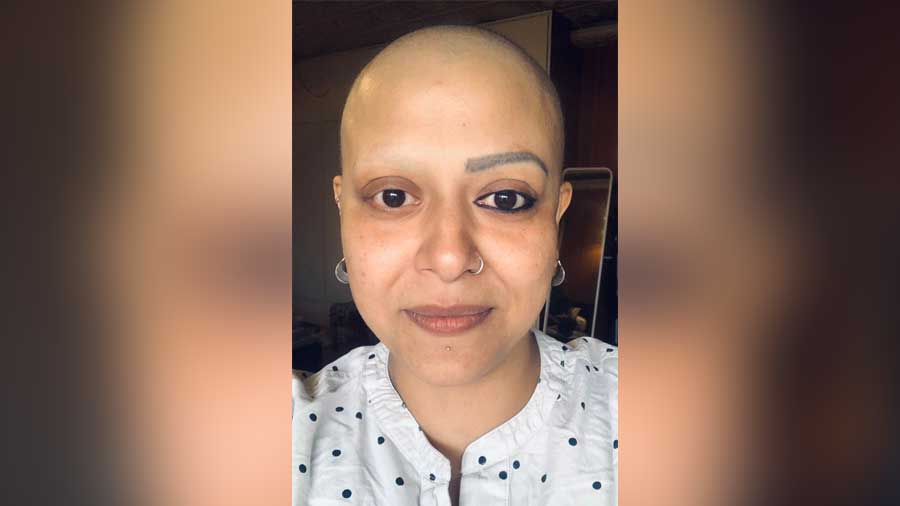 Seal painted her brows when she lost hair during her chemotherapy treatment
The loss of hair, on her head and brows, took some getting used to, the designer shares. "At one point during my chemotherapy, I had no brows and had to draw some in!" she laughs. Seal had a close-knit group of friends and family members she could count on for support, and decided to speak up about the crucial aspects of her diagnosis and treatment – which she insists helps de-stigmatise cancer. 
"I found out during my treatment that 50 per cent of all cancers are breast cancer. At Tata Medical where I was treated, I would see so many people from different age groups seeking treatment from breast cancer. It can happen to anyone, regardless of how old they are, like so many other ailments. This is all the more reason to not shy away from sharing stories and speaking up about your experiences," the designer shares.
My Kolkata caught up with the designer to learn about her journey to wellness, her plans and her new creative pursuits. Edited excerpts from the conversation follow…
My Kolkata: You've been gearing up to turn 40…
Rini Seal: Haha! Yes… I'm turning 40 this August and I have always wanted my 40s to be a landmark, I wanted to be fit and explore wellness. I have always been a chubby kid and by the time I was 40, I wanted to be in great shape. And then, of course, last year I was diagnosed with breast cancer and had to undergo surgery. There were several other changes that happened following that.
On one hand, I worried that, 'I'm going to be bald in a few months.' But now that I've had the time to process it, I am trying to take it in my stride. There's no other option than to be positive about it. I feel when you are surrounded by people who care, it goes a long way and hopefully I can move towards better things.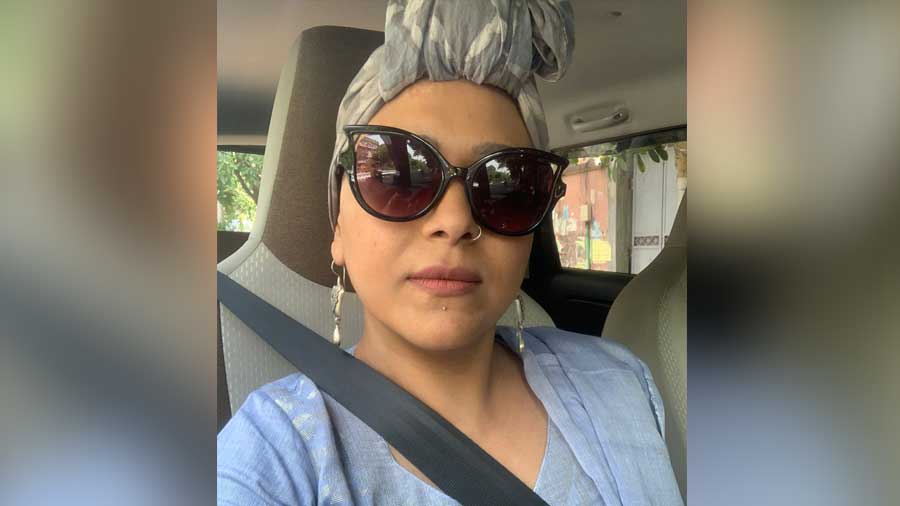 The designer decided to give wigs and headgears a try till her hair grew back
How are you pursuing wellness at the moment?
Since it was a breast cancer surgery and I had to have my lymph nodes removed, my hand movement was quite restricted. I was told I couldn't lift heavy objects with my left hand and I couldn't get any tattoos. So, there are quite a few things I'm trying to figure out post my surgery.
I have been blessed with a really supportive family and friends who have helped me through my ups and downs. Today, I may seem normal and sound upbeat, but right after my surgery, it was quite traumatic because you see your whole body change. I was bloated, I had put on weight and I couldn't move much, it felt like a big setback. 
But I think taking one step at a time is very crucial during recovery because you have to live with the changes every day. I resumed yoga one-and-a-half months after my surgery, which really helped me.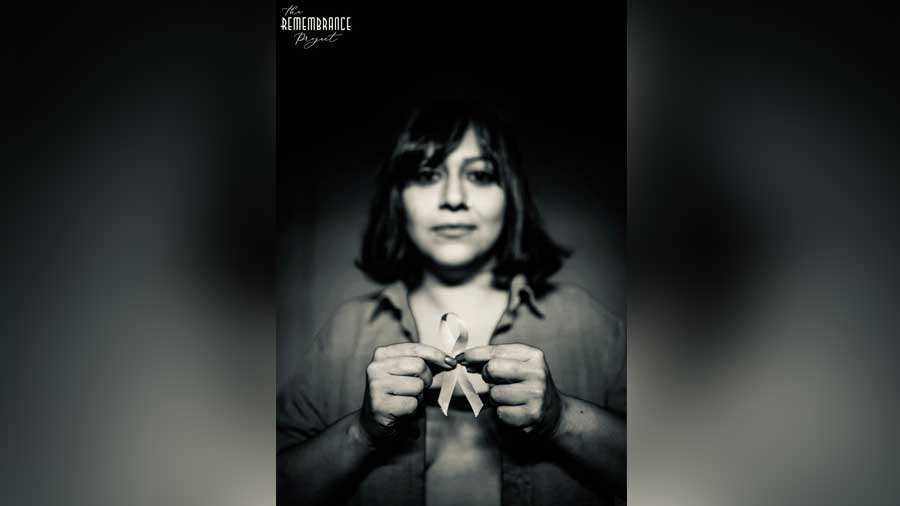 The designer is an avid yoga lover
The Remembrance Project/Kounteya Sinha
Tell us a little about the mental health aspect…
I have friends with whom I could share what my problems are, or how I'm feeling, and I have a family who understands my stress and anxieties. A good support system can really make a difference, so I never had to seek therapy or some other help for my mental health. However, depression is so common. Things may not be so easy for cancer survivors, more so because it can change the way you look and feel about yourself. 
For some women, hair is the most cherished part of their body. I was quite obsessed with my hair too, I loved styling it and exploring trends. I remember crying when I heard that I would lose hair, my eyelashes etc during chemotherapy. I was told that I would have a 'sick-looking' face and even if I don't feel sick, I may look unwell. To see yourself in the mirror like that can be upsetting. I kept telling myself, 'It's okay, it gets better.'
You were diagnosed in the middle of a pandemic. Was that a challenge?
In a way, yes. I had my surgery on December 16. January was quite unpredictable because cases were rising in the city and I got Covid from a family member. But it was before my chemotherapy, and since chemo reduces your immunity, I would say the timing was lucky. I was able to get through Covid before I started my chemo.
A lot of survivors keep their cancer a secret. And though it's a matter of choice, do you think the silence nurtures the stigma around it?
Many people simply want to hide it away from everyone else. For instance, I spotted a friend's wife with really short hair and then found out that she had cancer! People try to hush up their experiences, especially when it comes to breast cancer, usually because they're embarrassed. 
But the more you tell people, the more they'll know about it, and they can be careful, protect themselves and understand the disease. This is also why I started writing about my journey. I spoke about what I experienced, the side effects, how chemotherapy feels, and what my doctors were saying. Everyone's body is different and not everybody reacts to chemotherapy the same way. There's no reason to hide because it can happen to people of any age. When I was seeking treatment, I would see so many people of different age groups with the disease, which made me realise how common breast cancer is. I think awareness is important, not just about cancer, but about the treatment, what survivors go through, and their medical experience, there needs to be more discussion over these aspects.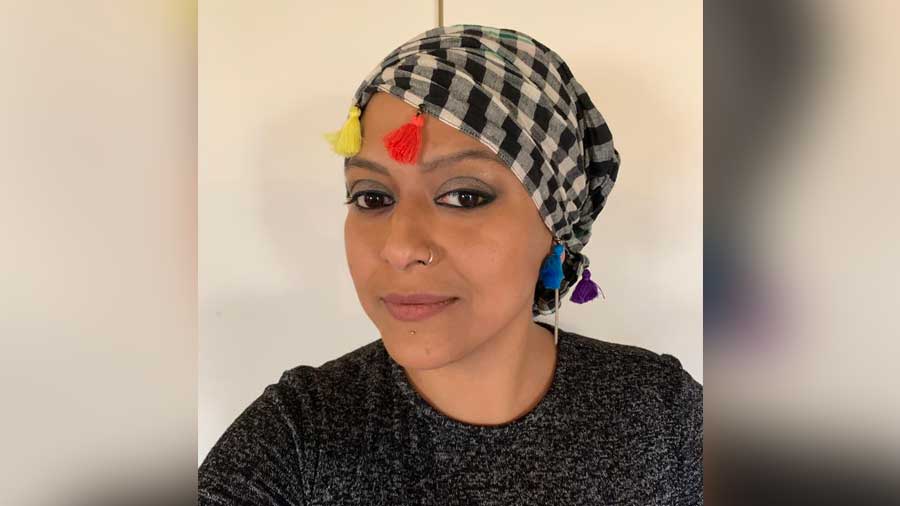 Seal thinks sharing cancer experiences can help out fellow survivors
Did your health take a toll on your work?
It did. During the pandemic, my label could not function as usual because so many of my staff members and workers had gone home. Plus, my fashion label had to take a backseat as I was coping with my treatment. That's actually when I got a chance to refurbish Seal Villa, which is a farmhouse that has always been in the family. I finally had the time to let my creativity run free, so we designed furniture, upcycled doors, windows and mirrors, and we renovated and painted the property. The pool, the gardens and every little detail was designed by me. It's ready now and it's already on Airbnb, it can work like a great weekend getaway.
Tell us what you're planning next…
For many years now I have been offering personal styling and wardrobe solutions to people. I want to focus on it this year. I think so many people are invested in their fashion now. And not just for events or occasions, I see clients coming to me just to sort out work wear or their existing wardrobe. People are now dressing for their bodies and they aren't always happy with what's out there. At times, bespoke options definitely work better.
The designer offers personal styling solutions by appointment. Reach out via phone/WhatsApp/DMs. Find more details here.