On an early winter morning in December, The Telegraph reached Saswata Chatterjee's house for a special birthday chat with the actor. The actor, who turned 51 this Sunday was in high spirits, excited to explore a vibrant winter lookbook for The Telegraph — a special birthday shoot that we planned with the actor in looks that we usually don't see him in. Humble and rooted, he was a complete sport. Mohua, his wife, and daughter Hiya were excited too to see him in these looks. "We have never seen Baba in such outfits... he looks good!" exclaimed Hiya. Brandy, the four-pawed member of the house goofed around and later joined  Saswata in front of the camera.
After the shoot, the actor sat down for a special birthday chat with The Telegraph. Excerpts:
Are you a morning person?
Yeah definitely! If you ask any of my productions, they will say... even if you ask (director) Goutam Ghose... we partied till 3am, but we woke up at 5am for a shoot. I have no problem waking up early.
What is your birthday (December 19) wish for this year?
My birthday wish is for a Covid-free year for everyone.
How do you usually celebrate it?
I usually stay at home or go out to eat. But for the last two years, my wife and daughter have been arranging surprise parties. I do not plan anything for my birthday. I like to eat nice things on that day (laughs). My wife and daughter plan it and give me a surprise. I am not a person who likes to celebrate my own birthday.
Do you feel excited to receive a birthday surprise?
Yes, definitely. Anything new is exciting. But this time I will not be in the city to spend my birthday. So, there will be no surprises like that. This year my only treat will be to meet Anil Kapoor for a new project. I grew up watching his films, so I am eagerly looking forward to meeting him.
So something exciting is coming up?
Exciting, definitely. We are doing something for the first time. I would not like to share the details now. Let's wait and see.
What is your favourite birthday memory?
Growing up in a Bengali household, typically, I received presents on my birthday. But the morning after was most memorable. We used to keep all the gifts on the bed and open them one by one to check what gifts I had got. That was the most exciting part (laughs).
It seems you are ageing backwards. How do you look back at your half-a-century journey?
Like everyone else's, it is a mix of the good and the bad. One thing I feel lucky about is that I am still working. Without work, life is boring. As long as there is work, I think everything is fine.
We are doing a very vibrant lookbook today. Is your personal style statement as vibrant as the person you are?
No, from the point of dressing up I am not into vibrant looks at all, but as a human being I am! (Laughs) In real life, my dressing style is very casual. I am most comfortable in jeans, T-shirt and panjabi. If I want to really dress up, I like wearing dhuti-panjabi more than a suit. For shoots, I dress up in whatever I am required to wear. On the shooting floor, the designer dresses me up, but in real life I keep it casual.
How would you define your personal style?
Very Bengali.
Do you shop for yourself?
No, I can't. I don't. I shop in different airports outside Kolkata for shoes or belts.
In terms of fashion, is there anything that fascinates you?
Watches and shoes.
The wall (at Saswata's home) looks beautiful...
I first drew that and then cut it with a paper cutter and pasted it on a black background.
Do you engage in art and craft to unwind?
I used to. Now, I don't get the time. These I did in my college days.
How do you unwind now?
Watching games. I try to avoid news channels because with news, you cannot unwind! (Laughs) I watch a lot of movies, sports channels, National Geographic....
You have been very busy lately. If we look at 2021, starting from your time on television, it has been from Bengal to Bolly to Budapest...
(Laughs) I have even done a Danish film, Iqbal and the Jewel of India. It's a Danish language film, but my part was shot in Delhi. They all came over to Delhi to shoot my part and it was released in Denmark. I must say, I am lucky enough to get such opportunities.
It has been over 25 years since you played Topshey in  Baksho Rahashya (1996). How do you look back?
I had my ups and downs. But mostly, I am lucky to get good roles. I have done various kinds of roles. I have never stuck to one image. That way I am very lucky to get various kinds of opportunities.
Are there any regrets or would you do anything differently?
I started my journey with theatre and then television in 1995. Every actor has regrets watching their past performances. Everyone thinks, 'If I could do it today, I would have done it better'. It is not only me, it is true for every actor.
Your most admired role Bob Biswas (in Kahaani) was made into a film this year. What were the emotions like?
I was lucky enough to get that role and somehow it became iconic. I don't know how. It is a role for nine minutes, some seconds... not even 10 minutes. So, I didn't expect anything like this to happen. I really feel proud of myself because this has not happened before... that a 10-minute role became so iconic that they made a full-length Hindi feature film
on it.
Did you get a chance to watch the film?
I am travelling so much that I did not get a chance to see it. I would love to see it definitely.
You have done many remarkable roles throughout your career. But much-deserved recognition came much later...
Firstly, it is not upon me solely. Everybody has his own time. That's life. At least I have got something in life! (Laughs). I don't bother about those things anymore. The past is past.
How do you choose your characters now?
Based on the stories and the character shades. Honestly, after working for so long in the industry, my selection now is based on what the project is, mainly. If the project is important or not and how many people will watch it. That becomes important now. Sometimes we get good characters, but maybe the project as a whole is something that won't create engagement with the audience. The main thing is the story. If the story is interesting, only then the character is successful. If the story is not good, I don't think the character is important in today's times.
What is your experience of working in Bollywood?
They have a huge market. They have huge money, but I always feel Bengal has a lot of talent. Somehow we are not able to increase our market. We need to do that. Bengalis are all over the world. Wherever I go, there are Bengali audiences. We should try and reach out to them with our films. I had the privilege of meeting Asha Bhosle ji. She told me, 'I watched Kahaani, but I would like to watch your Bengali work. Why don't they have those CDs or DVDs with subtitles? Why don't they show us... I would like to watch...' I told her, 'It is not up to us ma'am'. So, we should try to reach out more to the non-Bengali audiences. The producers and distributors should think how to increase the market.
Since you are working in both industries now, do you see the Bengali film industry making any progress in terms of stories, scripts...
In the last two years, because of Covid-19, we have regressed a bit. I think because of the digital platforms, people are not really going to the theatres to watch every movie. They are very selective about what they watch... that's not very good for the industry.
In south India, they watch all their movies more than once. Their audience is like that. They are proud to watch movies in their mother tongue. We should also get back to the habit of watching movies in theatres. We sit at home and wait for it to come on OTT. That is not good for theatre releases.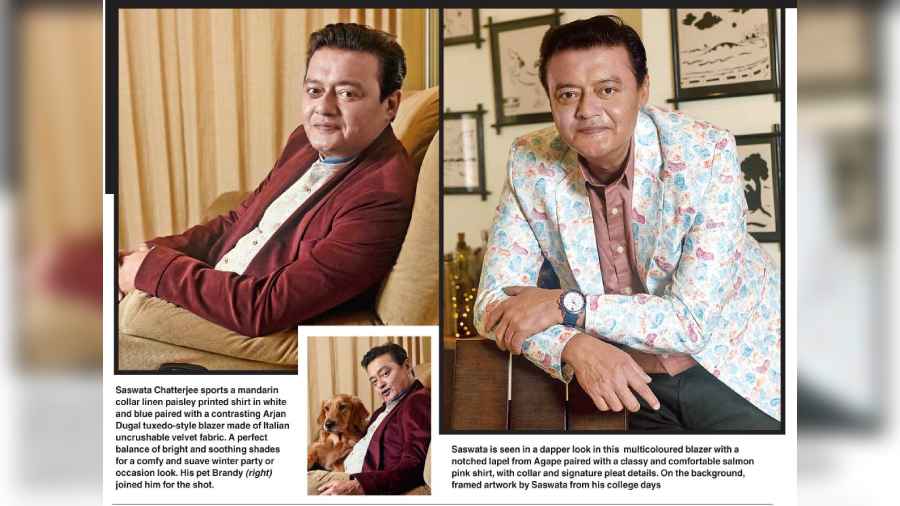 What are you working on at present?
Currently, I am doing a bilingual film called Project K with Naga Chaitanya. The last three days we were shooting in Hyderabad's Annapurna Studios, owned by Nagarjuna (actor and Naga Chaitanya's father). I had to shoot in Hindi and the next shot was in Telugu! (Laughs) So I had to learn the dialogues in Telugu. That's a new thing for me. Every time when the director tells me, 'Now sir, in Telugu', I just start laughing and he also starts laughing. It is a fun experience.
Despite working on back-to-back projects in Mumbai and now south, you have been taking up projects in Bengali cinema too. What place does this industry and the city have in your heart?
To be honest, my Bengali industry made me Saswata Chatterjee. I started working in Hindi language films since 2012... eight-nine years ago. My first Hindi film was Kahaani. Before that, the Hindi language audience did not know me. But for so many years, in my journey of 26 years, the Bengali industry kept me alive. I will always remain grateful to the city. After Kahaani, I did not work in Hindi films for four years because of my Bengali commitments. Definitely, I can't forget my roots.
You are finally using a mobile phone!
Yes. When I go outside for shoots. Car info, call time info and even scripts... we are now receiving them on the phone. Even what scenes we have for the next day.... everything.
Are you active on social media too?
Mohua still takes care of the posts, but yes, I do take a look once every day to see what has been posted. It is a part of life now, there is nothing we can do about it. If you don't have an authentic page, a lot of things get posted on the false pages. That is why I had to get into this.
Did you enjoy the shoot?
I really don't enjoy still shoots because I feel I can't deliver the correct expressions. That's because I am not used to it. There are models who are much better than me in front of still cameras... I feel a bit awkward and stiff in front of the still camera.
Even after 25 years, the camera makes you feel awkward?
In any project, the first day is still awkward for me. The first day a new unit is formed... there if I can't do my work properly then my work will become bad. After creating a reputation for so long, I cannot afford to be casual about it. So, it is better to be awkward or nervous on the very first day.
How has 2021 been like for you?
I have  spent  it just like everyone else. I hope 2022 will be a better year for all of us.
What are your plans for 2022?
I don't plan in advance. I face life as it comes and I try to enjoy life every day.
Pictures: Pabitra Das
Styling:Tanvi Shah
Make-up: Bhaskar Biswas
Hair: Somnath Roy
Outfits: Dapper Menswear Calcutta and Agape