Think of a dance playlist and it will have Let's nacho and Badtameez dil — mega dance hits of recent times, both of which are sung by multi-talented artiste Benny Dayal who believes "gratitude is the secret" of his energy. The Telegraph caught up with the vivacious and cool singer who was in Kolkata to perform at Tipsy Tiger in Sector V, in association with The Telegraph. From being a foodie, breaking myths about auto-tune to his favourite composers, he talked about it all. Excerpts.
What excites you about coming to Kolkata? 
I would definitely say food. And what can I say? Some of my friends who are from here. My former manager was from here but now she's in Mumbai. But for her I know most of the food places. I think she used to take us around to Chinatown and every other place. I pretty much had everything delivered to my room because stepping out is a big issue. So I've eaten from like a bunch of places, and I prefer just Bangla food when I come here because that I don't get. Then I love Peter Cat and every year we tried other places.... Food is very, very important. So I have eaten from all these amazing places…
Have you got the chance to try Kolkata biryani? 
I was going to say this but you stole my thunder (laughs). That's my favourite! I love Arsalan biryani, I think it's my second favourite biryani in the whole of India after Kerala biryani of course! (Chuckles) I'm a little biased. A lot of people make fun of me and say how do you like potato in the biryani and I say that's the best part! There's egg but it's the potato that you fight for!
So from food, let's talk about some music. We were scrolling through your Instagram and stumbled upon the One Minute music video…
One Minute music is the campaign by Meta Creatives, which comprises of Facebook and Instagram. So we were approached to do the southern India stretch… from where a lot of Tamil music is going to come. It was an absolute honour to represent south India and get to compose it by myself. It is produced by my friend Hashbass (Harshit Misra). He is a wonderful producer. We had to do this quickly and we were approached just two weeks ago so you can imagine making the song, writing and arranging the song… producing and mixing the song. All these steps needed to be done wisely and correctly and there are a lot of back and forth when you are trying to finalise the song. This was going to be a dancing reel so it had to be a banger... a crossover with India elements and commercial current elements. I thought it would be a struggle but what happened was… he (Hashbass) was 10 minutes away from reaching my home and I was like theek hai. Then suddenly it came into my head and I sang in my phone…
It was impromptu? 
Very impromptu. Then I got a call in my intercom that my guest has come, and I called him saying that melody abhi lock huya! And the whole song was arranged in the same day! The first half of the song is me singing, playing percussion... and using mortar and pestle, spoons and forks. And then went into a full dance mode. I wanted to keep this very "from me" type. Of course we can produce something regular but I wanted something half and half.
How would you define your music?
Urban and earthy. If you take my composition Let's nacho, which me and Nucleya produced, you will see that the sound was super urban but my singer is super earthy, super rooted… so I like to build that crossover, every time you have something fresh. It's not the approach it's also what comes to me naturally. Approach is great but once all those things come together, your element of singing is folk-sy meets western.
Folk is definitely an element in your music..
Yes, I have a lot of folk songs down south also; I have done a lot of them.
Do you wish to explore other folk genres across India? 
At some point it is going to happen because, see, it has been explored and shown in a very obvious way where everybody can understand. But there are so many hidden things that haven't come to the limelight. So, someday I hope I can do that.
I hope you get to explore Bengal's baul music also…
Of course! I have listened to it. Bonny Chakraborty is a friend of mine from Chennai and I have seen baul music all my life in Chennai. The Bangla community is very widespread in Chennai and my Hindusthani teacher is Bengali, her name is Tanusree Saha. So I have a lot of pass-on cultural knowledge from Bengali people. My first introduction to Bangla song was Dhono dhonne pushpe bhora in school. I studied in Abu Dhabi so we had to sing on Republic Day, so 26 singers had to sing 26 small portions and I had got Bangla. So I know a lot of the Bengali community, lifestyle and culture (smiles).
While creating a song, what is the first thing you focus on?
I need something that comes to me very naturally from inside without thinking. I should not be thinking while making that melody. If I start thinking then I will stop. Then tomorrow I will try. For me some of my most amazing compositions that I have done independently happened just like that (clicks fingers). We were in Kerala and we were doing a shoot with Nucleya, Karsh Kale for TV that time. After lunch we were having a small break and Nucleya said, "Bro I have this sick beat, do you think you can create a melody or something?" I heard it and immediately something started coming in my head and he was like "Record karega? Mic hai?" I said "nahin hai" but on the laptop just sang it off... so I was looking into the camera listening to the beat and it was playing at the side of the speaker and everything was being recorded and in two-and-a-half minutes it (Let's nacho) was done! Then the song was ready and when the opportunity came we made it to an independent song, it was given for a campaign and from there it was picked for the movie (Kapoor & Sons) and it got bigger for us!
So did you always get influenced by music on your own or you had anyone in your family who influenced you?
My mum's a trained Bharatnatyam-Kuchipudi dancer and she did Kathakali too but it's a tougher art form so she did it for a very short time. I think my dancing skills got passed on from her. She made me learn all three... Indian classical dance and music, vocals and it helped me. I was just four when I started. My mum used to say if any song came on the TV you would be singing and dancing to it… mum would sing a little bit in school…. When I went for my first class I realised yeah, I like singing. I was more of a dancer throughout my school and everybody knew me as a dancer in school days but in college I realised that music is my call. So I took up music. But you can't let dance go, like any art form dance is also growing. I like everything and I don't mind trying any dance form.
Telugu, Gujarati, Bengali, Kannada, you are extremely fluent in many languages. Don't you find it challenging?
Yes, but that's for everyone I guess. Each other's language is hard to learn, there's a lot of respect in learning another language.
But when you are singing in a language that's not your own, how do you bring the emotion to the track?
We get translations also. The composers tell you what it means and immediately you understand the jist of it and it always helps that way. In South Indian languages I get versions, proportions of genres to sing in. I get melancholy, romance, slow romance, up-tempo definitely, which is one of my fortes and I love dance music. Dance music is a stress-buster and am glad I am a part of that. People don't need to think, they can dance or sing along and have a good time. But in other languages like Hindi, Gujarati or Bangla every time they give me up-tempo songs because they known I am known for that and I hope someday people realise and give me other songs too for other languages.
Don't you fear being stereotyped then?
I would say every day, every hour is stereotyped. Like every day we wake up, why wake up? Stereotype toh wahin shuru hota hai. I don't care much!
So your mantra is to sing the genre you rock…
It doesn't matter. I have had a phase where I craved for it but then I realised that I can make my own music that can sound like that. I have always made my own music and my music pretty much always is up-tempo. I have never made stuff or put out stuff that was slower. I am working on my album, it has slow songs, heartbreaks and all.
Talking about slow tracks, there is nothing like Kaise mujhe from Ghajni…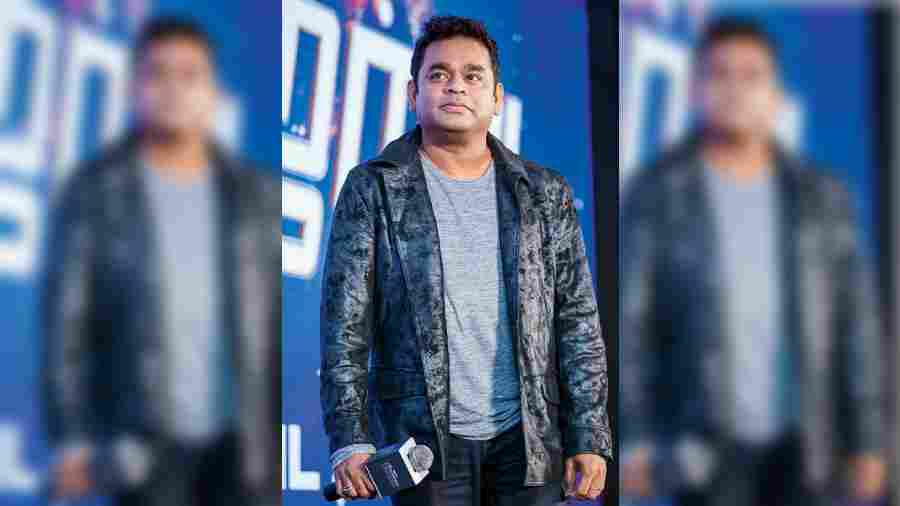 A R Rahman
Yeah yeah! I am so happy that I sang the song but all credit goes to A.R. Rahman because it's his melody and it's amazing. I was really young when I sang this, I think 22 or 23. I sang this before my first song came out.
Do you consider that song as your turning point in Bollywood?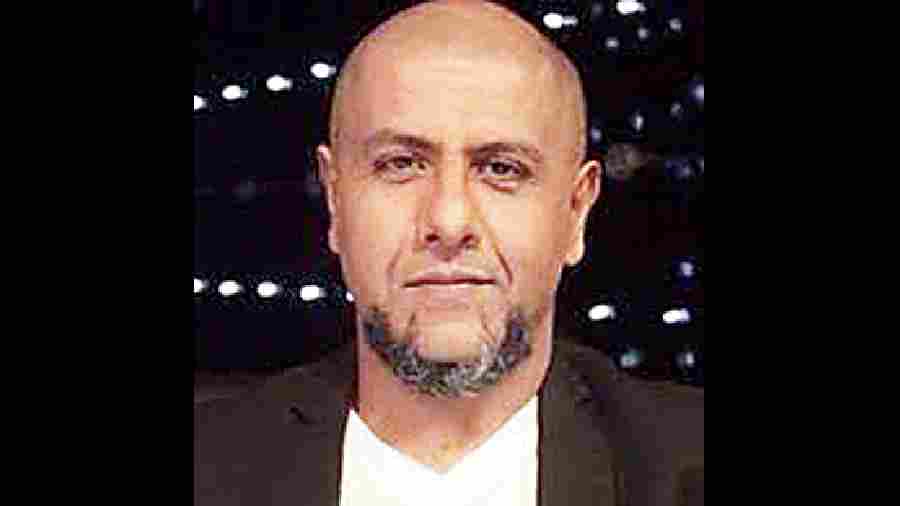 Vishal Dadlani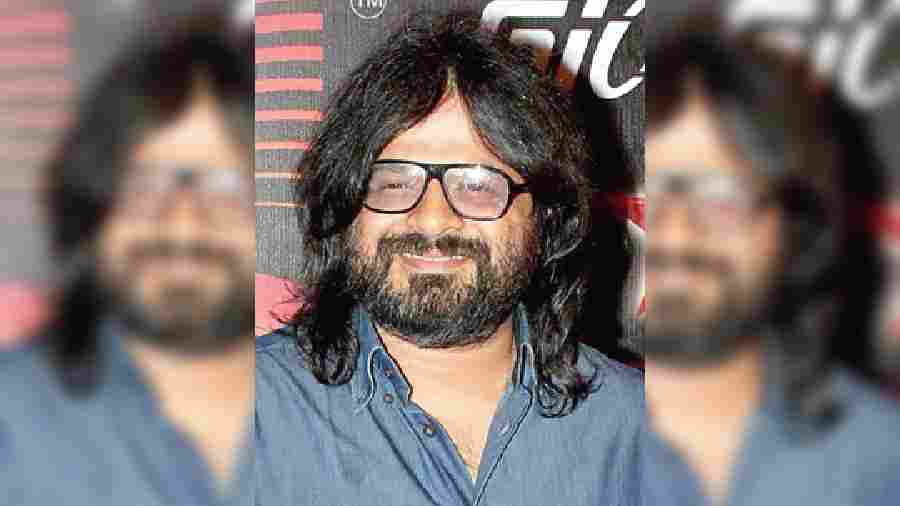 Pritam
No, I would say Kaise mujhe (from Ghajni) was the entry point and then I will call the reincarnation was all of Pritam da's songs and Vishal Dadlani's tracks… it was a great upper. For me I have realised that I love performing on the stage and I am so grateful that I have received songs that are performable.
How do you choose your songs?
I don't choose… see there used to be a time when we never had the option to choose a song, when we were starting off it was like walk into the studio and just sing the song. There are times when you have sang songs and you will be like, "Oh man! This sounds like that song, right?" Nowadays young composers do send us the track and ask if we like to do the song and that's become more collaborative. The composers give us that leverage. And if we say no also people are okay with it.
Do you feel it is easy for people who are starting their career now compared to the time when you started off? With social media platforms, everyone has a lot of exposure...
Yeah it's much better! Everything is viewership now not just listenership. It's a very good thing but there's pros and cons to it. It's a platform where people can actually go in there and search for singers and the cons are like too many of them. One being half of them don't even rehearse and it sounds aida geyda and am not joking! There is no input and then they send it to me and ask me how is it. I go through my DMs and I see the messages and I am like "man"! But if I say they will be like, "You have so much attitude". My problem is, if you are sending me a song, please sing properly man! (Laughs) At least ask 10 people before you send it. We have worked very hard to get where we are, you know.
Was the auto-tune thing so big when you started your career?
Ya! I have couple of my songs with auto-tune. But the thing is it's not because I couldn't sing! Rahman sir himself has applied in some of my biggest hits because it's a productional choice that he is making, he is making me sing perfectly in the studio and then he applies it.
But don't people misuse it? Like a DJ suddenly turns a singer overnight…
Auto-tune is fine, it's an industry standard now. Once you are done singing the songs and you have gotten all the files and takes of the singer, from there they apply and see and there's a chord… and the engineer/director asks "Sir aapko acchha laga?" I think it's cool because they want to push it forward because sometimes it gets mundane. Not good singing but the choice of how they are mixing the song, they are mixing the variants and you cannot stop a composer-producer from doing that because it's there and can be applied.
When you hear a song you understand that the composer has applied those metallic-electronic variation because probably the singer can't sing. Other than the artist called T-Pain... he made the auto-tune famous. He is an incredible singer! You have to see him live where he is playing the piano and singing, I have seen him live. Even on YouTube he has this show called NPR Tiny Desk, it's shot inside an office and he is singing, no auto-tune nothing and he is singing brilliantly! But it was his choice to make auto-tune famous. But yes, now many people are like they can't sing without auto-tune. That's the human mind, na?
No human being can sing 100 per cent perfectly, there will be some flat or sharp notes. And there is a process that tubing happens and it gets fixed and that's for you (audience) to enjoy for the rest of your life man!
You have recently sang the remake of Churake dil mera… what goes on in your head before you do a remake of an iconic song? Any dos and don'ts?
I was actually against doing remixes and I was actually recording another song for Anu Malik in the same studio and it was an original song. So when I finished the song, he was like, "Benny I want one more song from you", and I was like, "Yes sir please tell me…". He was like, "I am bringing back Churake dil mera and I want you to sing the song". And I was like ya because it's his music and he is recreating and he is choosing you! For me that's a great honour! Of course i'll never come close to Kumar Sanu da (laughs) like ever but I could sing the song. It's a memorable thing for me. It felt aesthetically correct for me that I was singing a song by the same composer otherwise I wouldn't have really. Even Disco deewane, they did it so classically! They just used Disco deewane aaah haan in such a nice way. He changed the melody, it's a risk but Karan Johar sir was clear that he didn't want to take the original composition.
Lastly, your post on Instagram after KK's demise was heartwarming. After the sad incident, as an artiste what are the things you look out for while performing?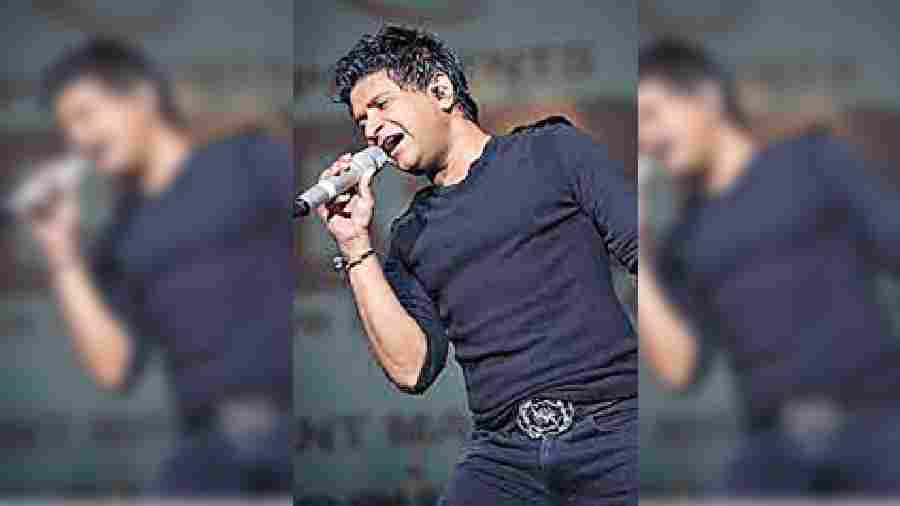 KK
(Pause) See this kind of a heat stroke has happened to me also 10 years back here in Calcutta only. I think some people don't take production seriously, like setting up fans inside the venue. I don't remember the college but it was a big battle to get out of there and I couldn't perform but organisers threatened my manager and me that you will not leave even when I was not feeling okay, they saw me faint and still wanted me to get out of my grave and perform… it was very unprofessional and unreasonable like that. That's why it hit a very heavy chord after KK's demise. The heat and humidity in West Bengal is excruciating. So for me venue is very important.
Fast Four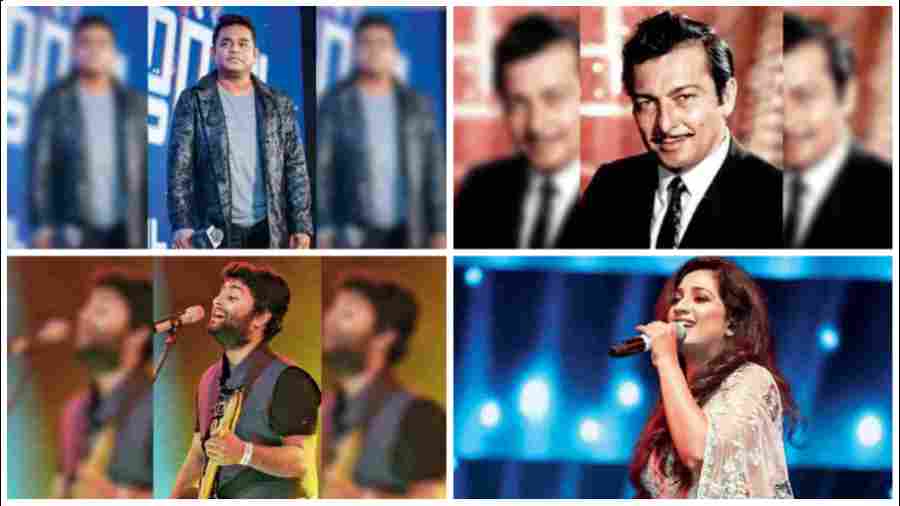 Clockwise from top left: A R Rahman, Madan Mohan, Shreya Ghoshal, Arijit Singh
Composer who shaped your career: A.R.Rahman
Composer you would like to work with: Wish list would have been with Madan Mohanji, it would have been a dream to work with him.
Contemporary singer who you think have value-added to the music industry: Definitely Shreya (Ghoshal), Arijit (Singh).
Your reels are hilarious, how would you define your sense of humour: Twisted (laughs).
Benny Dayal's hit list
Let's nacho
Lat lag layee
Badtameez dil
Locha-e-ulfat
Kaise mujhe tum
Besharmi ki height
Aadat se majboor
Ek main aur ekk tu
Ude dil befikre
Jai jai Shivshankar