After finishing the shoots of her Bollywood debut film Uma and Sayantan Ghosal's film Hirakgarer Hirey, Ayoshi Talukdar is now busy shooting for Amrapali directed by Raja Chanda. "The shoot is going really well but it is very hectic. It's entirely being shot in Bolpur. It gets very hot in the afternoons here and most of the shooting is taking place outdoor. But it's great fun. Rajada is so helpful. He's guiding me through. Half of the shoot is done. Overall it's a great experience till now," smiles Ayoshi. A candid chat....
Tell us more about Raja Chanda's film? What attracted you to it?
Rajada's film Amrapali is about a triangular love story. I'm paired opposite Bonny and Somraj. The romantic drama genre has been Rajada's forte so I'm excited about this one.
The story attracted me. It's a beautiful love story... a commercial film with a good story and that's very important. Content is very much the priority now a days for a film to work. So, I think this love story will be liked by all.
Tell us about your character?
My character is quite like me. She's a confident, sweet college girl who's attached to her father very much. Basically a girl next door who can manage everything very well, both her college life and family. She runs a flower shop called Amrapali. There are different shades that the audience will get to see of my character throughout the film.
What are your expectations from being directed by Raja Chanda?
I've worked with Rajada earlier. In my last film I was too scared to work with him but this time, there's a lot of comfort. He is such a good, cooperative director. He really understands his actor's strengths and weaknesses and helps to overcome the odds. It is fun working with him as well as learning.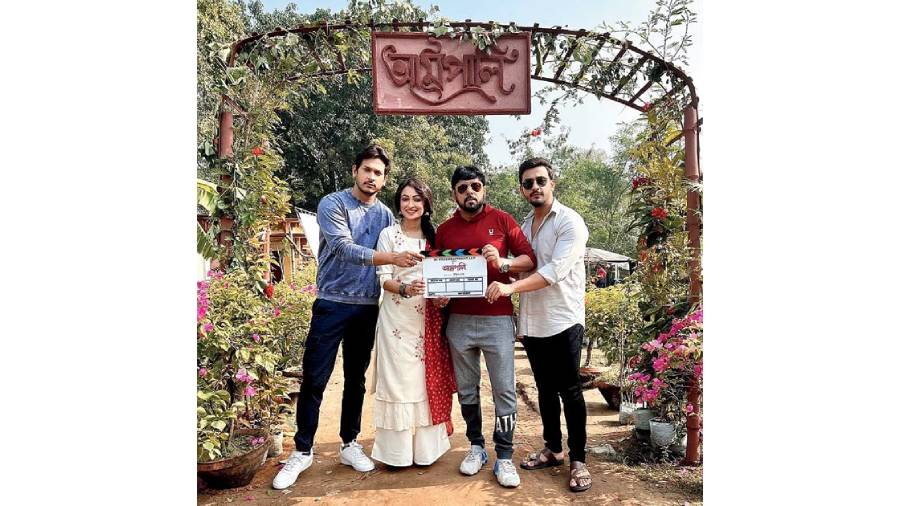 Team Amrapali in Bolpur
How is Bonny as a co-actor?
This is my second film with Bonny. The previous one was Hirakgarer Hirey. It's always nice to work with him because he is a good friend and especially a good co-actor. Quite helpful and giving as an actor.
This is my first one with Somraj. Quite excited to see how the audience likes us on screen. He's a very focused and good actor.
How did you spend your birthday this year?
It was great fun. My birthday every year is on Vishwakarma Puja. This year it was thankfully better than last year. Covid protocols were still there, so keeping that in mind, I had a small birthday party with my close ones, friends and family at a lounge. I received so much love, warm wishes and gifts from everybody, so it was very well spent.
The first poster of Uma came out recently. Your thoughts on it....
I really liked it. The film is a family drama. So the main characters are on the poster. I'm glad that I'm part of such a good Bollywood project. The trailer is going to be released very soon so waiting for that.
Uma is a special film for me. It's my debut film in Bollywood so quite nervous. After shooting for Uma, I'm getting a few calls for new projects in Mumbai, so I think post-release it's going to be even better. Hopefully, people will like me and appreciate my work and that's really important for me.
What is the status of Sayantan Ghosal's film?
We'll start the dubbing for the film very soon because I think the release is next year. So let's see how the film comes out but we overall had a very good time shooting for Hirakgarer Hirey.