C hristopher Kloeble has authored many books including Amongst Loners, Almost Everything Very Fast, The Shadow of the Salz Family and Home Made in India. He has won a few awards including the Jürgen Ponto Stiftung prize for best debut in 2008. Kloeble, who writes essentially in German, is also into scriptwriting and shuttles between Berlin and Delhi. His sixth read, The Museum of the World, piques the interest of historians and literary enthusiasts as it explores the journey of three Bavarian Schlagintweit brothers who set on an expedition in India for the East India Company in the mid-19th century and hire a 12-year-old boy as a translator. Inspired by true events, the novel has been translated into English by Rekha Kamath Rajan. We caught up with Kloeble at the Jaipur Literature Festival held earlier this year.
You have travelled to many festivals. How has the experience been so far?
The experience has been beautiful. I had finished the book before the pandemic so after two years when the book came out I suddenly had so many things to do and so many places to visit where  some of the stories take place. I have been to many cities in India and also went to Sri Lanka, so it's been quite hectic but exciting.
How are you finding this new Indian audience and Indian connection that's unfolding with the Museum of the World?
It's great because they have a much deeper understanding of the whole material. I have got a lot of positive reactions from all corners but a lot of people are not aware of the uprising that the book talks about. Also, people don't know so much historically about South Asia. So, it's great connecting with people who really understand what I am trying to convey. And they not just understand the plot and the setting but also the character. And that's a huge satisfaction for an author.
At the heart of it all is the story of three Bavarian Schlagintweit brothers who set on the biggest expedition of their life in India for the East India Company in the mid-19th century, exploring the magnetic fields in India and South Asia. They hire a local boy, Bartholomew, as a translator who speaks many languages. This 12-year-old orphan boy who also plays a central part has a mind of his own and while he has been objectified by foreigners all along, he objectifies them and scrutinises them in a scientific manner. They then travel together to different parts of India including Mumbai and Calcutta, and Nepal and Tibet.
Bartholomew sounds interesting. Was there anyone in particular who inspired the character for your story?
Not any specific person but there is a certain kind of spirit that I came across in my life. For instance, the children in India. I once went to Coimbatore and when I was reading in front of 150-odd children I could sense so much energy in them, which is so unlike German kids. They were so involved and hungry for knowledge. So while one kid asked for an autograph the other 149 followed and I almost drowned in kids. So, this kind of spirit is beautiful. Also, I was not very happy as a child so that kind of comes through as well.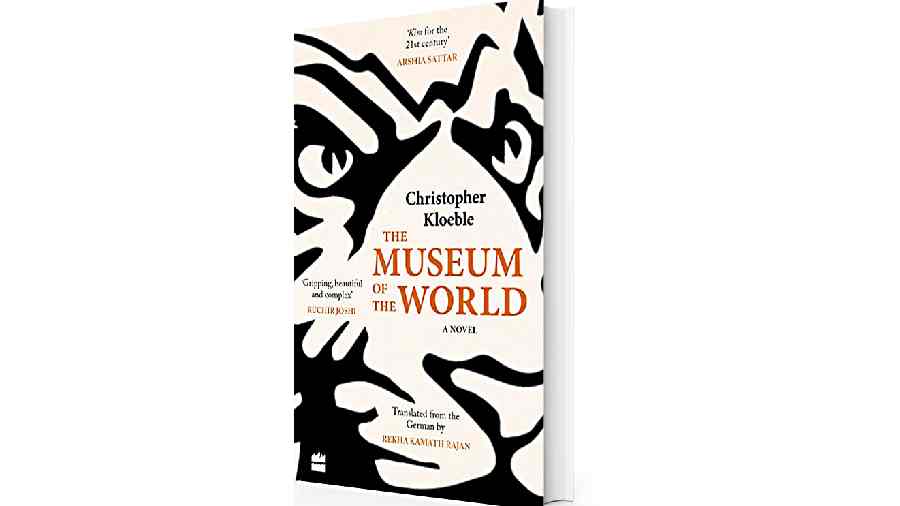 What made you choose an Indian subject for your sixth novel?
My simple answer is, 12 years ago I met my wife. She stays in Delhi and we spend time in Germany as well. We have two kids and when we talk, we compare our situations a lot and I take the best of both worlds. So, it greatly influenced my writing. This is my sixth book but my first book majorly about India.
The book was translated by Rekha Kamat Ranjan. Tell us about your partnership.
I met Rekha much before the book happened. It's one thing to just lay the story in a different language on the pages but to look at it a certain way needs a different calibre. She had a certain tone in her voice and she got it exactly right. It was as much good in English as in German.
Do you intend to translate the book into other Indian languages?
Hopefully. The protagonist is a translator and he knows a lot of Indian languages, so you never know.
Let's talk about the expedition that forms the central theme of the book...
The expedition, funded by the East India Company, maps different South Asia countries for magnetic fields. Also, though it's something scientific it is also about the individual journeys of the protagonists. It is set during the time of the 1857 mutiny, a time in India when things began to change. So, there are a lot of aspects that the story touches on and it's fascinating.
What next?
At the moment there are talks going on about adapting the story for the screen with a filmmaker. Also, I am writing my next novel which is again kind of biographical as it deals with my experiences in the Tölz Boys' choir.