Swami Vivekananda and Subhas Chandra Bose are not just two of Bengal's most beloved sons, they are also among the greatest visionaries in the history of modern India. A lot has been written on both men individually, but much remains unsaid about what sort of an influence Vivekananda had on Netaji.
With his latest book, A Bird from Afar, Anshul Chaturvedi sheds light on the spiritual relevance of Vivekananda in the life of Netaji. As the latest guest on An Author's Afternoon at Taj Bengal, an initiative of Prabha Khaitan Foundation, in association with Shree Cement Ltd, Ehsaas Women of Kolkata, Taj Bengal and digital partner The Telegraph-My Kolkata, Chaturvedi spoke about the intriguing themes that underpin his most recent work of historical fiction.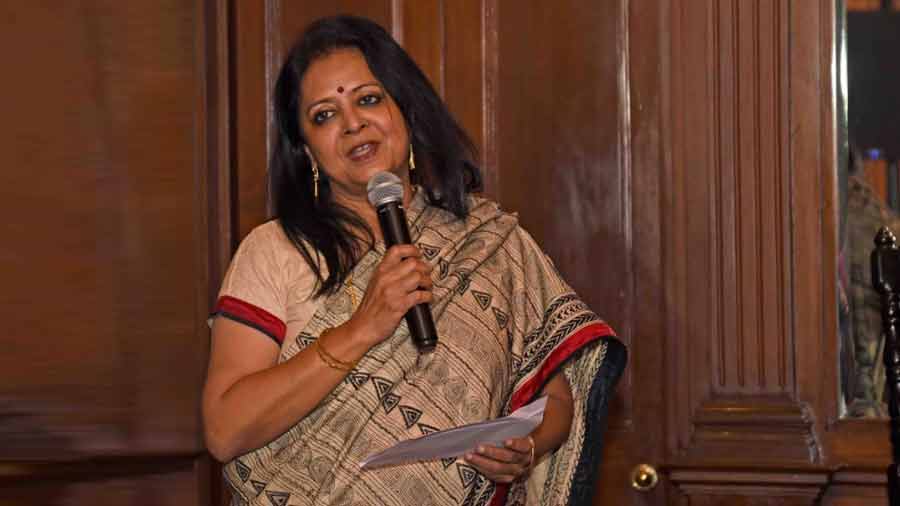 Gouri Basu, Ehsaas Woman of Kolkata, introduced Chaturvedi
Amit Datta
After Gouri Basu, Ehsaas Woman of Kolkata, introduced Chaturvedi and fellow Ehsaas Woman Esha Dutta, who was in conversation with the author, Chaturvedi started by outlining the motivation behind writing A Bird from Afar, a book whose title references a letter Netaji had written to his wife Emilie Schenkl.
"I ended up writing the book that I wanted to read. So much has been written about Bose, the leader, that not enough attention has been paid to Bose, the person. I wanted to focus on the more human aspects of Bose in my book, within the larger context of something else that fascinates me, which is the Second World War," observed Chaturvedi.
Complimenting the author for his nuanced juxtaposition of fact and fiction and for successfully pulling off a riveting twist at the end, Dutta asked Chaturvedi why he chose 1942 as the point of divergence, the juncture where history makes way for imaginative writing in the book.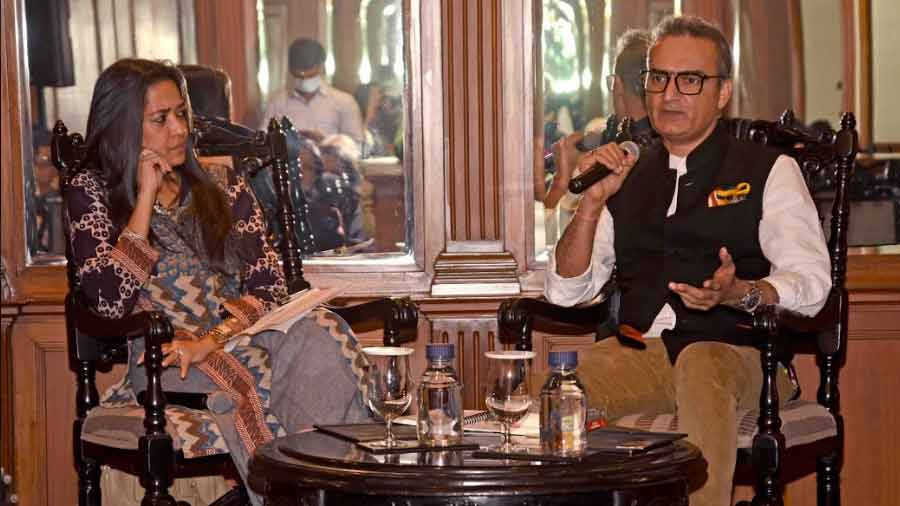 Chaturvedi in conversation with Esha Dutta
Amit Datta
"I think it had to do with me contemplating what would've happened had the Germans won the Battle of Stalingrad (August 1942 - February 1943) instead of the Soviets. That worked as a catalyst, because a German triumph might have facilitated a German-Japan advance towards India. When we think about the War, we think that India had an incidental role to play… but as George Orwell had once noted, India could easily have become the focal point had a couple of key battles gone the other way," explained Chaturvedi.
Dutta then brought up the Vivekananda connection in A Bird from Afar and how Chaturvedi conceived Vivekananda's impact on Netaji. "I had already written a book on Vivekananda (The Vivekananda Handbook for Everyday Living, which was published in June 2021), and wanted to show how Vivekananda's ideas formed the moral basis of Netaji's actions. Bose was deeply inspired by what he learnt from Vivekananda, as well as from Ramakrishna Paramahansa. A lot of Vivekananda's ideas echo in Bose's own writings. It is a pity that not too many people read what Bose had written himself," said Chaturvedi.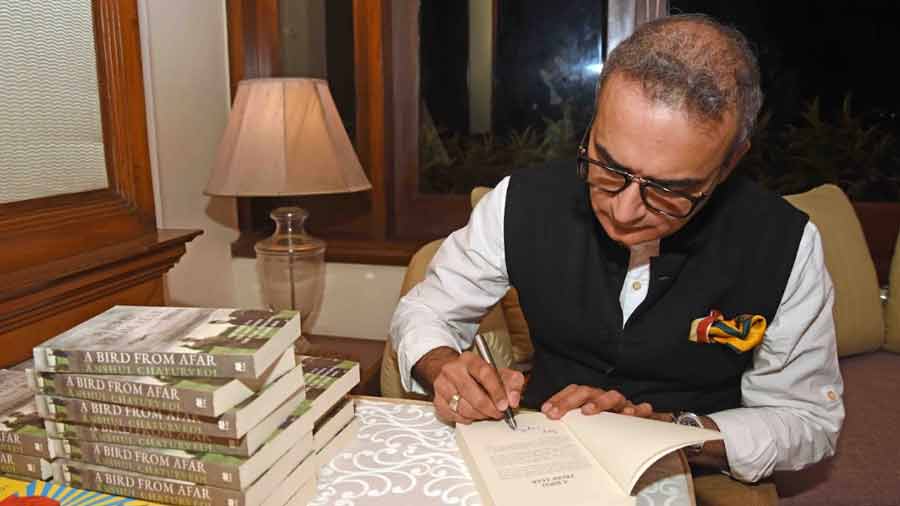 Chaturvedi signs copies of his latest book, 'A Bird from Afar'
Amit Datta
The magnetic personality of Bose also came up for discussion and how that permeates Chaturvedi's plot. "Bose did not believe in compromising, but at the same time, he was a sensitive man who felt deeply for others. In my fictionalised world, Bose ends up working closely with the most non-violent man in the 20th century (M.K. Gandhi) as well as the most violent one (Adolf Hitler), but plays second fiddle to neither," noted Chaturvedi.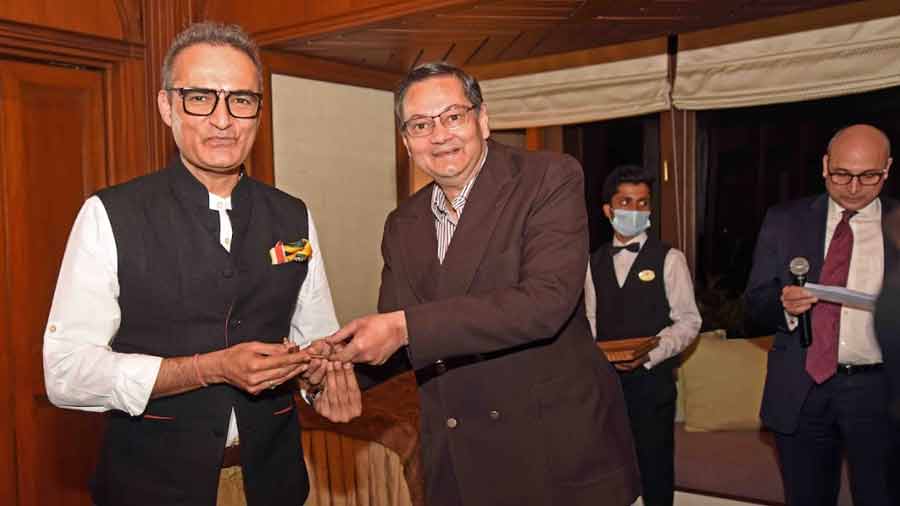 Chaturvedi being felicitated by Chandra Kumar Bose
Amit Datta
While answering audience questions, Chaturvedi spoke at length about Bose's role in the Indian National Army (INA). "Bose was able to do something which nobody else could, not even Gandhi. He had the ability to make Indians in the military, who had been loyal to their British masters for decades, turn on their colonisers. That was a unique achievement and it certainly played a decisive role in making India independent," said Chaturvedi.
It was a really interesting session that threw a lot of light on Netaji as a person and not just as an incredible national leader
Gouri Basu, Ehsaas Woman of Kolkata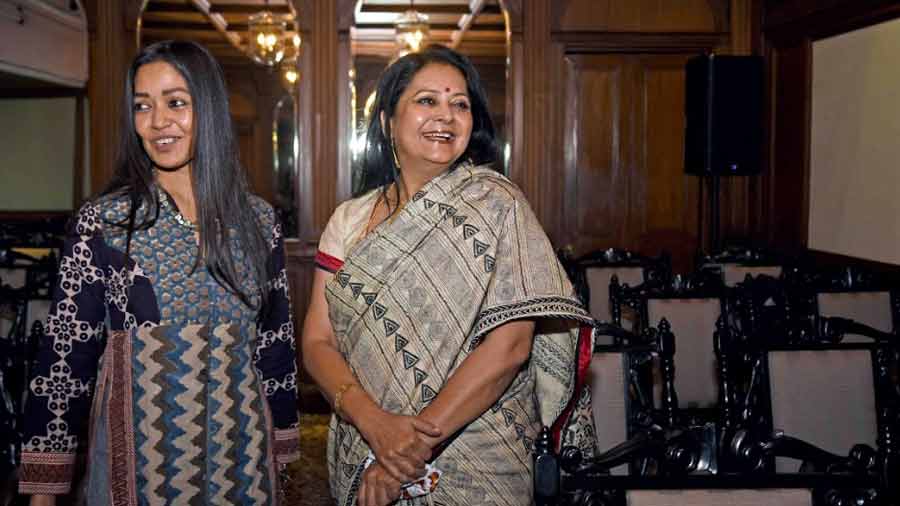 Esha Dutta (left) with Gouri Basu ahead of the session
Amit Datta
I had the opportunity to read 'A Bird from Afar' ahead of the session and enjoyed the easy-flowing narrative of the book. It was practically unputdownable. Our knowledge of Netaji has always been very academic, but this book, just like this session, explores the Netaji persona in an anecdotal, engaging way
Esha Dutta, Ehsaas Woman of Kolkata
Anshul Chaturvedi gave us several fresh insights into the multi-faceted personality of Netaji. As the liberator of India, Netaji's personality does not get the attention it deserves or needs. This session helped provide that attention alongside sending the message that the path shown by Netaji is the one a united India should follow
Chandra Kumar Bose, politician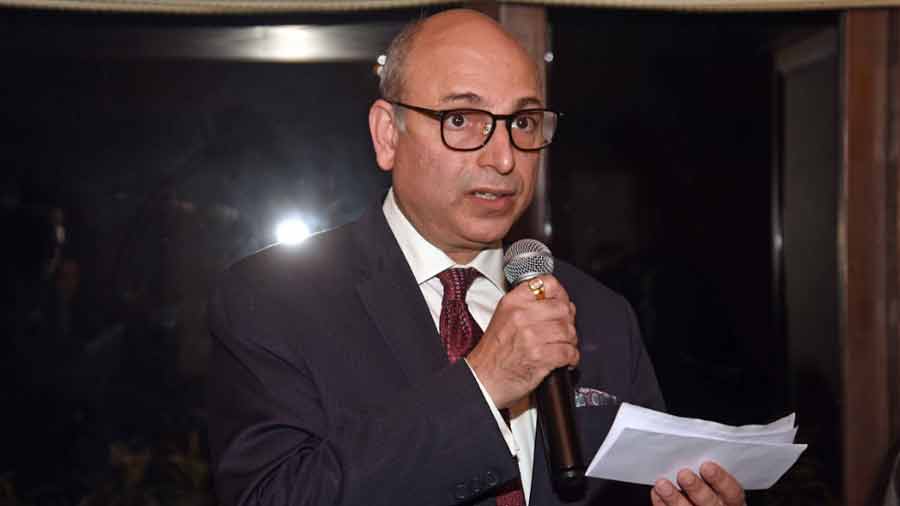 Vijay Shrikent, General Manager of Taj Bengal
Amit Datta
It was an interesting and insightful discussion, which piqued the audience's interest in learning more about a different aspect of Subhas Chandra Bose and our history
Vijay Shrikent, General Manager, Taj Bengal