Leander Paes is an epitome of many character traits — of depth, of strength of character, of soul, of pure passion, of humility, of a meditative but driven take on life. Inspiring, and with an unshakeable faith in hard work and determination. An icon we proudly claim to be one of our own, the Calcutta boy who became the first Indian to clinch a medal (bronze) in tennis at the Atlanta Olympics in 1996, India's first individual medal after KD Jadhav's bronze in wrestling in 1952, setting aflutter a million dreams and making you trust in the magical power of self-belief and strong roots. His emotional quotient is the great strength that connects him to you and me. A tremendous athlete who has been on the road for more than three inspiring decades, holds an enviable record in doubles and mixed doubles at the Grand Slams and Davis Cup.
As he comes back home, to his Calcutta, after a journey of a lifetime, Leander sits down with The Telegraph to chat about his homecoming. There is, however, no plan to rest on his laurels. He is all set to soak in the warm feeling that being close to your dear ones blesses you with, but has his hands full with dreams of creating a healthier India and fostering a third-generation Olympic athlete in daughter Aiyana.  
It's so great to hear that you have decided to base yourself out of Kolkata...
Life has almost come full circle for me. After studying in La Martiniere (for Boys) and growing up on the Maidan with dad (Dr Vece Paes), playing sports at Mohun Bagan, all the club sports that I played at CC&FC or (Calcutta) South Club or (The) Saturday Club, Tollygunge Club, I learnt about my sporting heritage very young. I learnt the responsibilities of being born into a family with this much sporting legacy at just six or seven years old. As much as some kids would look at it as pressure, I looked at it as a great opportunity. My dad is my hero, my best friend, my guiding light, North Star and also Baba. To emulate him was what I wanted to do from a very young age. And, not just on the sporting field, but off the field too. The way he made a difference in people's lives, to me that was big.I left Calcutta on May 12, 1986, as an 11-year-old, to embark on my dream of being an Olympic athlete. I gave up my passion for football and took up tennis. The best tennis academy back then was in Madras, the Britannia Amritraj Tennis Academy, the only one in the whole of Asia. My first year was hard, but I persevered through the hard times and five years later, I won Junior Wimbledon. That gave my passion and belief in myself that I could become an Olympic athlete in tennis.Now, many years later, retiring from tennis, on March 7, 2020, when I played my last Davis Cup match in Croatia (with Rohan Bopanna), in Zagreb... we beat Mate Pavic and Franko Skugor (Pavic was ranked world number one at the time).  
The Covid-19 pandemic has been very difficult for so many families across the world and I have lost many friends and relatives due to this virus. I feel this pandemic has taught me a lot about spending quality time with my family and loved ones more than the quantity of time.I have come full circle back home to Calcutta in September, spending more time here with ma, Baba and family. Coming back to my roots gives me great joy to celebrate my friends and enjoy quality time.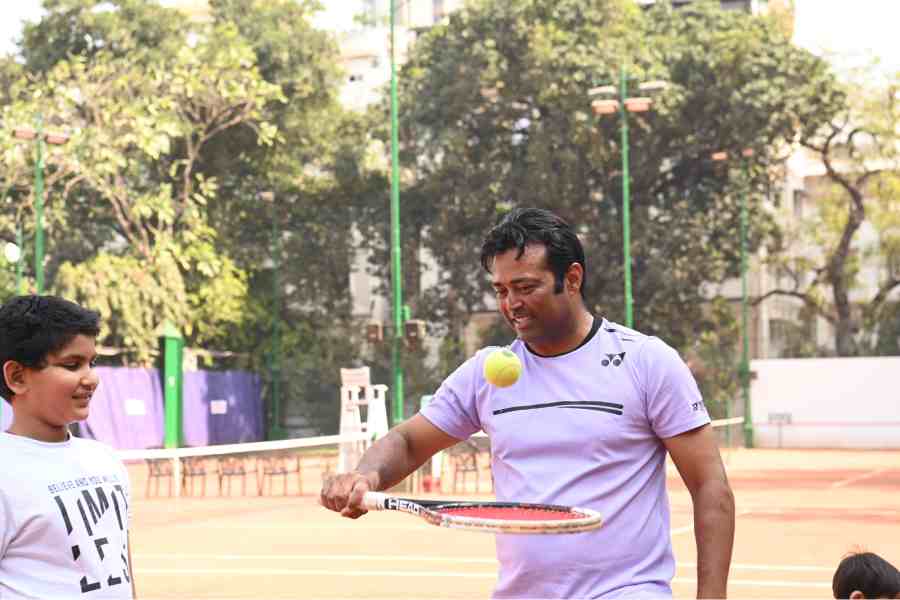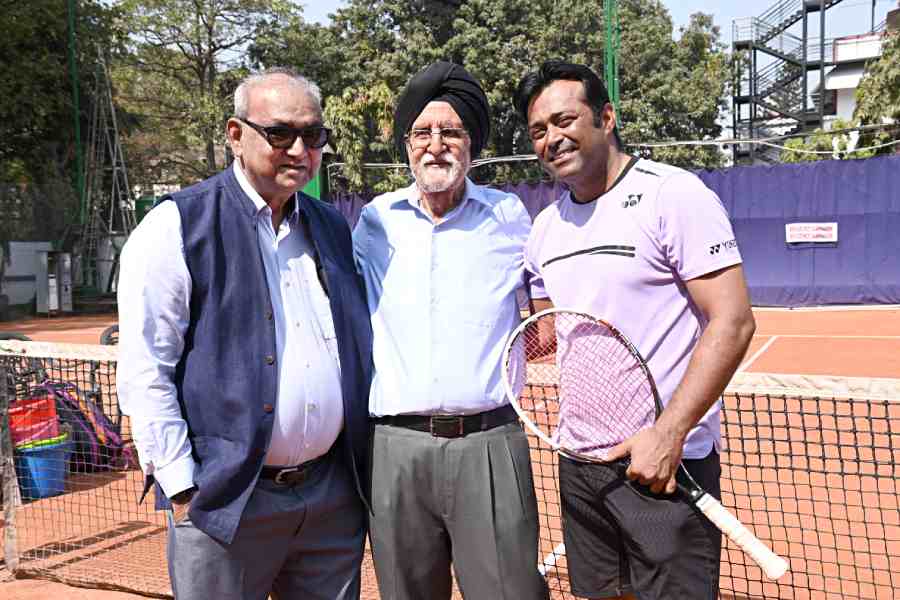 Leander with Dr Vece Paes and hockey legend Gurbux Singh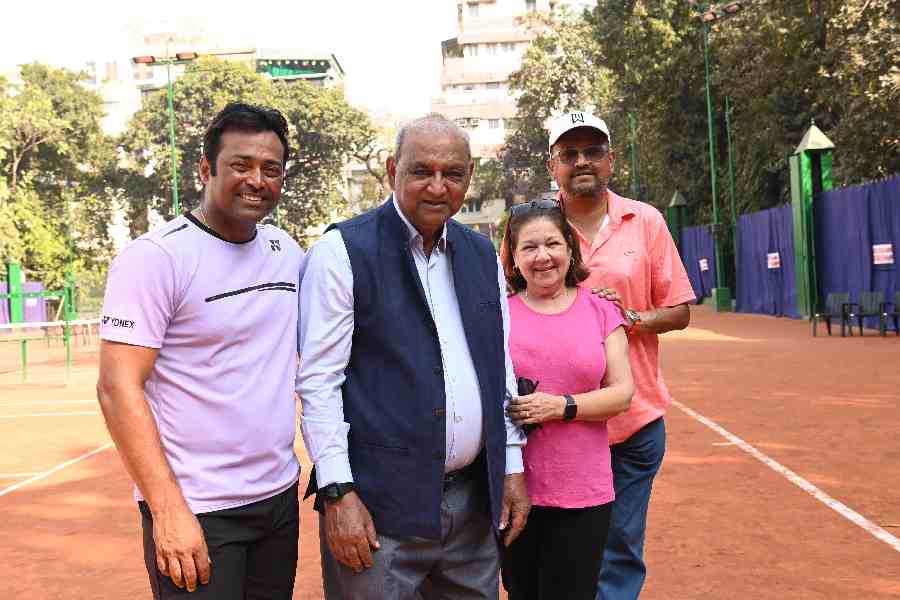 (L-R) Leander with his father, Dr Vece Paes, Juliana Van Steensel and Sunny Uthup. "My dad is my hero, my best friend, my guiding light, North Star and also Baba. To emulate him was what I wanted to do from a very young age," says Leander.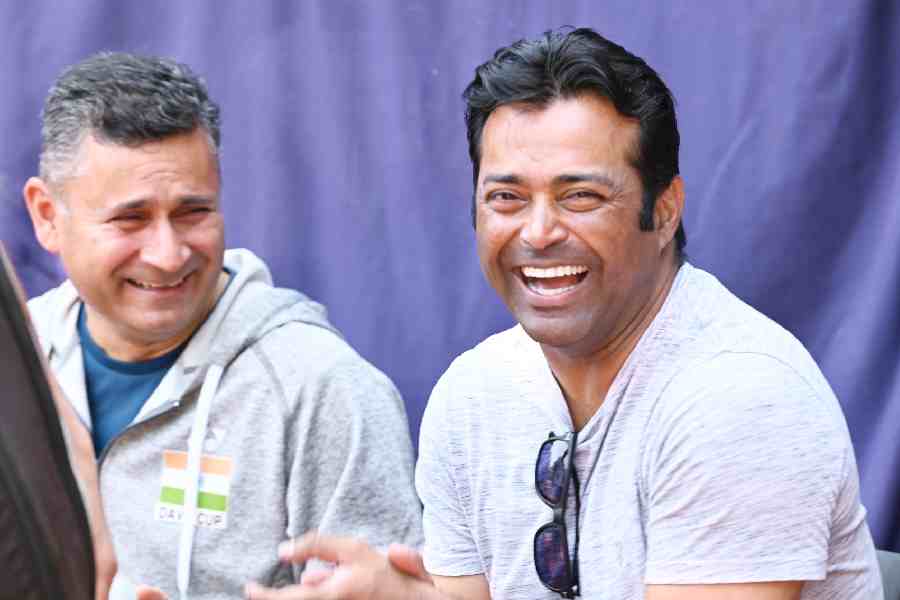 The many moods of Leander Paes, shot at The Saturday Club
Having travelled across the world for the last 31 years, conducting my professional tennis career, I find the charm of Calcutta is a wonderful blend of old-world architecture, history, culture, arts, music and a modern mix of diverse communities coexisting. Having lived in the South of France with my coach Jacques Hervet to learn how to play on the red clay of Roland Garros or having lived in Melbourne, Australia, with my coach Bob Carmichael who taught me the nuances of tennis technique over 19 years or spending time with my yoga master, Sanjay Singh, in Singapore, or living in Orlando, Florida, with my fitness coach Dave Herman, I have been very blessed to have learnt so much about different cultures, people, ways of life and especially grateful to my family and all the individuals in my life who helped me achieve these world records in the Olympics, in Davis Cup and winning all my Grand Slams for our country.
Travelling extensively on the professional tennis tour (approximately 45 weeks a year), taught me to manage my individual career from a very young age. Dealing with all the adversities of changing cities and countries every week and yet managing people, the immense travel schedules and being thoroughly organised as one was an individual athlete and did not always have a support cast around to manage the workload and yet build a quality lifestyle of good health and environment
Leander in priceless moments with the little ones at The Saturday Club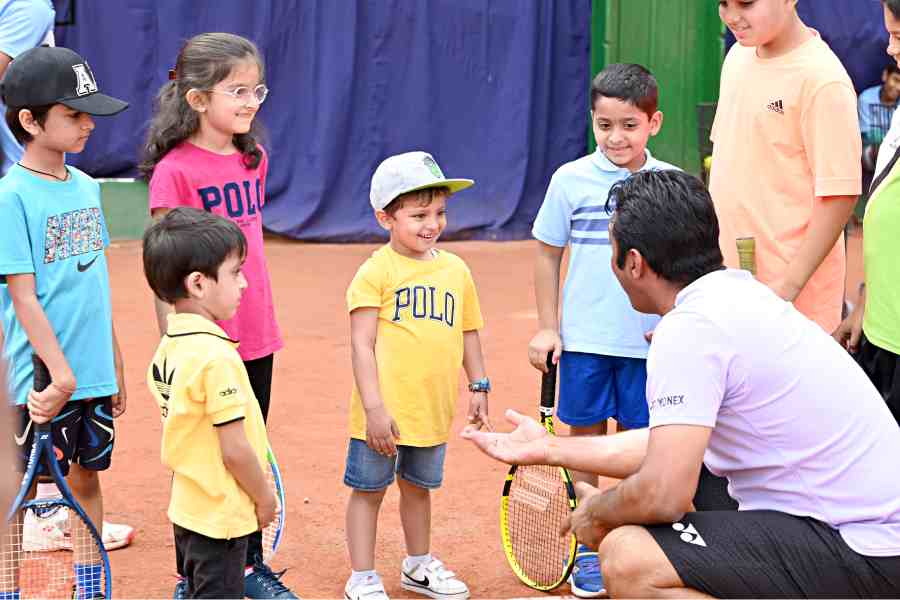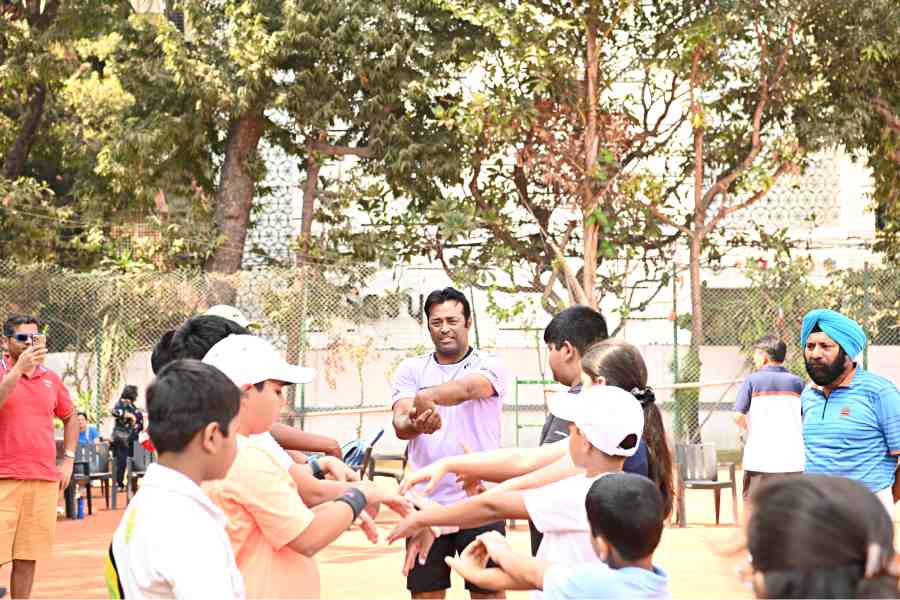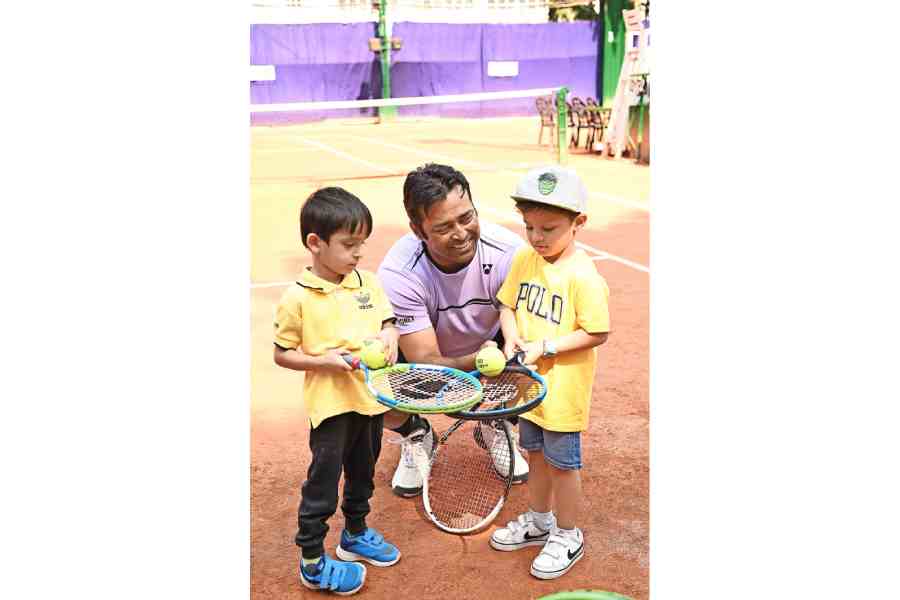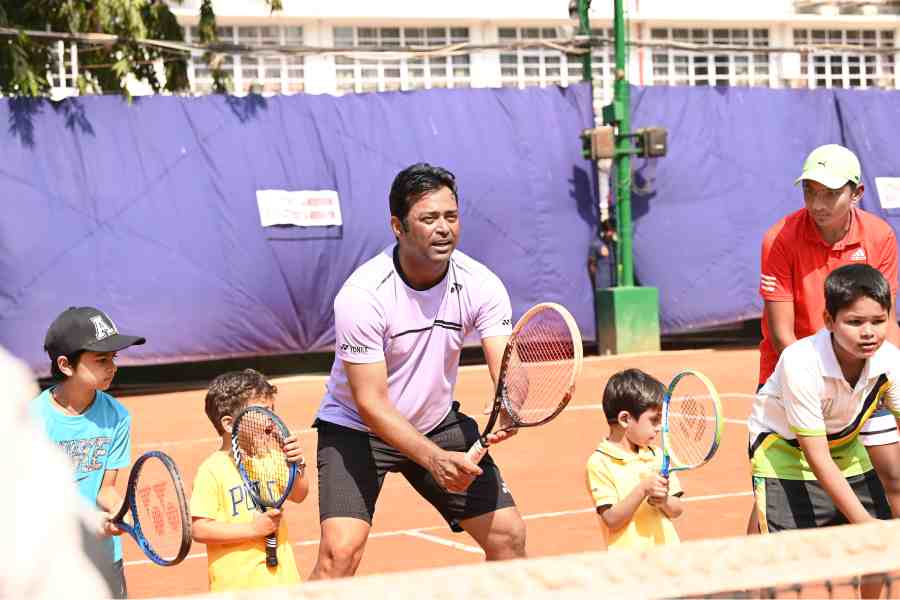 which would allow me to not just have a lengthy career, but also a successful one. Playing professional sport at this level, for these many years, has been a wonderful journey and has taught me so many lessons about how to deal with modern life.
Such great stories of bonding (164 men's doubles partners and 26 mixed doubles partners in a very successful 31-year career). Leander, you have lived chunks of your life in so many places, but would you call any city your home?
I was born in Calcutta and grew up at Queens Mansion on Park Street and Calcutta will always be where my heart is and my first home.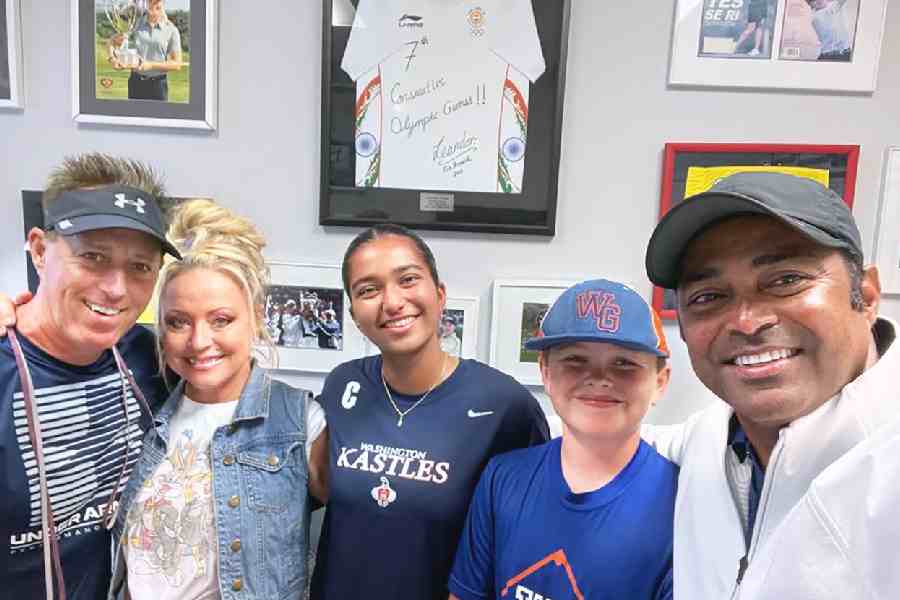 (L-R) Dave Herman, Dave's wife Kristen, Aiyana, Dave and Kristen's son and Leander's godson, Cayden, in Orlando, Florida, clicked during Leander's recent trip to celebrate Aiyana's birthday. Leander's seventh Olympic jersey is a shining presence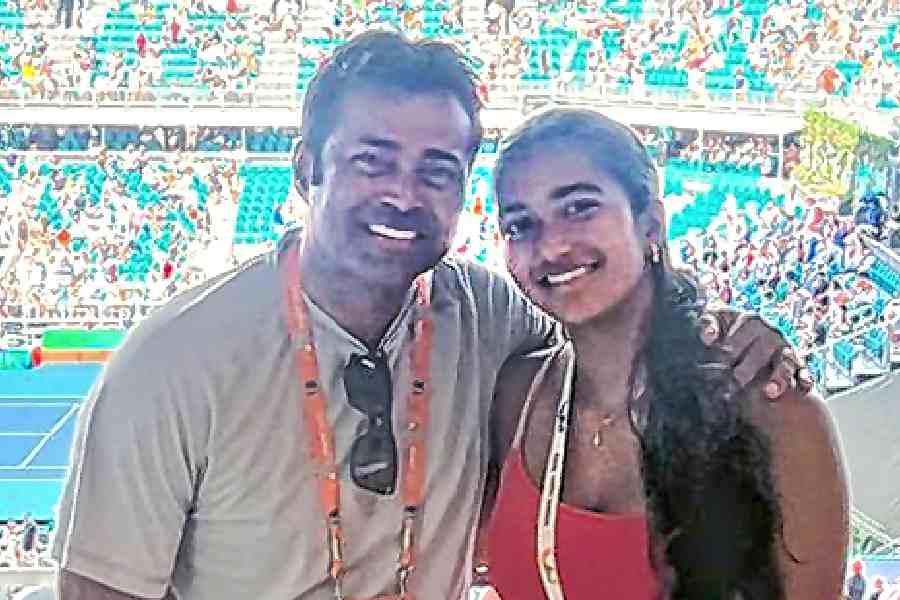 Leander with Aiyana at the Miami Open this year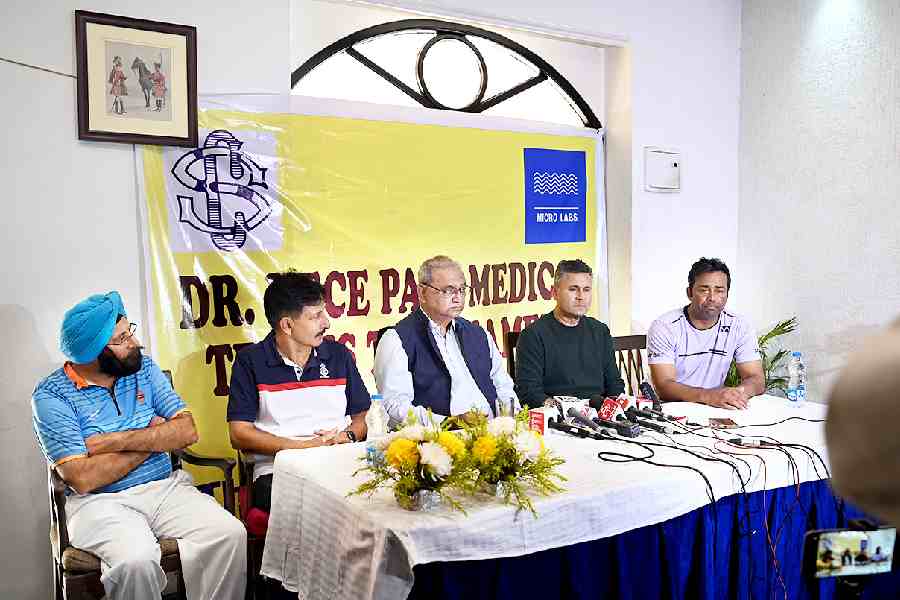 (L-R) Tejbir Singh Bhandari, Dr Manoj Khanna, Dr Vece Paes, India Davis Cup coach Zeeshan Ali and Leander Paes at a press meet for Dr. Vece Paes Medicos Tennis Cup 2023, at The Saturday Club 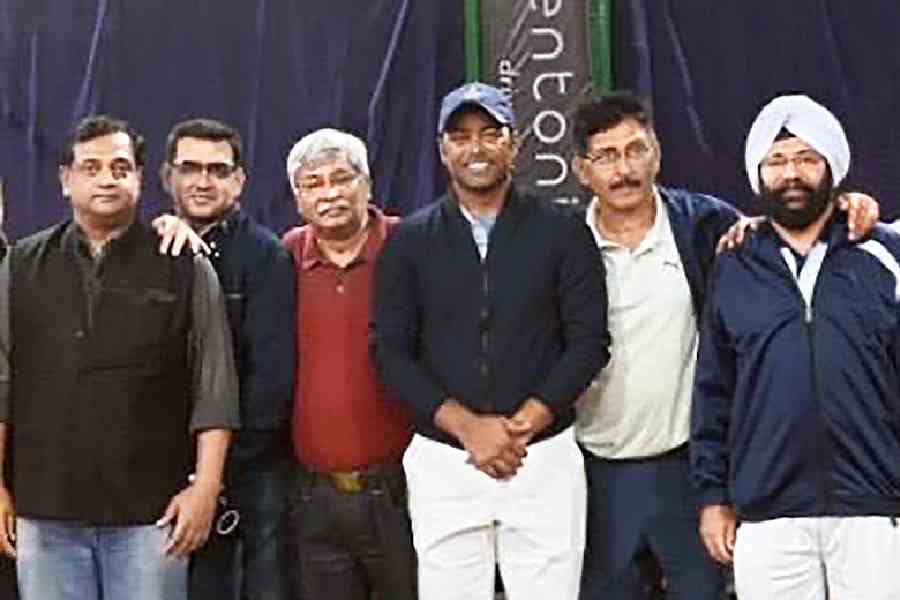 Picture, courtesy: Leander Pae
Didn't you miss this sense of familiarity all these years?
When I left at the age of 11, I had to make new friends everywhere I went, I was always the new person in town and most of the time, the only Indian at that tournament. So, some people call it a sacrifice of not being at home, under the shelter and protection of mum and dad. Some people would not be able to cope with not being at home for one's birthdays or family celebrations or spending Christmas, Durga Puja, Diwali or New Year's in Calcutta, which in my humble opinion is the best place to be in on this planet during these celebrations.
I tried not to allow myself to think too hard about the sacrifices and trained my mind to focus on the goals and dreams that I had as a young man. Also, my strong ties with each and everyone in my family and dear ones, helped me cope with the emotional void and loneliness that comes along with professional sport. And, I am grateful to all of them.
Now that you have achieved more than what anyone could dream of, what is Leander's next mission?
My father won a medal at the Munich Olympics in 1972 and along with that has been a doctor of sports medicine over the last 60 years. Baba has taught approximately 25 million athletes across India and all of Asia in the fields of cricket, football, hockey, tennis, track, swimming, incorporating sports medicine and professional sports training. My next passion is to take Baba's 60 years of knowledge and 40 years of my first-hand knowledge and develop a sports education system where we can enhance physical fitness, mental and emotional fitness, using sports science to design a daily programme specific to each individual. My dream is to create a healthier Indian community.
Your daughter Aiyana is all set to carry the family legacy forward...
It was a wonderful surprise that she chose tennis as her dream and that too to emulate my father and me in becoming an Olympic champion. It is an ambitious dream and a wonderful responsibility to protect her and guide her along the journey to achieving her dreams. My dad is so engrossed in her growth that he is up-to-date with her training and lifestyle and guides me to create the best environment for her to achieve her dreams.
Aiyana can be a great source of inspiration for every young girl to follow their dreams and achieve great success not just in their profession of choice but also in becoming a wonderful human being.