Mastering simplicity is rarely simple. Just ask Pep Guardiola. It took the manager of Manchester City almost seven years to produce the simplest exemplification of his footballing philosophy in England. When it came, however, it was worth the wait. For on the receiving end were the reigning European and world champions, Real Madrid, in the second leg of the semi-finals of the UEFA Champions League (UCL). On a late spring evening in the middle of May in Manchester, City produced the kind of devastating simplicity that can end contests as well as eras.
In the first half alone, City had 75 per cent possession, with Real touching the ball just 10 times in the attacking third. Before Bernardo Silva opened the scoring at the 23rd minute, City had completed 202 passes to Real's 28. The domination was not just in the numbers. To frequent football observers, City had not only passed the eye test but redefined it, on the biggest stage against the most decorated of rivals. Gone was Real's formula of absorbing jabs and landing a knockout punch. City had simply ground the 14-time winners into submission. City's eventual 4-0 victory (5-1 on aggregate) not only ensured progression to the final, but also guaranteed them a place in the pantheon of great teams that have graced the greatest club football competition in modern times. As they march on towards what seems an inevitable triumph against Inter Milan in the final in Istanbul, how great are Pep's perfectionists? How do they compare with the finest sides in UCL history, one of which was stewarded by Guardiola himself? My Kolkata finds out in a bid to understand greatness.
The finished article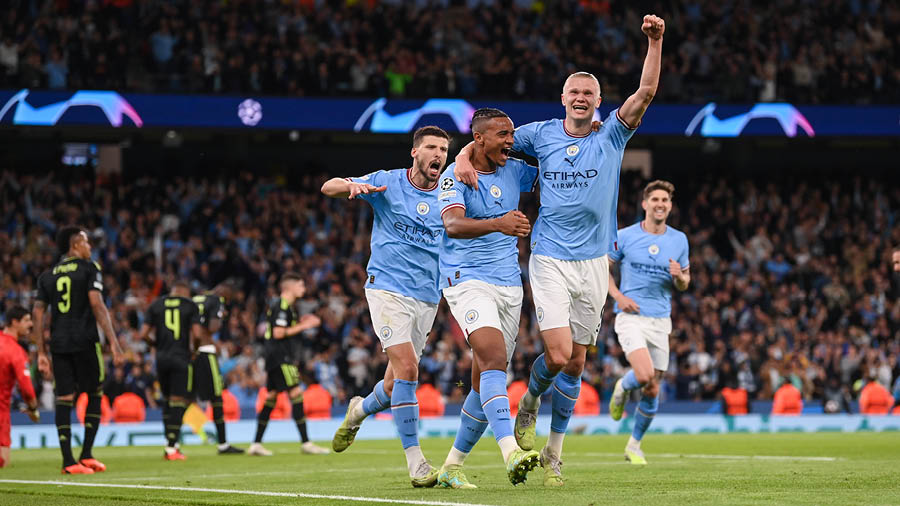 Erling Haaland has added a new dimension to Guardiola's City this season
Getty Images
In his time on the blue side of Manchester so far, Guardiola has produced three versions of greatness. The first reached its culmination in 2017-18, when City became the first English team to hit 100 points in the Premier League. Playing with inverted wingers and a midfield that could morph from a three to a five within the blink of an eye, Guardiola reinvented possession with purpose after fine-tuning his purist approach to suit the physicality of the English game. Last year, when City coasted to the league title yet again, a second iteration of greatness was unlocked. The art of playing without a recognised striker, introduced by Vicente del Bosque for the Spanish team that conquered Europe in 2012, but taken to a new level of precision, even pedantry, by Guardiola. And yet, there is a strong case to be made that the 2022-23 season is the one where Guardiola and City have come closest to being the finished article.
With the irrepressible Erling Haaland leading the line this season, City have essentially become two teams rolled into one. At one level, they are still very much committed to keeping the ball, enforcing numerical superiority in all areas of the pitch, and dictating the tempo of football. At another, they have unleashed a different dimension by inserting verticality and directness to their play, which has got the most out of Haaland, with the Norwegian netting 52 goals in as many appearances this season. For once, Guardiola has adapted to the player instead of the player adapting to him. The result has been a routine ruthlessness, which combines artistry with application, design with dynamism and quality with quantity.
Using Haaland as a lodestar for their attacks, City have perfected a system where each of their midfielders and forwards, barring the creative genius that is Kevin De Bruyne, operates within a limited section of the pitch to draw defenders and open up space. This may have taken some of the improvisation out of City's world-class talents, but it has brought an unprecedented level of control. It is a testament to Guardiola, often miscast as an incorrigible dogmatist, that his City team have been more prolific than pretty this term.
Having already sealed a domestic double of the Premier League (their fifth in six seasons) and the FA Cup, City start as overwhelming favourites against Inter in the UCL final. For a club that has never won the UCL and for a manager who has not won it since 2011, Saturday's showpiece at the Ataturk Olympic Stadium is a date with destiny, an opportunity to achieve footballing immortality.
Better than the best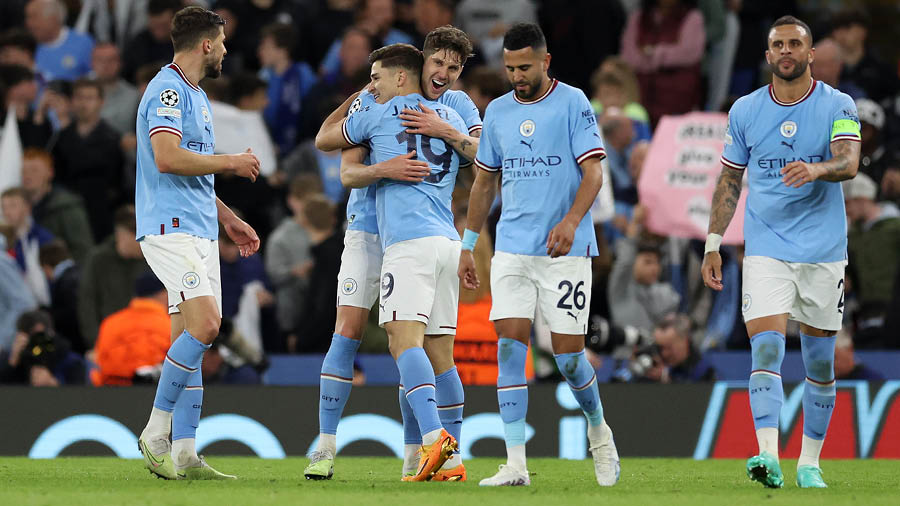 City are aiming to become only the second English club to win a treble, after Manchester United in 1998-99
Getty Images
Ever since the European Cup got upgraded to the Champions League in 1992-93, there have been numerous teams to wax lyrical about. But only a few have stood the test of time, with six, in particular, rising to the level of the creme de la creme. The oldest (in terms of chronology) among them are Fabio Capello's AC Milan, who overpowered Barcelona 4-0 in the 1994 final. Like Capello's collective, Guardiola's men never seem to grow tired. Just when you think their intensity is flagging, they move through the gears to rattle opponents. The next team on the roll call of greatness are Manchester United, who won the treble in 1998-99 in the most dramatic fashion at the Camp Nou, snatching glory from the jaws of despair. Apart from resilience, City share practically nothing with the most celebrated team of their neighbours.
As we enter the 21st century, City's competition intensifies. The two treble-winning Bayern Munich outfits from 2013 and 2020 are probably the most physically impressive sides in UCL history. City cannot match them for pace or power, but Bayern fall short when it comes to possession and all the intricacies it entails. Then we come to Zinedine Zidane's Real Madrid, the only club to clinch a hat-trick of championships, between 2016 and 2018. From a purely footballing perspective, City would sweep the board nine times out of 10 when pitted against Real's serial winners. But what would make Guardiola happier is that they have developed Real's winning instinct this season, that golden knack for doing the right things at the right time that gave the impression that Los Blancos had their name written on the trophy for three straight years.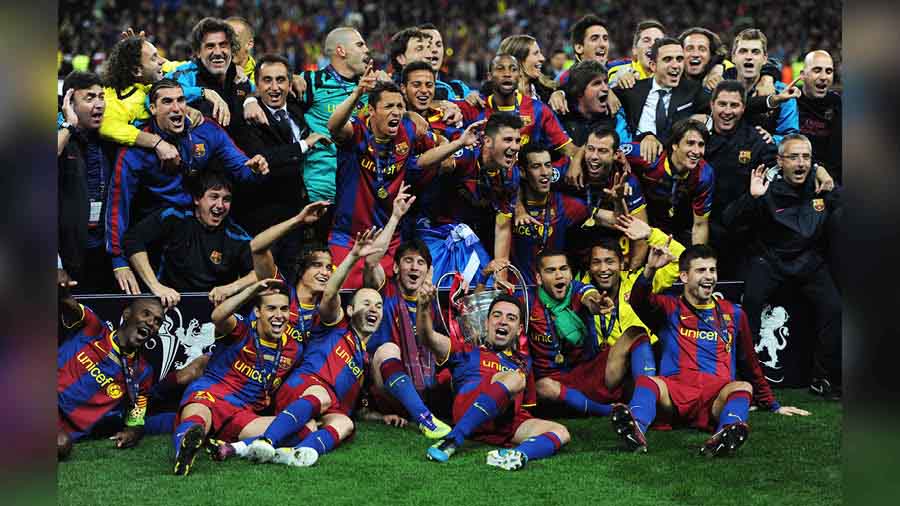 For many football observers, Guardiola's Barcelona team from 2011 remain at the pinnacle of UCL greatness
Getty Images
However, when it comes to all-encompassing excellence, only one team can truly match up to today's City. Ironically, it is the team that Guardiola helmed himself, between 2009 and 2011, when he took Barcelona to two European crowns, in Rome and London, respectively. The second of those coronations witnessed the most aesthetic exhibition of football seen in the club game, with the triumvirate of Xavi Hernandez, Andres Iniesta and Lionel Messi running rings around a hapless Manchester United. So, and this is the pertinent question — would Guardiola's City of 2023 beat Guardiola's Barca of 2011? On paper, probably not. On philosophy, definitely not. But where City may have the hypothetical edge is in having multiple ways to win, something not even Guardiola could encode into Barca's DNA. It is entirely plausible that the Catalan giants would outclass City in the final of all finals. At the same time, it feels likely that City could soak up the pressure, execute a turnover and hurt Barcelona with a quickfire series of moves that stem from knowing exactly what they have to do to prevail.
The bottom line is that if greatness is to be judged on how it can inspire and innovate, as if football really were a form of art, then Barcelona from 2011 are the best. But, should a more pragmatic assessment be factored in, where clarity of planning and execution are supreme, then it is reasonable to suggest that City, as things stand, are better than the best.
Where to next?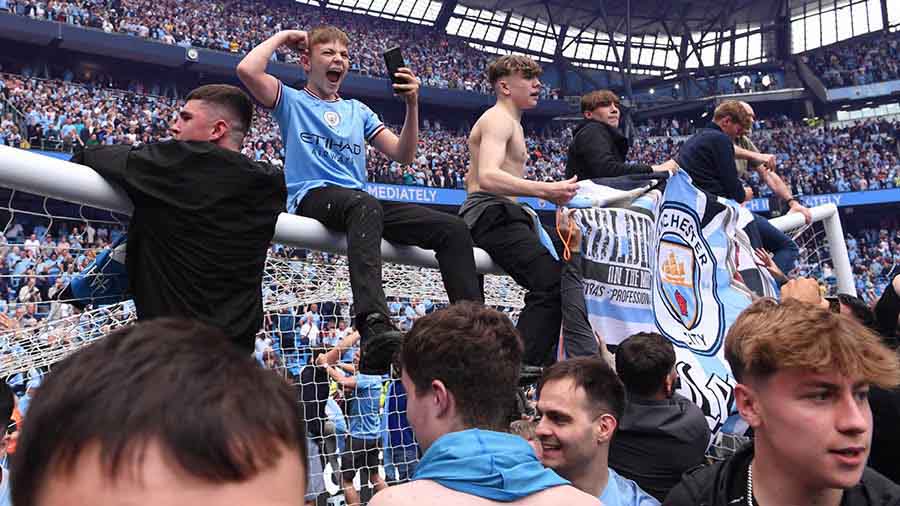 City fans will keep celebrating more trophies even as the cloud of punishment for financial misdemeanours looms large over the club
Getty Images
Irrespective of the outcome of the UCL final, this City team will roll on like the juggernaut it is. In the manner of a Taylor Swift tour, Guardiola's City cannot help but gather momentum with time, for stagnation is almost impossible when a group is this good. Even if City do not beat Inter on Saturday, they are unlikely to be diminished next season. Guardiola, for one, is going nowhere, having finally found the one thing he missed in Barcelona and Munich — peace. Of the players, City's core, with the possible exception of Ilkay Gundogan, should stay put at the Etihad. Most importantly, what will sustain is the sensation that City have made it in Europe. Following their dismantling of Real Madrid this season, touching the holy grail of club football is a formality. Even if it is delayed by another year, it will not be denied forever.
Unfortunately, there is an asterisk to City's exclamations. The fact that the club are under investigation by the Premier League for more than a hundred alleged offences, whose penalties could see severe on-pitch consequences for off-pitch mistakes. It is a grim reality of the nexus between elite sport and unbridled capitalism that City's champagne football may taste a whole lot bitter if and when the price they paid for it is revealed. Financial misdemeanours hang like the sword of Damocles over City's buccaneering brilliance. One day, that sword may land and stain whatever Guardiola and his troops have or will accomplish. Just as easily, that one day may never arrive and City's Blue Moon may continue to adorn the footballing skies indefinitely.