Anupam Roy's latest Puja song Mrigonabhi is about a relationship. "But it ends on a bitter note. It comes from a misunderstanding which cannot be explained. One has to accept and move on, assuming the timing was not right. Maybe there are untruths and lies that are being perceived but are not actually true. But then people want to believe in something and you can't help that. The song started with the melody structure. I was listening to a lot of Steely Dan. And I felt the melody that came to me was quite uncommon, and as I developed it, this tune was born. Initially, it had romantic elements in it and I decided to write a romantic song on it. Then I wrote the lyrics," says Anupam. The vibe that the melody generated was of a love song. The video depicts a college romance. "It is about a shy boy who stammers and often gets humiliated by the people in his college. He is taking time to get over the situation. Initially he is rejected by the girl he loves. One day he comes up with a lovely song. Getting to know about it, the girl rushes to him. But the timing is not right," he says.
The music video stars Surangana, Pushan and Aishwarya."We had a lovely time shooting the video but it was exhausting at the same time. We had budget constraints and had to wrap it up in one day," says Anupam.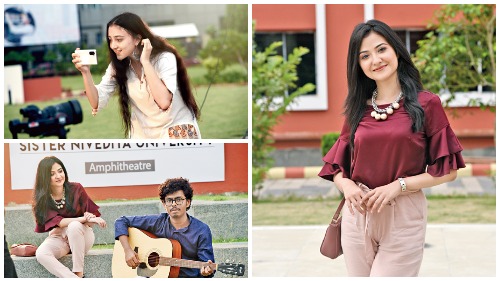 The track has been produced by Subhajit Mukherjee. "This is the first time in Bengali music history we are doing an Dolby Atmos mix. It is called Spatial Audio. It'll be like a cinematic surround sound experience. We'll be enveloped in an ocean of sounds. It is not only left, right or centre. It will come from all directions. For now, only Apple Music is supporting this format," says  Anupam.
Pictures: Rashbehari Das