Sonam Kapoor's Instagram posts about her six-month-old son Vayu are adorable. The gorgeous actress and brand ambassador of The Moms Co., tells what's changed in her post motherhood, on the occasion of the launch of a new digital campaign by the brand.
How much did the brand resonate with you?
When it comes to skin care and overall well-being, I am very particular about the brands I use and recommend. Though I have tried various products, my skin care requirements are very specific. And as a parent, I have become more conscious of the importance of thoroughly scrutinising the ingredients of every product I use. I have made a conscious effort to use only natural, safe, and effective products since embarking on the journey of motherhood. For a while now, I have been using products from The Moms Co. in my daily skin care routine, and they have delivered consistently excellent results. Although I had known about the brand previously, their collaboration was a pleasant surprise. With their new campaign, 'For Every Mom, Through Every Change', The Moms Co. is catering to the evolving needs of mothers and babies in every phase with dermatologically safe, 100 per cent natural and effective products. And these foundational principles of theirs align perfectly with my needs and beliefs.
What are your favourite products from the range? What does Vayu love?
The Moms Co. Natural Vitamin C face cream and Natural Age Control Night Cream are two of my favourite products due to their hydrating properties that naturally brighten my skin and keep it plump. I also make regular use of their Natural Daily Sunscreen. As for Vayu, The Moms Co.'s Natural Baby Lotion is my go-to.
How do you look back at your pregnancy journey? What were the challenges?
Although we were excited and prepared for this new stage of life, the initial three months of my pregnancy were particularly difficult. They presented unexpected challenges. Nausea and fatigue were accompanied by daily changes to my body, and my sleep schedule was also affected. However, despite these challenges, I have never valued my health and fitness more and have been more dedicated to nurturing them.
How has motherhood treated you so far?
I find motherhood to be a unique and fulfilling experience that comes with its own set of challenges and rewards. Every mother's journey is different, and each stage presents its own joys and struggles. I think it is a time of immense personal growth and an opportunity to cultivate a deep bond with your baby.
Has something changed in you forever after you became a mom?
Motherhood has been an incredible journey for me so far. Filled with ups and downs but ultimately rewarding beyond measure. Becoming a mother has made me more aware and particular about my choices, especially skin care and overall wellness. Each product I use, whether for consumption or application on my skin, is scrutinised to ensure it is natural, toxin-free, safe, and effective, given its potential impact on a new life. I never compromise when it comes to this.
What has your me-time pamper regimen been like since you became a mom?
In addition to taking quick 20-minute walks three times a day, I have started doing Pilates every day.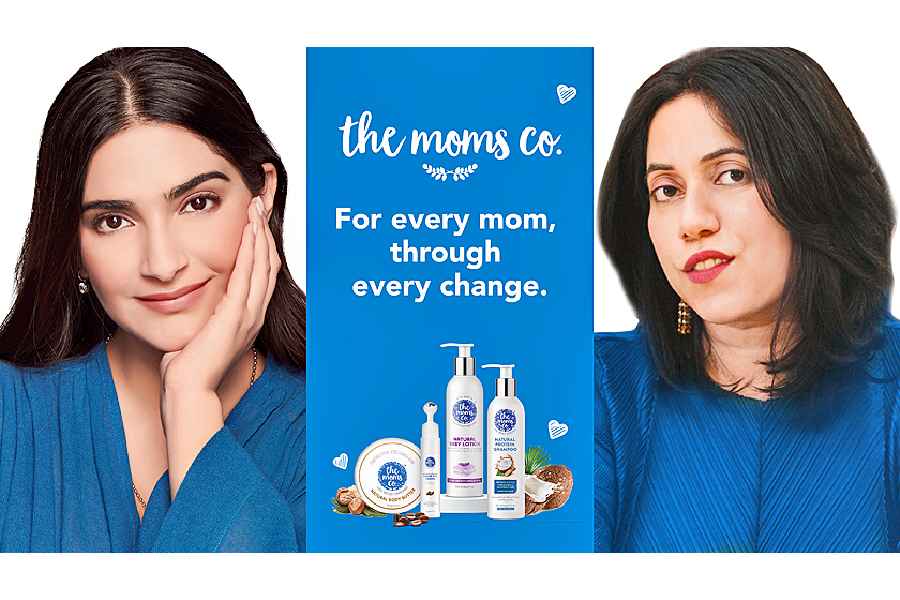 How important is it to take care of yourself even though your hands might be full with a new baby?
To ensure smooth childbirth, a mother must prioritise self-care. It is vital for us, especially as mothers, since caring for our own selves is a big step towards caring for our child. Using quality products can really help with that. Personally, I pay close attention to my diet and exercise routine and make time for my husband as part of my self-care routine.
What is your favourite we-time with Vayu?
Reading to my son every day is my absolute favourite we-time. It's something we both look forward to.
What were your mother's tips for you?
My mother passed down some valuable advice that I always carry with me, such as the importance of being patient and taking care of myself so that I can be the best mother possible for my child. She also advised me to trust my instincts, seek support from family and friends, and remain open to learning and growing as a parent. It's not always easy, but it's a journey that I'm grateful to be on.
What would be your advice for all the new moms?
My advice to all the remarkable women out there is to be yourself and not pay heed to societal expectations. Enjoy every step of your journey.