Two of them are fun, but three in a room feels like a small party — that was exactly the mood at Jyotee Khaitan's latest menswear shoot for t2, with her friends — Tolly actors Shaheb Bhattacherjee and Soham Chakraborty. Featuring shades like soothing and trendy peach, classic black and gold, and royal ivory and blue, the designer's new wedding and occasionwear collection 'Sartorial Elegance' is for the man who would like to dress up classy for wedding functions, starting from pre-wedding to the reception party. Aimed at dressing the millennial man, the collection blends in Indian ethnic touch and minimal glam to dish out smart looks for the groom and the groom's brigade.
A style chat with Soham and Shaheb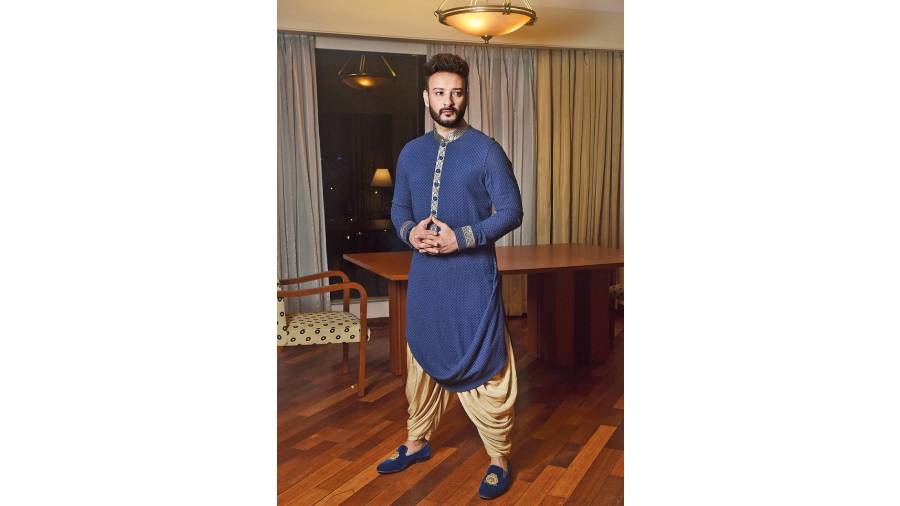 Shaheb exudes an elegant charm in this royal blue draped kurta detailed with antique gold brocade border teamed with golden cowl Patiala pants. "Every cut, fold, drape is made meticulously keeping in mind the expressive feel and tone of the fabric. It captures the essence of luxurious clothing. The symphony of drapes is elevated with intricate detailing and masterful craftsmanship," said Jyotee.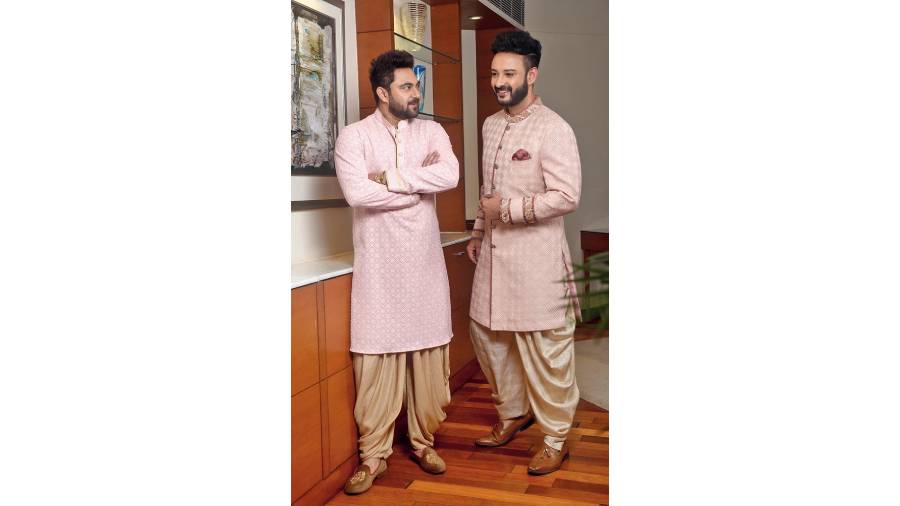 For the groom or the groom's squad, this trendy peach nougat kurta on Soham with tone-on-tone resham embroidery and antique gold detailing around the cuff and buttons, paired with dull gold cowl Patiala pants, is perfect for the morning wedding functions or pre-wedding functions. "This outfit combines to form a vision of the dashing man in the new colour of the season — peach. The pants add softness to the silhouette," said Jyotee Keep a hint of glam in your morning-to-evening wedding function look as with this soothing peach nou gat sherwani on Shaheb, paired with a pre-stitched dhoti detailed with gold zari. Perfect for a smart and trim ethnic look. "The subtlety of antique gold hand-embroidered border running along the collar and sleeves with pink brocade detailing leads the way for an understated but distinctive look. This resham-embroidered sherwani with antique gold palatial motifs paired with the dhoti is perfect for the millennial groom," said the designer.
You have both walked for a Jyotee Khaitan show three years ago. Do you have any fun memories from that show?
Soham: Whenever we work together, we try and create fun memories. Specially, when we are shooting for Jyotee. She is a very good friend and being with her is fun itself. We laugh, crack jokes and with Shaheb around that's like a cherry on the cake.
Shaheb: That walk was like a celebrity parade! (Laughs) A lot of people! It felt like a party was happening in the green room! From the younger generation of actors to the seniors, everyone was there.
Were you fashion conscious before coming into this profession?
Soham: Before coming into this profession, I was completely careless with fashion. I still try to wear things that I am comfortable in and it should look decent.
Shaheb: This is something I can't differentiate. It started growing into me once I thought I wanted this as my career. You want to be well-dressed, well-presented because you want this career but once you have this career, you have to keep that sense of style because people know you and they look up to you, and you will be scrutinized for what you are doing and wearing.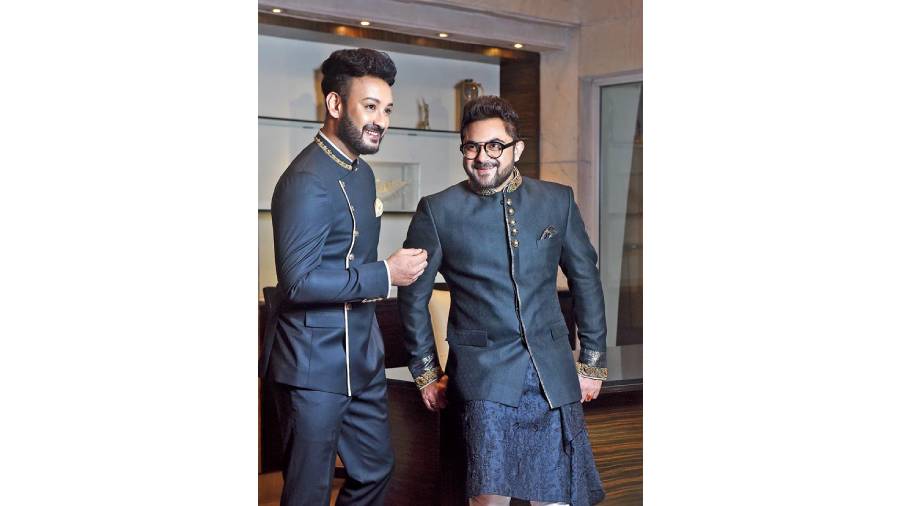 After the understated wedding day looks, go all glam for the reception night or cocktail party in this black bandhgala designed with intricate gold zari and brocade detailing on the collar and sleeves and metallic gold buttons complementing a black, draped, silk kurta, paired with an off-white churidar. "The fierce glamour and sartorial medley of black and gold in the bandhgala worn with draped kurta is a quintessential look for the groom for the party," said Jyotee. Shaheb sported a dapper reception look with an ethnic touch in this black-and-gold minimally embroidered overlap bandhgala suit. "Immaculate details in our well-constructed overlap bandhgala suit add that extra touch of modern elegance that makes a statement. The richness of gold gets juxtaposed with the classic appeal of black in this ensemble," said Jyotee.
What is your personal style like?
Soham: Whatever I feel comfortable in. I like casual clothes. I like to keep it subtle and decent.
Shaheb: Sometimes I follow popular fashion. Not always. Like, I was wearing bell-bottom jeans back when Hrithik Roshan's Kaho Naa... Pyaar Hai came out. But I also have a unique style sense of my own and it is very old school. I believe in classics. I wear a lot of suits. I like wearing dhoti and kurtas for Indian occasions. So, I would say it is very classic and basic.
Being a part of the glamour world, is there a pressure to be fashionable always?
Soham: Not really. It is my profession but I definitely know what to wear and where to wear. So, it doesn't bother me.
Shaheb: I think it is very underplayed in our industry. People go to award shows in denims and T-shirts and sneakers. When the hell will you wear a suit then?! I think, the only time Bengalis wear a suit is to weddings.(Laughs)
Soham, we see you mostly in ethnic outfits. How often do you wear western outfits? And Shaheb, we see you mostly in western outfits, are you comfortable in Indian ethnic looks as well?
Soham: I like denims and T-shirts. Nothing very jazzy. But because of my political passion , I am more into this kurta and pyjama or harem pants look these days.
Shaheb: I am not a person who would wear ethnic on a regular basis. But on occasions, contradictory to my name, I make sure I look Bangali. (Laughs)
We are doing a wedding lookbook today. Soham, did you lose sleep over how to dress up as a groom for your wedding?
Soham: My wife Tanaya and I decided way back what to wear. That time I did not know Jyotee, otherwise I would dress up in her clothes. But it was all pre-decided and everyone had appreciated the look.
Shaheb, do you ever imagine yourself in a groom's attire. Is it a dapper look or a quintessential Bengali dhoti-panjabi look?
Shaheb: Unlike a lot of people, I never have such thoughts of how I will look as a bor or nit bor! (Laughs) But I think it will be a mix of both of course. I don't know why I am saying this at all because I don't see a wedding in the near future. But if at all, then probably an Indian on the wedding day and a suit on the day of the reception.
The autumn-winter months are filled with occasions. What is your occasion-wear style like?
Shaheb: For parties, I suit up. I have a huge collection of suits.
Soham: I dress up in formals or Indian depending on the occasion but comfort is must.
Rapid Fire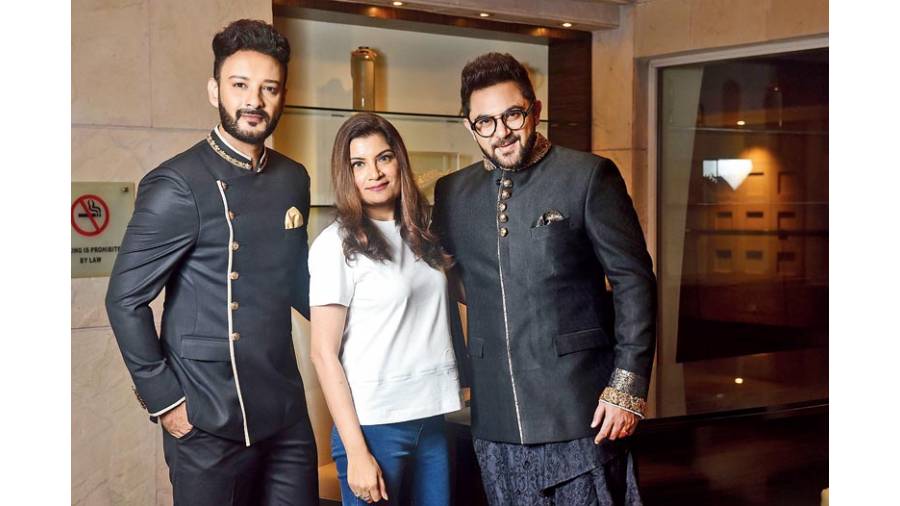 "This collection called Sartorial Elegance is about elegance, grandeur and bespoke luxury. It exudes timeless style, amplified by an unparalleled air of charisma. Enamouring details on sartorial silhouettes form a new-age vision for the millennial man," said Jyotee Khaitan
Your comfort wear:
Soham: Tracks and T-shirt
Shaheb: A pair of shorts and tee at home.
Do you have a style icon?
Soham: Salman Khan
Shaheb: Not really. Our sense of style has always been predominantly influenced by Bollywood and that stays in our mind. I could never catch up with global fashion trends as such. I don't browse through fashion magazines, websites or Instagram profiles. If I like something that somebody wore, I wear it.
A person whose style you admire in Tollywood:
Soham: Myself
Shaheb: Jeet da. He is very conscious about what he is wearing . Whenever we meet, he always observes what I am wearing and we do have style chats too.
Your autumn-winter wardrobe must-have:
Shaheb: Jackets. Lots of jackets!
Soham: I wear what I wear throughout the year. I don't have a winter-specific collection, I am not sheet katurey (laughs). Maybe blazers at the most.
Your wardrobe has an obsessive collection of:
Soham: Black and white.
Shaheb: Shoes and watches and the colour white.
Pictures: Pabitra Das
Hair and make-up : Abhijit Paul for Shaheb; Nafis Ahmed for Soham;
Location courtesy: Hyatt Regency Kolkata