A student of Hindustani vocal music, Bharatanatyam and Kalaripayattu, a theatre and film actor without professional training and a gold-medal-winning architect — Anubha Fatehpuria has many facets to her personality.
Seated in the simple and unassuming Padatik Theatre, tucked away in a lane adjoining AJC Bose Road, the white lights casting shadows on the grey chairs, Fatehpuria spoke about her work as an actor and architect in between rehearsals and shows of her latest play, Kaagaz ke Gubbare.
Excerpts from Fatehpuria's chat with My Kolkata
My Kolkata: You have delved into architecture, theatre, films and direction. How did you develop an interest in each of them?
Anubha Fatehpuria: Our joint family was deeply rooted in the arts. My father used to learn the tabla when he was young and did a bit of theatre before turning to business. Apart from being a special educator, my mother trained in the fine arts too. They instilled a collective interest in all forms of performing and visual arts within us when we were children. More than hobbies or extracurricular activities, arts were a way of life at home. We never saw it as something separate. As children, we had to give them as much time as we did to studies and I started doing stage shows from the age of four. I have trained in Hindustani vocal from Padma Vibhushan Girija Devi, Bharatanatyam from Padma Vibhushan Sonal Mansingh, and Kalaripayattu.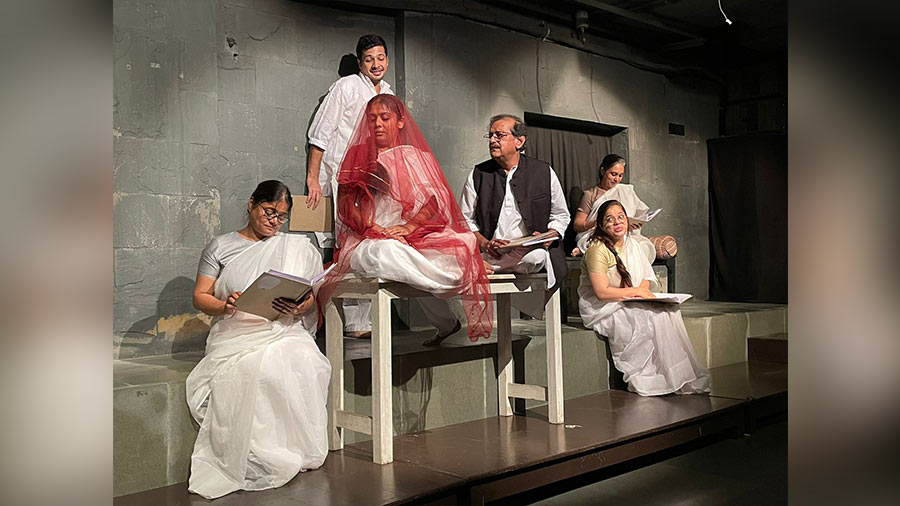 A scene from her latest play, 'Kaagaz ke Gubbare'
I actually studied physics at St. Xavier's College for a year before dropping out. With a science and arts background, I suppose it was natural to choose a field which involved design, so I took up architecture. I was a gold medallist in my architecture course at Nagpur University and started my professional journey in 2001.
As for professional theatre, I haven't formally trained in acting, but my journey started back in 1995 with Sheo Kumar Jhunjhunwala of Proscenium Theatre Group. We worked on the production, Pagla Ghora. In 2002, I moved on to work and train under Shyamanand Jalan of Padatik Theatre and, since 2008, I have been learning the craft from Vinay Sharma, the current artistic director of Padatik. In this journey, I have worked with several renowned theatre directors from both India and abroad, including Habib Tanvir, Alyque Padamsee, Jayant Kripalani and Wlodzimierz Staniewski. I have also learnt a lot from my co-actors, the technical team and the backstage team.
I was not too attracted to the screen initially and didn't take up projects I was approached for. I was extremely content being a stage actor, and still am. In 2018, I did a play at Prithvi Theatre, Mumbai. I didn't know that Seema Pahwa was in the audience. She approached me after the show and offered me a role in her upcoming film. I maintained that I wanted to remain a stage actor, but she convinced me to read the script once. After reading the script that went on to become Ramprasad Ki Tehrvi, I simply couldn't say no, and from then on I have been doing screen work too.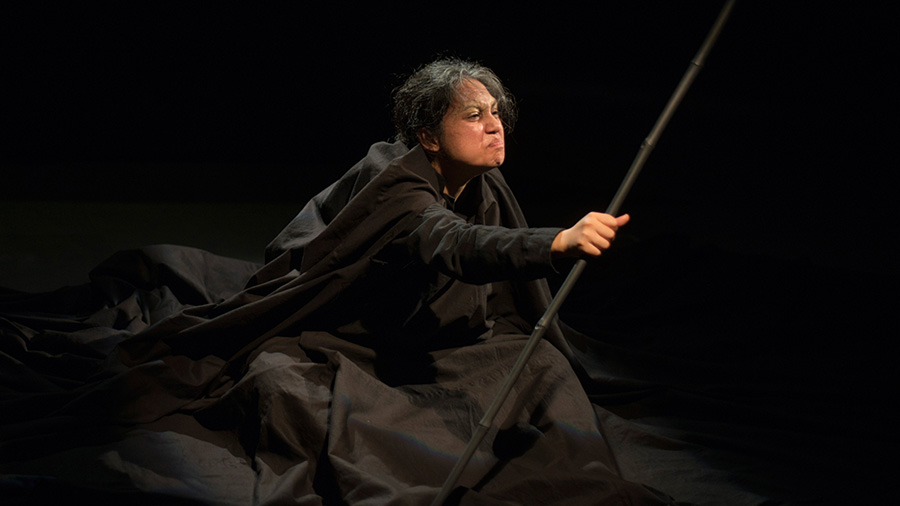 Anubha in 'Camera Obscuras', directed by Vinay Sharma
What are the different skill sets an actor requires in theatre and film?
While acting on stage, we are directly connected with our audience and it becomes a collective atmosphere where you get your responses and reactions on the spot. There is this inevitable love affair you build with the stage and the art form. The process of creating a play is quite long — about six to eight months, so you're truly living with the play and character. Screen schedules are rather crunched; everything needs to be done within a definite timeline. The screen has its own attractions. You need to understand a character and deliver it within a time limit, which is a unique challenge. The proximity of the camera is vastly different from the live audience format and the lens can come extremely close, so you design your performance and express yourself in such a way that the subtleties can be captured by the camera. On the other hand, in theatre, you are seen as a part of a larger canvas. Actors need to understand this difference and craft their performance accordingly. I actually enjoy both mediums equally but having said that, in my experience theatre demands more skill from an actor than the screen.
A lot of your roles require you to play characters significantly older than yourself. How do you manage this?
Main actor hun, aap mujhse kuchh bhi karwaiye (I'm an actor; you can make me play anything). It's my job to play both a nine-year-old and a 90-year-old. How well I do it depends on my effort and how you perceive it as an audience. I don't see myself being a 'star'. Main actor hun, actor hi rehna chahti hun! (I'm an actor and want to remain one)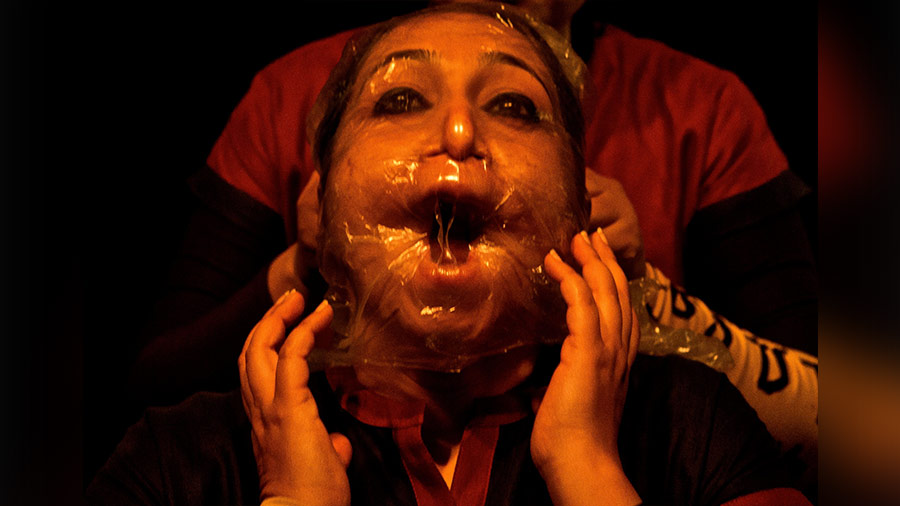 A scene from Vinay Sharma's 'Yahan'
Tell us about your work as an architect. What is your architectural philosophy?
My architectural and interior design practice reflects an effort to merge the contemporary with the regional. I try to be environmentally conscious while coordinating specifics, both at a micro and macro level by implementing indegenous methods such as cavity walls and filler slabs. We try to be site-specific and constantly try to maximise the sunlight, wind and nature for each particular project. There is a focus on cost effectiveness in our practice. Among my projects are the Shyamanand Jalan Rooftop Theatre (SJRT) for Padatik; Ranan, the workspace for Ranan Performance Company; Chidakash Kalalay in Boral; The Creative Arts Academy Kolkata; Rabindra Sarobar's Open Air Performance Space; Som Manch, the amphitheatre for Sangeet Shyamala, New Delhi; and the design for Tagore Cultural Complex in Jadavpur University. Besides this, I have also been a visiting faculty for architecture at JU.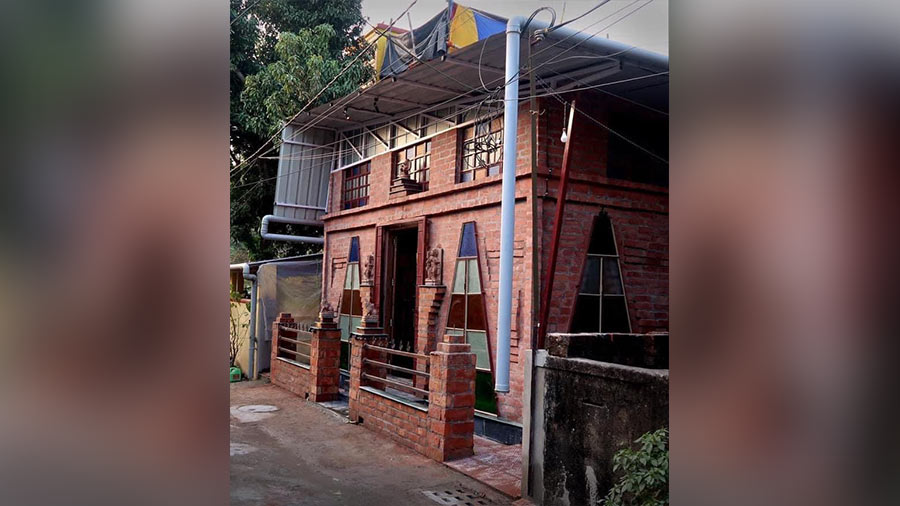 Chidakash Kalalay in Boral
Kolkata has a rich architectural heritage. Does that inspire you
It inspires my vision deeply. During the beginning of my practice, I was driving through the city one day. I kept seeing these modern glass facades, which made all the buildings look alike. I thought that if we keep going like this, we will lose the identity of our coordinates very soon. Even now I think, why aren't we building beautiful spaces? Whenever I move around the city, that's what catches my eye. Kolkata is the cultural centre of India, but what happens when we are making our buildings? This concern has found its way into my design, where we try to retain the elements of a given region as best as we can.
Merely building along these lines won't do, we need to preserve our heritage too. On a personal level, owners need to be spoken with and shown models which can help them sustain and retain their houses. This can actually happen by joining hands with the arts. We don't always need to hand over property to builders.
How do you find time to pursue both acting and architecture?
I usually say in jest that I'm an architect from 10am to 6pm, and an actor from 6pm to 10pm! The support from home and my design studio also makes it easier to balance the two. But honestly, if one enjoys what they are doing, it is easy to find time for it. Yes, there are days when I may feel stretched between the two but then, I'm quick to remind myself that I wouldn't want it any other way! I don't feel like I need to unwind because this is my way of life, and I'm genuinely having fun with whatever I do. Like they say nowadays, these are my happy places.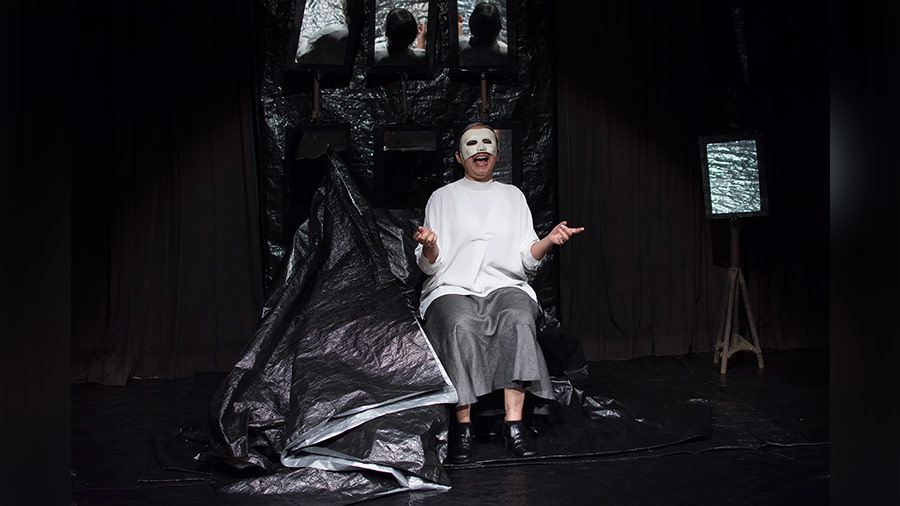 A scene from 'Pieces'
In what ways have these diverse roles contributed towards the growth of each other?
The contribution — though not tangible most of the time — has been huge. There are several moments during both design and performances/rehearsals when something suddenly comes to my head and I can see crossovers happening. Sometimes on set, I see lines between people in the space and the whole thing becomes an imaginary grid, which is definitely due to architecture. While designing things too, I notice the light quality entering a space, and my desire for the quantum of light definitely comes from theatre. These exchanges greatly enrich what I'm working on, with one discipline borrowing from the other. In addition to this, constant searching, researching, reading and watching helps refine my skills.
Because of this, I have also had the chance to design many performing arts spaces. My experience provides me with a 360 degree understanding of both the architectural point of view, and the user's point of view.
There is also the benefit of having access to many masters from across visual arts, performing arts, literature and folk, who are spread across the world. Their work is a repository I can tap into, and mix fluidly into anything that I am working on. It gives my mind and soul a massive reference library to learn and enjoy. The only challenge is that I have one life and 24 hours in a day, with so much to learn that I can't do all that I wish!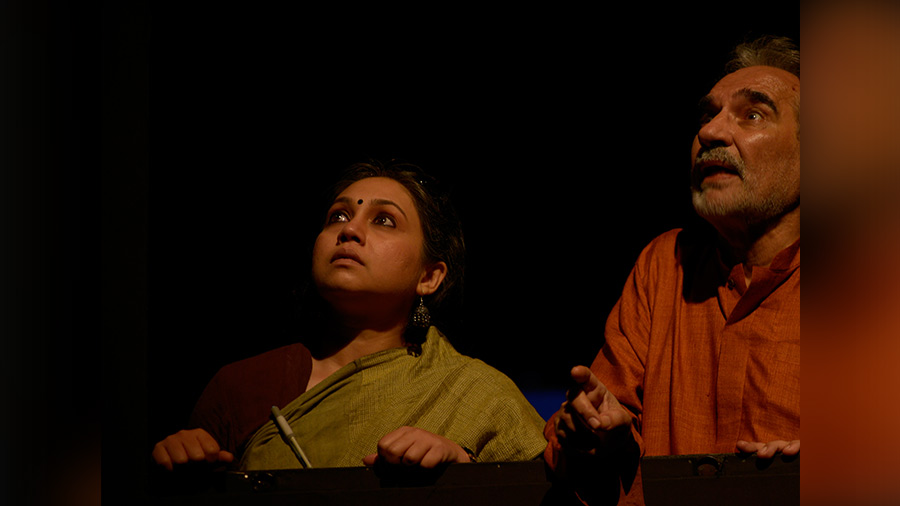 Anubha and Kulbhushan Kharbanda in 'Atmakatha'
What's next for you?
I'm currently directing a series called Writers on Stage, where I want to bring one Indian writer to the stage in each episode. For the first one, I chose Ismat Chughtai's work. As an actor, I am preparing for the Hindi version of my solo play, Pieces, directed and written by Vinay Sharma. I also continue to perform in Atmakatha with Kulbhushan Kharbanda.