Amol Parashar, a mechanical engineer from IIT Delhi, was already a familiar face in the web space, thanks to his turn as Chitvan Sharma in the YouTube show Tripling. That was before OTT platforms came to India. Last year, Sardar Udham introduced him as Bhagat Singh to a more mainstream audience. Now he features as a scheming tailor as part of an ensemble cast in a film dropping this Friday on Zee5 titled 36 Farmhouse that also marks the OTT debut of writer-producer Subhash Ghai. A chat with Amol.
One doesn't come across too many IIT engineers joining the film industry. Was it a difficult choice?
It feels like a wild thing to do. There is social pressure and shock. My parents didn't see it coming. But once I came to Bombay, I found a few like me, though they are mostly in writing and film-making. I know that Jitendra Kumar (aka Jeetu), who acted with Ayushmann Khurrana in Shubh Mangal Zyada Saavdhan, is an IITian too. In the beginning, I didn't mention this as there would be too many awkward questions. But now I have done something to speak about as actor, so I feel confident enough to mention my background.
Even now you post tips on Instagram on clearing the Joint Entrance Examination.
(Laughs) A lot of people ask me that — how to clear JEE, how to shift from engineering to acting. There are a lot of young people looking for guidance.
Positive feedback for Sardar Udham must still be coming in. How much has that role (Bhagat Singh) helped your career?
I have realised many of these things don't have immediate effect. They may not turn into work. But when people watch your work and like it, they want to work with you and come back with offers. Sardar Udham has been seen by almost everyone, including those who my earlier work had not reached. I have work coming in. I can't pinpoint which is coming because of Udham.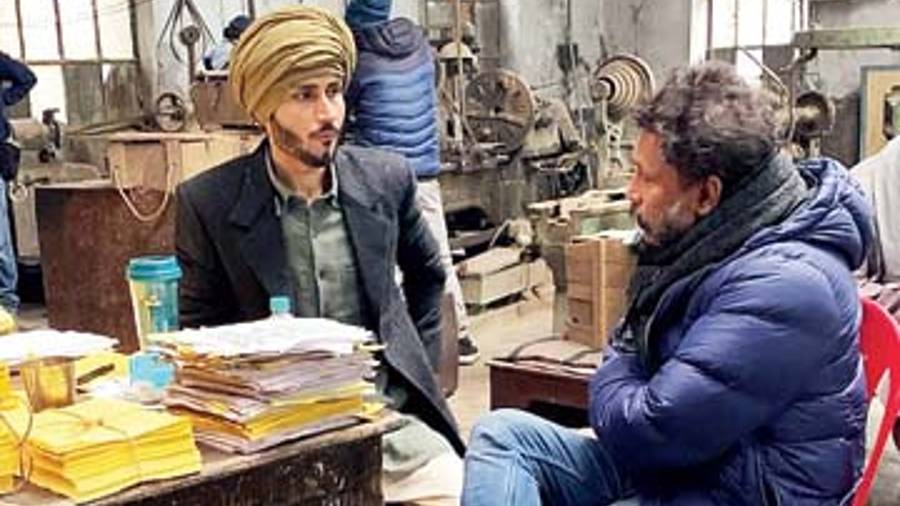 Amol as Bhagat Singh with director Shoojit Sircar on the sets of Sardar Udham
You posted a photo with the film's director Shoojit Sircar on completion of three months of its release.
He said he lives in Kolkata. It goes with his life philosophy. He is independent and artistic. He was saying that he has chosen to bring up his children in Kolkata, and not Bombay, as he wants to expose them to the arts and play football. These conversations were very invigorating. He is a gentle soul with a sharp eye. It is comfortable to work with a director like that. He had asked me to forget the other screen adaptations and focus on just the facts of Bhagat SIngh's life. That had helped take the pressure off me.
On a lighter note, Udham (played by Vicky Kaushal) got hitched (to Katrina Kaif) recently. Had you seen that coming during the shoot?
(Laughs) We had shot a while back. I had casually asked him (Vicky) once if he was dating someone. He said he was. I am not one to pry into someone's life beyond that. But as we completed shooting, people got to know and everyone, including my girlfriend from school, started asking me, 'Are they seeing each other?' I told him maybe I should know more about the person as people are assuming I do but were upset thinking I was lying to them. He said, 'You will find out in some time anyway!'
So you can have a double celebration at the cast party....
Yes, we should have a success party. Ronnie sir (Lahiri), the producer, and Ritesh Shah, the writer, live in Goa, Shoojit sir is in Cal. They are an interesting bunch who make films but slightly outside the Bombay establishment which, I suppose, gives them the freedom to do what they want. We must meet up in Goa some day.
Tell us about your role in 36 Farmhouse.
The film starts with lockdown. Lots of people have lost their jobs and the migrants are trying to get back home. I play Harry, the son in a father-son duo, who are at each other's throats. Sanjay (Mishra) sir is playing my father. Coincidentally, they both end up in the same farmhouse in search of work with a rich family. The family does not know they are related. I am a tailor who meets Barkha (Singh), who is a fashion designer and thinks the boy will be able to help her in her naani's house. He reaches the house to find out that his father has also joined there as a cook. Both father and son hope to pinch a bit from the ocean of their wealth. But the rich family has skeletons in its own cupboard too. The rest of the film is about how they keep their secrets and learn from each other. There's a murder mystery, humour, an ensemble cast....
You speak a dialect in some scenes. Did you have to train?
We are shown to be from the UP-Bihar belt. Sanjay sir has good command over it. So he helped me out with rehearsals. And it's Hindi, after all. But the son is more dialect-neutral, as younger people are these days. They speak to each other in this accent.
What genre would you put this film under?
Interesting thought! There's a murder and a bit of a mystery of whodunit. There's humour in the secrets they are trying to keep from each other. Then there are family values and the importance of relationships in times like this. It's an amalgamation of two-three genres. On OTT, it has become an important question whether people can watch it with family. This film will provide wholesome entertainment for a family audience.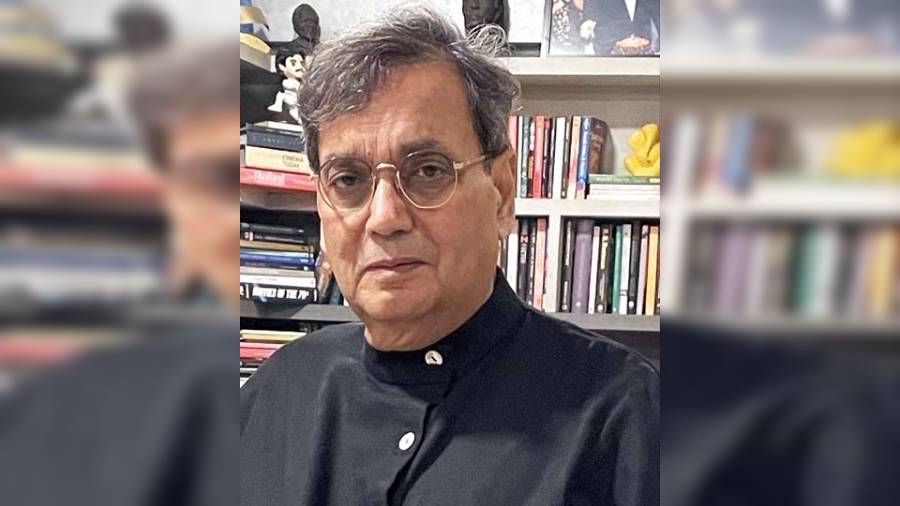 Subhash Ghai
How was it having Subhash Ghai as producer?
Surreal. We have grown up watching his films and lip-synced to those songs. When I was told he would narrate the story, I was taken aback and asked for someone else to do it as I was worried it would be intimidating! But he was very charming and enthusiastic.
The funny thing is he said he had never seen any of my work. 'Why did you call me then?' I asked him. He said he had heard about me from a couple of people and he could see this character in me. He is very instinctive. During the shoot, he was always there for any kind of inputs we would need. He had a sharp eye for actors and a couple of times spoke about something that was bothering me. It was like he could read my mind. He laughed and said he had dealt with 400 actors over 40 years and could understand what their issues were. You feel safe in the hands of someone like that.
Would you call your show Tripling a bigger break or your films?
At that point in 2016, it definitely was bigger as the first season of Tripling put my work out there. People recognised me and took pictures with me. That never happened before. Sardar Udham is also probably a gear shift in my career. I am hoping this film (36 Farmhouse) will also be such a shift in a good way.
The second season of Tripling got picked up by an OTT platform.
Yes, SonyLIV. There were no OTT platforms when our first season released on YouTube. We hadn't even started using the word 'OTT'. In the next two-three years, all these digital platforms became bigger and the OTT platforms came in. But the show continued to have its following.
What else is on the cards?
All that I have been working on is coming out now. There was Sardar Udham, another film called Cash came out two months back. A rom com will come out this year. But nobody knows what the situation will be in the theatres, so even that might release on OTT. The third season of Tripling is supposed to be shot. But now all the actors are so busy with other shows. That was not the case during the first two seasons (laughs). I have said 'yes' to a script which will be shot later this year. There are some scripts that I am reading now.