Not just for health, smoking is bad for the environment too. The cigarette butt discarded after smoking appears to be made of cotton but it contains cellulose acetate — a plastic — that is terrible for the soil it eventually gets dumped in.
To assess just how bad the situation is, an environmentalist did the rounds of Sector V in a bid to collect 10,000 cigarette butts in 24 hours. He overshot his target and ended up with 10,400 butts. Seven more volunteers joined him of and on and the collective effort was 23,400 butts. "And this is during the pandemic, so just image how many more people come to Sector V in normal times and how many more butts get littered," said Nirit Datta.
Nirit used to be an IT professional himself but quit in 2018 to pursue his passion. He is now a wildlife conservationist and environmental change maker. The other thing he quit was smoking, and one of the main reasons was plastic used in its production.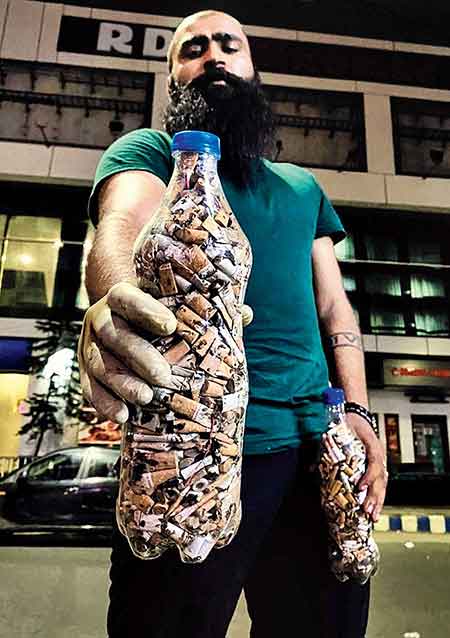 Nirit with the recycled bottles he collected them in
The Telegraph picture
Walk the talk
Nirit didn't have to hunt all over Sector V for his treasure. He covered the area of six football fields around Infinity building and collected the butts in plastic bags and bottles he picked up from the street itself.
"There was this one cigarette shop next to Infinity Benchmark that I kept returning to as it kept getting littered with butts every few minutes. I got over 2,000 butts from that vicinity alone," says the man who looks quite striking with a shaved head and a beard up to his chest. "Many people stared at me and 57 of them asked me why I was doing this."
Nirit explained to them his motive and asked in return if they knew what cigarettes were made of. "Only three people knew it had plastic in it. The rest thought the butt was good old biodegradable cotton."
The heat, humidity and exertion (he must have done 2,000 squats that day) were immense and the resident of south Calcutta was forced to take multiple 10-minute breaks. He ate light food and used gloves, mask and frequently sanitised his hands all the while. After the walk, Nirit quarantined himself for a week.
Members of Y-East, a network of professionals working for the environment supported by Techno India University, and Waste Wheel, a recycling start-up, dropped by to boost his morale and help out once in a while.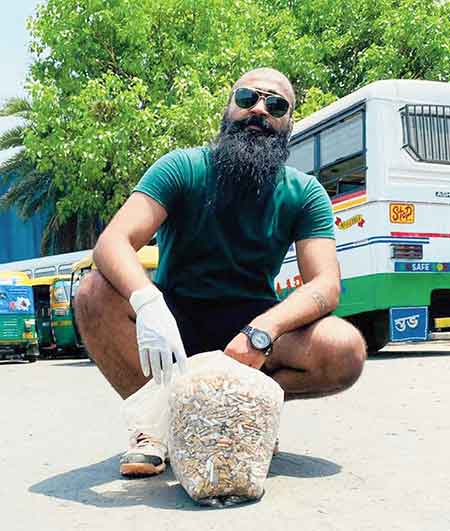 Nirit collected the butts in bags and bottles found on Sector V streets
The Telegraph picture
Guinness attempt
It took Nirit three days to count the butts and figure out that 70 per cent of them were products of the same manufacturer. He now wants to approach this company to put up specialised cigarette bins in office areas that are frequented by smokers.
"At present, butts get clumped with the rest of the trash and it isn't possible to segregate them. If there were dedicated bins, along with awareness campaigns, smokers would dump them responsibly and the plastic could be treated and disposed off in an eco-friendly manner. And the way cigarette packs mention health hazards, they should also carry environmental messages," Nirit argues.
Tomorrow Nirit will be walking again, although this time it will be in Bangalore. And in December, he will make an attempt for Guinness World Records for the maximum cigarette butts collected by a person in a day. Before that, he shall work on his fitness to reduce the time he needs for rest in the middle. The other thing he is sure of is repeating his feat in Sector V itself.
"Having worked in the IT sector, I have seen people take 10 to 12 cigarette breaks a day. It's worse in winter, when people think smoking will warm them up," says Nirit, adding that in the West there is an eco-friendly way of creating cigarette butts but that smokers rarely enjoy them.