Kalakaari, adakaari... are words she chooses to describe what is closest to her being. Indeed so, for many think of Farrukh Jaffar as the brilliant Begum Fatto who outshone even Amitabh Bachchan's Mirza in Gulabo Sitabo, and sparkled in her portrayals of Daadi in the Nawazuddin Siddiqui-starrer Photograph and Amma in Peepli Live.
I meet the 88-year-old at her Lucknow home one winter morning via video call. Her eyes are darkened with kohl, she is draped gracefully in a shawl and sunlight is awash on her person. She sits poised, intently looking at the screen. The many lines on her mien speak of the many stories she has enacted, some of them on screen and many off it.
At her age, Jaffar may not remember the many mundane things of life but the one thing she's clear about is that she's an actor and the show must go on. The first thing she tells me is that she has an offer from director Sanjay Mishra. "Dil to chah raha hai par yeh corona ki wajah se... I so want to do it but because of corona..." she adds.
Jaffar has spent her lifetime acting out things enviable.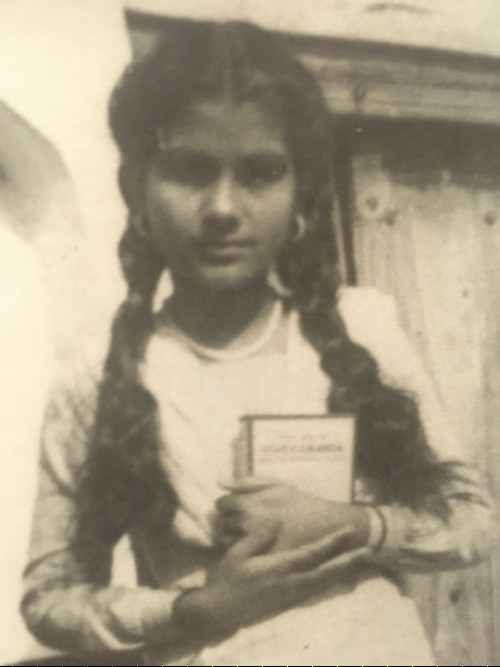 Farrukh Jaffar as a young girl
Picture courtesy Mehru Jaffar
Born in Jaunpur in Uttar Pradesh, Lucknow became her home after marriage. She was 16 then. Her husband Syed Muhammad Jaffar, an educated and progressive man, worked as a journalist and later joined politics. As a young bride, Jaffar completed her formal education — high school and then graduation in Urdu literature from Lucknow University.
"One of the things she liked doing most was going to the cinema. She made friends with her husband's younger brothers; she also had a group of female friends. They watched every film that released. I think she loved to look at the world of glamour, the good-looking actors and beautiful actresses," says her daughter Mehru Jaffar, who is a writer and a journalist based in Lucknow.
Dilip Kumar was foremost among her heroes. "Unke dialogues yaad karte the... I would memorise his dialogues," the senior actor recalls with pride.
Jaffar had a talent for language and enunciation. "And there was always a desire to do something… She gave an audition at Vividh Bharati's Lucknow station and was thrilled to get the job of a presenter," says Mehru.
Jaffar became the country's first female radio announcer. This was in 1964. Again, she was among the first few women to be part of All India Radio's Urdu services that came into being after the war of 1965. "Mujhey ishq tha bolney ka… I was in love with articulation. First on radio and then in the movies… Yes, I am in love with myself," she says.
Jaffar opened her innings in films with Umrao Jaan (1981), wherein she played Ameeran's mother. The story of how cinema walked into her life, literally, is worth repeating.
"Muzaffar Ali is a family friend. The Lucknow boy had been living and working in Calcutta and Mumbai, and was forever nostalgic about the city of his birth," explains Mehru. "(Mirza Muhammad) Hadi Ruswa's novel gave him a reason to return. He quit his job and began work on his debut film. Many, including my mother, stepped in to assist their 'Lucknow boy'. Initially, my mother was helping with the costumes, etc., gradually becoming more and more involved with production. That is how she ended up playing Ameeran's mother."
The actor recalls an incident from those days she will never forget — and perhaps neither will Rekha. Full-throated, she delivers a line — "Ma ka ghar ujaar ke kaun si nagri basayi tuney, Ameeran?... Having abandoned your mother's home, which is that city you helped settle?" Apparently, her evocative delivery made Rekha sob bitterly, and then lovingly reprimand saying, "Hatt jaayiye meri nazron ke saamney se, aapne sach-much mujhey rulaa diyaa... Please go away; you made me cry for real," Jaffar narrates.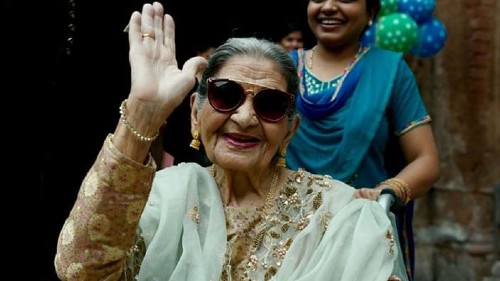 Farrukh Jaffar in Gulabo Sitabo
Sourced by the correspondent
And what would be a favourite scene from her one of her recent films? "The party setting (in Gulabo Sitabo)," chips in Mehru. That's the grand finale; the crafty old Begum has turned the tables on Mirza, it's also her birthday and she has a new beau! She is all made-up and dressed in her best clothes, with lots of zari and fancy glasses, and there is sassy triumph written all over her.
But Jaffar recalls shooting for Peepli Live (2010) with more gusto. In this satirical take on farmers' suicides, she plays Natha ki Amma — Natha the farmer is the protagonist — a querulous old woman whose usual manner of communication is spewing diatribe. Even before I can put in a question, she lets loose a string of heavily-accented lines — Bunk se aaye ho ka? Ab ka lai jaiho? Chheri le jao, goru le jao, khatiya le jao..." She then stops and asks teasingly, "Do you get what I am saying?"
Mehru prods her mother to narrate an incident when Anusha Rizvi, the director of Peepli Live, shouted "Cut, cut, cut" but Jaffar wouldn't stop. It seems Aamir Khan, who co-produced the film with his wife Kiran, was present on the sets and he said, "Amma apney aagey kisi ki nahi sunti... Amma doesn't listen to anyone."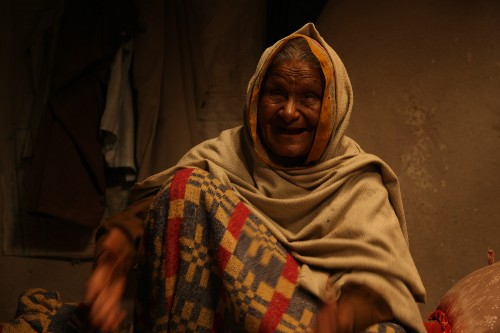 Farrukh Jaffar in Peepli Live
Courtesy Aamir Khan Productions
Shalini Vatsa, who plays Dhaniya, Natha's wife, speaks of Jaffar as quite someone, off-screen too. "Peepli Live was my first film, and Amma made it even more special," says the Mumbai-based actor. "Did you know that some of the chidings in Awadhi that Amma heaps on Natha and Dhaniya were her improvisation? Did she tell you that in her younger days, she drove her jeep through the interiors of UP?" she gushes.
Peepli Live was shot in part in Bhadwai village in Madhya Pradesh. Continues Vatsa, "We had to drive to the sets every morning and would return to our hotel in Bhopal, about 60-70 kilometres away, at night. Never did Amma want to be sent back early, neither did she ask for any special arrangement. Not just that, sometimes when I wouldn't be able to sleep... she would sit by my bed and read me a story — from among her own compositions. And I would not know when I drifted away!"
Tell Jaffar that you are a fan of her adakaari and she asks, "Oh, you really feel I am a good actor? I wonder why people think so." However, sitting at length and speaking tires her now but she tells me, "Go on. Ask me more questions."
So how does she spend her time these days? She likes to watch short films whenever she can, says Mehru. She also tunes in to dastangois and majlis poetry — narration of the event of martyrdom of the Prophet's grandson at Karbala.
Jaffar is full of stories waiting to be prised out. She recalls an incident with Salman Khan while filming Sultan. She had asked the Khan during the wedding scene with Anushka Sharma, about his own marriage… and he had replied, "Dadi, why put a curse on me?" Then she talks about the time when she was in Calcutta shooting for Anwar Ka Ajab Kissa; she went shopping for gifts for her friends and lost her way. She remembers director Buddhadeb Dasgupta's appreciation for her work.
She has an SRK story as well. Once, while shooting for Swades in Panchgani, Shah Rukh Khan helped her switch on the lights of her hotel room with the "chaabi" or door key. "I was in Room No. 8 and he was in Room No. 9," says Jaffar and then just as suddenly as she had started her tale she tires of its telling. "I have repeated this incident so many times that I've gotten fed up of it myself," she trails off.
But weary of work she appears not. Jaffar will soon be seen in and as Mehrunisa, to be premiered at IFFI Goa in January 2021. The film, by Sandeep Kumar, is about an 80-year-old actress who takes on the male-dominated film industry.
Take that. There's just no stopping Farrukh Jaffar.