The music of Ms Marvel — as desi as the show is — is coming in for both attention and praise. US-based Indian-origin musician Atif Afzal (professionally known as A-Zal) has composed two tracks for the series, that spotlights Marvel's first Muslim superhero, and is big on representation for the subcontinent as a whole.
This, however, is not the first Marvel outing for A-Zal. He scored for the series Loki last year and has also worked with CBS Network and Netflix USA. In Bollywood, A-Zal's notable work has been in films like Prague and Monsoon Shootout. Over a Zoom call, The Telegraph chatted with A-Zal to know more about his Marvel breakthrough and more.
Congratulations for Ms Marvel! You have also scored for the Loki TV series for Marvel. How did you break into Marvel?
It's been a grind of 10 years. Nothing happens overnight (smiles). It started in 2014 when I first came to Los Angeles with the dream of assisting (Hollywood composer) Hans Zimmer. I interviewed with his company Remote Control Productions and even cleared two rounds, but then I didn't have a legit work permit for the US, and that was a real bummer. Everything simply crashed for me, but I eventually took the pledge that I would do all it takes to get there.
I didn't get to work with Hans Zimmer eventually, but when I came to the US, I decided to try my hand at independent films. I studied at the New York University and did a thesis film there called The Alternative. I then worked on several independent projects. What I continued doing was sending my work to the folks at all these big studios.
Initially, they weren't very receptive, and it was discouraging because I wasn't a newcomer. I had done credible work, including a film called Monsoon Shootout (starring Nawazuddin Siddiqui and VIjay Varma) that went to Cannes. But I kept at it, I kept networking, I kept doing my independent projects and my big break happened with CBS and I scored for their show NCIS: Los Angeles, followed by The Twilight Zone. That's where things started changing. I then broke into Marvel and Loki and Ms Marvel happened.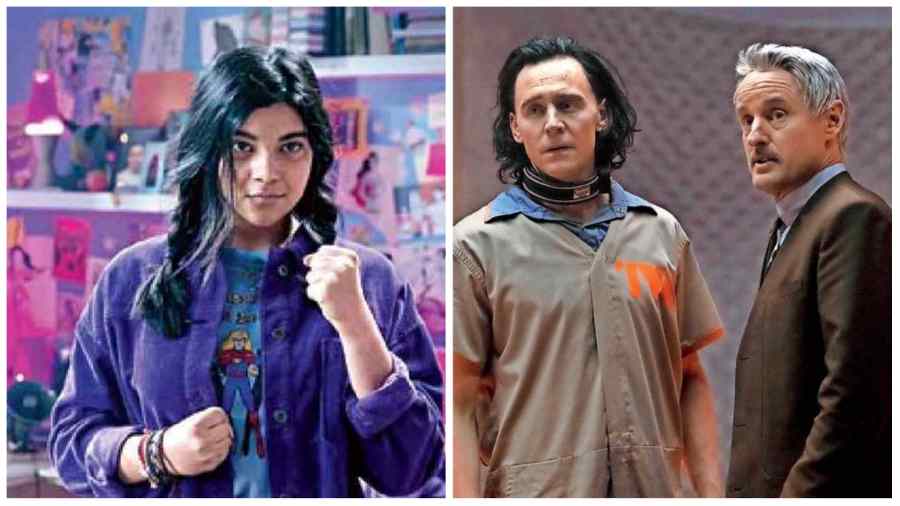 Iman Vellani in Ms Marvel (left) and Tom Hiddleston in Loki (right)
What was the brief from Marvel for Ms Marvel?
The brief was very concise and that's how it is usually with Marvel. We work on code words (smiles). I didn't know anything about Ms Marvel till the last minute. But I had the details of the characters as well as the scene to be scored for and the purpose of the track... what we are using it for. So these kind of details were thrown at me and that enabled me to write the tracks for them.
This is a series that is so big on representation, on showcasing the subcontinent on a level that we haven't really seen Hollywood doing before. Seeing our culture, our language, our people and our music on screen is big. What does that mean to you?
I have a feeling of acceptance, which is a very good feeling. Working on the music of Ms Marvel has helped me be myself... to work the way I want to.
In the last two years, there have definitely been a lot of changes in the way diversity and inclusion has become so important for all the major production houses and studios in Hollywood. Not only that, even in the advertising work here one sees a lot of diversity and inclusion. I think the world is no more an independently pocketed economy. Everything has become so global right now.
Coming from another country, in the beginning I felt quite lost. I was literally thrown into the sea and I had to figure out the way to swim in it. I didn't have anyone backing me here. But when people embraced my art, it just made me feel that the 10 years of effort I put in was all worth it. For an artiste, love and acceptance is more important than anything else.
I have always believed in something that I have on my desk right here. 'Dreams don't work unless you do.' I left everything back in India to pursue this dream and I knew I had to keep going and eventually do it.
It's a vastly competitive industry. What is the key to not only stay afloat but also do credible work?
It's beyond competitive. I often say that there are more creators these days than listeners (laughs). Spotify has 60,000 songs released every day... that's insane! Twenty years ago, we just had movies and television. But now we have all the OTT platforms and they are churning out so much content. It's definitely great because there are more platforms and hence more work. But then again it makes it vastly competitive.
What keeps me afloat are two things. The first is originality. If you look at my films like Prague, Monsoon Shootout or even a regional film like Pune 52, my work was completely different from what was being done at the time. The second thing is that your voice, sound, production, music or the post-production like the mix and master... they have to be perfect, they have to be top notch. Especially when one works with the likes of Marvel. After Loki, when they called me back for Ms Marvel, it shows the belief they have in me.
What has been your most creatively satisfying project so far?
Prague comes to the top of my mind. We went all crazy... we recorded in six countries, and it was my first film. It was challenging and overwhelming. And also very creatively satisfying because we recorded an opera in Italy, we recorded countryside music in Los Angeles... and all this way back in 2012.
The album that I am working on now has also been creatively satisfying. It's a pop album called 17 and 11 Nights, that will release later this year. It's special to me because this album is all me. I am not writing for a film or a character, I am writing for myself here, and the emotions are straight from my heart. My team on this has worked with Justin Bieber and David Guetta.
In India, you were part of a music band and also worked a corporate job. Was music, and music at this level, always the dream?
No, not always. It developed with time. Initially, when I was in school and college, I just wanted to be a part of a band and do music for fun. I did my engineering and then worked with KPMG. I was doing well, but I knew this was not what I actually wanted. That triggered me into thinking that I should make a life out of music.
What kind of music did you grow up listening to and who inspires you musically now?
Growing up, I had mixed influences because I grew up both in Mumbai and London. I listened to Bollywood but also to a lot of British pop. When I was playing with bands, I was listening to grunge, rock, pop and metal....
As a composer, I have always admired Clint Mansell and that was because of his experimental sounds. I also admire Ed Sheeran because his voice is pure and it just hits me.