How would you define magic on the cricket field? Would you cite the pristine elegance of Sachin Tendulkar's straight drives or the deadly precision of Lasith Malinga's yorkers? Or would you refer to the imperious flicks of Virat Kohli over mid-wicket? Or maybe the bamboozling doosras of Muttiah Muralitharan that somehow kissed the batter's outside edge ? 
Or would these be more appropriate definitions of cricketing excellence instead? Because to find magic you might have to look somewhere else.
For me, that somewhere else was the fingers of a stocky Australian who could make a cricket ball scoot and slide, dip and dart, bounce and bite. And yes, he could spin it, too, like nobody else before or since.
He was Shane Warne, a cricketing magician without equal.
Warne was only 52 and his passing plunged the cricketing fraternity into shock
TT archives
Staring in disbelief
It was just past eight on the evening of March 4 when a screenshot on WhatsApp informed me that Shane Warne was no more. The legendary leg-spinner had apparently succumbed to a heart attack. He was only 52. It was the kind of moment that many of us have become accustomed to in the digital age. News of a celebrity's premature death, which eventually turns out to be false, another cog in the wheel of misinformation on social media.
Except this time it was true. Warne was well and truly dead. A quick flick of the fingers, grimly ironic in this context, confirmed the tragic information. It had only been half a day since I had seen Warne's tribute to the late Rodney Marsh on Twitter. Soon enough, thousands of them were pouring in for Warne himself.
I kept staring in disbelief, wondering how to process what came as a shock and a surprise. To my knowledge, Warne had not been ill or ailing. There had been no way to predict that the next name of the list of cricket's most heartbreaking losses would be his, the man who spun his way into the dreams of so many, urging them to pick up a ball and give it a "good, ol' rip".
Early morning magic
I can still vividly recall waking up in the early hours of winter mornings (summer in Australia) just to watch Warne bowl. I may have only seen Warne's utterly inexplicable dismissal of Mike Gatting in 1993, also known as the "Ball of the Century", on YouTube, but I managed to witness his similarly bewitching delivery to Andrew Strauss on Boxing Day in 2006 live on television. It was the sort of ball that tempts bat and pad before eluding both to shatter the stumps, the sort of ball Warne could produce on demand. The one that had Strauss's name on it was also Warne's 700th Test scalp. Only Sri Lanka's Muralitharan would go on to have more.
The Warne-Murali debate was crystal clear for me. The off-spinner may have been the more versatile bowler, but it was Warne who had the magic, even if most of his variations, including the self-proclaimed zooter, existed mostly in the batsman's head. Warne's magic was not just a product of mastering the notoriously tricky art of leg-spin, assuming complete control over the way the ball would leave the hand with a grunt, the revolutions it underwent before landing on the pitch, the way it would turn at the last millisecond and make even the greatest of batters look like rookies from school. Warne's magic was also about mastering the zinc cream-infused artifice of Warne himself, the way he would approach the crease without ever running in his run-up, the way his lips would anticipate his latest victim, the way his body language would dictate who is the boss.
Warne's personality, as much as his bowling, oozed dominance without ever reeking of arrogance. His aura would banish the remnants of sleep from my eyes and make me believe that something remarkable could unfold at any moment. It was like watching a painter manoeuvre their brush or a ballerina twirl. Whenever Warne approached the crease, every movement mattered. Blink and you could miss something special.
Warne versus Tendulkar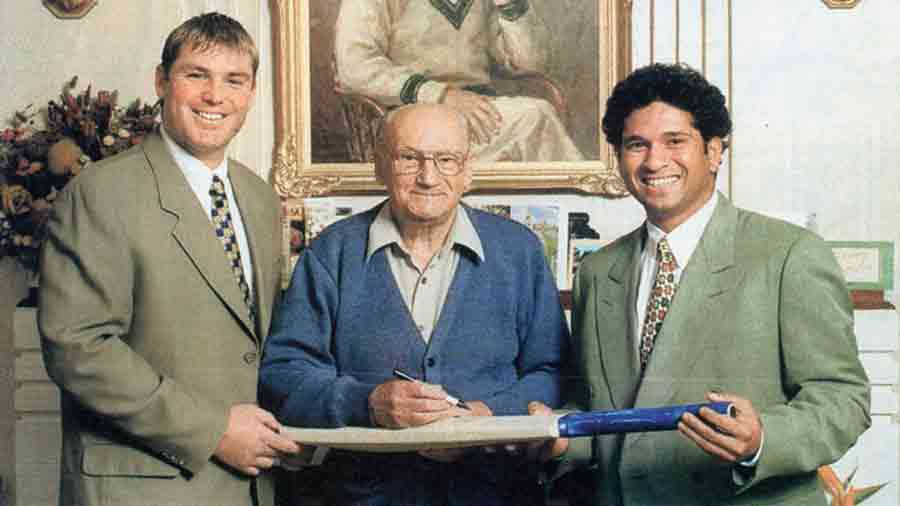 Don Bradman flanked by Warne and Sachin Tendulkar
TT archives
Perhaps no batsman-bowler rivalry in modern cricket has matched the hype generated by the iconic face-offs between Warne and Tendulkar, which regularly featured as the headline acts of India-Australia clashes for close to two decades. In 1998, the rivalry attained its peak, with both cricketers entering the prime of their careers. But for all of Warne's talent and passion, it was Tendulkar who invariably had the upper hand, be it in the sweltering heat of Chennai or in the midst of a desert storm in Sharjah.
Following his relationship with Tendulkar gave me an insight into another aspect of Warne. A side that not only showcased the humility of a born winner — Warne never shied away from praising Tendulkar and the Master Blaster's superior record against him — but also brought out the jovial nature of a man who, simply put, liked to have fun. Watch Warne's interactions on and with Tendulkar and you, like me, will notice how quickly Warne dissipates the tension and switches from viewing Tendulkar as his nemesis to his cricket buddy, without an iota of resentment or bitterness. Warne's sense of humour, which neither deprecates nor inflates the self, makes for an honest viewing experience, marking him out as one of the few compelling conversationalists in a sea of sports celebrities who temper themselves to the point of inaneness.
Giving back to the game
After his international retirement in 2007, Warne became somewhat of a T20 freelancer. In the inaugural edition of the IPL, I tracked every move of his as he led the Rajasthan Royals to the championship in what remains the greatest underdog story in the history of the competition. In doing so, he groomed and propelled a number of Indian youngsters to new heights, most notably Ravindra Jadeja. Over in Australia, he became a fixture for the Melbourne Stars in the Big Bash League, motivating a fresh generation of spinners to emulate his extraordinary achievements.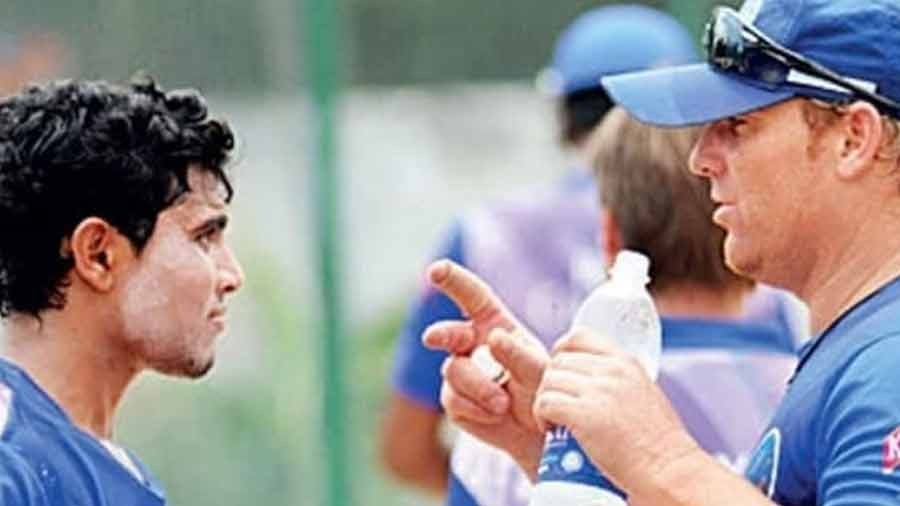 Warne in conversation with Ravindra Jadeja during IPL 2008
Post-2013, Warne frequently popped up in testimonials and friendlies, offering glimpses of the genius that never quite left his fingers. His foray into the commentary box proved even more memorable, as his camaraderie with the likes of Michael Atherton and Nasser Hussain made for gems of cricket coverage. Listening to Warne explain cricket, especially strategies to get opposition batters out, confirmed an old conjecture: had it not been for circumstances and instances of individual petulance, Warne would have made for a fantastic Australian captain.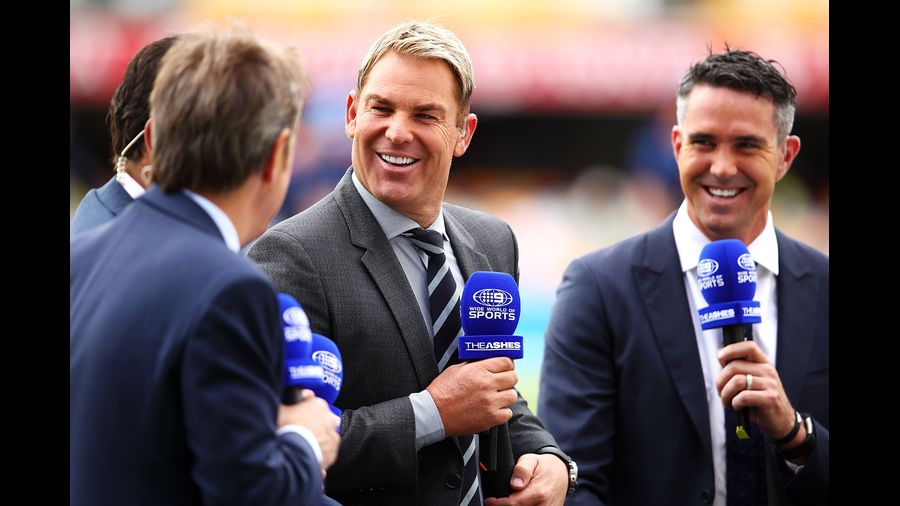 Warne's foray into commentary box proved just as memorable and insightful
Mark Kolbe/Getty Images
Whether pitting himself against Rashid Khan or explaining how to bat prolifically without ever scoring a Test century (something that continued to rankle him), Warne seldom got bored and was never boring, consistently entertaining fans like me in his inimitable fashion. Intent on giving back to the game that had made him a superstar, it is a pity to imagine how many more youngsters would have benefited by Warne's presence, but now stand deprived forever.
A flawed flamboyance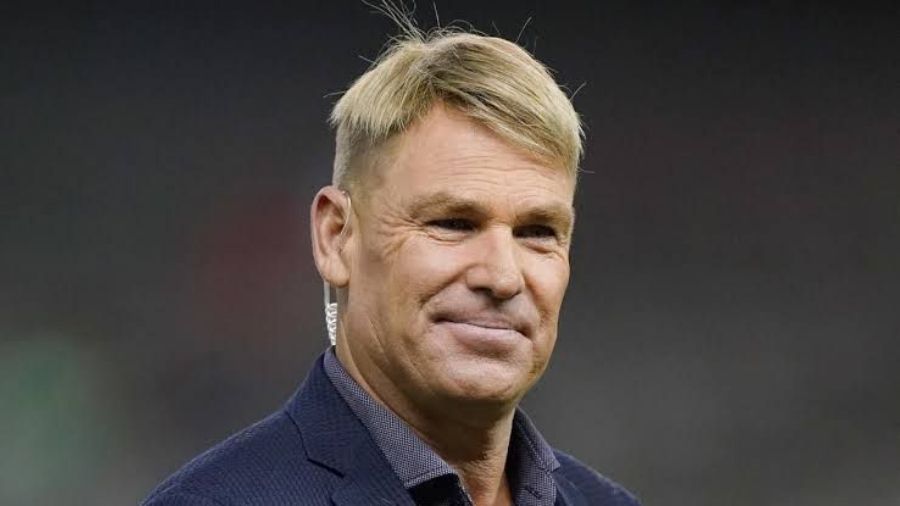 Warne lived life king-size, complete with magic and mistakes
TT archives
As with most magicians, Warne had his sleights of hand, which, in his case, mostly entailed mischief gone too far. Be it sipping a pint of beer during an IPL match in South Africa, constantly taking jibes at Steve Waugh, sending erotic messages to a British nurse while being vice-captain of Australia, leaking pitch and weather reports to bookmakers, or in the most serious offence of them all, ingesting banned diuretics before putting the blame on his mother, Warne lacked the discipline and the restraint that inspire untarnished idolisation. But, for better or worse, Warne never sought to be an idol. He was content with being unapologetically himself, at ease with his flawed flamboyance.
As the messages and columns and videos pour in on Warne's impact on cricket and those who loved him, it is easy to echo the cliche that there will never be another. I am no fan of cliches (who is?), but I cannot deny that sometimes the truth is easy to repeat, that sometimes some characters are unrepeatable, whose re-emergence is made impossible not just by competence (or the lack of it) but also by context.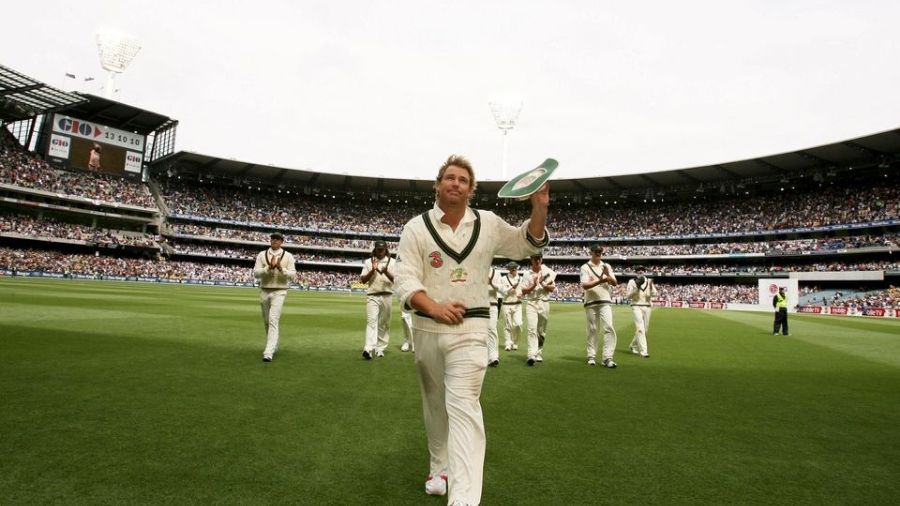 In a later era, Warne's free spirit may have been bottled by the many compulsions of contemporary sport
TT archives
If Shane Warne had happened to cricket 20 years later, he may have been considered too unconventional a leg-spinner to play Test matches for Australia. His outspoken candour may have been moderated by the political correctness of endorsements. Above all, his innate magic may have been dulled by the relentlessness of competing in a sport where too much cricket is never enough.
Thankfully, Shane Warne happened to cricket at the right place at the right time, even if in his passing, he left us way too soon.