Anjali Dutta Of: CJ Block
I am a second mother to: Street dogs
Why: My love for them perhaps emerged after my son left for the US, back in 1995. Lalu, a dog of our lane, would come and cuddle up to me and I felt my void disappear. It was as if I had got my son again.
Soon other dogs came into my life. After office, my husband would drive around in our black Ambassador and I would serve street dogs meals of rice, chicken, fish, fruits and vegetables. But who would drive around to feed them when we would visit our son in the US? So we bought a rickshaw and hired staff to do the needful.
My husband passed away a few years ago but I continue the endeavour, along with trusted staff who feed dogs around CJ, BJ and CK blocks. Six years ago, a mother doggie came to me with mournful eyes, as if asking me to come with her. I followed her and found that some cruel people had dumped her litter in puddles and on bricks. I brought the pups home and managed to save most of them. Today I have 10 rescued dogs living at home but I am nearly 80 years old now and worry about their future after I'm gone.
I have run from pillar to post trying to build a shelter and burial ground for street dogs in Salt Lake. I have given money to individuals too who promised to build such facilities but  they duped me. My last wish is for a facility for them.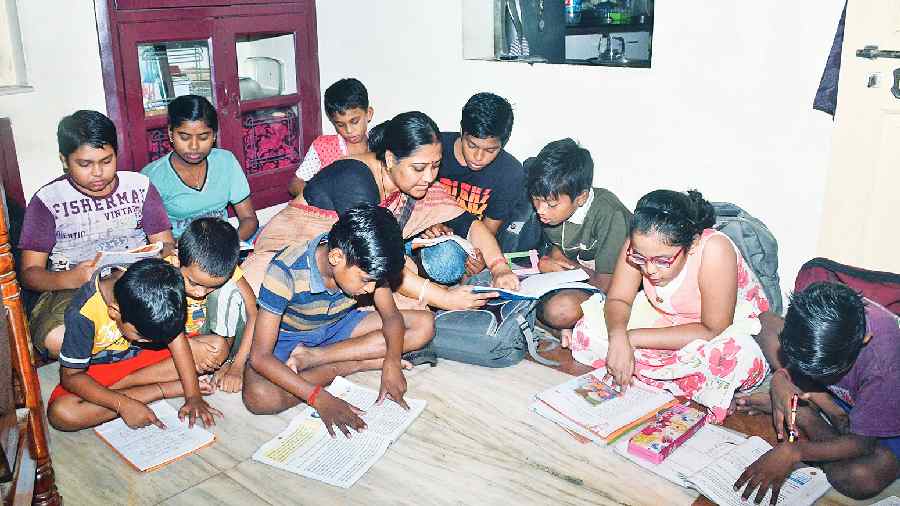 Rupa Chakraborty tutoring a batch in her BL Block home before the pandemic.
Picture by Saradindu Chaudhury
Rupa Chakraborty Of: BL Block
I am a second mother to: countless children of domestic helps, caretakers and drivers who I would teach.
Why: "Mother" is a huge word and I don't know if I deserve the mantle but I have loved these kids like my own. It all started in the 90s when my domestic help's son needed guidance with homework. I started teaching him with my own daughter and son and soon many other kids started coming.
I taught in the evenings but my house turned into a creche of sorts with parents dropping off the kids whenever they had work elsewhere. I liked it that way too. The environment at some of their one-room homes was not conducive to a child's development. There was violence, aggression, abuse…the kids were welcome to stay with me and eat, learn music, recitation or gardening instead. There used to be 10 to 15 kids at home every evening over the last few years. They would pay what they could — Rs 50, Rs 100….
But the pandemic changed everything. I got sick, lost both my parents within a span of a week and the kids got scattered. Some left the city, dropped out of school, a 12-year-old I know has joined a garage as a mechanic… I can see how badly they need help but I am weak and disturbed.
While I try my best to resume classes, I urge other residents to seize this opportunity to be second mothers. There are many children around us who need guidance. Teach them. It will change their lives and yours.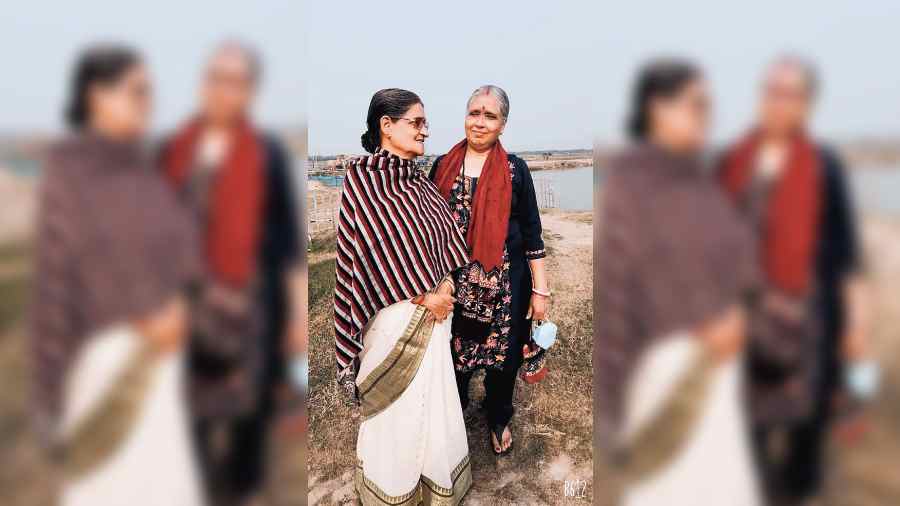 Gita Chakraborty in salwar kameez with her aunt Anjali Chakraborty
Gita Chakraborty Of: Bangur Avenue
My second mother is: My aunt Anjali Chakraborty
Why: I was born in Comilla, Bangladesh, the eldest of six siblings. When I was about eight or nine, my uncle got married and immediately Kakima took me under her wing. I started accompanying her everywhere. Even when she went to visit her family after her wedding, I tagged along.
When the Bangladesh Liberation War broke out, we had to flee our village in Comilla and take shelter in a refugee camp in Agartala. Once the war was over, my Kaka and Kakima decided to come to India and start a new life in West Bengal. My parents wanted to return to our ancestral home in Bangladesh.
Kakima decided to bring me to India along with her since I was her constant companion and my parents didn't object. So we came to Malda and stayed at a relative's place till my uncle got a job in Calcutta and we started a new life here. I didn't meet my parents for several years after that and had even forgotten what my own mother looked like. There were no telephones in our house to communicate over either.
Kakima was more than a mother to me. She brought me up like her own child. She put up patiently with all my tantrums and got me admitted to a school in the city. As refugees, income was minimal but she never made me feel like I was an extra mouth to feed.
We celebrated all festivals and later when her two sons were born, they got to know me as their own didi. I was never a cousin.
She gave me an education and even sponsored my wedding. She sold her own jewellery to buy new ones for me on my wedding. Even after I was married she looked after me, my husband and my daughter as her own. Both my Kaka and Kakima did everything parents would do, or probably even more than that. I am the daughter of their house and will remain so.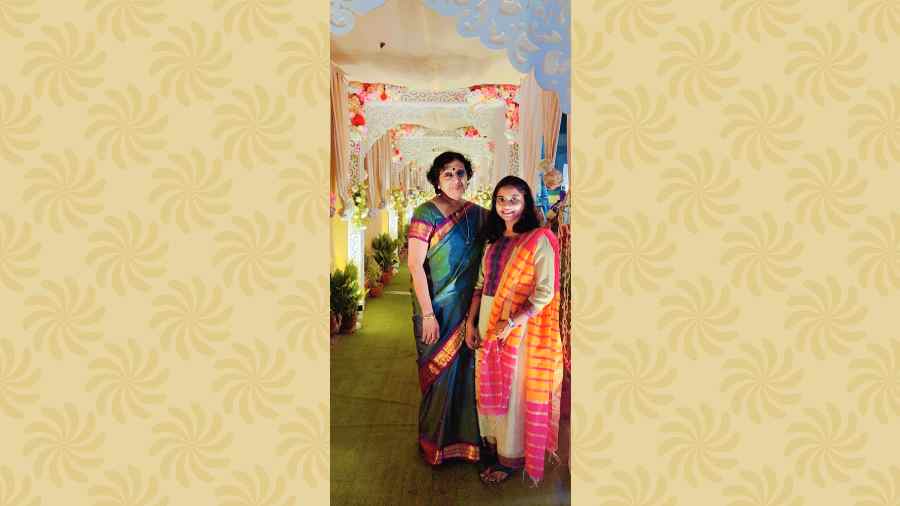 Moumita Mondal (right) with Chandrabali Mukherjee
Moumita Mondal Of: AD Block, New Town
My second mother is: Chandrabali Mukherjee of New Town's BA Block
Why: I always say that I have two mothers — one who gave birth to me and my Mammam. I lived in Kestopur in my early years — my father was a carpenter and is now a security guard. Then when I was in Class IX my mother started working as an attendant to Mammam's mother. That's when I met her and it changed my life.
Mammam was a geography teacher in Bharatiya Vidya Bhavan then and immediately took me under her wing. For my Plus Two, she got me admitted to Begum Rokeya Smriti Balika Vidyalaya in Salt Lake's BJ Block, then Bidhannagar College and I'm now pursuing my Masters in Islamic history and culture from Calcutta University.
My own mother can barely sign her name so Mammam would visit my school and colleges as my guardian. She pays for my education, found me good tutors, buys me new clothes and anything I may need. During the lockdown, I practically stayed and ate in her house so I could avail of her wifi and log into online classes.
When I wanted to learn art my parents felt it would be a waste of money but Mammam ensured that I found a teacher. It was the same when my class was going to Ghatshila for an excursion. Recently I asked her if I should take the NET exam and she encouraged me wholeheartedly. She has enrolled me for a Tally course too and I am now educated and confident enough to be tutoring children in studies and art.
Mammam has two sons — she's visiting them in the US currently — but she introduces me to everyone as her daughter.
Purnima Shil pets Sneha Bhattacharya.
Picture by Debasmita Bhattacharjee
Purnima Shil Of: Baisakhi Abasan
I am a second mother to: Sneha Bhattacharya, my neighbour
Why: I know Sneha from the time she was born. I knew her mother very well too and would guide her on raising the child but the lady got sick and passed away when Shonai, as I call her, was just two years old. I remember her mother asking to meet me at the hospital days before she died. She joined her hands before me, tears rolling down her cheeks, and she pleaded with me to look after the child after her. I gave her my word to protect her till I breathe my last.
Shonai is in Class VII now and has practically grown up in my house among my family members. The initial years were very tough. I would go crazy trying to get her to eat, my son would take her for rides around the complex on his bike to make her stop crying….
Now she comes with us to restaurants, does her homework here, consults us about her problems, we take her to doctors…her father had remarried but things didn't end well.
A few years ago my own daughter decided to celebrate Mothers' Day for me. But just as I was about to cut the cake I saw Shonai withdraw to a corner. I went up to her and she burst into tears. I knew she was missing her mother. I hugged her, asking if I wasn't mother enough for her. Of course, that wasn't the case and she joined the party happily.
But she went home that day and asked her father what her own mother would like doing. Upon learning that the lady would like dressing up, Shonai went to the mall and returned with bindis, that she applied on her mom's photo and celebrated Mother's Day.
There are neighbours who speak behind my back. They wonder what ulterior motive I have in doing so much for the girl but I couldn't care less. My only concern is that the child grows up in a safe and healthy environment and that I can prepare her for the world.