Albert Einstein once wrote: "Wisdom is not a product of schooling, but the lifelong attempt to acquire it."
Today, when books are losing popularity for being long reads and thick volumes as we have become more comfortable with scrolling through short reads and watching video clips, it is fascinating to come by a volume by an actor, director and writer who has chosen to pen her childhood story across five sections and 388 pages of A Country Called Childhood — A Memoir without letting up on the pace of storytelling.
Deepti Naval keeps readers glued with vivid and detailed images of her childhood, so much so that sometimes one feels that one is watching a film. There is the trail of unmissable cinema in her life and tales of the influence of music in the family from the early days of the gramophone. Visual art has a huge creative presence, looming large in Deepti's memory, especially her mother's art classes in Lahore, descriptions of her sartorial style with period pictures, and mention of famous artistes hobnobbing find detailed depiction in the book.
Deepti's father, a scholar and a passionate young man in pursuit of excellence, had a unique parenting style. He organised seminars for his family, friends and neighbours on holidays and off-days to create a thinking atmosphere around the house. The subject could be anything topical that he deemed fit. So, instead of offering just cuddles, which were left to Deepti's mother mostly, he offered his children more of intellectual growth. He created and indulged their appetite to know and instilled a questioning mind.
That said, why would you want to know about Deepti Naval and her childhood? Here are my takeaways from the book: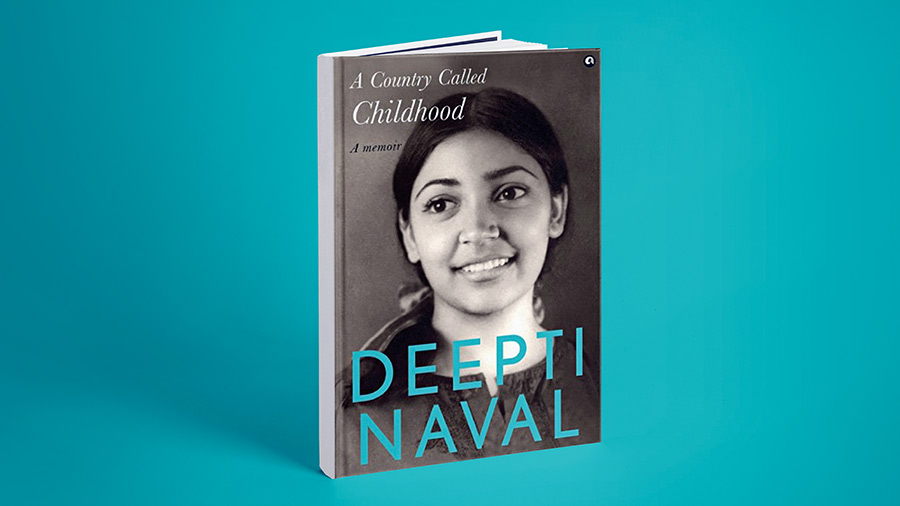 A Country Called Childhood: A Memoir | Author: Deepti Naval | Publisher: Aleph Book Company | Pages: 388 | Price: Rs 999
1 You will, in the course of discovering her childhood, find a lot of yours, even if set in modern and contemporary India. The emotional connect within Indian families traverses through her different experiences. They remain dynamic even now because we allow our memories to live with us, to grow us and eventually shape us into who we choose to become. A lot of Deepti's moments resonate and ring true with us.
2 The book reads more like a film script than a book. You will be hooked to it, thrilled, angry, involved, worried, observant, sitting on the edge of your seat with rapt-attention, sometimes doing a shut-eye but being quietly indulgent to pages of the book, lest you miss a beat.
3 The book deftly describes the emotional turmoil of refugees, their displacement woes and how it comes to impact generations thereafter in Deepti's family. The book is not a pedantic bore, assuredly. Rather, it details the family's journey during the Japanese invasion of Burma (now Myanmar) in 1942, which led to a huge exodus of Indians back to India from there and a whole chapter in the book is devoted to it. The ordeal is described with such vividness and generous humaneness that one cannot but feel involved in the events.
4 There are several historical references and mention of happenings that impacted her childhood, a few emotionally stirring events which shaped her parents, who, in retelling from their memories, shaped Deepti's feelings and unknowingly provide the reader with a very relatable descriptive insight into those turbulent times.
There were the riots following Partition during which her mother along with two other girls were rescued by a tangewallah. The long walk for survival through dense forests to India from Burma carrying a gramophone tied to the body as a priceless possession. The wars which followed the Independence of India and often made Deepti's hometown, Amritsar, an easily accessible place for an enemy takeover, instilled fear in the minds of adults and children, wary of constant sirens and sound of shellings in the vicinity.
5 We are usually a sum total of who our parents were and how their lives impacted us during our growing-up years. In that context, the book features many interesting pictures and reproduces very old ones essaying times from her parents' younger lives. For me, the chapter where Deepti's father travels to a Himalayan village, Naggar, to meet the Russian artist, Nicholas Roerich, to seek his writing for a journal is a very interesting read. The photo of the journal he passionately worked-on, namely, Joy of Art, is showcased in the book. The foreword for it was written by the ailing and retired Indian President S. Radhakrishnan and the volume was introduced by Rabindranath Tagore, though he did not live to see it and Tagore's son co-ordinated the piece to be sent to Deepti's father. The cover was designed by Abdur Rahman Chughtai.
On the maternal side of things, Deepti very proudly describes belonging to a very progressive art society of the Lahore School of Art founded by B.C. Sanyal of The Sanyal Studio, where Amrita Sher-Gil held her first exhibition. Deepti further goes on to describe how her mother's creative talent fired her own imagination of her mother's world in Burma amidst pagodas and ghazals on the gramophone by Juthika Roy and her love for all things Bengali, especially Bengali women, her mother declaring herself as the Beauty Queen Of Bengal.
6 Films had a long sway in Deepti's family. They liked and lived films their way, from watching them to wanting to become a Bollywood actor to her making it big in Bollywood. The influencing styles and hairdos, even mannerisms of those days on Deepti are well documented in the book. Sharmila Tagore's Anupama had a huge impact on her as did Vyjayanthimala in Sargam, so did Sadhna's famous fringes, and Hema Malini. Raj Kapoor's Mera Naam Joker find mention in her memoir, along with a host of other major films, like Manoj Kumar's Upkaar.
7 A few historic figures and their political decision of going to war in post-Independence India find resonance for their descriptive narrative. Jawharlal Nehru's visit to Amritsar almost places you amongst the thronging crowds to get a glimpse of the man with a rose in his buttonhole.
A humourous incident that occurs during the black-outs during the 1965 Pakistan War is recounted in detail. Deepti's father's reading habit before going to bed; lights being switched on and off soon created suspicion of their house harbouring a spy on their terrace who was using intermittent light as a signal for the enemy to bomb the town during those dark days. Not all tales must be told here, to know more, read the chapter on The Pak War of 1965.
8 'Ambershire' is actually Amritsar. To me, it is a pivotal character in the book. The stones, gravel, cinema halls, Amrit Talkies, marketplaces, the tailoring shop, Mai Sardi, the mosque located next to her house, mochi settlers whom she describes in The Republic of Mochistan, the convent school she attends, buses and gropers they tackle in the The Elbow Crusade all resonate with your own personal experience of growing up in your own respective cities or towns. Fascinating. Amritsar behaves as a cauldron to hold and relay childhood memories of Deepti. It's the co-ordinate of her childhood as a country.
9 The book shrugs off posturing to reveal in honesty the painful miscarriages of her mother, the happiness at the birth of a baby brother, and the fights between her parents who eventually separated in their 70s. The loving togetherness of her parents and visits of influencing cousins, the fear and sadness of almost being raped at a railway station far away from home, being a runaway and even experiencing a kiss from another girl while at school.
10 The book ends with the family leaving India to follow Deepti's father to America, the land of better opportunities and dreams, leaving behind 'A Blue Eyed Boy', with whom romance could have been a happy possibility at 18 had time and departure from Amritsar not got in the way.
11 Romance, I think, was a little underplayed, perhaps because Deepti wanted it so.
12 You meet the actor Deepti Naval from a very young age, acting out emotions necessary to wriggle out of situations or make them hers.
If you have been looking up series on OTT platforms, where resonance of your lives finds favour in simple tales and episodes of life and thrills of history lacing them, this is the book for you to take home. It is a book that you can visit as a reference point to have a more factual understanding of the influence of Hindi cinema on the psyche of young women in India.
For me, like many in India, Deepti Naval is an enigma, an icon. This book is like a front-row looking into the child Deepti.
Picture: TT Archives
The author is a former journalist and an avid traveller
Book copy for review courtesy Starmark