It will be a double whammy for the art cognoscenti of Calcutta. A retrospective of Paresh Maity's watercolours titled 'Noise of Many Waters...' will be showcasing at the CIMA Gallery from November 12 to December 11. Parallely, from November 13 to December 15, 'CAST', a solo exhibition of recent sculptures and installation by the artist, will be held at the Birla Academy of Art & Culture and Art Exposure at the Academy's lawns. 
Water wonderland
Watercolours, though, are Maity's watermark. Maity's waterscapes have an enchanting range of fervent colour, from the viridescent greens to the brazen cobalt blues, from the ravishing reds to the more sombre ochres, each palette giving new hues to the familiar and the faraway waters, which this meandering minstrel imbues with his passionate paintbrush. For his destinations are many and varied, from the rural reaches of his native Bengal, to the southern climes of Kerala, from the urban upscale of the Thames to the omnipresent waters of Venice — visited by the artist no less than 27 times, and declared by him as "the most lyrical and poetic place in the world for any creative person".
Hence, the mounting of 120 of his sketches and watercolours that span four decades — from his innocent village scenes of the Seventies to the masterful maturity of size and scale and colour — would serve as a reiteration of Maity's water wonderland. 'Noise of Many Waters...', the title of the retrospective to be held at CIMA Gallery, which has displayed some munificent works of his over the decades, has been adapted from a James Joyce poem.
"Water is me and I am water, which is life," states Paresh Maity with an easy calm that one can liken to his childhood days by the Rupnarayan river and his boyhood dunking in ponds. "You cannot take out the water from me and you can't take me out of the water," he states peremptorily to stress on his aquatic attachment.
His philosophy goes beyond the immediate to the historic, where he talks about how, in his early days, he actually wanted to get a job on a ship because of his fondness for water. "We know that all civilisations started next to the water — from Greece to the Indus Valley — and marvel at all the conquerors who sailed around to discover new continents and docked at now important sea ports and riverine mouths."
Our interview was interspersed with formal shoots in front of some of the watercolours displayed at the gallery, but you could not hold back Paresh Maity from wanting to get to the banks of the Hooghly, where he sat with sketchbook in hand, boats in proximity — for a photo shoot that proved to be the perfect prelude to our story.
Because, the initial draw of the exhibition is an installation titled 'The Haze'. Gigantic in scale, true to Maity's monumental gaze, it is 15 feet high, 25 feet wide, and five feet deep. It is water-centric, depicting a curtain of rain, an illuminated screen with the effect of the ocean, and the painting evoking waves, fisher folk and boatmen in animated chatter, abetted by a soundtrack of thunder and rainfall. And of course you can find the omnipresent boat — one of many Maity himself possesses. For Maity, water, which is the leitmotif throughout the exhibition, is "the most essential thing in our lives, our most precious commodity".
This, then, is a teaser for the bounteous collection which is redolent of Maity's colour-chromed world and his passion for water and watercolour. His paintings and installations may be larger than life, but for this much-travelled artist, it is always a harking back to his roots. And to growing up amidst the sound and noise of water — thus the current title of his exhibition — and something that was also reflected in the installation at Marina Bay Sands in Singapore where 365 lanterns were lit (he studied by lamplight as a kid, so these "laltens" were significant) complete with boats and an original soundtrack from the ocean with a unique play of light.
An optimistic and upbeat outlook
Maity's candour about his less-than-privileged early life is reflected in the honesty and directness of appeal that comes through the artist's works, not in the form of any environmental protest, nothing that says the earth is parched, or that water is scarce or that rivers are polluted. But rather it is an unpretentious and positive revisitation of his peripatetic world, where some familiar landmarks across the globe are juxtaposed with the rivers they find reflection in, and the overlay of the Maity colour palette brings out mood and joyous movement.
There is a complete absence of angst. His is an optimistic and upbeat outlook. Maity ferrets out the joyous from all negativity. And his art happens and dominates his being, because he is creating on a daily basis, unstoppable. He admits that he does nothing else but draw and paint all the time — that is his lifestock, that is his raison d'être.
Could it be the very same artist whose early days were tough ones, a four-hour each way commute to his college by bus from Tamluk to Howrah, whose playthings as a child were the clay from his nearby river, and whose mentor, by his own admission, was nature itself and the people he would meet on those humanity-packed journeys? He never ceases to rewind to the early life struggles and challenges, and why not, when this diminutive, dapper, dynamo of an artist can stand very tall, after 82 solo exhibitions the world over, be in authoritative collections including the British Museum and the National Gallery of Modern Art, New Delhi, with the most prestigious awards, including the Padma Shri heaped on him, and bask in the demands on his artistry to create art for public places, the fabulous prices that everyone from a novice buyer to a seasoned collector are willing to pay.
His mastery of the minimal can be seen in the myriad sketches which are quirky to say the least, the flicked capricious lines instantly conjuring up the soul of the cities where his footprints alight. Seek and you shall find the vestiges of places from Santiniketan to Shimla and as far afield as Norway, New Zealand, Tokyo, Croatia, Venice, naturally. There's a whole wall of these to gawk at and to buy from.
At a glance
THE PARESH MAITY DOUBLE BILL
What: Noise of Many Waters... a retrospective of watercolours by Paresh Maity held by CIMA Gallery
When: November 12-December 11
Where: CIMA Gallery; Sunny Towers (2nd Floor), 43 Ashutosh Chowdhury Avenue
Timings: Mondays 3pm to 7pm; Tuesdays to Saturdays 2pm to 7pm; Sundays and public holidays closed
What: CAST, a solo exhibition of recent sculptures and installation by Paresh Maity organised by Birla Academy of Art & Culture and Art Exposure
When: November 13-December 16
Where: Birla Academy of Art & Culture lawns
Timings: 3pm to 8pm daily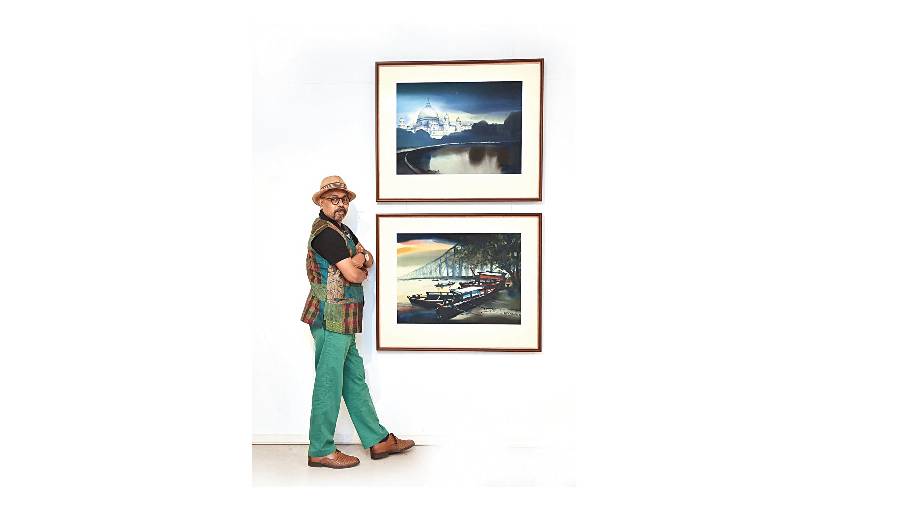 Big and beautiful
Let's focus on, literally, the larger picture. Where, for instance, did two of the sepia-tinted views of Goa come from? Ah! There lies a tale. Maity gets an award early on, which fetches him a princely Rs 3,000 and that is enough for him to take off to Goa, where he executes the paintings displayed at the exhibition, apart from other vibrant ones where his colour mastery takes over and the Goa of swaying palms, sea, sun, sand and sunsets give reverb.
And the even larger scapes. The ones where Maity communes with cities familiar to us, but with colours that are beyond our imagination. He captures the Hooghly and the dominating Howrah Bridge, never letting the darkness engulf him, as he teases out a hopeful orange ray of light, while the Victoria Memorial gets its portraiture post the devastating Amphan, never losing its majesty, as it looks over dark, enigmatic waters and a brooding sky in the gloaming.
London's familiar iconic buildings and bridges shuck on very different hues, as Maity bathes the painting in an unreal yellow glow, the spires and boats deftly etched in to complete the picture. There is also a typical London awash with rain, the gaslight emitting a ghostly glimmer and a red bus reflected in the water gives definition. Venice shows its very nature of vast water bodies, where church spires loom in the distance, and the gondolas enrich its character. Varanasi comes into view silhouetted in sepia, which contrasts with the red background of the massive Japanese landscape with a cherry blossom branch as adornment. Two other imposing works, one of Kerala and the other of Santiniketan, overwhelm with their luminosity and the viewer must pause and immerse.
Adjectives tend to elude you, but what seeps in are his imagery and the intent that confounds evanescence — and makes you discover illumination in the very darkness that Maity dispels through a touch of the first coral hues of dawn over his many cityscapes.
The ultimate product is executed on the best of imported papers sourced by the artist himself — particularly the Italian Fabriano and the French Aquarelle. The non-reflective glass and the top quality framing are all part of the perfection that Maity brings to his work.
Big is truly beautiful for Maity's psyche, affording him the spatial challenges and risks. His classic 850-foot work, the largest by any standard, gives the T3 terminal at Delhi airport a special heft. "I had a preconceived idea for the airport piece which took me a year to complete, for it had people, places, festivals, architecture and embraced the culture of India. The first panel is Calcutta and the last panel is Kashmir and in between were Assam, Odisha, Jharkhand, Andhra, Karnataka, Tamil Nadu, Kerala, Goa, Maharashtra, the Konkan coast, Gujarat, Rajasthan, Delhi, and Punjab." In Kashmir, with its blue mists and the Dal Lake and the blossoms of paradise, "you feel you have reached heaven". His most favourite places? India undoubtedly. But "the world is my home".
He believes he can transform anything into a piece of art. After all, his life started by playing with clay from the riverbank, then came watercolour, then oil and acrylic and mixed media, and the magical force of conte, "which drives your hand". Then sculptures — where again the massive idiom takes over — done in bronze and brass, some of the hefty ones will be on exhibit at the Birla Academy of Art and Culture. This "leaves open dialogues between the artist and the audience, touching upon the perceptions of power, rootedness and enormity of life".
Break and make
Maity has been called the Turner of India, and he unabashedly acknowledges that he was influenced in his watercolour journey by both Turner and Constable. And he also imbibed from the works of Gopal Ghose, Abanindranath Tagore and also Rabindranath Tagore. His minimalistic oeuvre came from Japan and China. His cubistic lineage and Picasso impact are the stuff of another story, another time.
Rabindranath's Shesh Lekha was transcreated into a series of 15 large watercolours, with accompanying drawings and exhibited at the National Gallery of Modern Art a decade ago. While his teachers at Government Art College were Ganesh Haloi and Niranjan Pradhan, his principal at Delhi Art College, O.P. Sharma, taught him to "break and make" — break what you have learned and make new things.
And so, during the pandemic, he went beyond breaking to completing a whole bunch of work which he had left unfinished, some of them lying for over 30 years — many mixed media and oils which he finished and even found time to make new paintings.
Co-habiting with renowned artist wife Jayasri Burman — "we are North Pole and South Pole in our styles of work" — has seen them encouraging one another all along the way, often painting under one roof, creating beautiful homes for themselves. Where, apart from their own work, you can see how they have magnanimously collected other artists like Ganesh Pyne, Jogen Choudhury, Bikash Bhattacharya, Ganesh Haloi, M.F. Husain, Satish Gujral, Shakti Burman and a host of young artists they wished to encourage. The collectors of Paresh Maity range from business barons to top industrial houses and there seems to be no end to the constant requests for commissioned work.
For an internationally acclaimed artist, Maity has true humility. Those close to him talk praiseworthily about the way he remembers every single person from his small beginnings, keeping in touch, going to the extent of taking a group of village buddies for a trip every year. He has not blanched at doing work for society bigwigs — painting a whole set of horse heads that were made in acrylic, and handing these over for their charities, as he believes you must give back something to society with your individual social responsibility. Just one of many instances of his big heartedness.
When asked about the award he values most, he says without demur —the appreciation of the public. It is in the same spirit that he accepts the commercialisation of gallery collectibles of his vibrant cubistic faces on place mats and boxes, saying that we should encourage museum memorabilia as you see in the West, and let everyone share in a piece of famed art.
There is a cornucopia of abundance in his artistic output. Like the rivers he paints, he is ever in full flow. There are no full stops for Paresh Maity.
The author is a public relations veteran and an art enthusiast