Fashion trends come and go but tie-dye has always been here — from the hippie chic era of '60s and '70s to the unpredictable post-pandemic market of the 2020s — this resist dyeing technique has survived it all.
The chic vibrancy and funky kaleidoscopic swirls of colour earned this technique a special place in the alternative fashion circuit. It's fun, thrifty, easy to style and DIY-friendly too!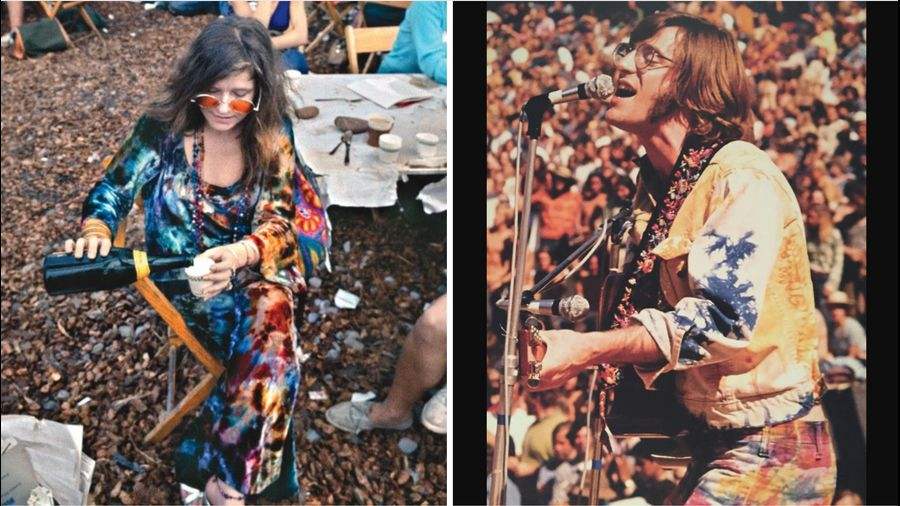 (L) Janis Joplin and (R) John Sebastian seen wearing tie-dye prints at the Woodstock Music and Art Fair, 1969
Pinterest
While Woodstock Music and Fair in the '60s made the tie-dye a sartorial symbol of counterculture, the trend got a second lease on life two years ago. Fashion houses and designers started reimagining tie-dye for the post-pandemic market, what with the renewed interest in DIY culture, handmade fashion and dopamine dressing.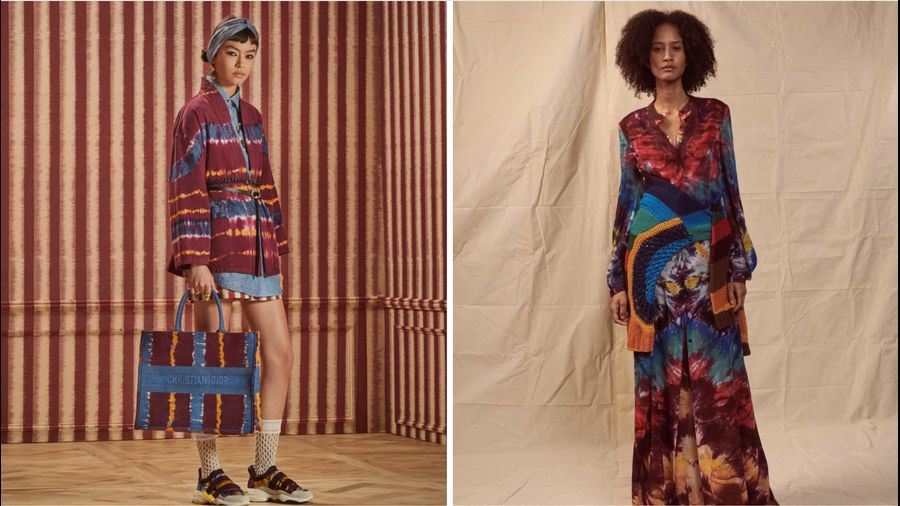 (L) Dior Spring/Summer 2021 and Gabriela Hearst's Tie Dye dress
@dior/Instagram; gabrielahearst.com
While high street labels like Louis Vuitton, Off-White and Tom Ford began updating the tie-dye prints, fashion houses like Dior and Proenza Schouler made it their brand signature. Indian fashion too has had a rich history of working with various forms of dyeing techniques be it bandhini or shibori.
So, if you're looking to explore tie-dye this summer, don't play safe. Explore these high-octane fits:
Funky Denim
Seeking an everyday tie-dye staple? Why, of course, it has to be denim! Kiara Advani's sea-green denim-bralette set is sporty and elegant. Moreover, the colour brings out the funkiness of the tie-dye.
Dual-tone dress
Ananya Panday's yellow-and-orange tie-dye dress is all you'll need for a beach party. The colours blend into each other creating a gorgeous mix of hues and yet each shade manages to shine through.
Dressy co-ords
Bring the breeziness of tie-dye to your statement co-ords if you need a versatile desk-to-dinner number. Rakul Preet Singh's lime green and blue three-piece blazer set from Jyotsna S Bisht's label July Issue, is an on-trend statement.
Bucket hats
If you wanna dive head first into the world of tie-dye, what better way than to follow RiRi and pick complementary pieces of clothing and accessories. From bucket hats and beach cover-ups to scarves, you can buy it all!
Multi-dye options
Why stick to one gradient when you can go for so many? Kylie Jenner's Kim Shui multi-dye dress is a form-fitting, party-ready wonder!
Dear men, please hop on the trend
If you're still on the fence about tie-dye, consider gender-fluid options like casual loungewear, hoodies and tees.
We think this colourful, unicorn-esque trend is here to stay simply because it is effortlessly fun and the possibilities of prints and styling choices are endless!