New year marks the beginning of new journeys and experiences. To flag off this Bengali New Year, we decided to collaborate with models, make-up artists and a stylist we have never or scarcely shot with before. We got Sevina Kahlon and Afreen Butt, two young models who have only very recently featured in The Telegraph fashion shoots. Stylist Tanvi Shah was shooting with us only the second time and the trio of Danielle Jones, Rachael Jones and Sne Aribam Sharma teamed up, again for the first time, for The Telegraph fashion shoot. The cosy and enchanting Peter Hu? off Park Street, was our venue for the day, yet another first. 
The dramatic Rahul Mishra outfits were matched by equally dramatic make-up. "We didn't want the make-up to die out," said Sne Aribam Sharma who painstakingly put one rhinestone after another on Sevina's lips, giving her a crystally pout. For Danielle Jones, it was all about "playing up what the dress had as well". "Rahul Mishra is experimental and we thought of adding drama. We used pearls and chains, glitter, the petals around the eyes and glitter lips and sequins. We tried to pick up elements from the dress and colours too," she said. Tanvi Shah styled Afreen with chunky-fun jewellery from Vasundhara Mantri and Sevina with Style Addict.
How dainty-bold does Sevina Kahlon look in her statement lips and that touch of petal around the eyes? #Totallyfairytale
The touch of pearls on Afreen Butt heightens a sense of quiet mystery. "We wanted it to be a soulmate affair. If one is powerful, the other one is too and if one is playful, the other one is too. We went big with the hair and added rhinestones in one look. The flick of the eyeliner is Danielle's signature style... bold yet minimal touch. This look was a good marriage of our signature styles. Pearls are my favourite. It stands out and when it is used in make-up in a subtle way, it just pops and makes it look regal. I had these chains and asked Danielle (Jones) to take a call. She decided to use it on Afreen's sleek hair. It just completed the look. I am reminded of Xerxes from 300. He looked dangerous with the chains. Here she looked mysterious yet so graceful," said Sne.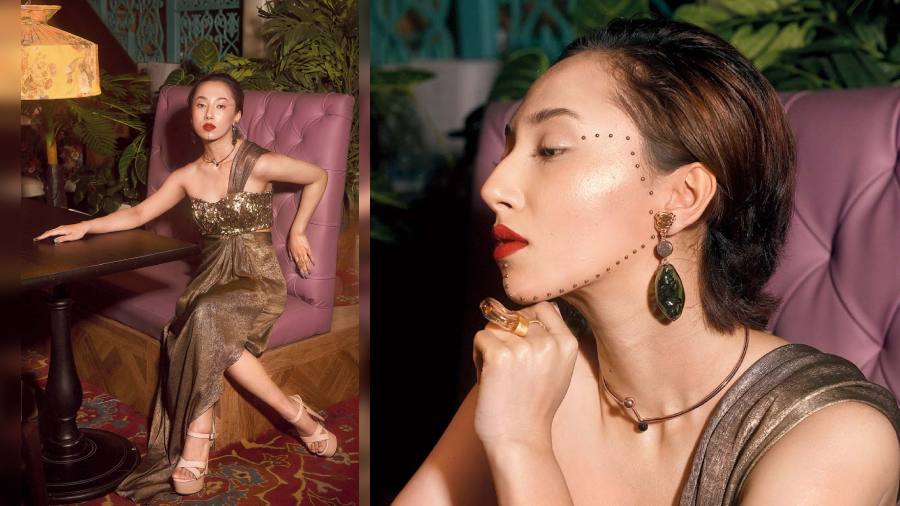 Afreen channelled warrior-princess vibes in this Ambika Lal one-shoulder dress. Contemporary jewellery from Vasundhara Mantri were complemented by gorgeous metallic make-up. "When Danielle and I were discussing the looks, metallics came up in the conversation prominently. Metal is a lot about strength and flexibility as you can mould a metal. We wanted it to look powerful yet graceful and we wanted to try things that haven't been seen before in Kolkata," said Sne.
Meet Afreen...
Shooting with The Telegraph: This was one of my first shoots with The Telegraph and it was overwhelming and I was really looking forward to this.
Modelling since: It's been just over a year. I am from Darjeeling and I moved in last year, with my sister. I just finished school! I am 19. My first shoot was with GKB Opticals. I have also worked on three major campaigns including Manish Malhotra Beauty exclusively by MyGlamm, Dot and Key, Tan & Loom. I like the way I express myself when I do this.
Future plans: I am into art and I paint and sculpt and will be joining college and will try to double major in graphic designing and fine arts and would like to continue with modelling too. I am not very good at expressing myself through words.
Favourite artist: There are a lot of artists I take inspiration from, like Francis Bacon.
Favourite model: I like Bella Hadid a lot.
Favourite designers: Michael Kors and Iris van Herpen.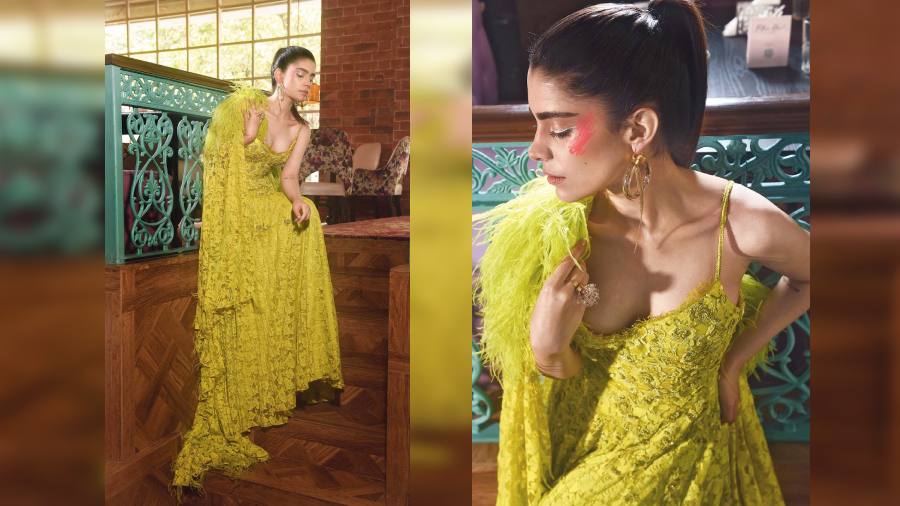 The wash of pink on Sevina's cheeks and a line of white looked so fresh and wow and paired well with the World of Asra dress with a cape, and, Vasundhara Mantri jewellery. "This was the neon pink warpaint look. We wanted to add a runway vibe to a paintball game. Chic and quirky. Take a bit of paint and go whoosh on the corner of your eyes and it looks like a winged liner," said Sne.
Danielle wanted to get more creative when she saw the dresses. "From the second look onwards, it was haute couture-meets-avant-garde-meets-elegant. It was edgy and quirky," she said.
Meet Sevina
Shooting with The Telegraph: This was one of my first proper editorial shoots with The Telegraph and it was really exciting. I have spent a lot of my teen years going through t2 and hoping to be on the pages. So, this was special. As a newcomer I am still celebrating those milestones and this was another big one for me.
Modelling since: I have been shooting on and off since my teenage years, say from the age of 15, but commercially, it's been just a year or a year-and-a-half. Regular work would be less than a year.
Love for Kolkata: I was in a boarding school in Australia and then I came back and decided to stay back in India because I am more desi at heart. I had started working and also my love for the City of Joy is unmatchable. I graduated high school at the end of 2018 and have been inKolkata, full-time, from 2019. I was born in Kolkata (to a Punjabi dad and an Australian mother) and pretty much brought up here and went to Calcutta International School.
Future plans: I am just going with the flow. I am taking every day as it comes and I will never turn down something out of being too afraid that I can't do it. I will accept everything and see where it takes me. If it takes me somewhere, I'll be happy to follow that path. Maybe another five-six years down the line, I will turn and decide that I want to do something completely different. I'd like to have that kind of freedom and flexibility in my life.
Learnings so far: My childhood dream from the age of seven was to become an actress. That childish perception that I want to grow up and become a household name was always inside me. Although now, after being a part of the industry and understanding how things work, it's not so easy and comes with a lot of responsibility.
Favourite models: I take a lot of inspiration from the models of late '90s to early 2000s. They were the first proper supermodels of the world. Each of them had their own personalities that reflected in their work and they all had their own sense of individuality which I really like. I don't see anyone else as competition.... I feel there is no competition as long as you stay true to yourself.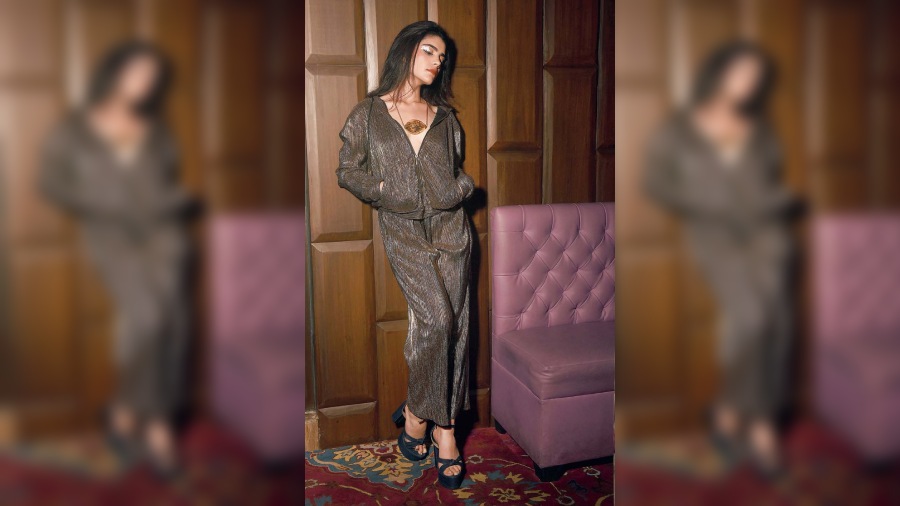 Sevina and Afreen looked party-ready in House of Fett. The foil on Sevina's eyes was complemented by a statement Vasundhara Mantri neckpiece. "The foil on her eyes gave her a futuristic look," said Danielle. Sne wanted to try metallic eyes instead of lips. "Metal is a powerful and statement look. People have played around with metallic lips, so we thought why not do something with the eyes. It's raw and feminine. One of the most popular backstage looks, it is one of the fastest and quickest makeovers," said Sne.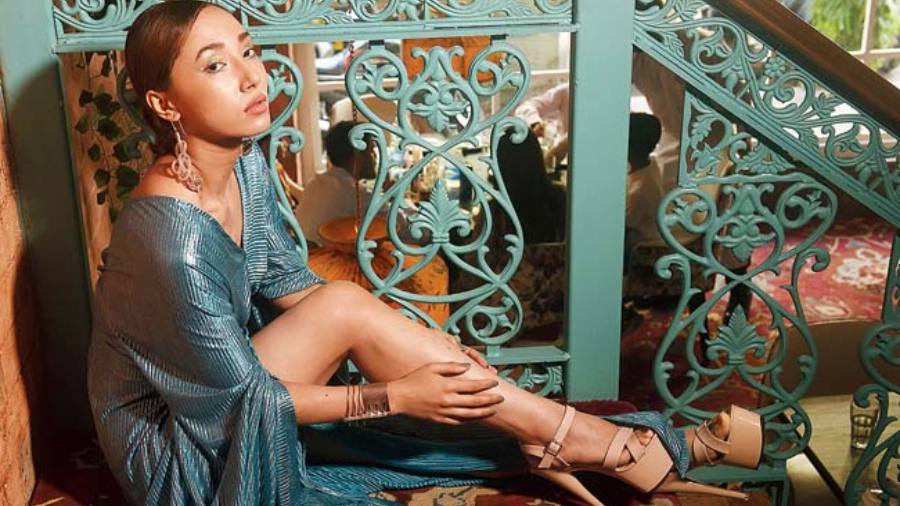 Afreen's eyes got a wash of blue and lime green and glitter with a bit of liner, teamed with glossy lips. Vasundhara Mantri + Style Addict paired up to perfect the accessory game. "Afreen's eyes were smoke bombs-meets-glitter effect. Subtle and delicate yet it stands out," said Sne.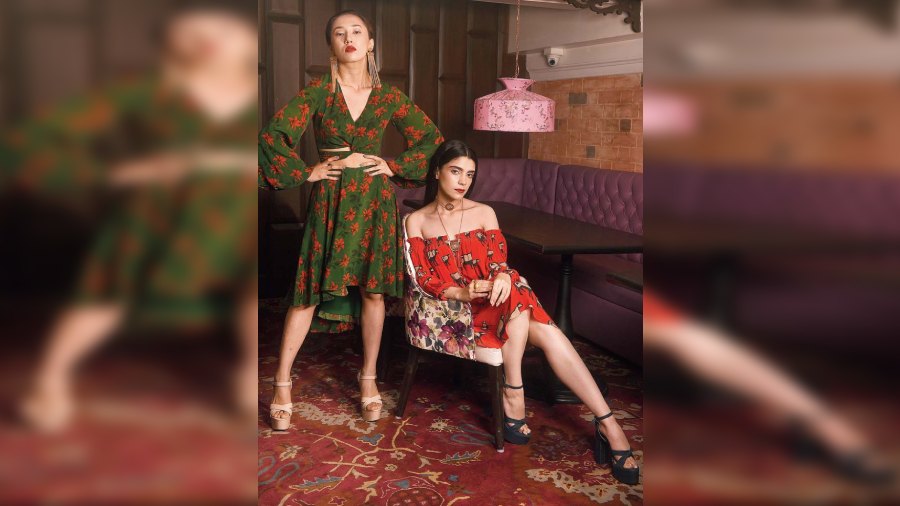 Sevina and Afreen looked casual-pretty in easy-breezy House of Masaba dresses and jewellery. The bold lips were the highlight. "The colours were earthy. We decided to bring out one of the colours and keep everything else muted. The Fenty Rihanna shade was looking lovely," said Danielle.
The magic of red lips was undeniable for Sne. "You can express yourself with a red, statement look. It's something that works for any kind of outfit. It's a classic and anybody can carry it off," she said.
Pictures: Pabitra Das
Location courtesy: Peter Hu?