Photographs don't always have a rhyme and reason; they merely satisfy the desire to do something fun. What the iPhone has taught us over the years is to be spontaneous. The smartphone has encouraged many people to take up photography as a hobby. This year, Apple has made some of the biggest changes to its cameras ever, dialing it up to 11. In a few days you will have the iPhone 14 Pro and iPhone 14 Pro Max on you, and we are sure the updates will make a big difference to your hobby. Or would you prefer the iPhone 14 and iPhone 14 Plus? The Telegraph had the opportunity to explore the new phones after their launch at Apple Park in Cupertino and there are a few things you need to know.
Consumers can choose easily
Apple has differentiated the regular iPhone 14 and iPhone 14 Plus from the iPhone 14 Pro and iPhone 14 Pro Max. We are talking of a split between the two ranges that's quite obvious. For the consumer, it will become easier to make a purchase decision than ever before.
iPhone 14 and iPhone 14 Plus don't have a bigger processor this year. You get the A15 Bionic all over again but it will be fine for performance because the A15 continues to be way ahead of competition. When it comes to the camera, there are some important upgrades to the camera system.
There is a new main camera which is 12MP but it has a larger sensor and a faster f/1.5 aperture (last year it was 1.6) and this is enough to increase 49 per cent low-light performance. And they have also upgraded the selfie camera, which has received a speed bump and the aperture has gone from f/2.2 to f/1.9. The selfie camera now even has auto-focus. Earlier there used to be a yellow box around the face but that was more about showing where the exposure is.
What Apple really wants us to know that the image pipeline has been improved. There is something called Photonic Engine which is different from Deep Fusion. The secret sauce to photography on the iPhone lies in the Image Signaling Processor. Now iPhones are able to blend images earlier in the process chain using the uncompressed RAW data, giving users more and richer details in highlights and shadows and allows them to get good shadow details in low-light conditions. What we are looking at is getting more data upfront, taking advantage of the incredible power of the ISP to unlock amazing gains in low-light photography, way more than what is possible with hardware alone. Apple has both hardware and software to give low-light photography a big push.
There are also enough upgrades in the video department, especially with something called Action Mode. If you pick up a GoPro, it has this crazy image stabilisation in which the camera doesn't seem to be shaking at all. Apple is doing their version and it seems to be extremely strong. You don't need a gimbal. Videos crop a little, so it shoots up to 2.8K and not 4K, which is not a compromise. It happens with all cameras.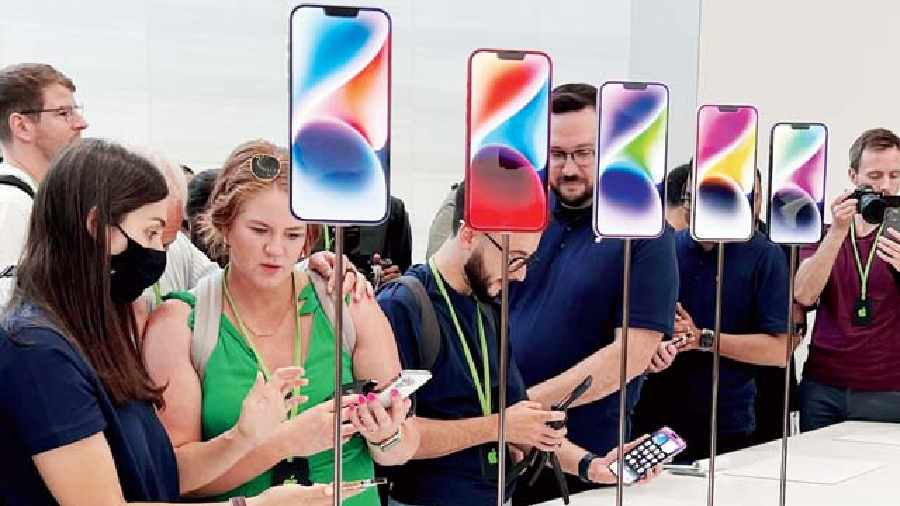 iPhone 14 and iPhone Plus on display
For the pro-photographer
If you take videos and photography seriously, this is a big year. You will want the iPhone 14 Pro and Pro Max. They have the new A16 Bionic processor, making the upgrade really, really big. The main camera on the Pro models is 48MP.
Apple is moving in the right direction. The company's implementation of 48MP is very different from the 48MP implementation that rivals have made. Apple is taking the pixels and binning them together into a final 12MP image. It is not just about more pixels but the 65 per cent larger sensor. This is more important to me than the amount of pixels. Most of the time you can shoot 48MP RAW pictures. And this is going to give you maximum editing flexibility, maximum sharpness.
Another massive change is that the lens is 24mm instead of 26mm. It might appear like a small change but for a photographer, that is a lot. When you frame a shot, there is more room. The interesting thing here is that the range between Apple's wide lens and Apple's telephoto lens is now 24 to 77mm while 24 to 70 is the most common lens we use on the camera. Now it's on the iPhone. Further, Apple has enabled a 2X option and cropping into the 48MP sensor helps.
Big update on the ultra wide lens, which has changed iPhone photography the most. On the iPhone 11, it was an f/2.4 lens and now they are updating it to an f/2.2. But the difference is that it will make photos a lot sharper.
Apple has also mentioned that flash has been improved. On the telephoto it is now twice as bright and on the ultra-wide, it is twice as uniform.
The low-light story is becoming incredible because of the amount of light that is getting captured. If you put the phone on a camera tripod and take a maximum night-mode shot, which is 30 seconds, it is extraordinary as to the level of details you end up capturing.
On the video front, I am glad Apple didn't go for 8K because file sizes end up too big while the format is not something we need at the moment. Cinematic mode, which was introduced last year, get 4K this time and it can shoot in 24fps.