In a matter of a few years, POCO has become one of the most sought after smartphone brands that has not diluted its original philosophy of offering something compelling at a price that's equally compelling. No wonder there is enough buzz around POCO F4 5G which has a June 23 launch date. We spoke to Himanshu Tandon, head of POCO India, who recently succeeded Anuj Sharma. Anuj is returning to Xiaomi India as chief marketing officer as part of a restructuring while Himanshu has been a part of POCO's founding team.
When POCO originally launched in 2018, the focus was purely on innovation and top features at affordable pricing. These days with every brand promising "amazing" features, where does POCO fit in?
The response that we have received over the last two years underscores consumers' overwhelming endorsement of POCO's brand philosophy of "everything you need and nothing you don't" and unique POCO attitude that stands for being different and, most importantly, passionate about technology.
According to the insights shared by Flipkart, consumers today are using their smartphones for multi-tasking, playing games, consuming content and switching between multiple apps. They are looking for smartphones that offer superior performance and don't lag, thereby offering enhanced overall experience. Thus, a device which gives you a sustained peak performance has become increasingly pervasive and indispensable. Building on the insights that we keep getting from our partner, we have been able to create a niche for ourselves in the smartphone industry. Since the beginning of 2020, we have looked at each segment and introduced specifications and features that help users take their performance game a notch higher, without having to burn a hole in their pocket. Even if you look at the devices launched in 2022, they all cater to our consumers' preferences of a 5G smartphone, AMOLED display, smooth multitasking and all this with an aggressive pricing in their respective segments. As we continue to grow and expand in the market, we will focus on building these aspects and bring features that are promising and innovative, without cutting any corners.
POCO F4 5G. If you were to select a couple of USPs of the phone, what would those be?
The launch of POCO F4 5G will continue the F-legacy of performance centric devices. When we launched the POCO F1, we were focused on redefining the smartphone experience by offering the ultimate performance with no frills. Since its launch, POCO has enjoyed immense love from tech enthusiasts, fans, media and all our partners, thereby featuring as the most sought-after device in the segment. We followed up on the POCO F1 success, with the incredible POCO F3 GT. Launched during the pandemic, POCO F3 GT was a direct response to shifting and evolving consumer needs and it received phenomenal response from the consumers. But we are constantly evolving and that pushed us to launch POCO F4 5G in the market. With this device, we have focused on innovation that truly matters and are delivering a device that is perfect for every enthusiast by bringing upgrades in departments such as performance, multimedia experience and photography.
We have chosen the specs that make up the device - whether it is the most efficient 870 series chipset, or Optical Image Stabilization (OIS) integration on our camera for superior content creation or Dolby visual and audio on a 4th gen AMOLED display for unmatched audio-visual experience for the users. The design on the F4 has the same ethos as the POCO F1, which essentially means a great looking device where everything is exactly what you need. Adding to the performance aspect, the device comes with a support for 10 5G bands.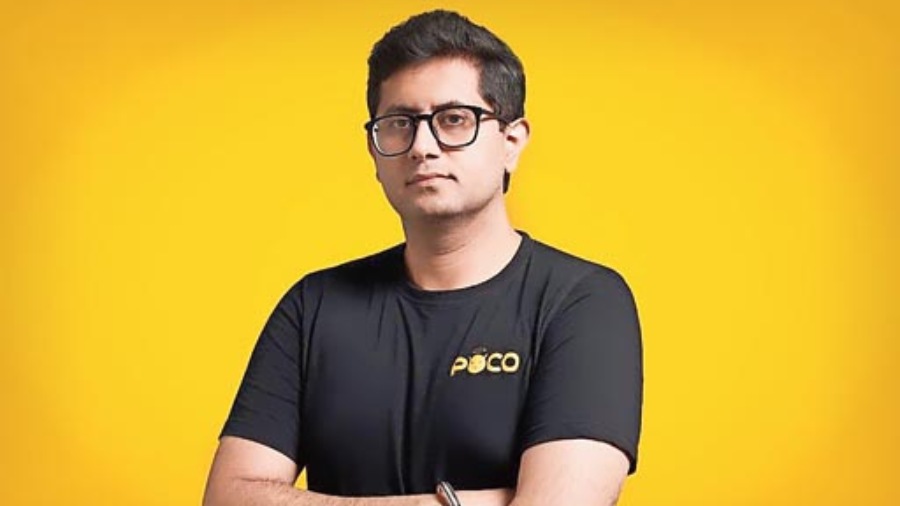 Himanshu Tandon, head of POCO India
The F series from POCO has always been special. What makes this phone generate so much buzz? And what does it have to offer that rival brands don't?
We believe that it is not every day when you can come with devices that are as power packed and thus, after months of testing and tuning it according to the Indian market, POCO F4 5G is set to make its global debut. The POCO F4 changes the de facto expectations in this segment on the backs of a strong product proposition.
What's next for POCO?
India is a priority market for POCO from a global vantage, and entailing this approach will be an increased integration of global launches, upgrades and updates. Following our core ideology of 'technology that matters', we are working towards bringing globally competitive products at the most affordable prices for the Indian market. Banking on the requirements of our consumers, we are very bullish on the eminent rollout of the 5G spectrum. Our fundamental focus is and will be to bring a product that actually solves the given ask and deliver our consumers with a future ready device. POCO F4 5G comes with 10 5G bands which is more than a lot many contemporary devices. Moreover, with innovation at the heart of POCO's products, our team is working towards cracking a differentiator-the one that speaks volumes and enhances the overall consumer experience.