Expansion is the buzzword at S&N by Shantnu Nikhil with the bridge-to-luxury label opening up stores across the country. We chatted with the Mehra brothers — Shantnu and Nikhil Mehra — on taking the brand to different parts of the country, their confidence in brick-and-mortar and the future of couture.
The S&N family is growing. What do you attribute the confidence and faith in brick-and-mortar to at this point? What did you keep in mind while doing offline stores in 2022?
We launched our bridge-to-luxury brand— S&N by Shantnu & Nikhil — amidst the pandemic, which was entirely digitally driven. The brand is an extension of Shantnu & Nikhil's ethos, which leverages itself into ready-to-wear ensembles. With a brand launch and now a store, we've experienced both, a digital launch as well as a store launch. The approach to celebration wear and ceremonial wear have a very different look and feel to it. Patrons invest much more in ceremonial wear, so for them it's necessary to wear and feel what they're about to purchase. Luxury shopping anyway should be more experiential in outreach.The customer must feel the fabric and see the details up close and personal. A store provides a feeling of belonging and homecoming where the wearer feels the narrative told by the ensemble in physical form. All our stores are an ode to our love for architecture and design, which adds to the ambience created for the people who walk in. Recently, shopping has been about what suits whom the best. There are people who prefer buying even their precious belongings online while there are people who go to the mall to buy a basic pair of T-shirt. As a brand, we want our clients to be comfortable. They should have all the choices lined up for them to decide what compliments them the most.
How has the reception been so far?
S&N by Shantnu Nikhil was created for the generation which is fearless, unabashed, and ready to take up their cause. People who treat their sartorial choices as a form of personal expression and are up for an experimental outlook at every occasion. In the short span of two years we have opened eight retail stores in cities like Bangalore, Ahmedabad, Raipur, Mumbai and New Delhi to cater to the love our patrons have been pouring on us. Not to miss, our e-commerce platform is growing day by day with new integrations coming on the way for a whole new experience for our customers.
Recently, millennial mavericks like Janhvi Kapoor, Ranveer Singh, Vijay Devarakonda, Kiara Advani, Kartik Aaryan were spotted wearing S&N, which shows how supportive they are of the brand. Such a response only makes us feel grateful and pushes us to exceed our own expectations!
Do you think fashion purchases have bounced back?
When it comes to shaping emerging habits in consumers today, the pandemic has had a significant impact. In addition to the unusual circumstances of the time, I believe, our belief system is crucial in the formation of any habit. The last two years have been credited with a significant shift in our consumer beliefs, and as a result, something that consumers would never have chosen in a normal state was easily and widely adopted during the lockdown period. If we look at the growth in online purchasing over the last year and a half, it appears to be phenomenal. This is an example of a major shift in consumer behaviour that was warranted by the pandemic and the work-from-home culture that resulted from it, which would have taken much longer otherwise. To sum up, fashion purchases have recovered but people are more conscious in their choices. They aren't chasing the trends but choosing classic pieces which stand the test of time.
It's been 20 years of the brand and a couple of years of bridge-to-luxury. What is the new brand teaching you? What have you had to unlearn while doing bridge to luxury?
S&N by Shantnu Nikhil was created as a ready-to-wear extension of the mother brand Shantnu & Nikhil. While we are the original drape-makers in menswear and have been making bespoke couture for over 20 years, our bridge-to-luxury wear gave us the knack to be more experimental with our silhouettes. Shantnu & Nikhil has always been a ceremonial wear brand whereas S&N by Shantnu Nikhil is a ready-to-wear brand.
With S&N we have seen there is a need for our designs beyond wedding and ceremonies and we have been trying to evolve with our design aesthetic to cater to the same.
In couture, we have the privilege of time to ace every piece to perfection but with BTL we have to deliver the same without compromising on our silhouettes and cuts. We are experimenting with new design aesthetics and methods to keep the freshness of the brand alive.
How will couture change going forward?
Ceremonial couture is and always will be a coveted space, especially in a country like India where people love to celebrate. However, ceremonial wear isn't just about sporting the new trend now. Consumers have become much more aware of what they want and how they want. Comfort in couture had been a grey area for several years, especially in womenswear. However, now with the millennials we've seen a shift. They prioritise their comfort without wanting to compromise on the design front. This is the reason we've seen a spike in demand for sari gowns, draped kurta, pre-stitched sari.... These silhouettes give the wearer a sense of ease without them having to compromise on the aesthetic they like.
Finally, what's the dream for the label in the coming years?
Both the brands — Shantnu & Nikhil and S&N by Shantnu Nikhil — are experiencing new shifts and changes this season. With S&N coming to Tier-2 cities like Ahmedabad, Raipur and democratising fashion further, Shantnu & Nikhil has been disrupting ceremonial couture with new design aesthetics.
Our bridge-to-luxury brand was launched during the pandemic in 2020 and since then it has been on a journey that only goes higher. We have opened eight retail stores in the span of two years with a robust e-commerce platform. We are furthering our vision of integrating both the brands together into a hybrid store like we did in Ahmedabad, for a more nuanced experience for our patrons.
Speaking of ceremonial wear, our recent collection — Nomad — witnessed a never-seen-before take on Indian couture. It has a fresh feel to it. With that, we're also launching a new category of couture sweatshirts. The category will add the extra spunk of ceremonial dressing with the gravitas of embroidery.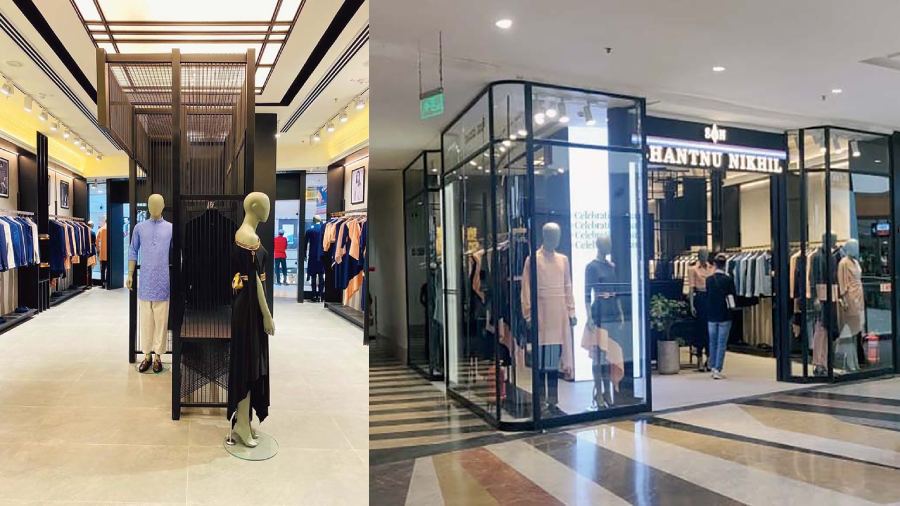 (Left) Noida, (right) Bangalore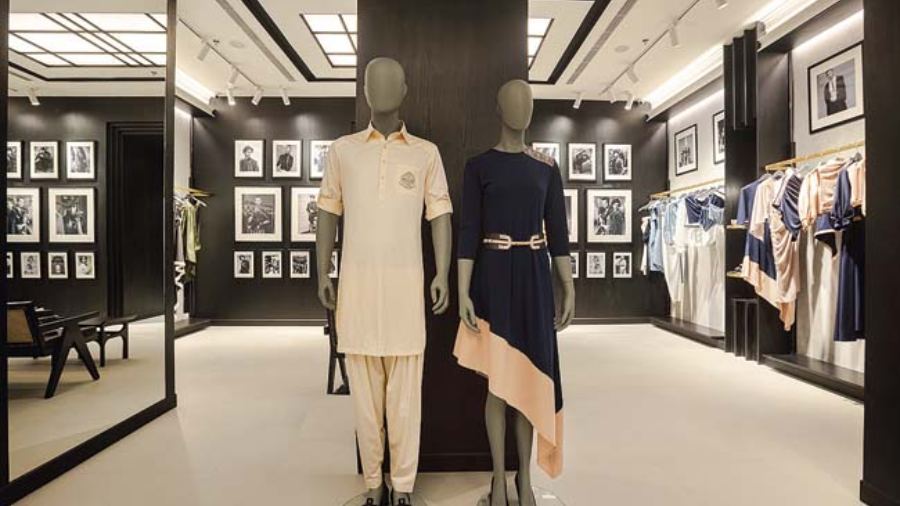 Palladium Mumbai
When it comes to shaping emerging habits in consumers today, the pandemic has had a significant impact. In addition to the unusual circumstances of the time, I believe, our belief system is crucial in the formation of any habit. The last two years have been credited with a significant shift in our consumer beliefs, and as a result, something that consumers would never have chosen in a normal state was easily and widely adopted during the lockdown period. If we look at the growth in online purchasing over the last year and a half, it appears to be phenomenal. This is an example of a major shift in consumer behaviour that was warranted by the pandemic and the work-from-home culture that resulted from it, which would have taken much longer otherwise. To sum up, fashion purchases have recovered but people are more conscious in their choices
Shantnu and Nikhil Mehra