There is a new kid in town in the smartwatch circuit — temperature sensor. Last week Samsung revealed that the sensor has been added to the new Galaxy Watch 5 series. And Apple is expected to reveal their take on the sensor in a few weeks. Why the interest in reading body temperature? Surely it can't just be about keeping track of one of the (possible but not the only) symptoms of Covid.
Why the interest?
Scanning through press material and launch video related to Galaxy Watch 5, the temperature sensor offers users "an in-depth understanding of their wellness", besides offering "more accurate readings", even if outside temperature changes. Samsung hasn't clearly stated the potential usages with the new sensor apart from opening "new possibilities for developers to expand their health and wellness options and for users to take advantage of all-new experiences", something Doug Wegener, head of wearables and accessories, told The Verge. The data points can add a new layer to sleep tracking.
That brings us to the question of what Apple may offer on the upcoming Watch Series 8. If rumours are to be interpreted and also reports from Mark Gurman of Bloomberg, the upcoming device may not give an exact reading but will encourage the user to consult a doctor or at least use a thermometer when a spike in body temperature has been read. It makes sense because Apple never promotes its Watch as an alternative to consulting doctors; instead it tries to point you in the right direction.
The idea of slapping on a body temperature sensor is not new and there was a potential of it becoming reality even last year. Having such a sensor may also help with fertility planning.
Recently, MyHealthyApple spotted a patent that Apple had filed with the United States Patent and Trademark Office and is titled "Temperature gradient sensing in electronic devices" (the wording is important).
The patent shows an electronic device housing that encloses a temperature-sensing system comprising a temperature sensor and a differential temperature probe while the abstract offers some clarity: "The temperature probe is configured to generate a voltage corresponding to a temperature gradient between a first end of the probe and a second end of the probe. The temperature sensor can be disposed within an electronic device housing. A first end of the probe can be coupled to the temperature sensor and a second end of the probe can be coupled to any suitable surface, whether internal or external, of the electronic device…."
Last year, Apple shelved plans to include the sensor probably because more testing was required. There is always the issue of variation in skin temperature based on the environment. A smartwatch cannot monitor core temperature using hardware, so has to depend on an algorithm to offer accurate results.
Since Apple is focussed on women's health, body temperature sensor will aid fertility planning, offering insights into one's ovulation cycle.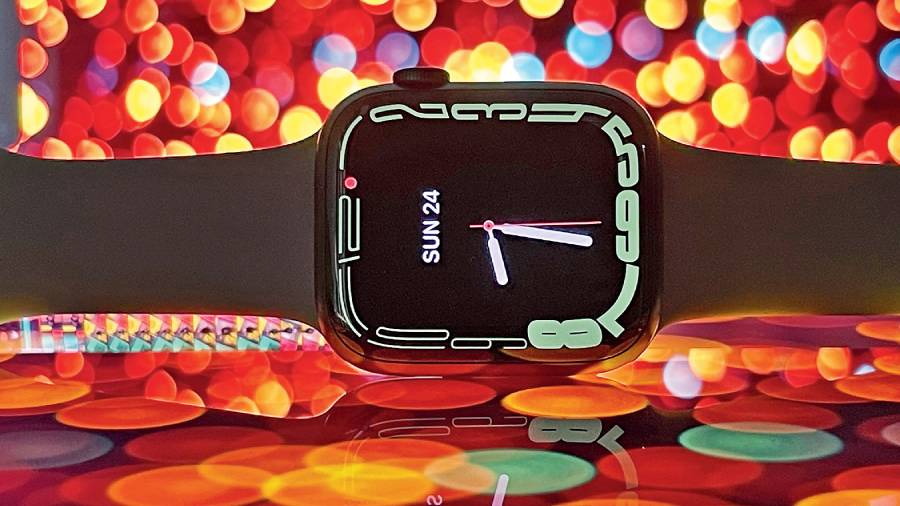 Apple Watch Series 7.
Picture: The Telegraph
Looking back and ahead
The journey towards the sensor in discussion has been on for long. Basal body temperature (BBT) is an important clue for women who are tracking their menstrual cycles. In 2014, Tempdrop appeared, which is a wearable sensor that makes it easy for people to monitor and record their basal body temperatures while data can be integrated by developers into any fertility app. Other solutions include Duofertility, a professional fertility monitor paired with an online service, and Raiing, a wireless thermometer. Fertility monitors have also included names like EarlySense Percept, Daysy and OvuSense.
What Apple and Samsung are aiming for is making the smartwatch a one-stop for more health solutions. Apple, in fact, has gone big on health for quite a few years with CEO Tim Cook saying that ambitions in health could be the company's "greatest contribution to mankind".
Another area Apple is keen on keeping track is high blood pressure or hypertension that affects many people. A wearable device that can track the condition can save lives. At the moment, blood pressure is usually measured with inflatable cuffs around the upper arm, something smartwatches can't do. According to The Wall Street Journal, Apple is studying a proxy that measures the speed of the wave a heart beat sends through a person's arteries, using sensors in the Apple Watch while Samsung has incorporated a similar feature into its smartwatches in places where regulatory approval is offered.
Companies are also working on ways to come up with a non-invasive way to measure blood glucose levels but the technology is in its early stages.
In case you are wondering what else one can expect from the upcoming Apple Watch Pro (that's the rumoured name), it will have a larger display and titanium housing (instead of aluminium), making it stronger and also lightweight. Plus, the Watch should have a longer battery life, lasting for days with the introduction of a new "low power mode". Pricing of the "Pro" model won't be cheap.
At a glance
• Samsung has announced the introduction of a temperature sensor in its new Galaxy Watch 5 series, which pulls the company slightly ahead in the race. Apple has been working on the sensor for long and since the company takes health seriously, a new sensor will be added only after several tests.
• Having a temperature sensor may aid fertility planning, offering insights into one's ovulation cycle.
• The issue Apple is trying to solve is the way skin temperature varies based on the environment. A smartwatch cannot monitor core temperature using hardware, so has to depend on an algorithm to offer accurate results.
• Apple is expected to inform users of a spike in body temperature so they can consult a doctor or use a thermometer.