Life might be like a "box of chocolates" for Forrest Gump, or golgappas for Laal Singh Chaddha, but it's the innate spirit of celebration that makes it worth the roller coaster. Much like weddings. King size or intimate; at an exotic location like Virat Kohli and Anushka Sharma's, or in the balcony like Ranbir Kapoor and Alia Bhatt's; in a designer lehnga or your mother's wedding Benarasi, it's the tender-precious emotions that make for a lifetime of memories. That smile. Those hugs. The tears. Keepsakes and custodians for years. 
The celebrations, however, have evolved since the time of hardbound albums and sepia pictures, every generation owning it and making it their own, leaving an imprint of life views and the internalisation of culture, for posterity.
With the third edition of Wedding Diaries, presented by Neotia Arts Trust in association with The Telegraph, being held at Swabhumi, The Telegraph reached out to designers Raghavendra Rathore, Kavita Bhartia, and Rohit Gandhi and Rahul Khanna, all with decades of experience in the industry, to view the Great Indian Wedding through their lens.
The changes in the last three decades...
"Weddings have evolved a lot over the years. They have become more intimate, destination weddings have become more popular and people like to experiment with their outfits as well," say designer duo Rohit Gandhi and Rahul Khanna who are travelling with Fibonacci to Wedding Diaries, their sexy FDCI India Couture Week 2022 collection comprising gorgeous party and cocktail wear. Kavita Bhartia, who is the founder of Ogaan dating back to 1989 and also has her own eponymous label (since 2001), feels "the Indian wedding has now taken on many forms". "From the grand destination wedding to the smaller, more relaxed destination wedding. Of course, the traditional wedding at home is also a popular format. But overall, I think, people have weddings that perhaps reflect their personality more," she says.
Raghavendra Rathore
Ace menswear designer Raghavendra Rathore, known for his classic menswear, sees a "paramount shift in how a trousseau or a wedding collection is put together". Covid may no longer be a party pooper, but it has definitely had an impact. "Post-Covid people have become extremely sensitive as to how a wedding event is put together, more focused, more bespoke and smaller in size. It has propelled decision-making to another level. Uniqueness and money well-spent with a sustainable mindset are the keywords that have emerged as inspiration for designers to take a note of. Clearly the mood today is more subtle, which brings the focus on accessorising and styling, with an exclusive approach," he says.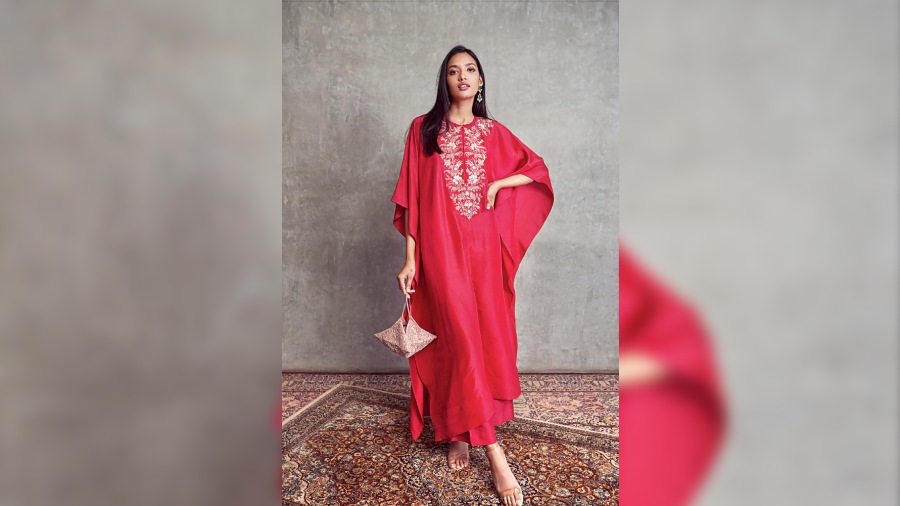 A Jayanti Reddy ensemble (Ogaan)
Elements that remain unchanged...
The 'Great Indian Wedding' in all its glory is a gala party of togetherness and bonding. "The sounds and the sights, colours and textures, the cultural ceremonies and most importantly the mindset to make every event special for the newly-weds, the families and of course the invited guests, will never change," says Rathore. Rohit and Rahul also talk of "traditional and cultural values that our country holds". "Every bride and groom always wants a traditional touch to their outfits...," they say. Bhartia hopes the "fun never changes". "I suppose the number of events, the long preparation, the excitement and usually the involvement of the whole family (will never change)," she says.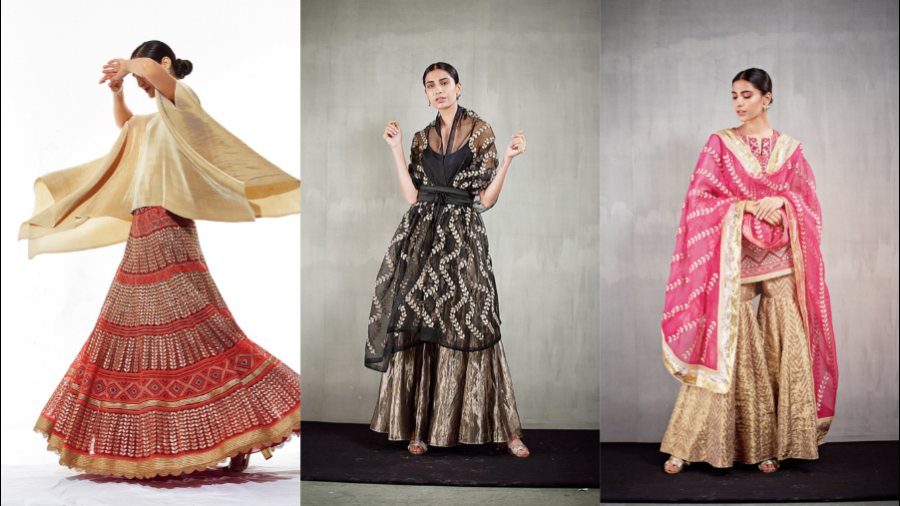 Kavita Bhartia (Ogaan) creations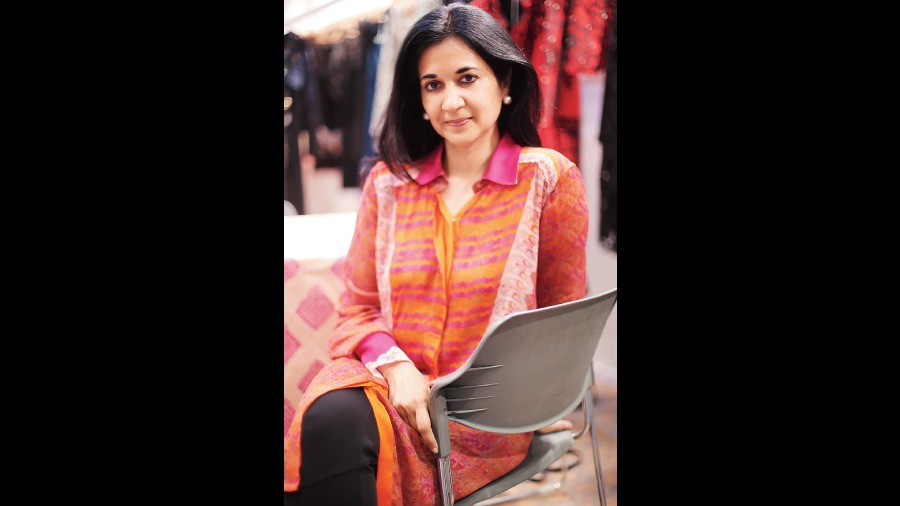 Kavita Bhartia
The new-age groom and bride...
Traditionally, weddings have always been about the bride with an unwavering focus to make it a special day for her. With more and more men, however, becoming conscious about fashion, is the groom finally making a chunk of the decisions? "With thousands of references to compare, clients can specifically point out and visualise what they want. Mothers and stylists work hand in glove with wedding planners to create the best look with bespoke designers," says Rathore.
The bride is, however, making her own choices. "The in-laws and mom may come along to shop, but I think it's the bride who takes the lead and wants the clothes to reflect her style, her sense of fun and make her feel good," says Bhartia. How much does she think the financial independence of women has impacted those choices? "I think that women are working, more independent and more confident than before, and, often, a bit older than before means they are more used to making their own choices," she adds. 
As a brand far ahead of its time, is this the most exciting time to be designing for Gen Z brides and grooms, we ask Rohit and Rahul. "Certainly it is. The Gen Z brides and grooms definitely know what they want, they are ready for newer orders and come to us knowing how we are 'the' designers for their event," they say. Cocktails, receptions and trousseau are the popular wedding occasions they cater to.
The classics...
Trends may come and go, but for the D-Day, most brides and grooms prefer sticking to the classic look. Rathore lists "the  classic gold achkan in hues of warm beiges for the groom," as an "evergreen" pick. For the bride, he has "the power of gold accented with splashes of reds, pinks and ochre" in mind.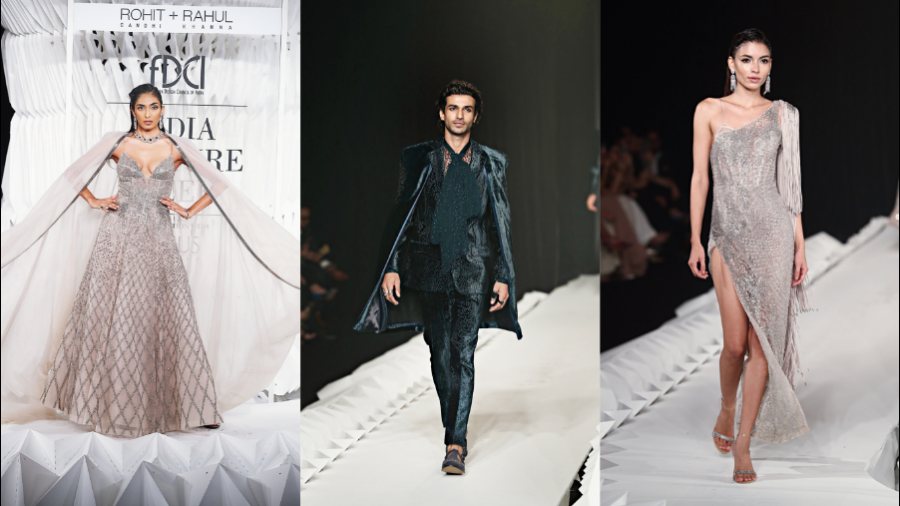 Rohit Gandhi + Rahul Khanna's Fibonacci.
Pictures: Sandip Das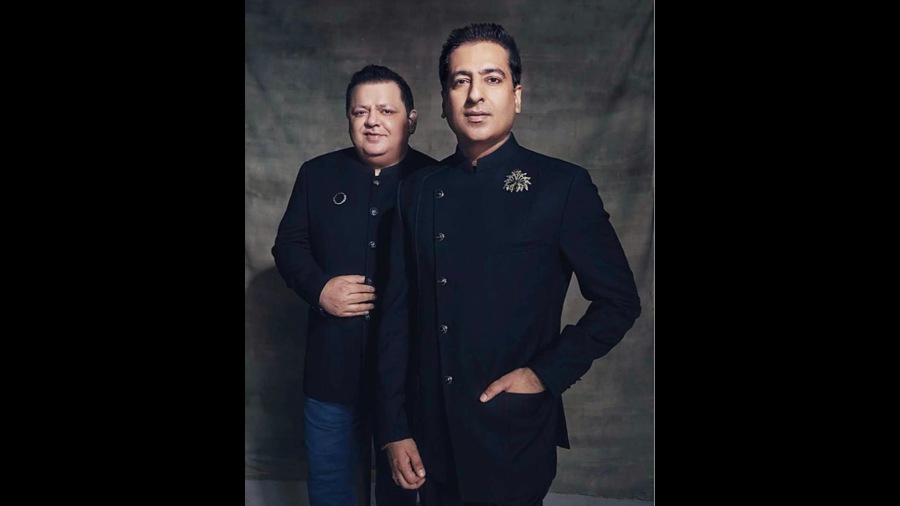 Rohit Gandhi and Rahul Khanna
The Bollywood bride...
From Anushka Sharma to Deepika Padukone, from Priyanka Chopra to Alia Bhatt, the recent nuptial pictures have set social media on fire. Thousands of likes translate to millions of aspirations. The dream to channel the subtle Alia vibe or the picture-picture Deepika feel. Bhartia, however, feels it's not just Bollywood that has an influence on Gen Z minds. "I suppose Bollywood always influences us subliminally but it's not the only influence — there's social media, micro influencers who have their own take on fashion. There's a greater desire to experiment with fashion overall, which is not just from Bollywood," she says. Rathore too doesn't want to single out Bollywood as a reference. "Every image that floats into the sea of social media has the power to influence!" he says.
The game changer called social media...
All the designers unanimously agree upon the giant influence of social media. "With social media being the new society page 3, every decision at a wedding event is under the spotlight, what the groom and the bride wear or what are the most posted pictures of the event on the invitees social media posts, are a crucial takeaway for all. Professionally managing these well-articulated images is more or less a mandate now," says Rathore. If social media has changed the rules of the game, he feels "Blockchain and NFTS will change it even more". Rohit and Rahul feel the medium has made it easier for their clients to reach out to them and "understand our brand language as well". Bhartia feels social media has given rise to an inquisitiveness about "newer labels". "Everyone sees so much fashion on Instagram, they're so much more aware and curious even about younger brands. They come in knowing what they want, wanting to see all the labels they've been following. So it's not just the big names but even newer labels doing great campaigns on social media. Everyone's taste is now quite evolved and we're open to more because we see so much," she says.
Pictures courtesy: The designers