The Apeejay Kolkata Literary Festival 2022 lit up the weekend by bringing together a large group of thinkers, writers, historians, influencers, actors and poets to your screen in their very first virtual edition. The 13th edition of the festival had a stellar line-up of events spread across three days and also included the announcement of the coveted Oxford Bookstore Book Cover Prize shortlist. The only literary festival curated by a bookstore, AKLF has been lighting up Allen Park at Park Street for over a decade now, come January. "My team and I are delighted to present a delightful bouquet of literary and cultural interactions, specially curated for you. As we grapple with the enormous challenge of a post-pandemic world, we also think it is a moment of hope for lessons learnt and opportunities discovered," said festival director Maina Bhagat in her welcome note. While we miss the physical event, the online sessions more than made up for everything we miss. We bring you glimpses of some of our favourite moments from the sessions that can be found on AKLF's social media pages.
Myth and Mythology
Devdutt Pattanaik in his session at AKLF was pleased to be speaking to the people in Calcutta and spoke at length about the association of the word myth with religion. "We are all human beings and we all experience myth, which is a truth that is your own and your belief system. This is very different from facts like scientific truth that is based on evidence and is everybody's truth; while fiction is nobody's truth, it's a fantasy," he started. His compelling statements raises questions and provides answers that are enriching for every believer and non-believer of religion.
Oxford Bookstore Book Cover Prize
"There are some extraordinary covers on this shortlist and all of them are world-class, really in terms of art, design, typeface and presentation and I think India is fortunate that we have designers and creators of such immense quality making the book browsing such a pleasurable experience," said jury member Shashi Tharoor at the announcement of the Oxford Bookstore Book Cover Prize shortlist. The final book covers on the list and their designers are Kerala Bakshanam Chritham by Vishal Raj, The Maharaja of Jodhpur's Guns by Shashi Bhushan Prasad, Estuary by Gavin Morris, Turmeric Nation by Maithili Doshi, Lotus Land by Shreya Nayak and Kintsugi by Ishan Khosla.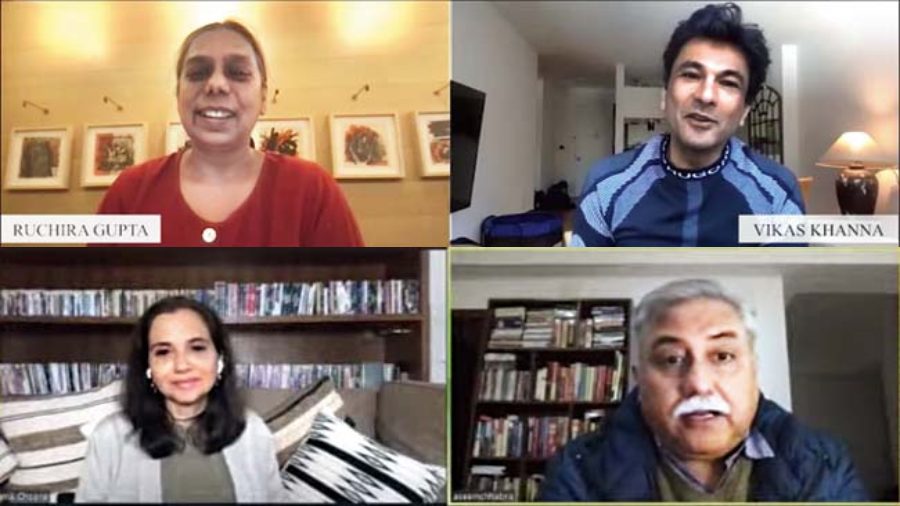 Ruchira Gupta (LT), Vikas Khanna (RT), Anupama Chopra (LB), Aseem Chhabra (RB)
A Feed India Initiative
Chef Vikas Khanna was in conversation with journalist, author, speaker Ruchira Gupta about his Feed India initiative that aimed to feed those in need during the pandemic. Gupta, who was already working extensively with victims of sex-trafficking and building a campaign called 'One Million Meals', received tremendous support from chef Khanna through his Feed India initiative. He has now translated his collaboration experiences into a book, Barkat: The Inspiration and the Story Behind One of World's Largest Food Drives FEED INDIA. "We didn't overanalyse our limitations and our discomforts when we decided to do this. We just had a single-minded aim that came from a promise made to my mother," the chef humbly said. He threw light on the whole process and his mother who has been his inspiration throughout his journey.
Andy Griffith and his colourful world
Andy Griffith, the famed children's author, was in conversation with consul general of Australia, Rowan Ainsworth and some students of Apeejay School and around the world. The author showed his illustrations and gave the viewers a peek into the stories that went on behind the scenes. Griffith was asked by a student where his inspiration for a plethora of original and nonsensical words that he created for his book 143 Storey Tree House comes from. "One of my favourite books in the whole world is Alice's Adventures in Wonderland by Lewis Carol. He delights in making up words. From him I learnt that you can play with words. Like little kids who make sounds just for their pleasure. We play with words, pictures and ideas not knowing where it would take us. I am so glad that you picked up on that," the author said.
Cinema and Anupama Chopra
Anupama Chopra was in conversation with Aseem Chhabra to discuss her new book A Place in My Heart, which recounts 50 films and events that have left an indelible mark on the author. This book marked her 25-year-long career in Bollywood, writing, criticising, interviewing, reviewing and winning awards galore. "I genuinely come from a place of love for what I do and if you approach your work with honesty, I don't think there is scope for any negativity. You keep your head down and you keep working," she summed up of her journey. She spoke about the lack of social media when she began her career and now there is a loop of instant feedback, some of which are negative and harsh. She spoke about letting go because there is nothing one can do about it except choosing positivity. Her session was a breath of fresh air, throwing an insider perspective on Bollywood –– the industry India loves.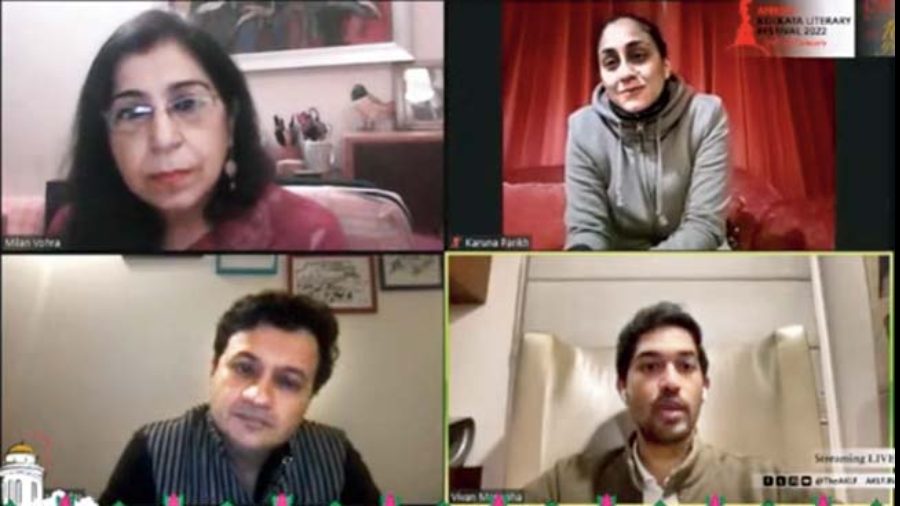 Milan Vohra (LT), Karuna Ezara Parikh (RT), Saikat Majumdar (LB), Vivan Marwaha (RB)
An evening about Millennials
Poets and authors Karuna Ezara Parikh, Saikat Majumdar, Vivan Marwaha spoke to Milan Vohra about love, poetry and hope. What emerged from the conversation is a glimpse of the millennial in the ways they think, feel, and react to institutions and society. While Marwaha highlighted data that famously substantiates his book What Millennials Want, Parikh spoke about the spectrum of love that can never be quantified and find sanctity often in a fiction writer's mind. Saikat Majumdar, who has previously written a queer love story between two boys in a monastic setup, spoke about appropriation and representation in literature.
With such viewpoints and engaging conversations, the three-day festival wrapped up. It also featured the likes of Tusshar Kapoor, Jugal Hansraj who have both recently turned authors, Kabir Bedi, Dolly Thakore, Arunava Sinha, Jeet Thayil, Aparna Sen, Kalyan Ray, Goutam Ghose and more. Debates were held and thoughts were shared on this platform that Oxford Bookstore gently facilitated.