In this ever-changing world of showbiz, success is as transient as failure. And when there's no guarantee of human life, success for me, is just that — another word. Who would have known that the lead actors of a film would be gone before they saw lakhs thronging to the theatres to catch a glimpse of the magic they created! While Soumitra-da (Soumitra Chattopadhyay) was keen to watch the film, judge his own performance, discuss the possibilities, Swati-di (Swatilekha Sengupta) was like a child awaiting her annual exam result. Without them, Belashuru was like biryani without salt.
Both Nanditadi (Roy) and I had no huge expectations either. We had shot Belashuru in 2018 and were told that the middle-aged theatre audience was gone after Covid. But we had to release the film, as there was money stuck on it and also, because the audience was waiting for long. And we put in our best efforts to take it to the audience, curated a flash mob at the Netaji Subhas Chandra Bose International Airport, where the crew of Spice Jet danced to the tunes of Tapatini.
We were happy and worried that after two and a half years, a film of ours was finally making it to theatres. The exhibitors were somehow more excited than we were. They opened the box office way in advance, thinking it could be a game-changer after two back-to-back South films made it big and that gave me at least two sleepless nights straight.
On top of that, a few from our inner circle are also close watchers of the trade and before a release, it is difficult to get any positive feedback from them. The only words of encouragement came from Shrikant Mohta, who told me what my first week collection would be and Mahendra Soni, who was bang on with his analysis of the first two weeks. Later, when I met Moni, he even told me what the collection was thus far.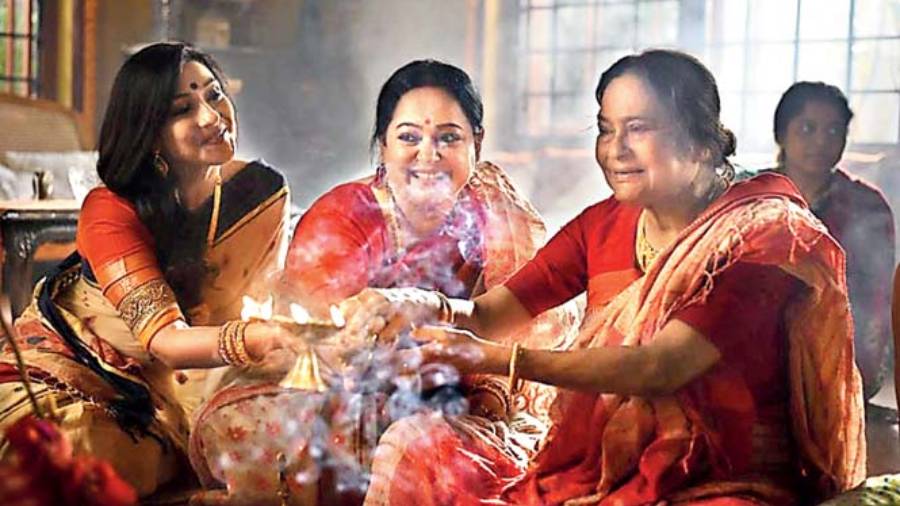 So, there I was, cooling my head inside Navin Choukhani's AC chamber on the scorching summer afternoon of May 20, also my birthday, when he scanned the CCTV footage of the crowd that had gathered outside and asked me to run down the stairs and stand at the entrance. Leading the long queue was an old lady on crutches.
As the gates opened, I held her in and she blessed me and said she had never missed a film of ours and will watch every film till she is alive. Now like genuine prayers don't go unheard, real blessings do make a difference. That day alone, the film went on to collect Rs 35 lakh from the 100 theatres that it was released in. The following day, which was a Saturday, the crowds swelled further and the film made Rs 45 lakh. On Sunday, it was Rs 69 lakh.
That made the film the highest Bengali opener post pandemic, highest non-holiday release and also one with highest weekend and highest first week collections. The collection so far is Rs 8.73 crore, which is a record for Didi and I and also our production house, Windows.
This week, Belashuru is entering its 11th week, completing 75 days in theatres, and that speaks for itself. 
Across the nation, the film released in more than 35 centres on May 27, a week after the film's release in Bengal. These centres include Mumbai, Delhi, Assam, Kochi, Bangalore, Hyderabad, Pune and Chennai.
By then, we were already getting angry messages from people living in those states why they were denied of the joy of watching this film. I didn't know if there was any joy, as the film doesn't have an expected ending and reason why, both Didi and I had decided to abstain from visiting theatres after the film's climax. So even the theatre visits were kept either at the beginning or during interval. But people flocked to theatres in these centres and kept flocking till our distributor, Rajkumar Damani, was a happy man.
Abroad, the film released in USA, Canada, Australia and Singapore. In Australia alone, cities like Melbourne, Sydney, Perth, Canberra, Adelaide registered houseful weekends simultaneously. People of Indian and Bangladeshi origin living in these cities enjoyed the film together. Tanim Mannan, who distributed Belashuru in Australia, said the houseful shows were a record for a Bengali film, which was watched by both Bengalis and non-Bengalis. He added that this film is bound to broaden the scope for Bengali cinema in Australia. There were multiple shows in USA's Austin, Virginia, San Francisco, LA, New York.
In USA, proprietor of Bioscope Films, Raj Hamid, who distributed the film there, said in New York, people were ready to sit on the floor to watch the film, as the crowd exceeded capacity. In Bengal's Navina Cinema, chairs had to be added to accommodate people, a story Navin later told me so lovingly.
As per official records, PVR Diamond Plaza registered the highest footfall for any film this year after KGF and it was the highest for a Bengali film. I also got videos from happy theatre owners of how people broke into jigs once they heard Tapatini, composed by Anindya Chattopadhyay and sung by Iman Chakraborty, Upali Chattopadhyay and Ananya Bhattacharya. No wonder the song has crossed 30 million collective views on all platforms. Shohage Adore and Ki Mayaye, composed by Anupam Roy and rendered by Anupam and Shreya Ghoshal respectively, were equally well received.
Back home, the medical fraternity lauded us for making a film on Alzheimer's and the audience shared with us tales from their lives and how they were inspired by the caregivers in the film. I saw people dancing, singing, smiling and crying on repeat mode and sometimes Didi and I would hide in the darkness of theatres just to see them do so. This doesn't happen every time. Probably this is where success lies and not in the box-office crores. Crores don't always bear the stamp of success and we know it better now more than ever.