There is a marathon-ready sports watch in town and it's not Garmin. After years of focussing only on new features, Samsung has changed its strategy and it should pay off. Some of the common issues we crib about are terrible battery life on all Android smartwatches, staid features and a design that doesn't doesn't accommodate the sporty kind as well as the fashion conscious.
Samsung Galaxy Watch5 Pro takes care of most issues and, in the process, wears the crown of Android smartwatch of the year.
First, decide wisely
Samsung has two new watches — Galaxy Watch5 and Galaxy Watch5 Pro. Both have several upsides but they are very different in way of features as well as pricing. There are fundamental differences and you have to decide what suits you.
In case you are someone who doesn't workout often and occasionally go cycling, then stick to the Watch4 Classic because it's still a great bet. If you workout a few days every week then Galaxy Watch 5 should do the trick. And then comes the Watch5 Pro, which is essentially for those who want to do a lot, like trekking and different kinds of workouts throughout the week.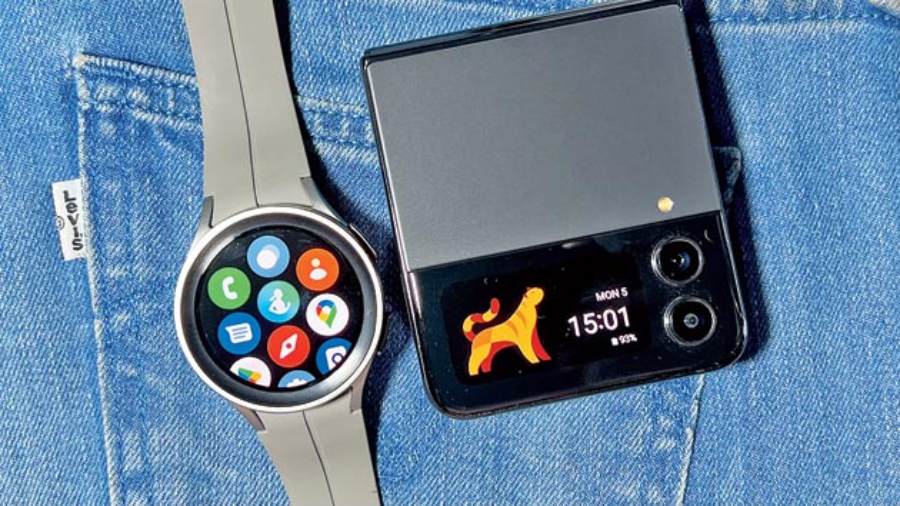 Combine the Watch5 Pro with the Samsung Galaxy Z Flip4 to make a style statement
The second important point is that the Watch5 Pro comes in only one size — 45mm while the Watch5 comes in 40mm and 44mm. I have an average wrist size but the Watch5 Pro hugs it well. You must be wondering what difference does 44mm and 45mm make. Well, in terms of size, it's noticeable but that doesn't mean the screen sizes are any different. The 44mm version of the Watch5 and the 45mm version of Watch5 Pro have the same screen size; only the bezel is bigger.
The third thing you need to ask yourself is are how important is a rotating bezel to you. Many thought the Pro will be the successor of Watch4 Classic; it's not. There is no physical rotating bezel on the Pro. Instead, it's a digital one that works extremely well.
The bezel is slightly raised and this is an important design element. I want something to protect the display, which in this case is the bezel. Since I keep bumping into things, so having a bezel helps me to protect the screen. Plus, the Watch5 Pro has a titanium body, so the device is tougher on the outside. Also tough is the display because of Sapphire Crystal magic.
What seals the deal are the strap and battery life (more about that later). The Pro version comes with a D-buckle strap which is infinitely adjustable. There is a magnet at the end, which is very strong and keeps the watch in place.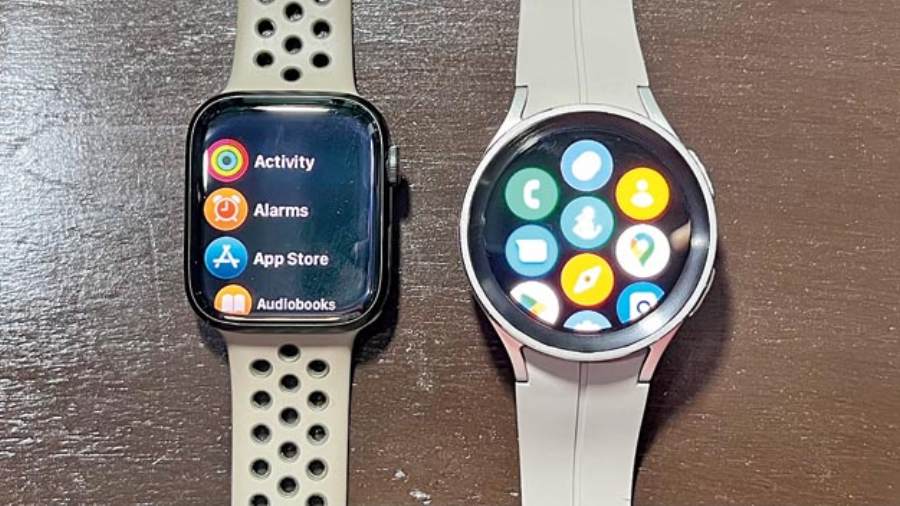 Samsung Galaxy Watch5 Pro (right) takes competition to the Apple Watch
Features that work well
Needless to say, you get all the regular features that you have always known smartwatches to have — SpO2 measurement, heart rate, step count and so on. I think the biggest feature is battery life, which alone makes this a Pro model and takes competition to Garmin, which is very popular among triathletes. Perhaps this will be stretching a bit but hear me out.
Anybody who owns a smartwatch are sort of doctors minus a white gown. Looking at the battery percentage, you know whether it's going to make it through the night. If I go to bed with the battery at 20 on the Apple Watch, I know it's going to be on the charging stand first thing in the morning.
Usually, one gets around 1.5 days of battery life out of a smartwatch with conservative GPS usage. This time, you get around three days of battery life on the Pro model, which is a huge upgrade. The Apple Watch Series 7 also gives 1.5 days of usage and rumours are that there will be a big improvement this year.
Garmin, on the other hand, can offer seven-eight days of battery life but you need to be willing to sacrifice a little when it comes to looks and display. On downloading some music from Spotify and using Bluetooth to connect sound cans and then using a bit of GPS, I am able to get almost three days on the Samsung device, which also includes sleep tracking.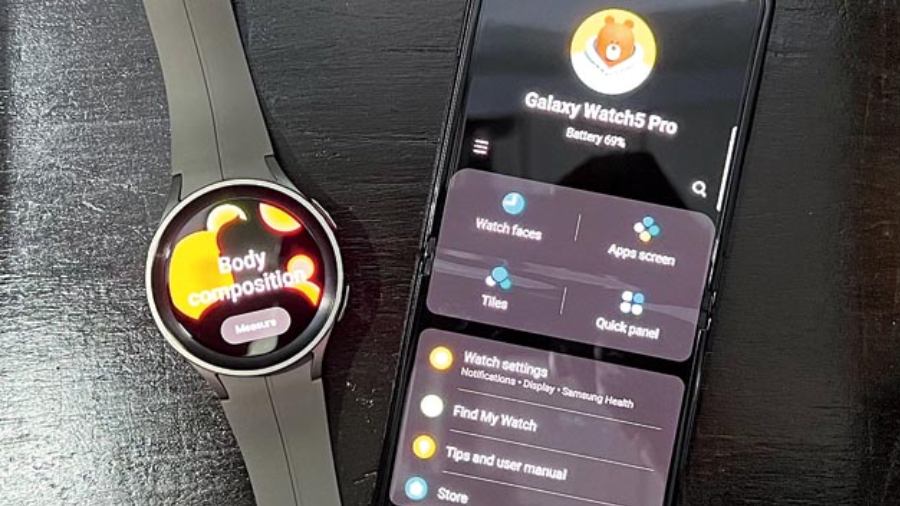 Galaxy Wearable app controls the Watch5 Pro
A larger watch means more battery and if you are a golfer, you will be using the GPS function. You can easily play a round of golf, full 18-hole course… and finish with some charge left.
The next important feature is support for GPX files, which offers turn-by-turn moves during hiking and biking. You can put the file in the watch, which will then give you turn by turn directions and at the end, you can track back and go to where you started. It's a nice Pro feature to have.
Even the Samsung "rings" on the Watch is quite good. Instead of the stand hour ring, this one adds steps to it. Calories, Time, Exercise, Steps… these are great metrics to have.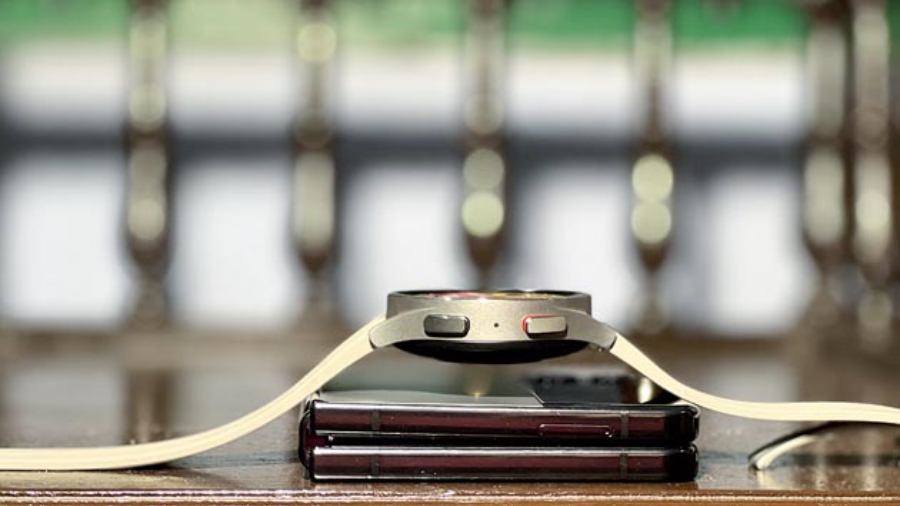 The watch has two buttons to make controls more accessible
Should you buy it?
Samsung is going through a great phase. Like in the foldable phone space, its wearable tech is also becoming great. The Watch5 Pro has a slightly different shape than before and there is more contactable area with the skin, so sensor readings appear accurate.
So far Samsung has been basically making two kinds of watches — the Classic version with a physical rotating bezel which looks great. And the Active version with a sporty look. With the Watch5 Pro, Samsung has a product that covers both worlds. Second, there is a temperature sensor but at the moment it can't be used. It's a useful sensor to have, especially when it comes to fertility tracking but I want features that work out of the box. Third, out of the box, the digital assistant at your service is Bixby, which doesn't do much. But you can always change it to Google Assistant.
To the upsides. The speaker on the device sounds very good and so does the microphone. The GPS works well and every turn gets recorded. If you are wondering how is it different from inexpensive smartwatches, well, here you can download apps from Google Play Store. You can receive WhatsApp messages but there is no GIF support. On the flip side, all the unread messages are shown in a thread. Dictation has improved and there is advanced sleep coaching.
Both Samsung and Apple have sort of chosen the same rival to take down — Garmin. And Samsung has made all the right moves with the Watch5 Pro. If you ask me to choose an everyday watch that can also work well as a fitness guide, this is it. Samsung Galaxy Watch5 Pro is the wrist hugger we were waiting for.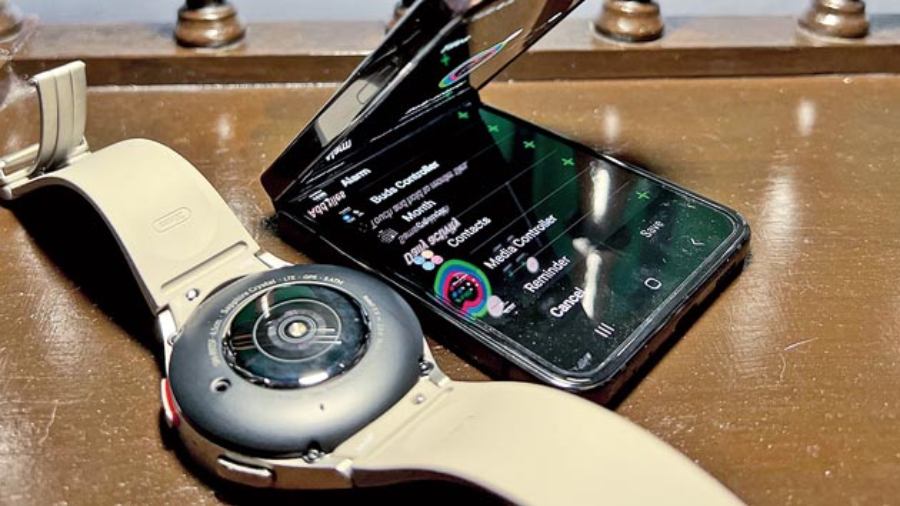 There are enough sensors on the Watch5 Pro to take care of all your needs
At a glance
Device: Samsung Galaxy Watch5 Pro
Price: Upwards of Rs 44,999
High notes
Sturdy finish and display
Excellent battery life
Digital bezel works well
You can import GPX files
Strap comes with a fresh twist
Muffled notes