It has been a good year for smartwatches. On one side are the new offerings from Apple, especially the Watch Ultra, and on the other side are brands lining up with Wear OS by which we mean Samsung and Google. After years of being a bystander, Google has finally announced the Pixel Watch, which doesn't have a release date for India but it will certainly make the Pixel family look complete. Yet, when it comes to having gold standard in Wear OS, Samsung is miles ahead. Be it spec sheet or durability, the South Korean company has done well for itself and has years of experience in making smartwatches.
I have been using the Samsung Galaxy Watch5 for weeks and it is the perfect companion for anyone using an Android phone; it helps if you use a Samsung Galaxy phone. We can always get into the debate around whether one should upgrade from Galaxy Watch4 to the latest but Samsung is looking at a crowd that's using an older Galaxy Watch; for them the upgrade can be substantial.
Flawless design
The Galaxy Watch5 has a lot going for it. A gorgeous screen, a better fit on the wrist and a bigger battery. There are two case sizes — a 40mm and 44mm. Samsung's choice of size is perfect. The former is for anyone with a slim wrist. I prefer the 44mm variant, which is not too big and at the same time, there is enough screen estate to read notifications.
When Samsung came out with its new generation Wear OS watches in 2021 it was something refreshing. Fast forward one year and the Pixel Watch is here. One may get the feeling that there is a lot of competition for your money. Not quite because Samsung wins in way of the number of fitness and health features you have on its Galaxy Watch, plus more people use Galaxy phones with which the watch connects seamlessly.
Perhaps the only factor that can sway your decision to upgrade is the bezel. Galaxy Watch5 looks pretty much the same on the outside as last year's Galaxy Watch4 apart from losing the fan favourite physical rotating bezel on the Watch4 Classic. There is a touch-sensitive bezel here. It works flawlessly, offering good haptic feedback. The clicks simulate the movements of a real moving bezel. All you have to do is move your finger around the edge. It is precise if you move your finger slowly. Yet, there is a small section that wants a physical bezel.
The other good news is that if you are coming from last year's Galaxy Watch4, you can use the same straps as on the Watch5.
Perhaps my favourite "feature" on the Watch5 is its hardened sapphire crystal screen which offers increased scratch resistance. In the last few weeks, it has withstood enough bashes against the wall and has come away with zero scratches. Needless to say, there is 50 metres of water resistance, meaning you can go swimming or wear it while bathing (though we recommend you go easy on any smartwatch).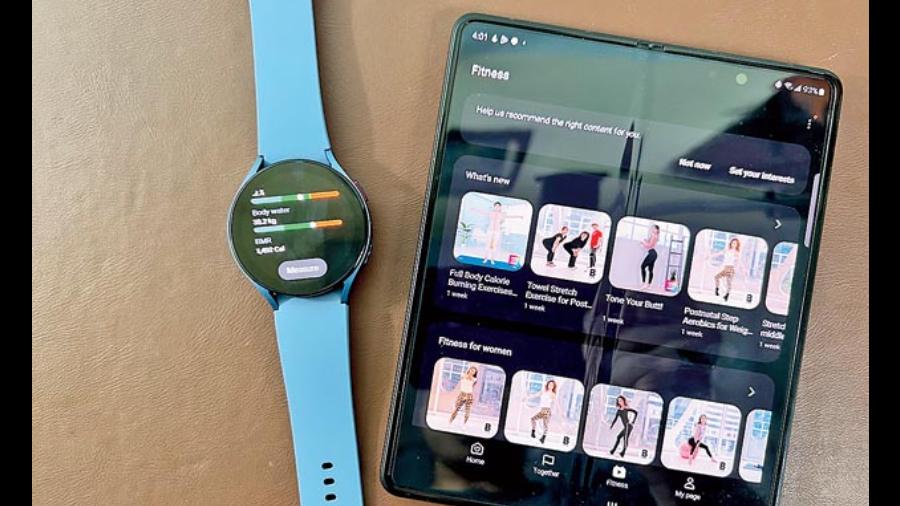 Use the Galaxy Watch5 with a Samsung Galaxy phone to get the most out of the device
Quite a performer
Of course, it's the tech that's in the watch that matters. The biggest update is something that you may not notice. The redesigned back panel helps the watch sit snuggly on the wrist, offering better readings. The watch is also quite light, meaning it won't move too much around the wrist, making it easier to collect readings. Be it the heart rate sensor or sleep-related details, there is accurate reading on Samsung watches.
This is the second generation Watch that's running the new OS platform. The other feature I like about the Samsung smartwatch is the One UI skin, which is always clean, well-designed and is constantly evolving. Watch OS and One UI together is a potent combination. A Samsung phone user will feel at home using the Watch5 and even though there is Wear OS, you won't feel it. All the Google apps you would expect are on board and work seamlessly. You can use Google Maps to navigate and there is support for Google Assistant. By default, there is Bixby and I have nothing against the voice assistant as far as on-watch operations are concerned. It is when you start asking questions about things happening around you that Bixby becomes a silent listener.
An integral part is music because you will go jogging and running wearing the watch and would like to listen to music. Load Spotify or YouTube music and connect your Bluetooth sound cans.
Performance is snappy and so are the readings. Weightlifting or indoor cycling are as alien to me as it is for Garfield. But my friends who also have the Galaxy Watch5 say the results are quite accurate for gym routines and I can vouch for heart tracking or step monitoring. Also, the GPS reading is precise.
Remember, the Watch5 is for anyone who has a simple gym routine; it's for those who work out just to stay fit and nothing more.
Onboard is a powerful Samsung BioActive Sensor that controls the health sensors effectively — Optical Heart Rate and Bioelectrical Impedance Analysis (BIA). From body fat percentage to skeletal muscle weight, all the personal feedback you need to track your progress to a healthier you is on the wrist.
The SpO2 monitor appears to give the right reading and it roughly lines up with the readings on an oximeter. But I wouldn't recommend any smartwatch when it comes to blood oxygen reading, especially if the person has medical history.
Sleep tracking on the Watch5 is accurate. The smartwatch is light, so I could easily wear it to sleep without feeling uncomfortable. Not just sleep, even naps get recorded, which is something that appeals to me.
Should you buy it?
Much of the smartness of a watch depends on watch faces, which are in plenty here. Plus, battery life is enough for a day, even after sleep tracking (and some GPS workout). It's everything you can look for in a smartwatch and the device is going to last you several years. Garmin? Not really as the brand has become more niche than ever before after the launch of Apple's recent smartwatches. Samsung Galaxy Watch5 is the anytime-wear smartwatch for the Android user — party, office or gym.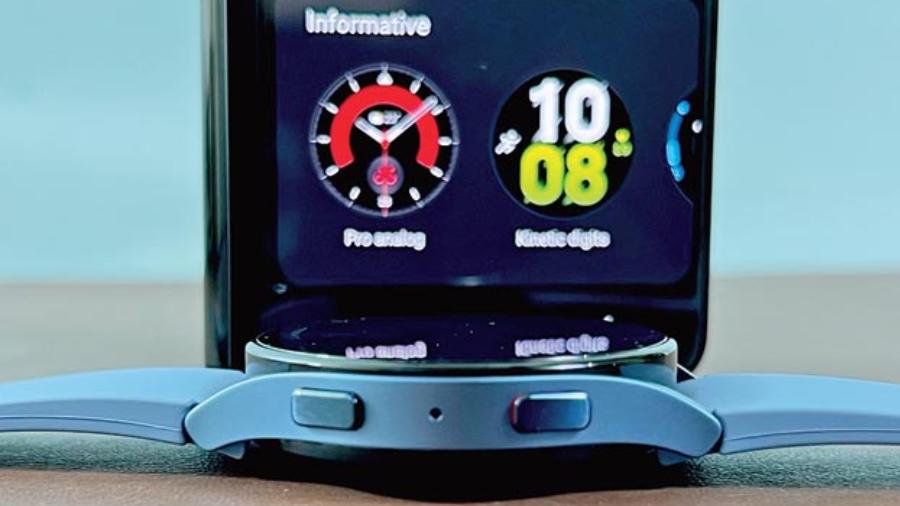 There are two buttons to take care of actions
At a glance
Device: Samsung Galaxy Watch5
Price: Rs 27,999
High notes
 Excellent companion for gym or office
 Battery is strong enough for a full day's usage
 All the sensors you can ask for in a smartwatch is here
 Good collaboration with Google
 Sleek design and lightweight